These Basement Brownies are a big time favorite on RecipeGirl.com. They're so easy to make, and there is a great story behind them!
There is a short video that shows you how to make these brownies at the end of this post.  Then you can print out the complete recipe and make them yourself!
I love a recipe with a good story behind it.  My family was recently visiting my brother and sister-in-law in beautiful Colorado.  As usual with my snoopy nature, I scoured my sister-in-law Sarah's personal recipes with hopes of finding some new treasures to try.  These Basement Brownies caught my eye!
These Chocolate- Caramel brownies are called Basement Brownies because when Sarah was a little girl… she used to make them for her Dad, who used to sneak these brownies into the basement to hide them so he could have them all for himself.
The name, "Basement Brownies" has stuck!  Don't you love that?!

You've gotta love a recipe with only 5 ingredients.  Super simple.  They start with a boxed mix… which is not usually my style of baking, but these brownies turn out so awesome that you can't even tell it starts with a box.
And sometimes starting with a boxed mix is just what we need in our busy day-to-day lives!  It's okay to take short-cuts once in a while.

The caramels are melted with a little bit of evaporated milk to create a caramel sauce.  Sarah says that in-a-pinch she has also used jarred caramel sauce in place of melting your own.
The cake mix is simply combined with evaporated milk and butter.  A portion of the batter is slightly baked, then topped with chocolate chips and caramel, then topped with more batter and baked again.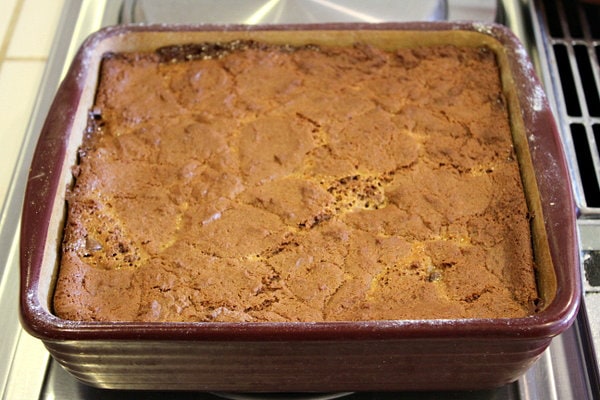 The result is not so impressive-looking, right?  Just you wait…!!

The inside brownie part is slightly gooey, and there are two layers in there that can put anyone into a delightful sugar coma:  one layer of melted chocolate chips and one layer of ooey caramel too.
Oh YEAH.  Basement brownies.  After a few bites of these, I can completely understand how they got their name.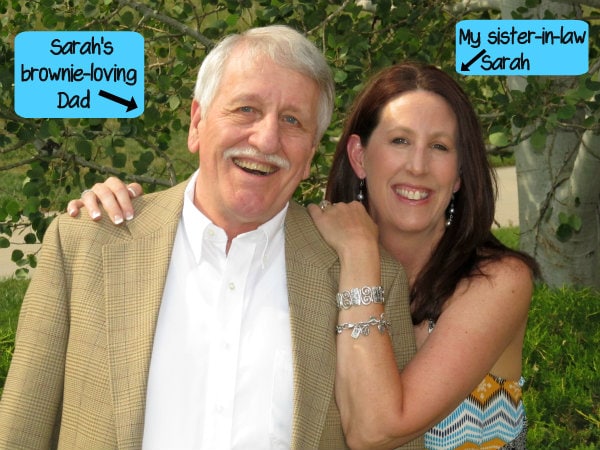 And here's the culprit right here.  This handsome guy is Sarah's Dad, the brownie lover who gave these guys their deserved name– brownies-so-good-you've-gotta-hide-them-in-the-basement!  We understand.  Completely.
Thanks, Sarah… for a great recipe!
Click below to watch a short video showing you how to make this recipe, then scroll to the bottom to print the complete recipe.
Yield: 16 to 20 brownies
Prep Time: 20 minutes
Cook Time: 28 minutes
Basement Brownies
so good, you'll want to hide them in the basement so you can have them all for yourself!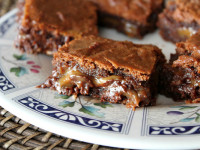 Ingredients:
50 to 60 caramels, unwrapped
One box German Chocolate Cake Mix (I used 15.25 ounce box)
1 cup evaporated milk, divided
3/4 cup (1 1/2 sticks) salted butter, melted
One 12 ounce package semi-sweet chocolate chips
Directions:
Preheat the oven to 350 degrees F. Grease and flour a 9x9-inch pan.
Melt caramels and 1/3 cup evaporated milk in a medium saucepan over medium-low heat. Stir until caramels have completely melted and the mixture is smooth.
In a large bowl, combine the dry cake mix, remaining 2/3 cup evaporated milk and butter. Mix by hand until batter is smooth and combined.
Pour a little over 1/2 of the batter into the prepared pan. Bake for 8 minutes only and then remove from the oven. Sprinkle chocolate chips evenly on top of the partially cooked brownie. Drizzle caramel on top of the chocolate chips. Drop spoonfuls of the remaining batter on top. You probably won't have enough to cover the caramel completely.
Return the pan to the oven and bake for an additional 18 to 20 minutes until the brownies feel fairly set on top and the edges are lightly browned and crisp. Let the brownies cool completely before cutting. The longer they have time to cool, the more they will firm up.
SOURCE: RecipeGirl.com (from my sister-in-law Sarah)
Here are a few more brownie recipes you might enjoy:
Comments