Dear Chocolate- Lover Friends,
Oh… do I have a brownie for you.  It's totally chocolatey- it's packed with chocolate chips, and it's topped with even more chocolate!  It's from blogger Joy Wilson's new cookbook:  Joy the Baker.  These are Chocolate Fudge Brownies!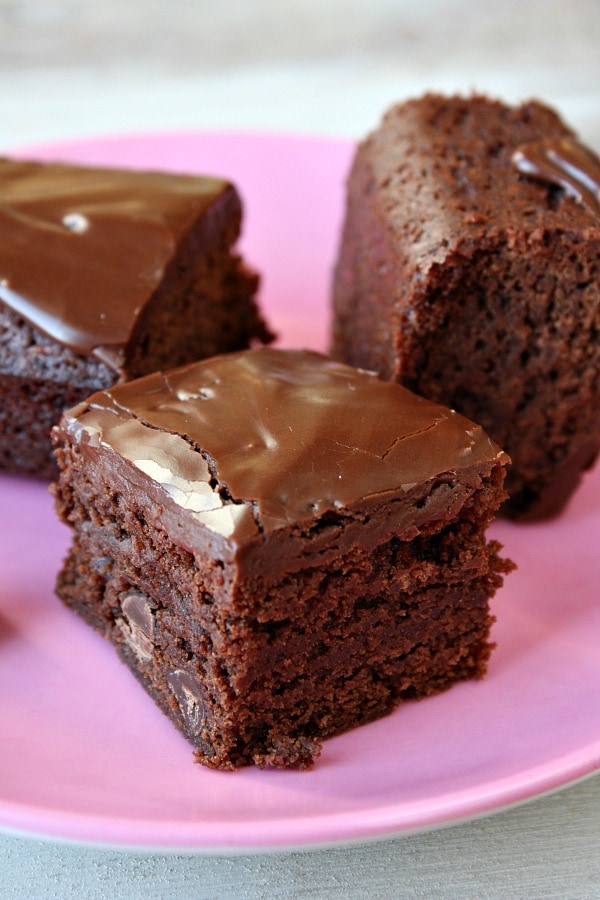 Joy tops these with a Chocolate Buttercream Frosting in her book.  Her frosting has Ovaltine Powder in it, which is pretty much brilliant.  If I had Ovaltine Powder in my house… it would be a very dangerous thing indeed.  I was truly obsessed with Ovaltine Powder and its magical qualities of transforming milk into something wonderful when I was a pre-teen.  I.used.to.eat.it.obsessively.by.the.spoonful! #confession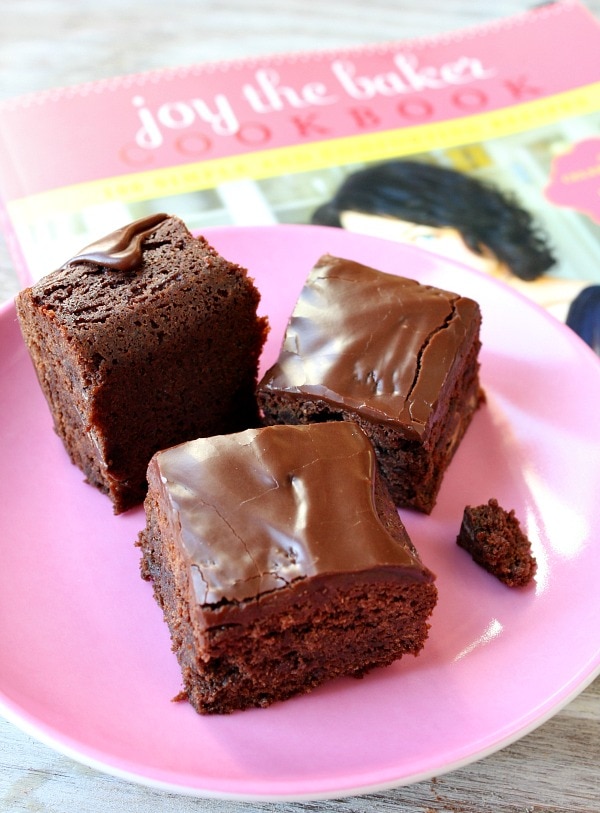 Anyway… I opted to top Joy's brownies with a simple chocolate glaze instead.  It worked for me, and it worked for these brownies, and it worked for everyone who consumed them.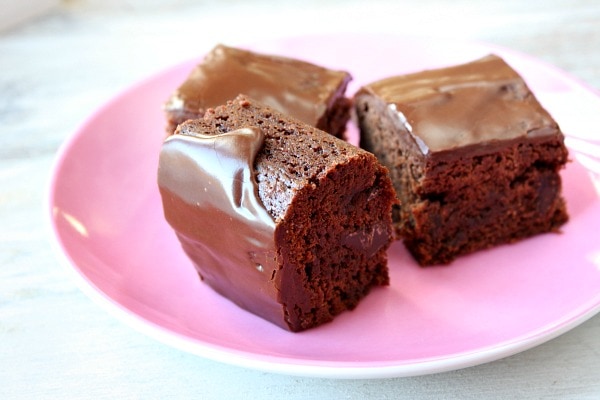 I have had the good fortune of meeting Joy the Baker a couple of times.  She's a fun, flirty, cute, single girl.  I'd totally set her up with my best guy friend if he wasn't already married.   Joy's debut cookbook, Joy the Baker, was released at the end of February.  Her book is no less than awesome.  Joy shot all of her own photography, and I love all of her tidbit stories and intros to her recipes.  The girl is just plain cool.  I'm excited to try the following recipes from this book: Baked Coffee Cake French Toast, Giant Cinnamon Rolls with Buttermilk Glaze, Oatmeal Cookie Pancakes, Peanut Butter Bacon Cookies, Peanut Butter Birthday Cake, Pineapple Malted Milkshake, Strawberry Cookie Dough Ice Cream, Chocolate Malt Bread Pudding and Vanilla Bean Snickerdoodles. Everything looks so good!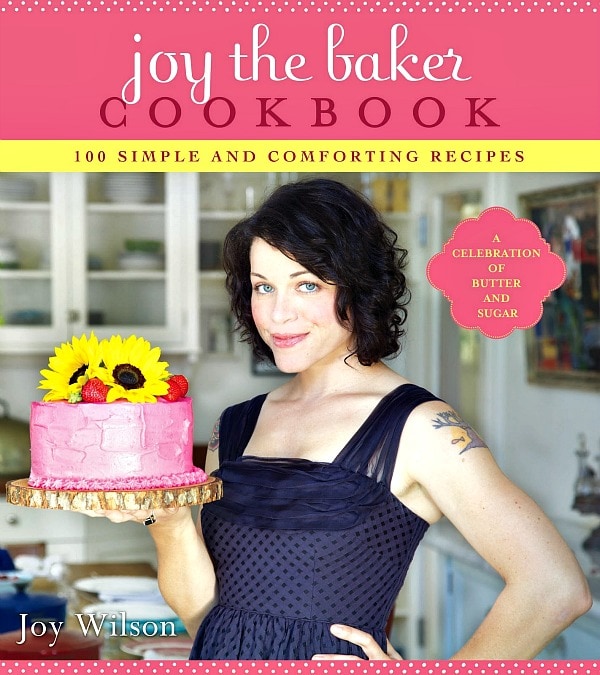 Joy is giving away one copy of her book, Joy the Baker, to one lucky RecipeGirl reader! This giveaway is open to anyone who has a mailing address in the USA. One winner will be chosen via random.org on Sunday, April 8th and will be contacted via email. The winner will receive one Joy the Baker cookbook.
 This giveaway is now over.  The randomly selected winner is commenter #26 Haley- congrats & thanks to all for entering!
Joy the Baker is available  for purchase on Amazon, and it's in bookstores too. You can visit author Joy Wilson on her blog: Joy the Baker, on Twitter and Facebook.
Yield: 16 to 20 brownies
Prep Time: 20 min
Cook Time: 25 min
Chocolate Fudge Brownies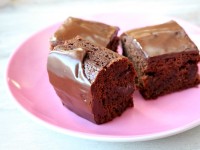 Ingredients:
BROWNIES:
3/4 cup all-purpose flour
1 teaspoon baking powder
1/2 teaspoon salt
1/2 cup (1 stick) unsalted butter
3 ounces unsweetened chocolate, chopped
1/2 cup packed brown sugar
1/2 cup granulated white sugar
2 large eggs
1 large egg yolk
1 teaspoon vanilla extract
1/2 cup semisweet chocolate chips
GLAZE:
2/3 cup powdered sugar
2 tablespoons unsweetened cocoa powder
1/4 teaspoon vanilla extract
4 to 5 teaspoons hot water (or more, as needed)
Directions:
1. Preheat the oven to 350 degrees F. Spray an 8-inch baking dish with nonstick spray, then line it with a strip of parchment paper (edges hanging over), and spray the parchment with nonstick spray too.
2. Prepare the brownies: In a medium bowl, whisk together the flour, baking powder and salt. In a large, microwave-safe bowl, heat the butter and chocolate until butter is melted (about 75 seconds). Whisk the butter and chocolate together until the chocolate is melted and smooth (heat a few more seconds, if needed). Alternately, you may melt the butter and chocolate together in a pan set on top of a pot of simmering water. Remove from heat. Whisk the sugars into the mixture. Then whisk in the eggs, yolk and vanilla. Stir in the flour mixture until well incorporated. Fold in the chocolate chips.
3. Pour the batter into the prepared pan and bake for 25 to 30 minutes. Bake until a skewer inserted into the center of the brownie comes out clean. Remove from the oven and cool completely before adding the glaze.
4. Prepare the glaze: In a small bowl, combine the powdered sugar, cocoa and vanilla. Whisk in 4 teaspoons of hot water, then add more water- 1 teaspoon at a time- until you reach a desired glaze consistency. You want to be able to pour it on the brownies.
5. Use the parchment paper to move the brownies from the pan to a cutting board. Pour the glaze on top of the brownies, and use the bottom of a spoon to gently spread it to the edges. Let the glaze set (chill if you'd like) before cutting.
502 Responses to "Chocolate Fudge Brownies"
Leave a Comment