This recipe for Oreo Brownies is my all-time favorite brownies recipe!
This fudgy brownie recipe turns out a nice, sturdy brownie- perfect for swirling in chunks of candy or cookies. I seriously have used this base brownie recipe (originally from Ina Garten) for all of my mix-in brownies. They're perfectly fudgy and sturdy.
Oreo Brownies
The recipe makes a LOT of brownies, so you can easily make a pan of these and split it in half for two events! AND you can steal a few extra for freezing into little zip baggies for your kid's lunches.
If it's Halloween, you can use the Oreos with orange filling, or if it's Christmas you can use red and green M&M's! The possibilities are endless.
This is also a terrific recipe for bake sales. I'm just going to keep telling you over and over again… this recipe for Oreo Brownies is the best brownie recipe out there. Everyone always, always loves them.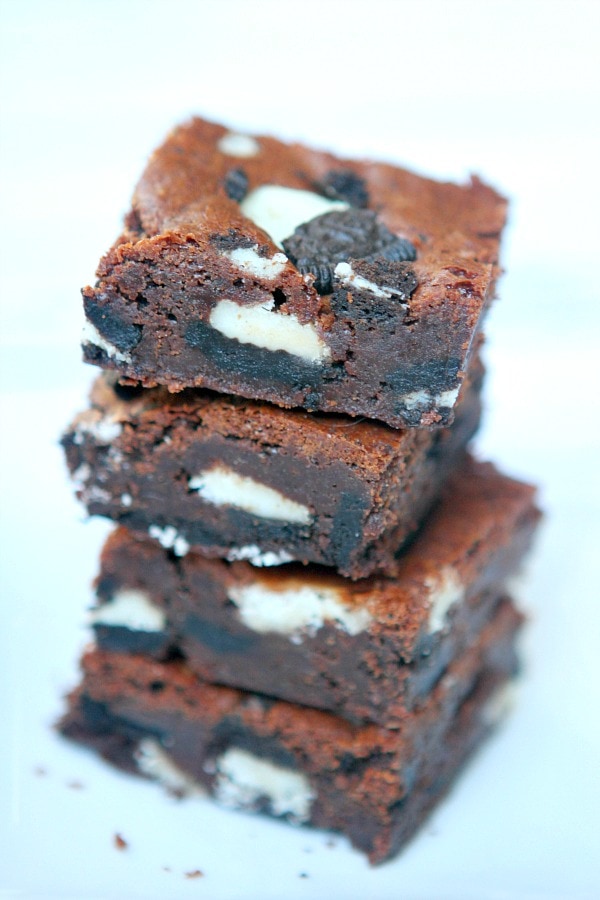 You may not ever wish to have a boxed brownie again after you try these Oreo Brownies. They're really quite easy to make, but you do need to have a secret ingredient (instant espresso powder). It's really a must. The espresso brings out the flavor of the chocolate in a wonderful way. Sometimes espresso powder is tough to find… but you should have luck at your local market- do ask since they tend to tuck it away in places you wouldn't think to look for it. I think mine was actually in the 'international' aisle, but sometimes it's in the coffee aisle too.
What's the best pan for making these Oreo Brownies:
One thing you do need to have for making my Oreo Brownies is a half sheet pan (cookie sheet with a rim) that is 13x18x1-inches. This is my go-to pan anyways for cookie baking, but it works perfectly for these brownies. I haven't made them in any other size pan, so I'm afraid I cannot attest to how they would bake in any other pan. If you don't have half sheet pans, pick a couple of them up– you'll use them for so many things!
You'll be lining the rimmed baking sheet with foil before putting the batter in there. If you prefer not to use foil, you can use parchment paper instead. After an overnight chill, the foil (or parchment) aides in lifting the entire giant brownie out of the pan. The foil/parchment is then peeled away and the Oreo Brownies are firm enough to make nice, clean cuts.
You'll want to have a gallon or two of milk nearby. These are some good brownies, but a little goes a long way. And with that added espresso powder you'll be ready to clean the garage, go rock climbing and hit the gym before you come home to make dinner.
Here are a few more recipes using Oreos that you might enjoy:
Oreo Brownies
I love this fudgy brownie recipe with big chunks of Oreo cookies added in!
Recipe Details
Ingredients
1

pound (4 sticks)

salted butter

16

ounces

semisweet chocolate (or chocolate chips)

2

tablespoons

instant espresso powder

7

large

eggs

2

tablespoons

vanilla extract

2¼

cups

granulated white sugar

1¼

cups

all purpose flour

1

tablespoon

baking powder

1

teaspoon

salt

4

cups (40 cookies)

broken Oreos

(I like the Double Stuffs!)
Instructions
Preheat the oven to 350°F. Butter and flour 13x18x1-inch sheet pan. Line with foil or parchment that hangs over the sides for ease in getting them out (butter the foil/parchment).

In a heatproof, medium-bowl set over a saucepan of simmering water, heat butter, and chocolates until melted and smooth; cool slightly.

In a large bowl, whisk together the eggs, espresso powder, vanilla and sugar. Stir the egg mixture into the slightly cooled chocolate mixture. Cool to room temperature.

In a medium bowl, whisk together the flour, baking powder, and salt, then add to batter. Stir most of the broken cookies into the chocolate mixture (save a few for sprinkling on top). Then pour the brownie batter into the prepared baking pan and smooth the top with a rubber spatula. Sprinkle any reserved brownie pieces on top.

Bake for 25 to 35 minutes, or until toothpick inserted in center comes out clean with a few crumbs attached; do not overbake as you want them to be fudgy! Let cool completely, then cover tightly and chill for several hours or overnight. Chilled brownies are easier to cut. Invert the chilled brownie pan onto a large cutting board, peel off the foil or parchment and cut into squares.
Notes
*These taste even better the second day.

*Try adding in different kinds of cookies or candy. I'm thinking Girl Scout Thin Mints would be good!

*These brownies freeze well. Just pop them into zip baggies for ease of adding them to school lunches, or pack them in a freezer safe container to bring out when you have guests.
Note: This recipe was originally published in 2015. It was edited and re-published in 2018.
Disclosure: There are Amazon affiliate links included within this post.