Oreo and Caramel Stuffed Chocolate Chip Cookie Bars
There is a very special friend of mine who is having a baby next month.  Her name is Jenny, and she is seemingly obsessed with creating recipes of all kinds with Oreos.  Her most famous recipe is one in which she stuffs a homemade chocolate chip cookie dough with an Oreo and bakes it up into a delicious new cookie (yep, Jenny is the originator of that idea).  Anyway, since my sweet friend Jenny is having a baby, that's cause for celebration… so I made something with Oreos today as a tribute to Jenny and her soon-to-be new baby boy:  Oreo and Caramel Stuffed Chocolate Chip Cookie Bars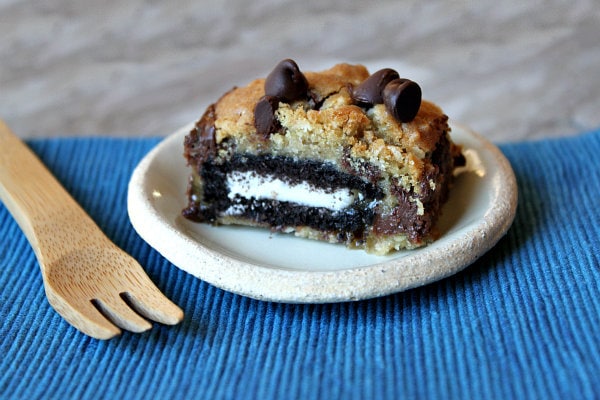 I figured I'd stick with Jenny's chocolate-chip + oreo theme, since it works so darn well.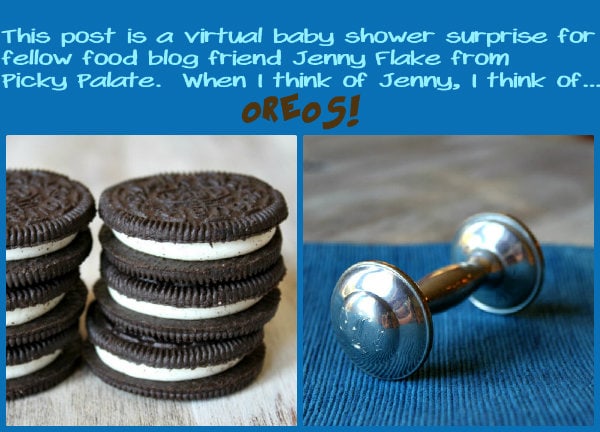 Seriously, when I think of Oreos, I think of Jenny.  I managed to dig up my son's silver Tiffany rattle from the depths of my china cupboard, of all places.  The tears flowed… thinking about my little man with that rattle shoved into his mouth as a teeny tiny baby and all of those fun snuggles and giggles.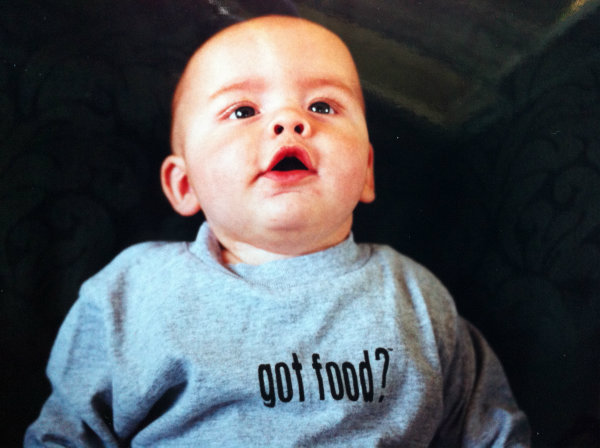 And now he's 11 and about to enter middle school, attitude and all.  Still adorable and still snuggly and still giggly and love him to pieces, but… sigh.  I miss that squishy baby face sometimes.  By the way, how ironic is it that I found this photo when my son just wrote this post about Got Milk and Orange Julius?  Too funny.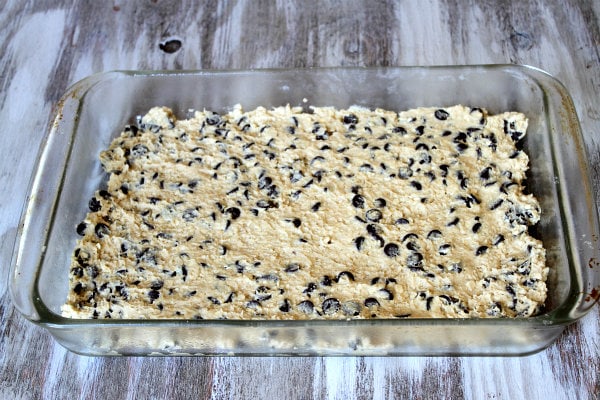 So let's make this treat!  Pat 1/2 batch of the cookie dough into the bottom of the pan.  I spray my hands with nonstick spray and then go at it.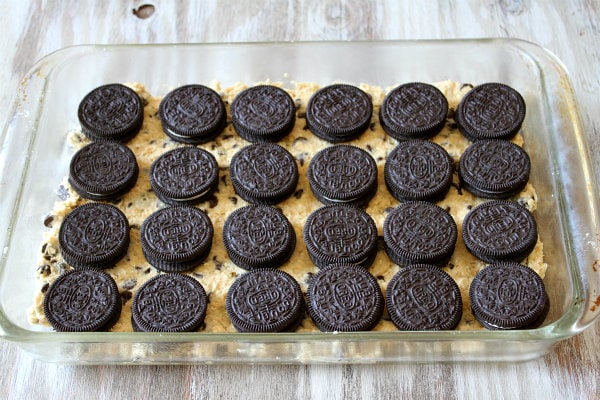 Spread a layer of Double Stuff Oreos on top of the cookie dough.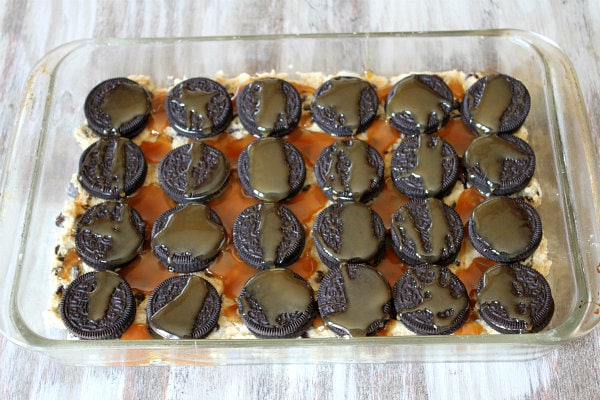 Drizzle caramel on top (jarred caramel is fine).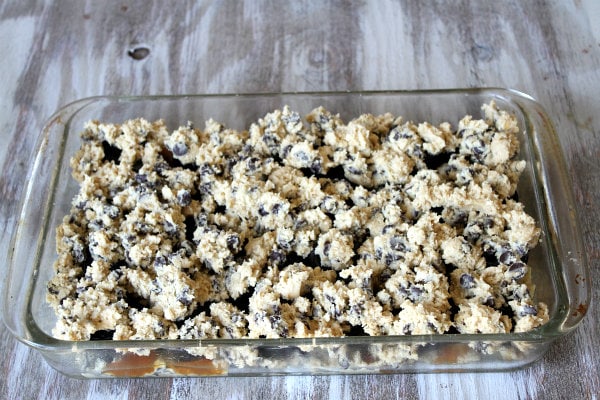 Spoon the remaining cookie dough on top.  No need to pack it down.
Bake it, and then sprinkle on a few more chocolate chips while it's still warm.  Then… let it COOL before cutting!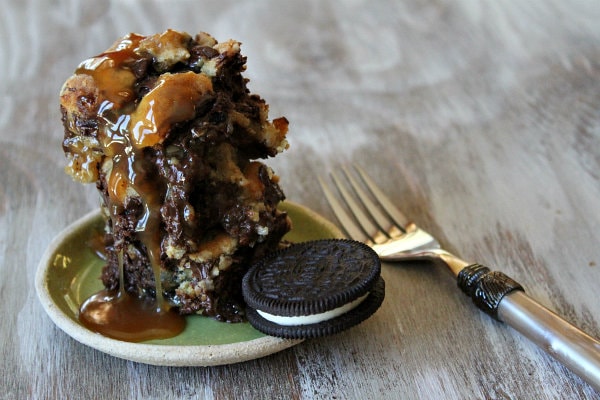 This is what happens if you absolutely MUST dig into this thing before it has cooled.  It's an incredible gooey, messy dessert that you will not be able to stop eating (especially if you have the desire to drizzle more caramel on top).   It's just not very pretty.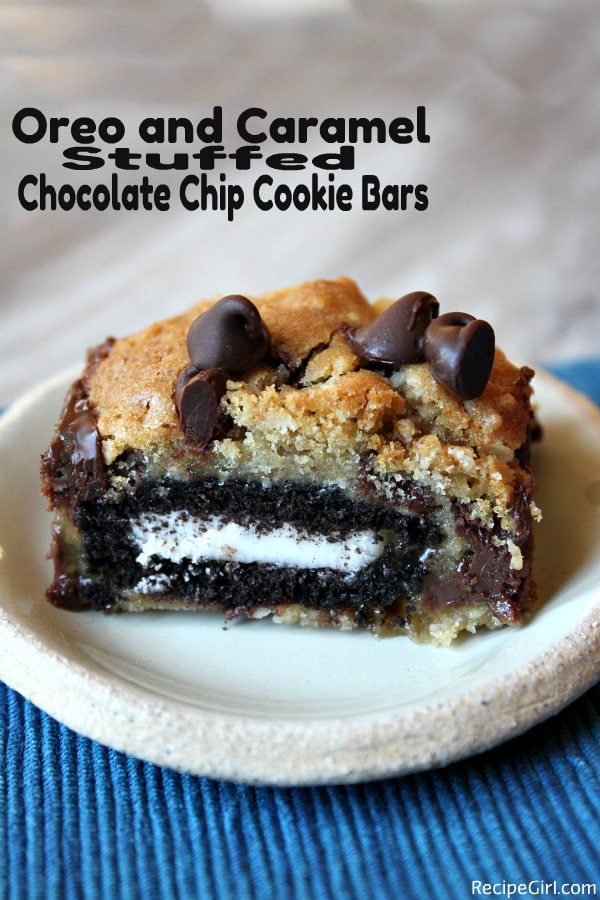 But if you are patient and have the willpower to give these bars a proper amount of time for cooling, the sliced pieces will look more like this… nice and neat and easily hand-held for munching.
So I wish a happy baby boy to sweet Jenny from the food blog Picky Palate!  I hope she likes my version of her Oreo Stuffed Chocolate Chip Cookies– they are very rich, which means you just need a small nibble and then you may pass them along to friends and neighbors to share the joy.  I'm not sure what Jenny is naming her boy, but I think she should consider: "Oreo." It's kinda hipster, don't you think? 😉
Yield: 32 bars
Prep Time: 30 min
Cook Time: 20 min
Oreo and Caramel Stuffed Chocolate Chip Cookie Bars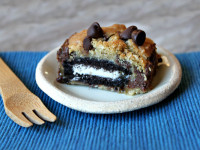 Ingredients:
COOKIES:
1 cup (2 sticks) unsalted butter, at room temperature
1 cup packed light brown sugar
1/2 cup granulated white sugar
1 large egg
1 large egg yolk
1 tablespoon vanilla extract
2 cups Gold Medal® All-Purpose Flour
1 cup quick-cooking or old-fashioned rolled oats
1 teaspoon baking powder
1 teaspoon baking soda
1 teaspoon kosher salt
2 cups semi-sweet chocolate chips, plus a few more for sprinkling on top
FILLING:
24 Double Stuff Oreos
1 cup or so of jarred caramel
Directions:
1. Preheat oven to 350 degrees F. Spray a 9x13-inch pan with nonstick spray.
2. Prepare the cookie dough: Place the butter and sugars in a large bowl. Beat with an electric mixer until smooth and creamy. Add the egg, egg yolk and vanilla. Beat well. Whisk together the flour, oats, baking powder, baking soda and salt in a medium bowl. Add to the butter mixture. Beat until everything is well incorporated, scraping down the sides of the bowl as needed. Stir in the chocolate chips.
3. Prepare the bars: Using half of the batch of cookie dough, place dollops into the prepared pan and press with greased hands to press and make an even layer in the bottom of the pan. (I spray my hands with nonstick spray for this part). Set the Oreos on top of the dough- four rows of 6. Drizzle caramel on top- about 1 cup- over and around the Oreos. Spoon small dollops of the remaining cookie dough on top. Don't worry if the dollops don't completely cover the Oreos/caramel. Just drop small bit of the cookie dough all over the tops of the cookies. The cookie dough will spread out as you bake it.
4. Bake until lightly browned, 20 to 25 minutes. Sprinkle a few more chocolate chips onto the baked cookies, then set aside to cool completely, then cut into 32 bars.
Tips:
*These are easiest to cut when they have chilled for a while. You'll be able to get nice, clean cuts when they're firmer, then they'll soften up a bit when they're at room temperature again.
Here's the complete list of people who are celebrating Jenny's new baby today- take a peek at these blogs!
Amanda: i am baker Special Cake for a "Picky Palate"
Amanda: Kevin and Amanda Cinnamon Blueberry Biscoff Breakfast Cookies
Angie: Bakerella Baby Faces
Averie: Averie Cooks Chocolate Banana and Biscoff Graham Bars
Bev: Bev Cooks Horseradish Deviled Eggs
Bridget: Bake at 350 Cute as a Button Cupcakes
Brooks: RecipeBoy Chocolate Dipped Peanut Butter Cup Stuffed Oreos
Cheryl: TidyMom Salted Caramel Cupcakes
Gaby: Whats Gaby Cooking Blueberry Buttermilk Cake
Heather: Heather's Dish Perfect Pancake Bites
Julie: The Little Kitchen Mixed Berry Mint Slushies
Kathy: Panini Happy Baby Oreo Ice Cream Pies
Kristan: Confessions of a Cookbook Queen Homemade Animal Crackers
Lauren: Lauren's Latest Mini Chocolate Lava Cakes
Maria: Two Peas and Their Pod Cookies 'n Cream Sheet Cake
Marion: Sweetopia Baby Shower Cookie Favors
Marla: Family Fresh Cooking Blueberry Mint Agua Fresca
Michelle: Brown Eyed Baker Shrimp Nacho Bites
Naomi: Baker's Royale Chocolate and Peanut Butter Chocolate Chip Trifles
Robyn: Add a Pinch Blue Velvet Cake
Shaina: Food For My Family Ginger Plum Preserves
Shelly: Cookies and Cups Oreo Pop Baby Rattles
Comments