I've been all about simple this summer. Simple salads. Simple dinners. Simple appetizers. And simple desserts. When life is busy and family time is in demand, simple is best. This is one of those simple desserts… one with a simple crust and a simple topping, but also simply one of the most delicious desserts I've had in a long time: Blackberry Jam Shortbread Bars.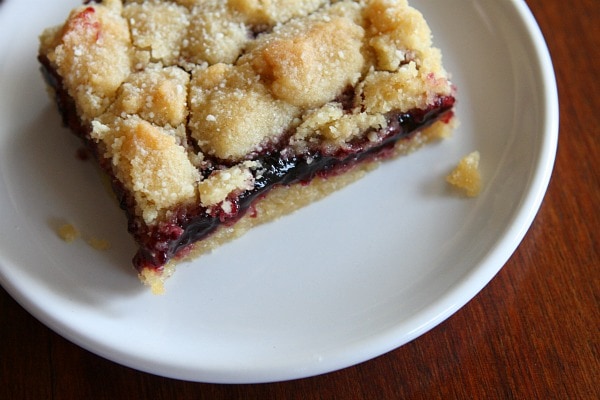 I brought these to a family barbecue last weekend, and it's a good thing I did. They were the hands-down favorite of all the desserts at the barbecue. Completely addicting, I must say.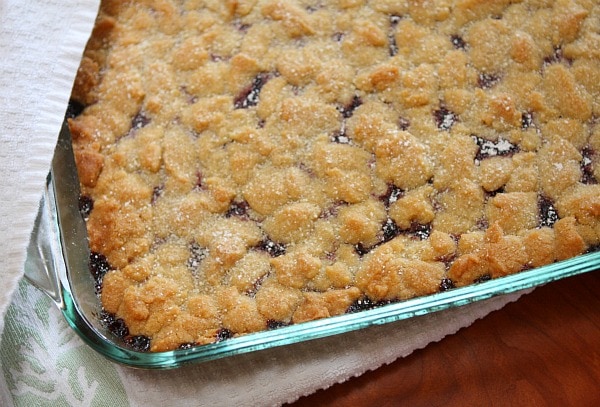 The buttery shortbread bakes up so crisp and crumbly.
The blackberry jam is sweet and smooth and the perfect accompaniment. You don't even miss the fact that you're not actually eating any fresh blackberries. I could seriously dive into that ribbon of blackberry right there.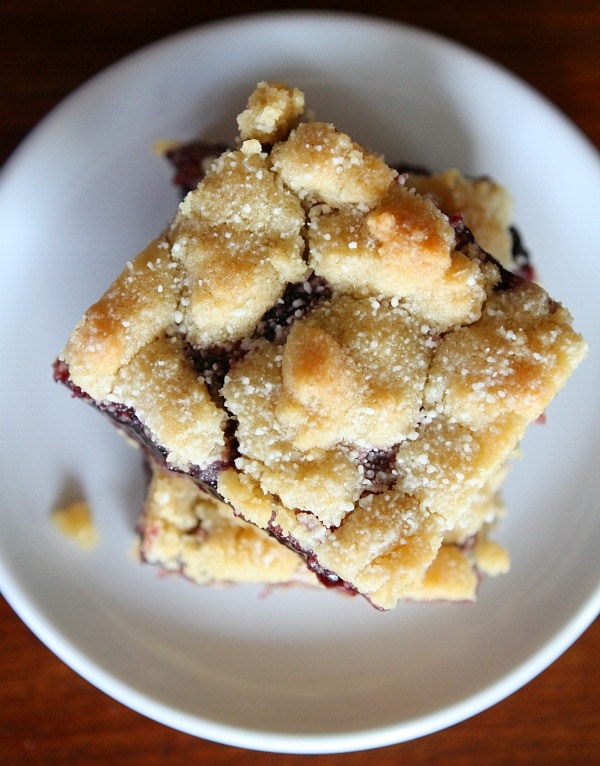 A very light dusting of powdered sugar tops it all off.  Just a little bit more sweet on top of all that buttery goodness.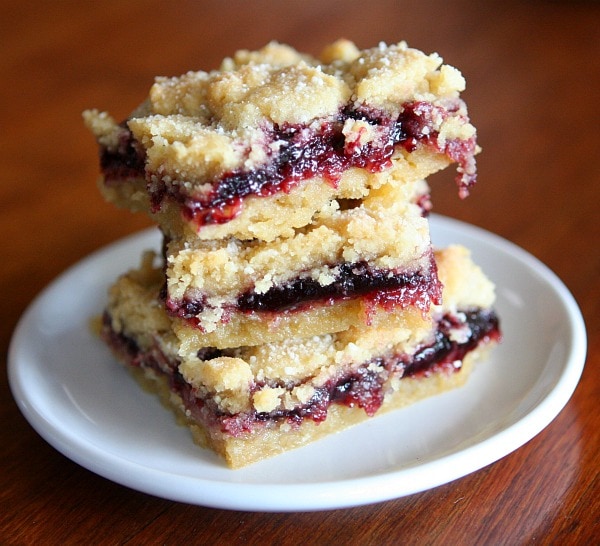 Most importantly, these are incredibly delicious little dessert bars. And even more important than that- they are simple to make… which is nice for the folks who don't want to cook… or don't like to cook… or don't have time to cook. You can put these together rather quickly and you'll end up with something so nice and impressive to share. Simply good.
Blackberry Jam Shortbread Bars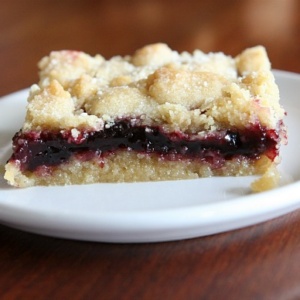 Talk about a surprise dessert... I brought these to a family barbecue and they were a major hit. We all loved them.
Yield:
15 large or 30 small bars
Prep Time:25 min + chill time
Cook Time:50 min
Ingredients:
1 1/2 cups (3 sticks) unsalted butter, at room temperature
3/4 cup light brown sugar, firmly packed
3/4 cup granulated white sugar
2 teaspoons vanilla extract
3/4 teaspoon salt
3/4 cup almond flour or very finely ground almonds
2 3/4 cups all-purpose flour
1 1/2 cups seedless Blackberry Jam
powdered sugar, for dusting
Directions:
1. Preheat oven to 325 degrees F. Spray 9x13-inch pan with nonstick spray.
2. Prepare shortbread: In a large bowl, use an electric mixer to combine butter and sugars; beat until creamy. Add vanilla and salt and beat until well combined. Beat the almond flour and the all-purpose flour into the butter mixture on low speed, just until a smooth dough forms. Divide the dough in half. Wrap one half in plastic wrap and refrigerate for 30 minutes or so. Press the other half of the dough into the bottom of the prepared pan to form the bottom crust.
3. Bake the crust until it is just beginning to turn light brown around the edges, about 20 minutes. Remove the pan from the oven. Place jam into a bowl and stir very well until it is nice and smooth. Spread the jam evenly over the partially baked crust. Crumble the refrigerated shortbread dough over the jam to form a crumbled topping. Return the pan to the oven and continue baking until the topping is firm and crisp and golden in color, about 30 minutes. Transfer to a wire rack and let cool completely. Sprinkle lightly with powdered sugar before cutting into bars.
Tips:
*Almond flour is sold in a bag (I always buy Bob's Red Mill brand). Ask your market if they carry it.
*If you can find a jar of Smucker's brand seedless Blackberry Jam- 18 ounces- it is the perfect size for this recipe.
*Substitute raspberry or apricot jam if you wish to change up the flavors.
*The bars will keep in a covered container at room temperature for about 1 week. Or keep in the freezer for up to 1 month.
Source: RecipeGirl.com (adapted from Sticky, Chewy, Messy, Gooey)