This recipe – Black Bean Quesadillas with Corn Salsa – is perfect as a side for a Mexican meal. If you're anything like me, I'm always clamoring for new side dish ideas for Mexican food. The options can sometimes be so filling and fattening. This one is a good choice. It would also make a great light dinner served with a green salad (or as an appetizer too!)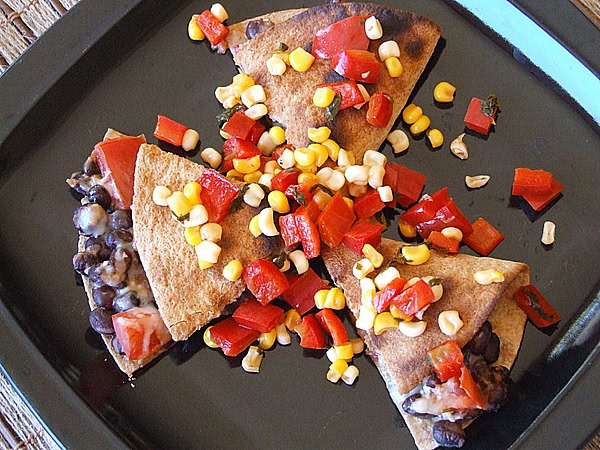 Black Bean Quesadillas with Corn Salsa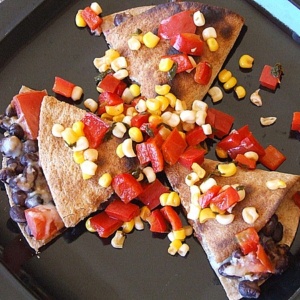 I used this as a side dish for a Mexican dinner. It was excellent and very filling. It would be great for a nice light dinner too.
Yield:
4 servings
Prep Time: 15 minutes
Cook Time: 15 minutes
Ingredients:
SALSA:
1 cup frozen whole- kernel corn
1/2 cup chopped fresh cilantro
2 Tablespoons fresh lime juice
1/2 teaspoon minced garlic
1 large red bell pepper, seeded, ribs removed & chopped
QUESADILLAS:
1 Tablespoon olive oil
1 teaspoon minced garlic
2 cups chopped Roma tomatoes
1/2 cup chopped fresh cilantro
1 (15 ounce) can black beans, drained & rinsed
4 (8-inch) flour tortillas
cooking spray
3/4 cup (3 ounces) pre-shredded Mexican blend cheese
Directions:
1. Prepare salsa first: Combine all ingredients in a small saucepan. Bring to a boil over high heat, and cook for 2 minutes, stirring frequently. Set aside until ready to serve.
2. Preheat broiler.
3. Heat olive oil in a large skillet over medium- high heat. Add garlic; sauté 30 seconds. Add tomatoes, cilantro, and beans; cook 5 minutes or until liquid evaporates, stirring occasionally. Place tortillas on a baking sheet coated with cooking spray. Top each tortilla with 1/2 cup bean mixture and 3 Tablespoons cheese; fold in half. Lightly coat tops with cooking spray. Broil 3 minutes or until cheese melts and tortillas begin to brown.
4. Cut tortillas into 3 wedges and top with salsa.
Tips:
*Reduce fat/calories/WW Points further by using fat-free or low carb flour tortillas and reduced-fat or fat-free cheese.
Nutrition:
Nutrition Facts-Amount Per Serving
Calories 432, Calories From Fat (29%) 124, Total Fat 14g, Sat Fat 5g, Cholesterol 19mg, Sodium 567mg, Potassium 759mg, Carbohydrates 61g, Dietary Fiber 10.25g, Sugar 5.5g, Net Carbs 51g, Protein 19.5g
WW POINTS per serving - 1 quesadilla
Points Plus Program: 11 Old Points Program: 9