Here's a salad recipe that everyone will want to try! > BLT Grilled Cheese Salad with Ranch Dressing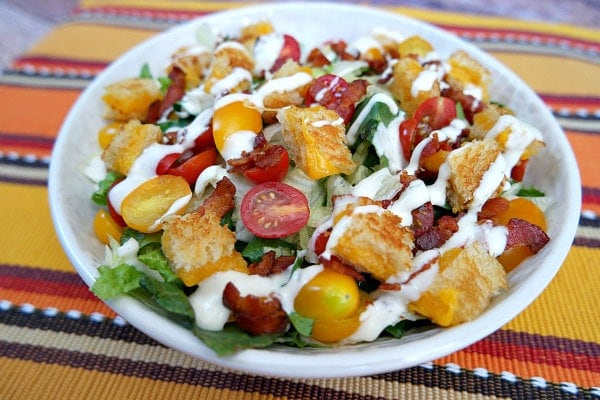 Yep, this one is a typical BLT salad with the addition of some grilled cheese "croutons."  The Newman's® Own Ranch Dressing really finishes it off nicely.  This is one that the kiddos will enjoy too!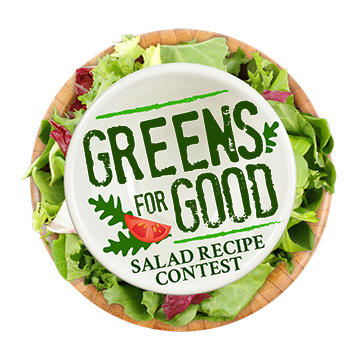 Ten finalists for the Newman's Own "Greens for Good" Salad Recipe Contest have been posted online at www.newmansown.com/GreensforGood  for public voting (September 21- October 5) to help determine the top nine finalists and the Grand Prize winners!
Here's the list of finalists, their chosen charity and their salad!
Chef Hugh Acheson will be judging the top 10 semi-finalist recipes and will help to decide the winner of the contest.  On October 21, 2015 Newman's Own will announce the $35,000 grand prize winner and charity, as well as nine runners-up, who will each have $1,000 donated to a charity of their choice.  Be sure to vote for your favorite, and good luck to the semi-finalists!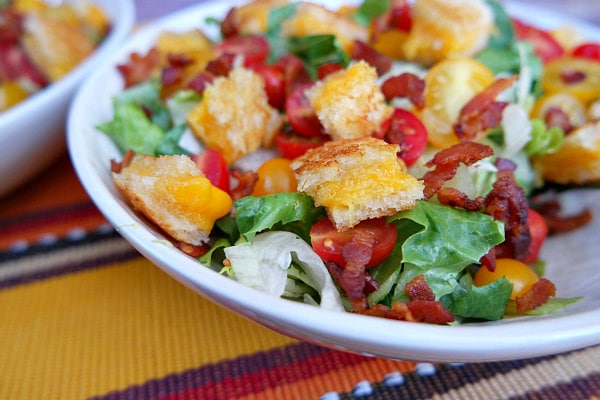 If I had entered the contest, this is the recipe I would have gone with.  It's easy.  It's family friendly.  And it's totally delicious!  Those little grilled cheese croutons are the best!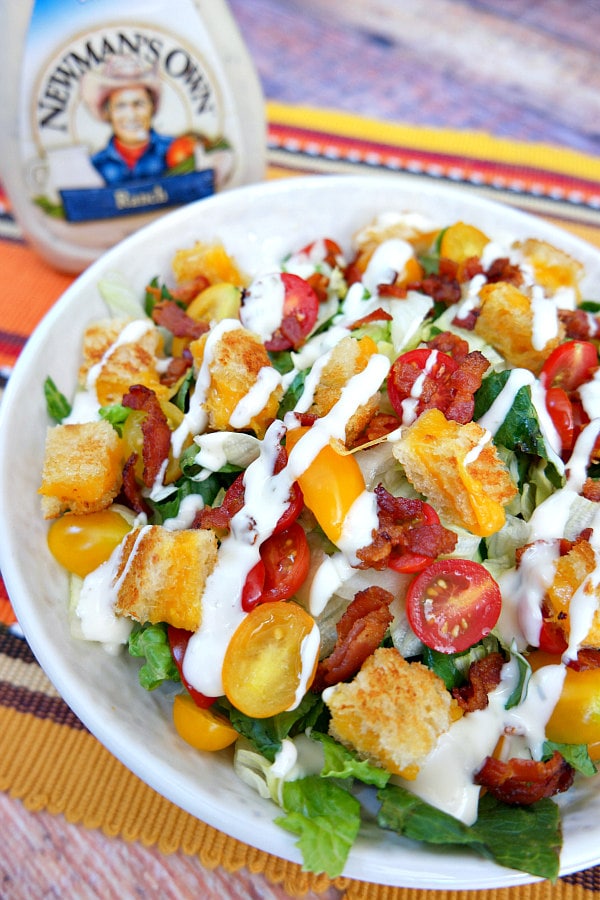 The ranch dressing used in the recipe is key to making it really good.  Ranch goes perfectly with tomatoes and bacon and grilled cheese.  It was a good choice!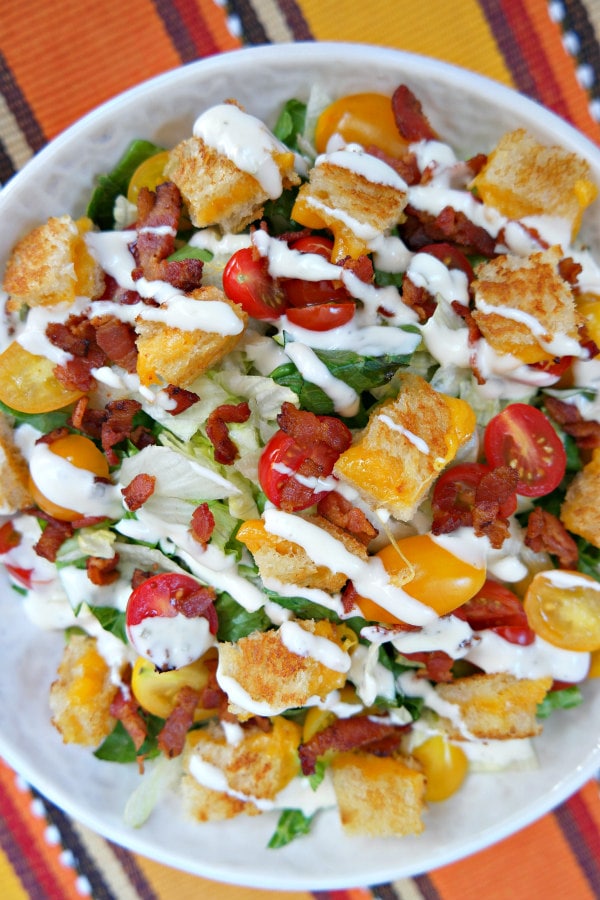 I make salad pretty much every single day in my house, and I'm always trying to find new ways to top my greens.  I think you'll find that this salad recipe is a good one!
Here are a few salad tips from Chef Hugh Acheson:
Store your lettuces in sealable plastic bags wrapped in a damp paper towel (I do this!)
Expand your vision of the crouton.  Bagel chips and crisp farro can play the role of good crispness in salads (I wonder if he'd be impressed with my croutons?!)
Add crisp apple or pear and some good cheese and make that salad a full meal (I agree!)
Crisping tofu in the oven is an easy way to get protein into any salad (I haven't tried this one yet)
Make a salad based on what you have in the refrigerator and not what you think you need (great tip!)
BLT Grilled Cheese Salad with Ranch Dressing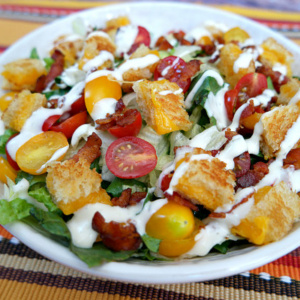 Yield:
2 servings
Prep Time:20 minutes
Ingredients:
2 handfuls chopped romaine lettuce
2 handfuls chopped iceberg lettuce
1 1/2 cups pear tomatoes, sliced in half
4 slices bacon, cooked and crumbled
1 grilled cheese sandwich, crusts removed and cut into cubes
Newman's Own Ranch Dressing
Directions:
Divide lettuce between two large salad bowls.  Sprinkle tomatoes and bacon on top.  Add grilled cheese cubes.
Drizzle with dressing, and serve!
Nutrition:
For your grilled cheese sandwich in this recipe, I think sharp cheddar and sourdough bread work great!
SOURCE:  RecipeGirl.com
Here are a few more BLT salad recipes you might enjoy:
Disclosure:  This post was written in partnership with Newman's Own to help spread the word about their Greens for Good Salad Recipe Contest.  Any opinions shared about their products are entirely my own.