These are like cookies… for cocktail hour:  Blue Cheese and Walnut Shortbread. Right before serving, the "cookies" are spread with cream cheese & chutney and decorated with a walnut & a sprig of parsley (optional). Pretty!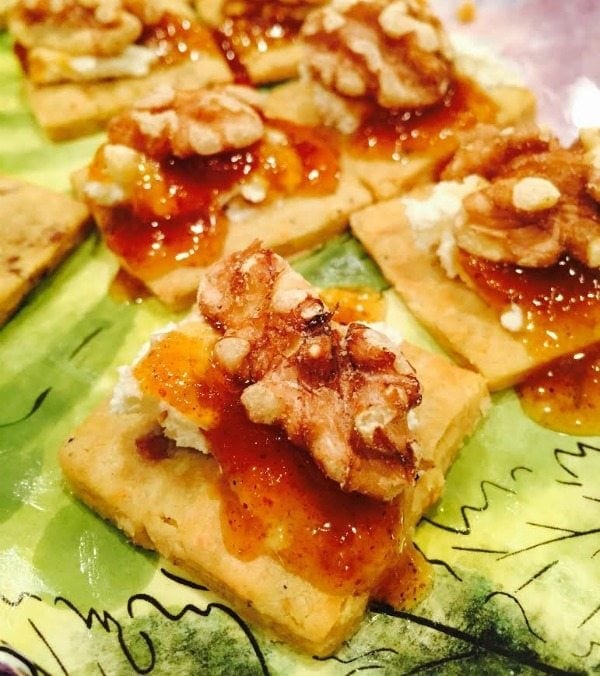 Blue Cheese and Walnut Shortbread
These are delicate shortbread... so it's best to let them cool for a good amount of time before you add the toppings. They're delicious!
Yield:
About 36 appetizers
Prep Time: 25 minutes + chill time
Cook Time: 25 minutes
Ingredients:

1/2 cup blue cheese or gorgonzola, at room temperature
3 tablespoons unsalted butter, at room temperature
1/2 cup all-purpose flour
1/4 cup cornstarch
1/4 teaspoon pepper
1/4 teaspoon kosher salt
1/3 cup walnuts, chopped
3 tablespoons cream cheese (low fat is fine)
3 tablespoons jarred chutney, preferably Major Grey's
1/2 cup walnut halves, toasted for garnishing36 little parsley sprigs, for garnishing

Instructions:

Combine blue cheese and butter in a food processor; process until creamy. Mix flour, cornstarch, pepper, and kosher salt together in a small bowl; add to the blue cheese mixture. Pulse to combine. Add the chopped walnuts and process just until incorporated. Do not overprocess. Remove the blue cheese mixture from the food processor bowl and shape into a ball; cover with plastic wrap. Refrigerate until firm, at least one hour.
Preheat the oven to 325°F.
Place the chilled dough on a piece of plastic wrap and cover with another piece of plastic wrap. Roll the dough out about 1/8-inch thick. Remove the plastic wrap and cut into 1-inch circles using a fluted cookie cutter. Place on a parchment paper-lined baking sheet. Repeat until all dough is used. Bake until light brown, about 25 minutes. Let cool.
To assemble: Spread 1/4 teaspoon of the cream cheese on each shortbread. Top with equal amounts of chutney, a walnut half, and a leaf of parsley.

Tips:

To toast the walnuts, preheat oven to 350 degrees. Spread walnut halves on a small baking sheet and toast in the oven until scented and lightly browned. Watch them closely so they don't burn!
Do ahead tip: The shortbread can be prepared up to 3 days in advance and stored in an airtight container. Assemble up to 1 hour before serving.
SOURCE: RecipeGirl.com (Adapted from Cocktail Food)
More savory shortbread appetizer recipes you might enjoy: