Blueberry Streusel Bars with Lemon-Cream Filling
Sometimes I feel a really intense need to choose a dessert that will please and impress.  I'm no pastry chef, so I completely agonize over whether I should bake a cake (but I'm not so great at cakes), or a pie (but I'm crust-challenged), or cookies (but they're not usually quite fancy enough for serving), or my old standby: brownies (always a hit, but how many different kinds of brownies can you make, really?). So I browse through my binders,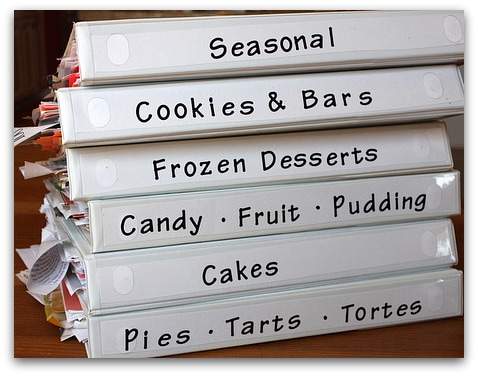 and then I head to my cookbook shelf…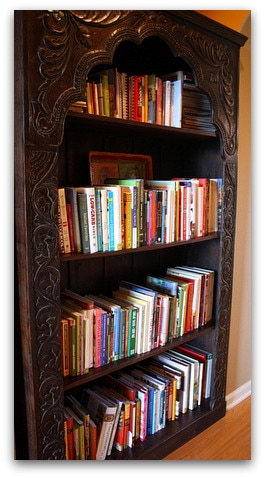 …and I continue to fret… until I've at least narrowed the choices down to a specific 'type' of recipe:   Bars. Fruit Bars. For a family beach barbecue where we were entertained my husband's many East Coast relatives, I decided on Blueberry Bars. I wanted the relatives to love them. I felt the need to impress. And I had a lot of blueberries. Originally from Fine Cooking Magazine, I made: Lemony Blueberry Streusel Bars.
There were a few time-consuming steps involved in the making of this carefully chosen dessert.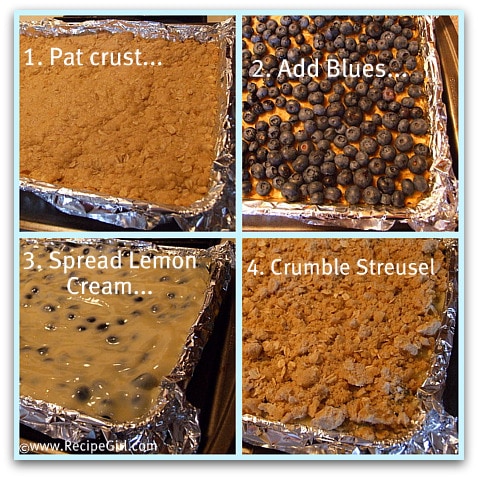 The crust must be baked, and then the filling baked too. When the crumble is added, it's given a final bake. You must be patient after that because it will need to cool completely before you attempt to slice it up. Even better, if you can afford the time to let it chill in the refrigerator for any length of time, you'll find that you'll get cleaner cuts.


The result is a sweet-tart blueberry bar. The lemon filling is a wonderful creamy layer, and the crust and crumble are delicious too.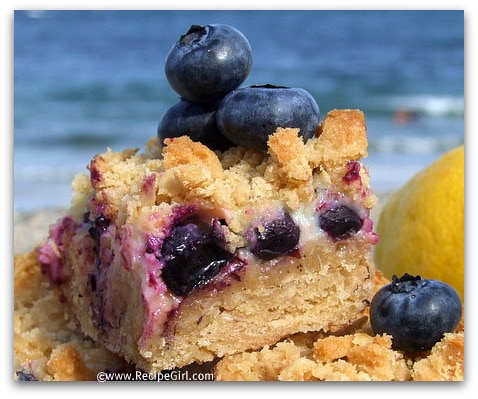 I was pretty lucky… these were a hit out of the park. All of the agony, I guess, paid off. The relatives loved them, with the exception of a couple of blueberry naysayers who refused to try them (there are always a few in every crowd). I gave a couple of samplers to our favorite beach house neighbors too, and they promptly asked for the recipe and made a batch for themselves. These are a definite must-try if you have a bunch of plump, fresh blueberries this summer.
This recipe can be found here: Lemony Blueberry Streusel Bars
Comments