Brown Sugar Cinnamon Pop Tarts
These Brown Sugar Cinnamon Pop Tarts are made with simple, all-natural ingredients.  This pop tart recipe is the kind of recipe you'll be happy you made homemade!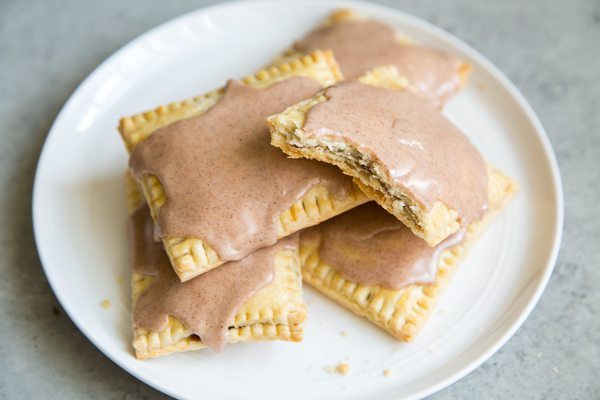 Pop Tart Recipe
Frosted brown sugar cinnamon Pop Tarts were my favorite breakfast treat growing up. I liked them at room temperature straight out of the container. I enjoyed them warmed and toasted with a glass of ice cold milk. And during the hot summer months, I would freeze them and use it to sandwich ice cream! (Yes, super sweet and decadent!) Although I still have a soft spot for Pop Tarts, I haven't bought them in years.
Why purchase the store-bought ones that are loaded with preservatives, when I can show you how to make pop tarts at home?!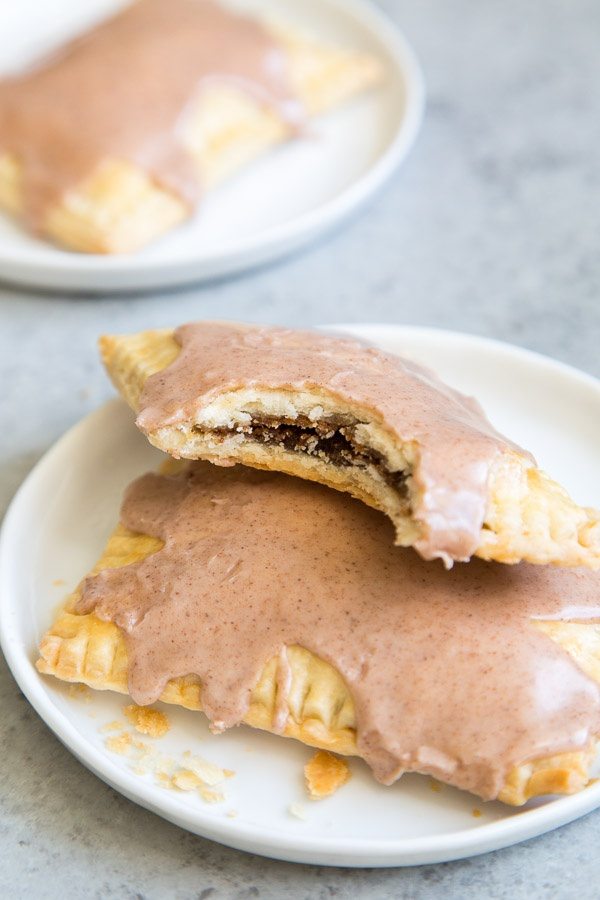 This homemade pop tart recipe is made using my favorite pie dough recipe. One recipe makes six 3×4-inch hand tarts. Simply double or triple the recipe to make more. In a pinch, store-bought readymade pie dough also works.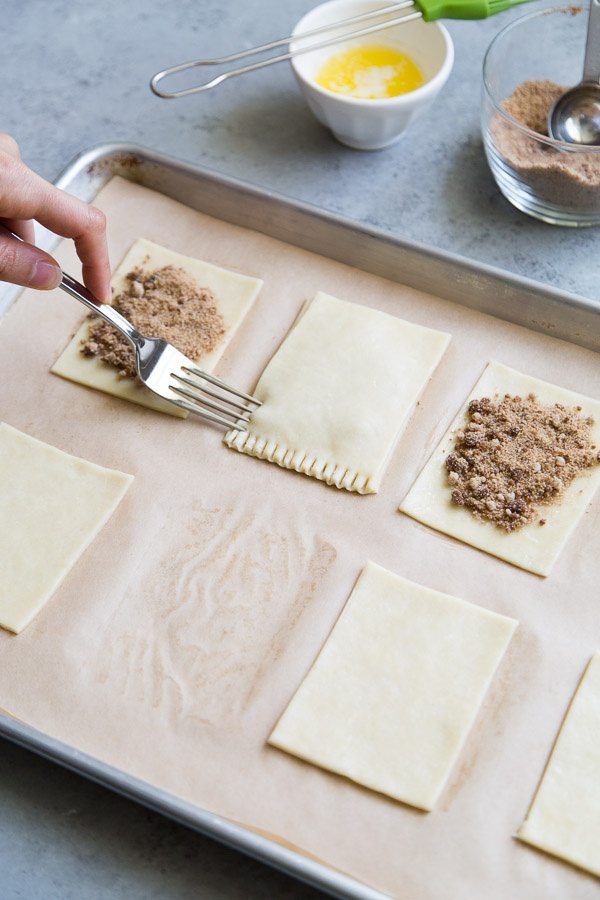 How to Make Pop Tarts
The brown sugar cinnamon filling is made by combining brown sugar, ground cinnamon, all-purpose flour (as a thickening agent), and a touch of molasses. The molasses aids in enhancing the flavors of the brown sugar. Don't worry if you end up with little molasses-sugar clumps. Those will melt during baking.
I cut the pie dough into 3×4-inch rectangles. Feel free to cut them into your desired dimensions. You can also use cookie cutters to punch out shapes: rounds, hearts, stars, etc. You can knead together the dough scrapes one time. I don't suggest re-rolling the dough more than once because the overworked dough will be rather tough and it will shrink in the oven.
The cut-out rectangles are brushed with melted butter. This adds flavor and moisture, while also helping to secure the top and bottom pie pieces together. After assembly, the pop tarts need to be chilled, either in the fridge or freezer. Chilling the dough ensures a flakier crust. The tops of the pastries need to docked with a fork or a toothpick to allow stream to escape during baking.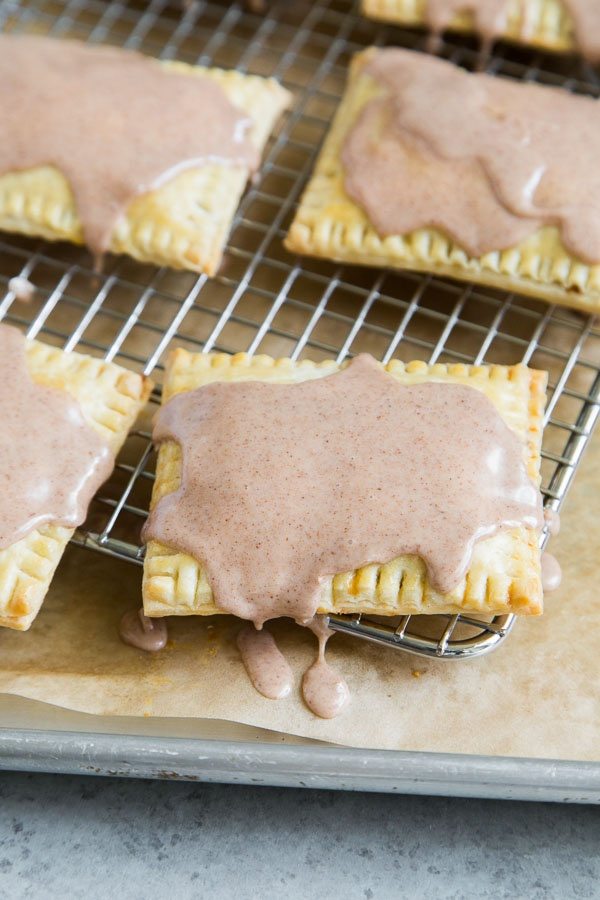 After baking, the brown sugar cinnamon pop tarts are frosted with a sweet cinnamon glaze. The pop tarts can be immediately eaten after glazing. Or, if you're patient, you can wait until the glaze sets and hardens.
This pop tart recipe is best eaten the day they're made. Leftovers can be stored in a container with a loose fitting lid. The glaze needs air circulation, otherwise, the glaze will melt.  Now you know how to make pop tarts!
Here are a few more breakfast treats you might enjoy:
Yield: makes 6 pop tarts
Prep Time: 20 minutes + dough resting time
Cook Time: 25 minutes
Brown Sugar Cinnamon Pop Tarts
Here's a homemade pop tarts recipe - the best pop tart recipe out there!  This is the brown sugar cinnamon pop tarts variety.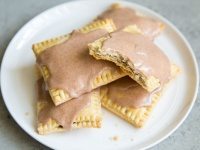 Ingredients:
Dough:
1 1/2 cups all-purpose flour
1/2 teaspoon fine sea salt
1 teaspoon granulated white sugar
1/2 cup unsalted butter, cut into tablespoons, cold
3 to 4 tablespoons ice water
Filling:
1/2 cup light brown brown sugar
1 1/2 teaspoons ground cinnamon
1 tablespoon all-purpose flour
2 teaspoons molasses
2 tablespoons unsalted butter, melted and cooled
Egg Wash:
1 large egg
1 teaspoon water
pinch salt
Glaze:
1 1/2 cups powdered sugar
1 teaspoon ground cinnamon
1/2 teaspoon pure vanilla extract
3 tablespoons milk
Directions:
Dough:
In a large bowl, combine flour, salt, and sugar. Add sliced butter. Cover and let chill in the fridge (about 10 minutes) or freezer (about 5 minutes) until ingredients are cold.
Using a pastry blender (or two forks), cut cold butter into flour mixture until it resembles coarse, pebbled sand. Add ice cold water and cold to combine. Dough will be shaggy.
Dump dough onto a lightly floured work surface and knead until mixture comes together. Pat dough to a thickness of 1/2-inch. Wrap in plastic wrap and let chill in the fridge for at least one hour (overnight is best).
Filling:
In a small bowl, mix together brown sugar, cinnamon, and flour. Add molasses and stir together. The molasses will cause the filling to form little pebbles.
Egg Wash:
Whisk together egg, water, and salt until smooth. Set aside until assembly.
Assembly:
Remove dough from fridge. Working on a lightly floured surface, roll dough to a thickness of about 1/4-inch. Cut into rectangles 3 x 4-inches in size. Knead together scrapes and roll out dough again. You should end up with a total of 12 rectangles (6 tops and 6 bottoms).
Brush melted butter on all 12 rectangles, making sure to butter up to the edges. Spoon a rounded tablespoon of filling into the center of 6 rectangles. Spread filling leaving a clean frame around the edges. Place the remaining rectangles (buttered side down) over filled rectangles. Line up the edges of the top and bottom pieces, the press the seams together. Use the tines of the fork to seal the edges.
Place assembled pop tarts on a parchment lined baking sheet. Freeze pop tarts for at least 10 minutes until solid.
Preheat oven to 350 degrees F. Dock the tops of the chilled pop tarts using a fork or toothpick. This will allow steam to release during baking.  Lightly brush the tops of the pop tart with prepared egg wash. Bake for 25 to 30 minutes until pop tarts are golden brown in color. Let pop tarts it in pan for 3 to 5 minutes before transferring to a wire rack to cool to room temperature.
Glaze:
Whisk together powdered sugar, cinnamon, vanilla, and milk until smooth. Let glaze sit for 5 minutes to slightly thicken. Drizzled over cooled pop tarts. Serve immediately, or allow glaze to set up and harden.
These pop tarts are best eaten the day they are baked. However, you can store they up for to three days at room temperature. Store in an container with a loosely fitted lid, or keep the lid slightly ajar. The glaze needs air circulation to prevent it from melting.
Brown sugar filling adapted from King Arthur Flour
SOURCE: RecipeGirl.com
Comments