This recipe has been featured in a post on The Recipe Girl blog with step-by-step instructions and many photographs: How to Make Homemade Cannoli.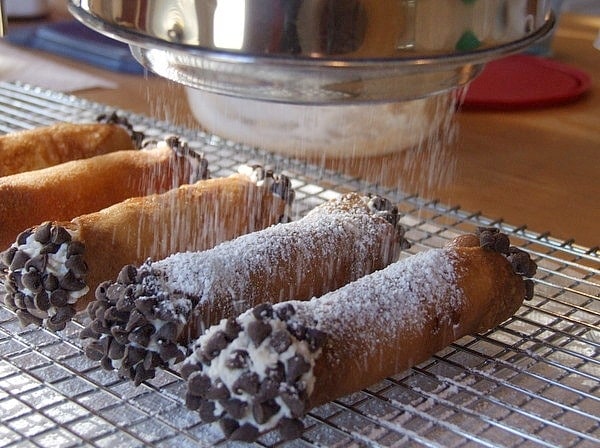 Cannoli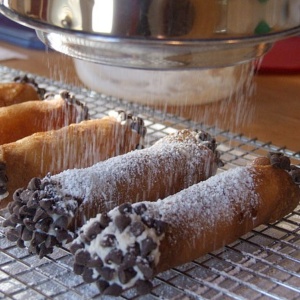 I've been in love with cannoli ever since I visited Mike's Pastry Shop in the North End of Boston. This homemade version is a close second to Mike's 🙂
Yield:
16 cannoli
Prep Time: 1 hr + chilling time
Cook Time: 1 hr, 25 min
Ingredients:
CANNOLI SHELLS:
2 cups all-purpose flour
1/2 teaspoon ground cinnamon
2 teaspoons granulated white sugar
pinch of salt
2 Tablespoons shortening (or butter), melted
3/4 cup sweet Marsala
1 large egg white
FILLING:
3/4 cup whole milk ricotta cheese, drained overnight w/ cheesecloth & squeezed dry
3/4 cup mascarpone cheese
1/4 cup powdered sugar
1/2 teaspoon Grand Marnier
1/2 teaspoon ground cinnamon
pinch of salt
FOR FRYING:
canola oil
FOR FINISHING:
mini chocolate chips, chopped pistachios, candied orange peel or chopped chocolate
powdered sugar, optional
Directions:
1. Prepare shells: Combine the dry ingredients and mix in the butter and Marsala until you get a stiff, smooth dough. Form the dough into a ball, wrap with plastic wrap and refrigerate for 2 to 3 hours.
2. When you're ready to make the shells, place enough oil in a fry pan so that the cannoli shells will be able to be covered completely when frying. Dip each of the metal cannoli forms in oil and set on rack. Heat oil to 350°F. You'll need to use a thermometer because it's important that the oil is right around that temperature. Too hot, and you'll burn the shells. Too cool and the shells will turn out greasy and soft.
3. Remove dough from refrigerator and cut into four pieces. Start with one piece and roll it out on a floured surface until very thin- as thin as you can get it without having it tear apart. If you have a pasta rolling machine, roll it through several times until it is smooth and thin. (On my KA pasta machine attachment, I used #4 on my machine.
4. Once your dough is rolled out, cut out 4-inch circles. I used the top of a plastic bowl that had a 4-inch diameter and it worked just fine. Wrap cut cannoli dough around metal form & brush edges with egg white to seal. Use tongs to set it in the heated oil. Let it fizzle for about 2 minutes, watching that it isn't getting too dark. Remove with tongs and set on rack to drain. Let cool a bit and then carefully slip shell off of the form. They will be thin and crispy, so you'll need to do so carefully, perhaps using folded up paper towels to help wiggle it off the form.
5. For filling: Mix filling ingredients together. Cover and refrigerate until ready to use (at least a couple of hours).
6. When ready to fill the cannoli (should do so only a few hours before serving- if you fill them too far ahead, they will begin to get soggy), place filling in a pastry bag with a wide tip opening (or simply a freezer zip bag with the corner snipped off). Hold a cannoli shell in one hand and the squeeze bag in the other. Gently squeeze filling into both ends of the shell to fill it. Let the filling come out of each end a little bit. Edge the cannoli with desired decor... mini-chocolate chips, chopped chocolate, chopped pistachio, etc. Remove to a platter and repeat with remaining shells. Keep refrigerated until ready to serve.
7. When ready to serve, give the cannoli a sprinkle of powdered sugar on top if you wish.
Tips:
*Vanilla extract may be substituted for the Grand Marnier.
*Metal cannoli tubes can be ordered online, but they can also be found in well-stocked cooking stores.
*You don't *have* to have a pasta rolling machine to make the cannoli dough, but it makes it much easier to get nice, thin dough.
*Cannoli shells can be made a day or two in advance. Store in a sealed plastic container.
*Flavor will make a difference if you use really good quality ricotta & mascarpone cheese.
*If you cannot locate mascarpone cheese, you can substitute cream cheese.
*And if you want to make this really, really easy... purchase some ready-made cannoli shells at a good Italian deli, and fill them with this delicious filling.
Source: RecipeGirl.com (Adapted from a discussion on Serious Eats)