A caramel corn infused hot beverage:  Caramel Corn Hot Chocolate.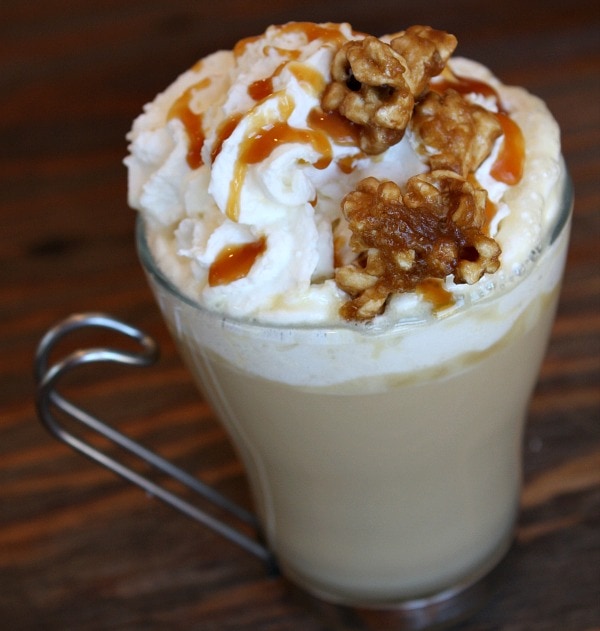 For my Caramel Corn Hot Chocolate, I used Pacific Natural Foods Almond Milk.
And some of my best-ever homemade caramel corn.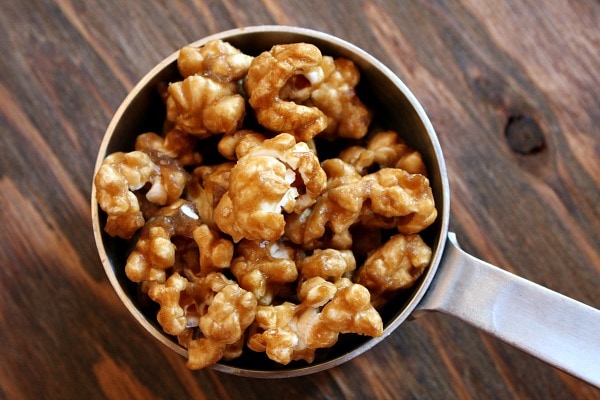 Here's how you make it: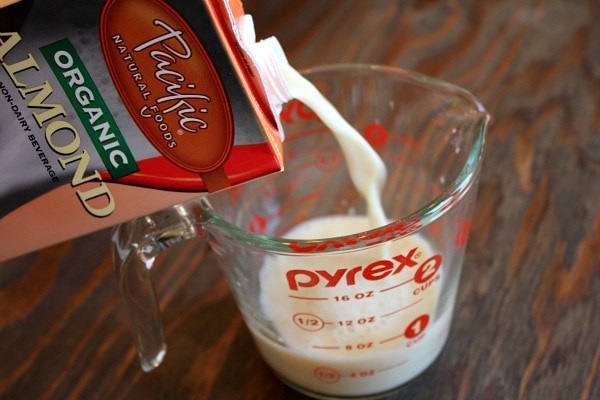 You'll need a cup of the almond milk.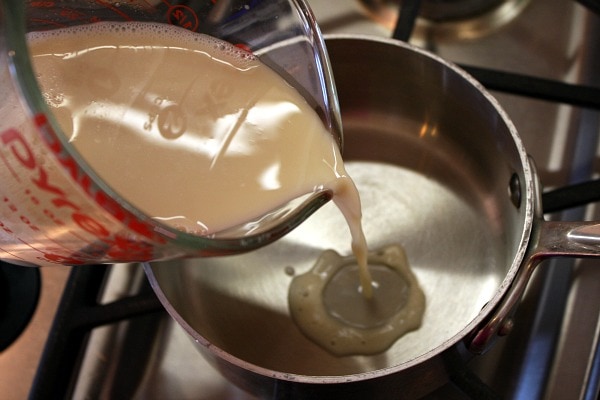 Pour it into a small saucepan.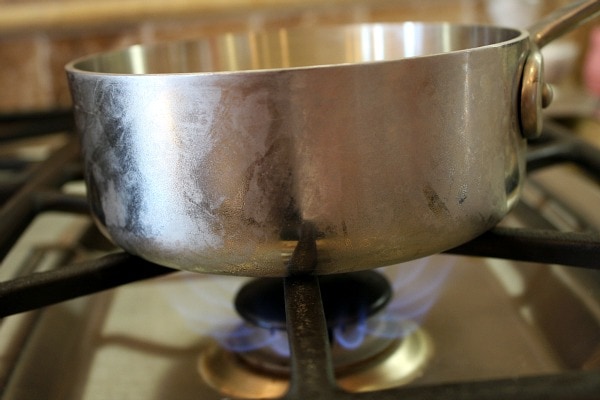 Heat it up…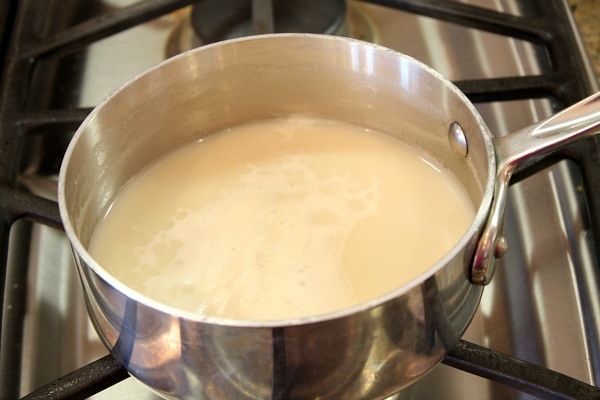 …until it is nice and toasty hot.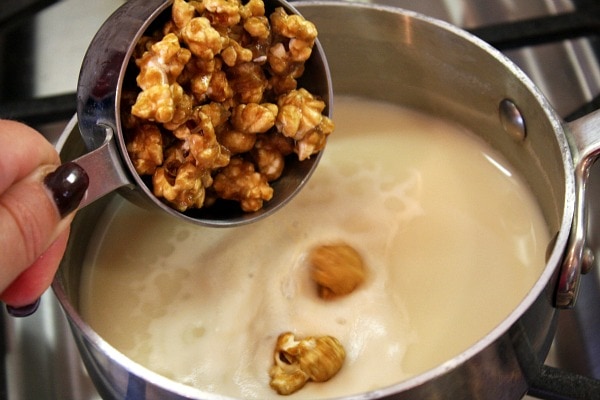 Add caramel corn to the hot almond milk.  Yep, you heard that right.  You've gotta trust me on this one.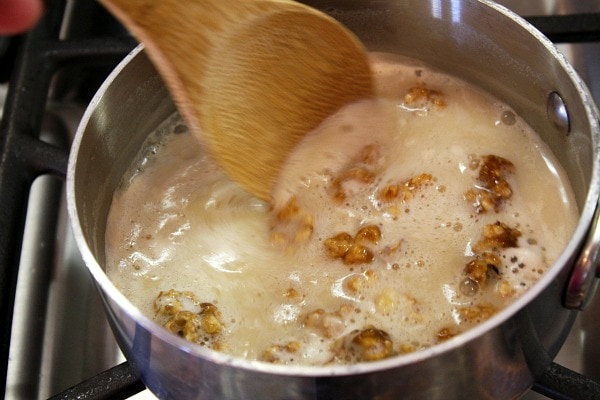 Stir it up.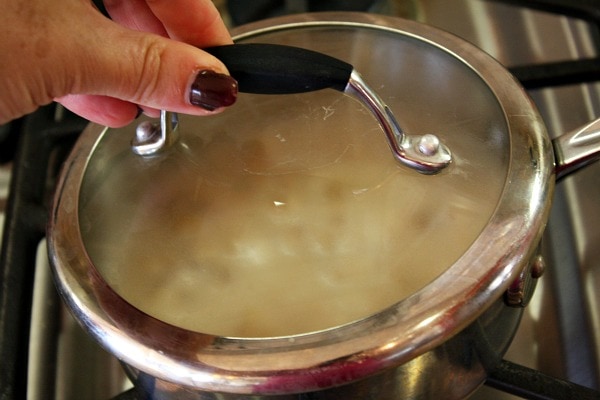 Put a lid on top.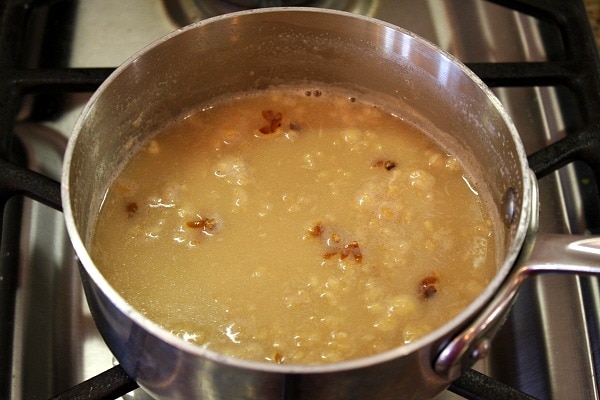 After the caramel corn sits in the almond milk for a few minutes, it will have infused all of its wonderful flavor into the almond milk.  But you don't want the popcorn in there any more.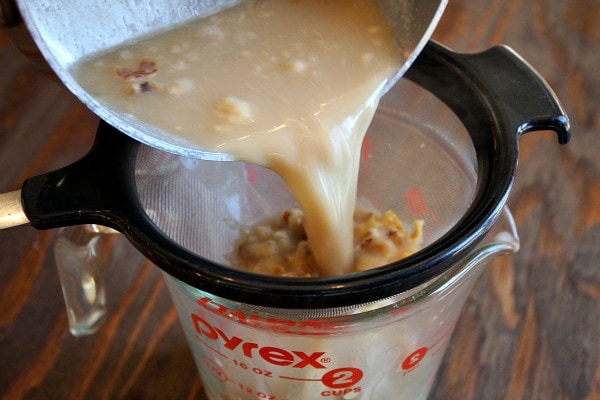 So get rid of it by pouring through a fine sieve (or strainer, for you folks who aren't into sieve-terminology).  Then you can dump that popcorn gook out.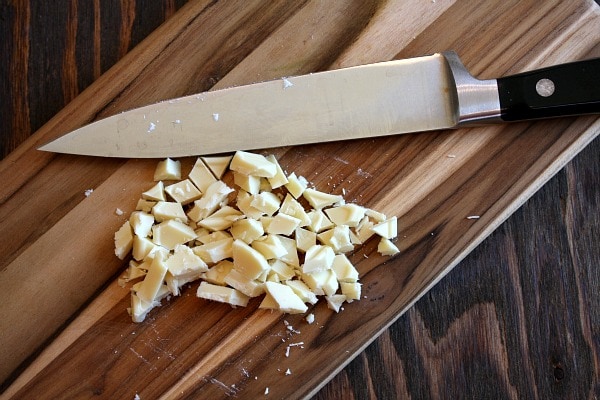 Chop up some white chocolate.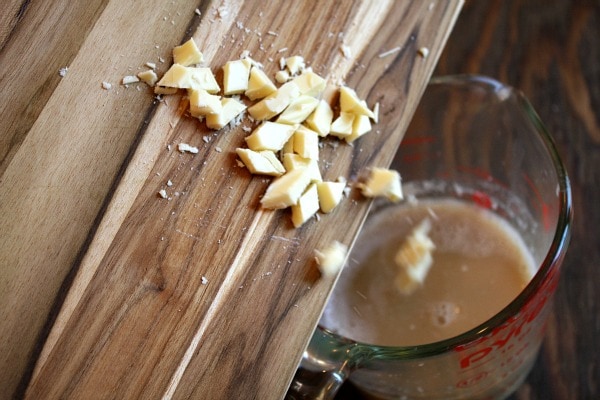 Add it to the caramel corn- infused almond milk.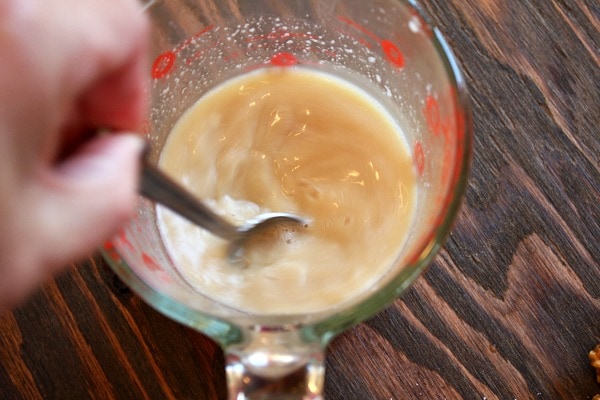 Stir it up until the white chocolate is melted and your drink is nice and smooth.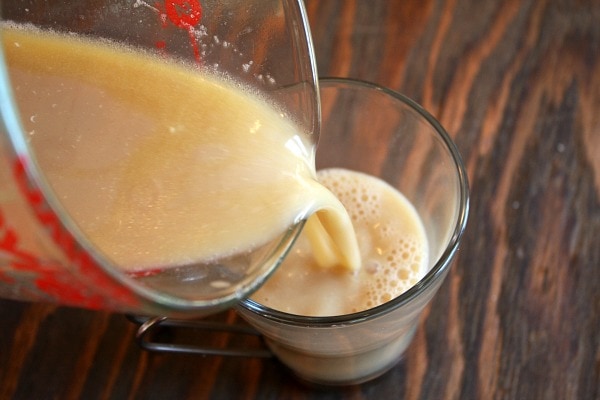 Pour it into a mug.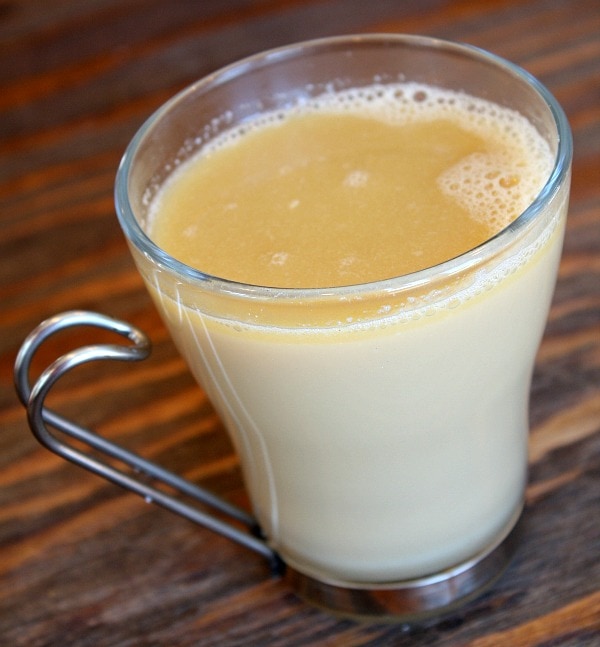 I like these clear kinda mugs so you can see what exactly is going on in there.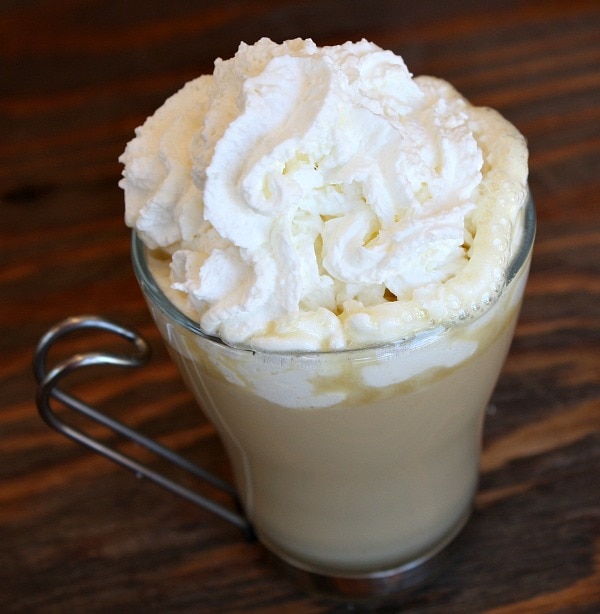 Top with whipped cream.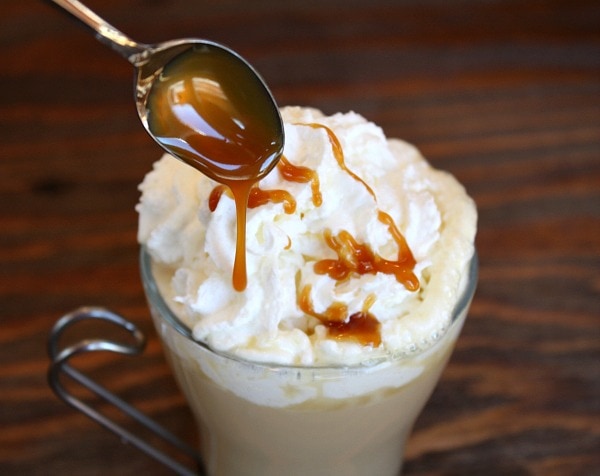 DRIZZLE real-live caramel syrup on top of the whipped cream.  I just used sundae syrup that was hidden in the back of my refrigerator.  It was hidden for reasons that might be obvious to anyone who reads my weight loss woes.  Oh well, it's just a drizzle for goodness sake.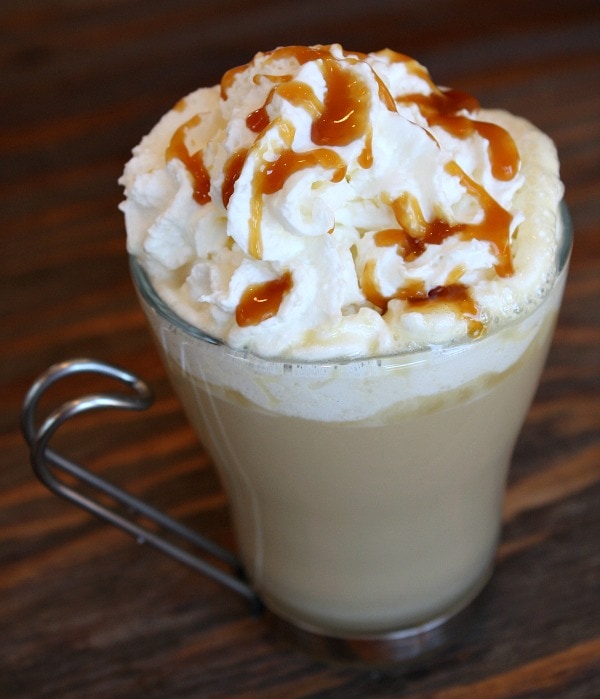 You can drink it at this point.  You'll be tempted to.  It's like drinking caramel corn in a… um… drink.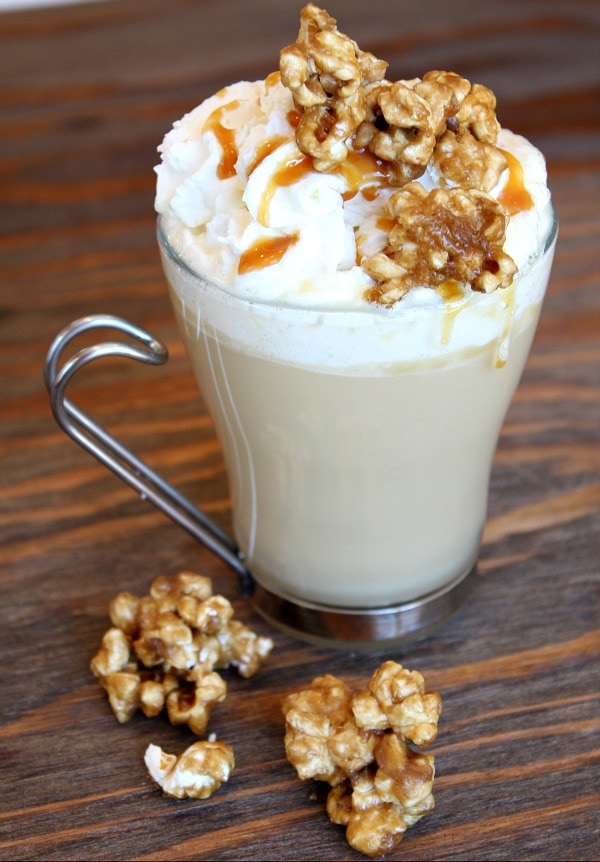 Hey, here's the best part!  Top it with some more caramel corn!  Drink and munch.  It's hot and warm and comforting and sweet.  And it's perfect and interesting enough to serve during the holidays as a special treat.
Caramel Corn Hot Chocolate
Caramel Corn infused milk is paired with white chocolate in this hot and festive drink recipe...
Yield:
1 drink
Prep Time: 25 min
Cook Time: 3 min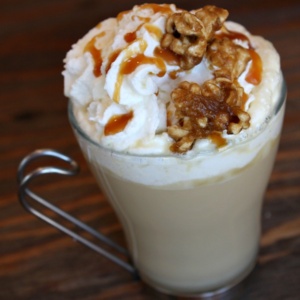 Ingredients:

1 cup unsweetened almond milk (see *Tips below)
1/2 cup caramel corn, homemade or store-bought
1 to 2 tablespoons finely chopped white chocolate (or chips)
whipped cream
caramel sauce
additional caramel corn

Instructions:

1. Heat the milk in a small saucepan until it is hot and beginning to bubble. Remove the pan from heat, add the caramel corn to the milk, stir and place a lid on the top of the pan. Let the milk absorb the flavors of the caramel corn for about 15 minutes. Pour the infused milk into a glass measuring cup or small bowl through a fine sieve that will catch all of the solids. Discard the solids.

2. If the milk is not hot to touch- go ahead and microwave it for 20 to 30 seconds to warm it up again. Stir in 1 tablespoon of white chocolate. Give it a taste to see if it has the sweetness you prefer. If not, stir in a little more of the white chocolate. Stir until the chocolate is melted and the drink is smooth.

3. Pour the caramel corn hot chocolate into a mug. Top with whipped cream, a drizzle of caramel, and a few nibbles of caramel corn. Serve with caramel corn, of course.

Tips:

*You can use any sort of milk or non-dairy milk substitute for this recipe. The almond milk works nicely because it tends to be creamier than regular milk.
Disclosure:  I have been provided with compensation and products for my task in creating an original recipe and participation as a judge in the Pacific Natural Foods EveryDay Chef Challenge.