Make these Mint Hot Chocolate Bombs for your next special hot cocoa treat!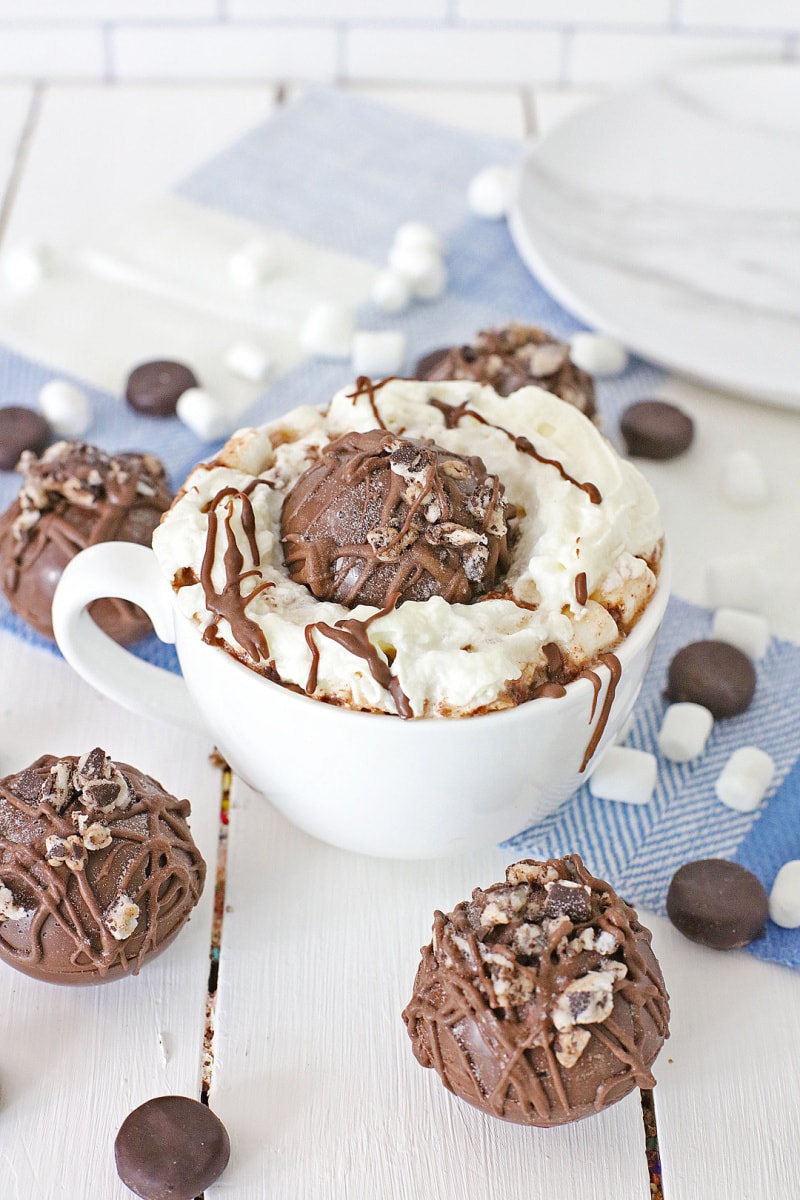 It's the new craze– making Hot Chocolate Bombs (otherwise known as Hot Cocoa Bombs). This is a fun way to make hot chocolate. Hot Chocolate Bombs are filled with hot cocoa mix and marshmallows. And in this Mint Hot Chocolate version, Peppermint Patties are added in as well to create a minty and delicious hot chocolate!
Ingredients and Equipment needed:
One set of 2-cavity silicone molds used for hot chocolate bombs
milk chocolate
hot cocoa powder (like Swiss Miss)
miniature marshmallows
miniature York Peppermint Patties
milk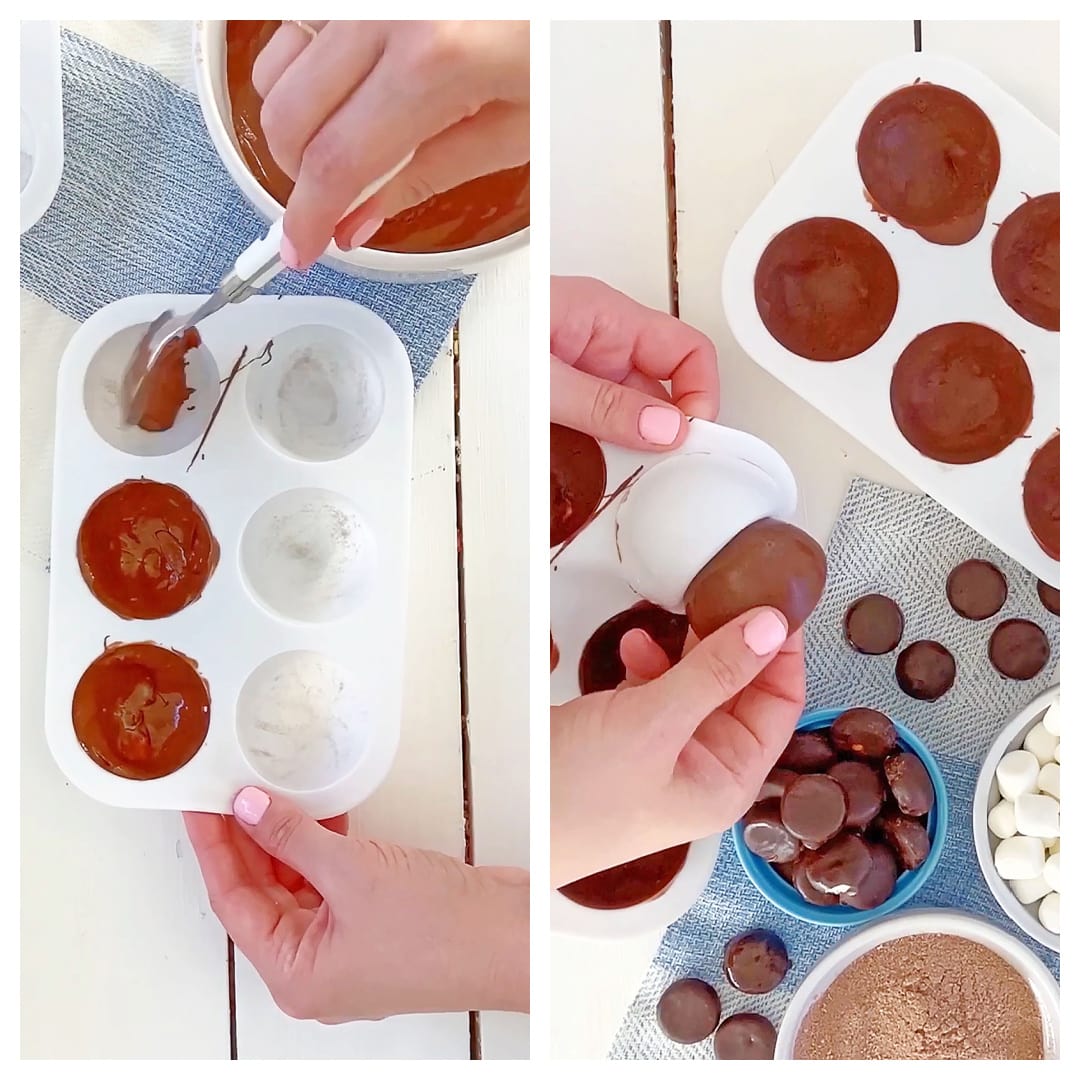 How to make Mint Hot Chocolate Bombs:
Melt the chocolate. Brush chocolate into the silicone molds, and freeze to set. Brush two layers to make it thick and sturdy. Once they are cold and solid, remove them from the freezer and pop the molds onto a work surface.
Fill each half with hot cocoa mix, a couple of mini Peppermint Patties and a few mini marshmallows.
Heat a plate with hot water or place in the microwave for a short time. Place the second chocolate mold (cut-side-down) on the warmed plate to melt it a little. Then you can put the edge-melted mold on top of the filled mold and seal. Use your fingers to rub the two together, grabbing a little melted chocolate to glue the mint hot chocolate bombs together, if needed.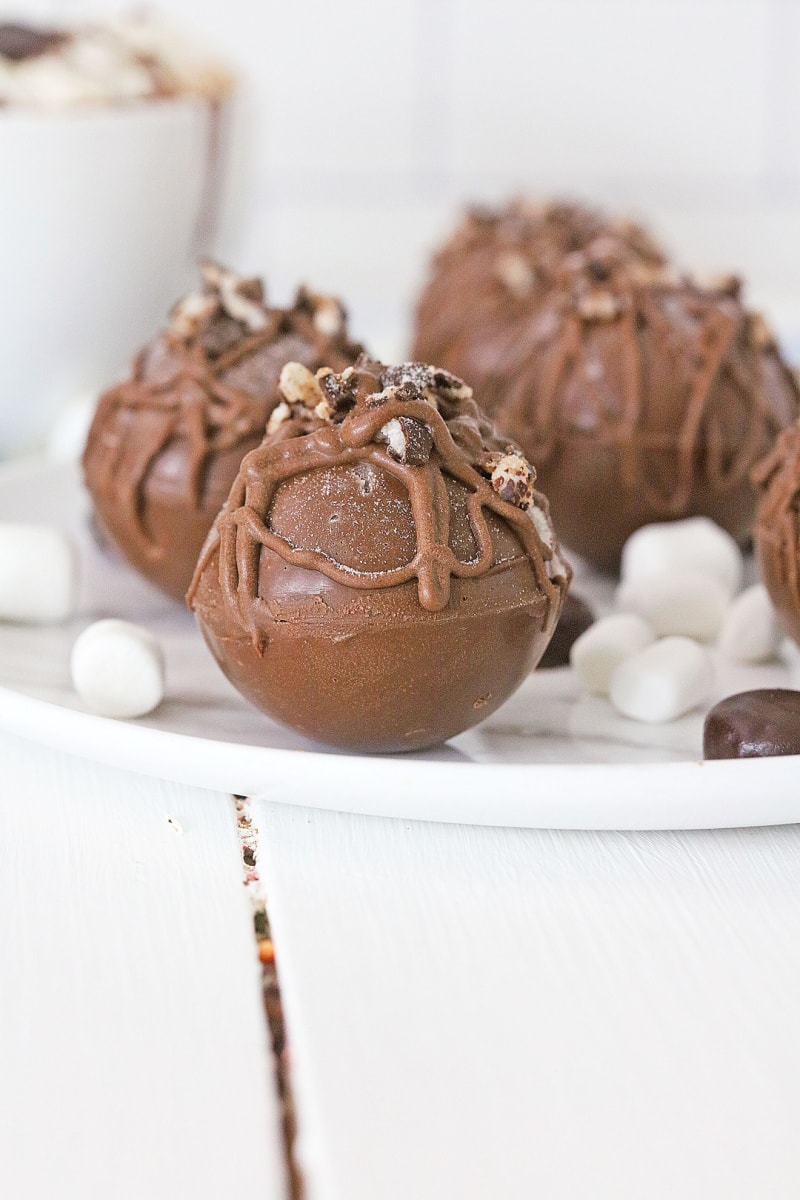 Use the leftover melted chocolate to drizzle decoratively on top. Add chopped mints. Let the Mint Hot Chocolate Bombs sit until the chocolate is set on top. Or place into the refrigerator until set.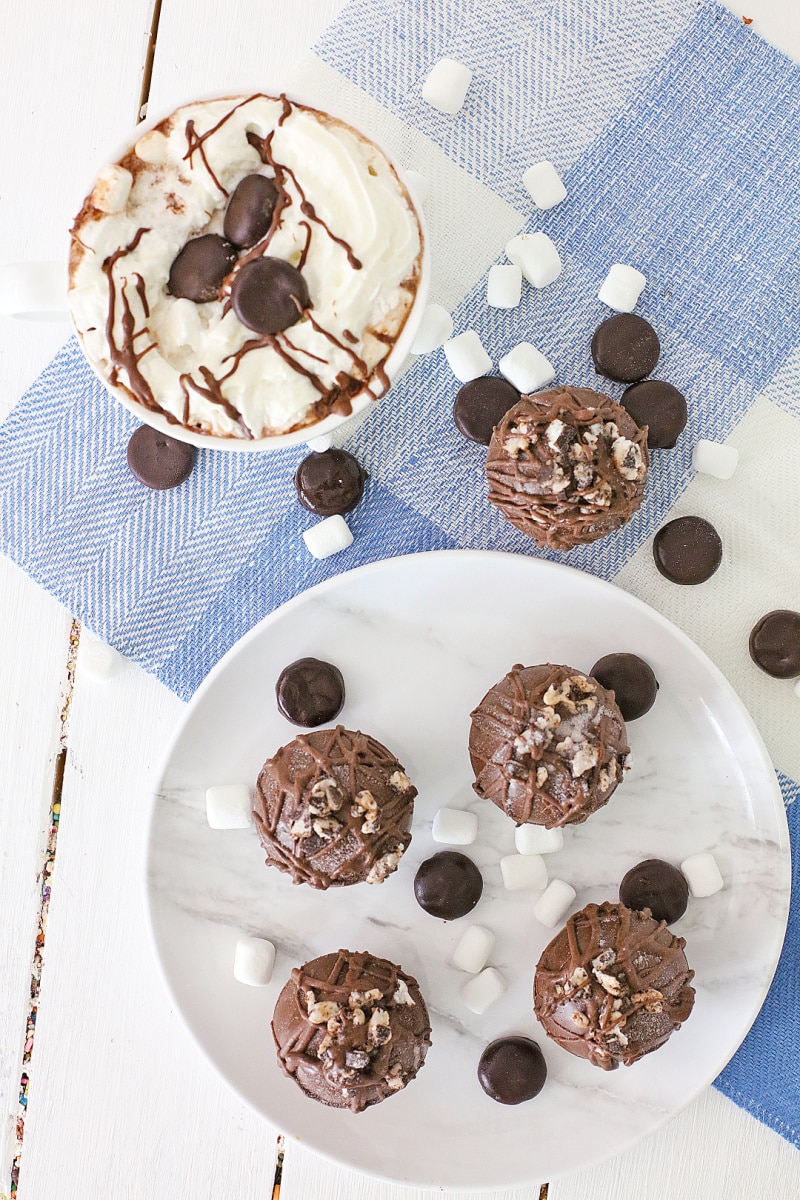 Store the Hot Cocoa Bombs in a sealed container at room temperature until ready to use. They should stay good for a week or so. You can also put the sealed container in the refrigerator.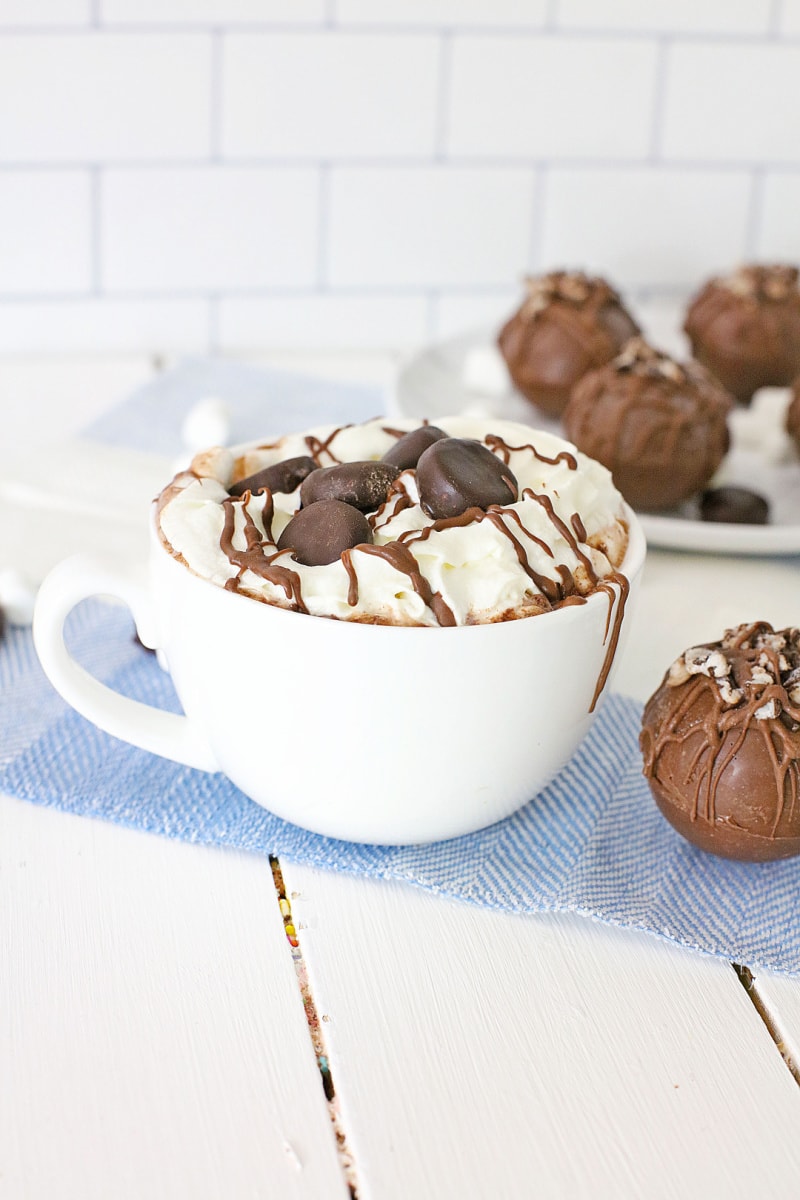 Hot to make hot chocolate with a Hot Cocoa Bomb:
Put a hot chocolate bomb in a mug. Pour hot milk into the mug, and let the hot milk melt the bomb. It will open up, and the marshmallows will float to the surface. Use a spoon to stir. You'll want to stir until the chocolate and peppermint patties have a chance to melt. Top with whipped cream, if desired. Add a few more Peppermint Patties on top! And bake some Hot Chocolate Cookies to go along with it.
If you love Peppermint Patties, you might also like to try my Peppermint Brownies.
Mint Hot Chocolate Bombs
Get in on the latest craze of using Hot Chocolate Bombs to make a cup of hot cocoa!
Recipe Details
Equipment
One set of two 6-cavity silicone molds used for hot chocolate bombs
Ingredients
12

ounces

milk chocolate

(can use chips or almond bark)

½

cup

hot cocoa powder

(like Swiss Miss)

1

cup

mini marshmallows

(about 5 to each bomb)

8

ounce package

York miniature Peppermint Patties

6

cups

milk
Instructions
MAKE THE BOMBS:
In a glass bowl, melt the chocolate in the microwave for 15 second bursts, stirring after each burst, until melted and smooth.

Use a pastry brush to brush 12 semi-spheres with a thick layer of the melted chocolate. Place the molds in the freezer for 5 to 10 minutes to allow the chocolate to set. I recommend brushing a double layer in order to create thick shells.

Once cold and solid, remove 6 of the semi-spheres from the mold and transfer them to a rimmed baking sheet that has been lined with wax paper. Fill each with a couple of spoonfuls of the hot cocoa powder, a few mini marshmallows and a few mini Peppermint Patties.

Run a plate under hot water until it's warm to the touch. Take out the other 6 semi-spheres from the freezer, and gently place an open edge on the plate until it begins to melt slightly. Cover a chocolate-filled half with the empty, melted edge half to seal the chocolate bomb. Rub the chocolate with your fingers to seal (grab some melted chocolate from the plate if you need to). Repeat with the remaining ingredients. Let the bombs sit until the chocolate is set (or place into the freezer to set more quickly).

Place the leftover melted chocolate in a pastry bag. Pipe the milk chocolate over the Cocoa Bombs and sprinkle with chopped mints. 
USE THE BOMBS FOR HOT CHOCOLATE:
Heat 1 cup of milk, and pour into a mug (use microwave or on stovetop). Place one Hot Chocolate Bomb in the bottom of the mug, and pour the heated milk over the top. The Hot Chocolate Bomb will melt and bubble, and marshmallows will float to the top. Stir the powdered cocoa and mints into the milk, top with whipped cream and a few more marshmallows, if desired. Enjoy!
Nutrition
Serving:
1
mug
,
Calories:
582
kcal
,
Carbohydrates:
91
g
,
Protein:
12
g
,
Fat:
24
g
,
Saturated Fat:
14
g
,
Trans Fat:
1
g
,
Cholesterol:
5
mg
,
Sodium:
214
mg
,
Potassium:
589
mg
,
Fiber:
4
g
,
Sugar:
77
g
,
Vitamin A:
504
IU
,
Calcium:
327
mg
,
Iron:
2
mg