Eating Caramelized Apples with Cinnamon Whipped Cream is a much neater way to eat a caramel apple with the added bonus of pan juices and whipped cream on top of a puff pastry waffle!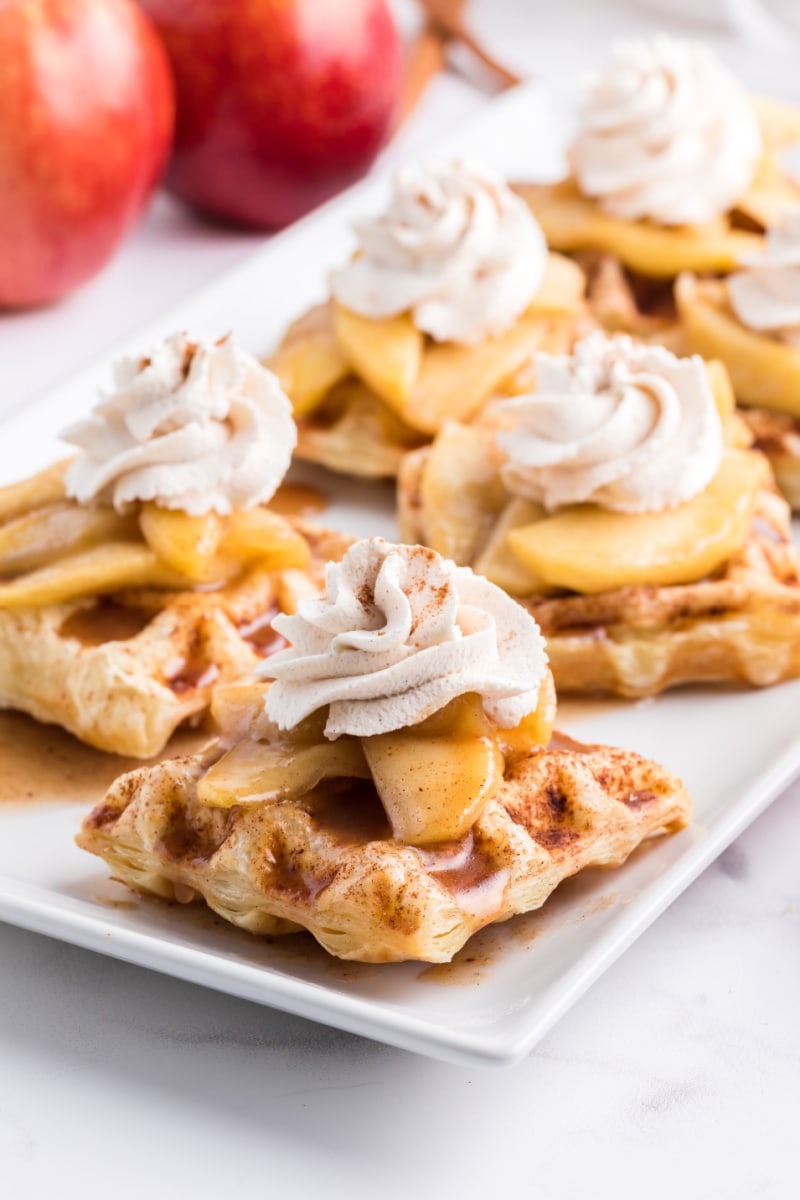 A caramel apple is a sweet treat I've always admired from afar. It's the sort of thing that "looks" appealing to eat… all of that gooey caramel wrapped around a crunchy, juicy apple. But it's also the very treat that I'm unwilling to tackle eating. With these caramelized apple waffle pastries, you get all of the satisfaction of eating a caramel apple but in an entirely new and more delicious way.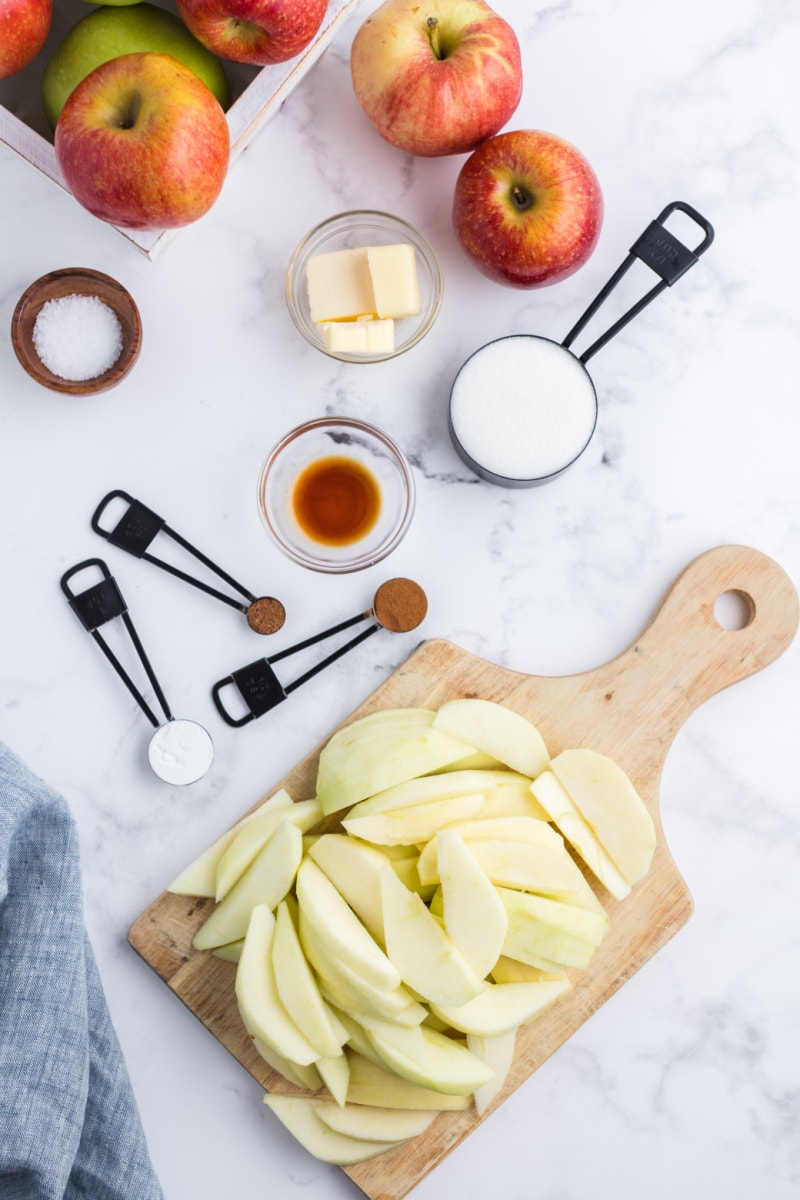 Ingredients needed:
unsalted butter
apples
white sugar
cornstarch
ground cinnamon
ground nutmeg
salt
vanilla extract
Puff Pastry
heavy whipping cream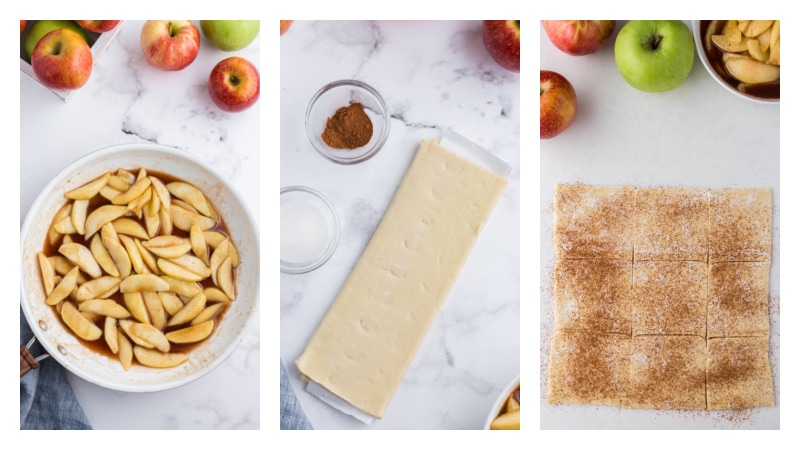 How to make Caramelized Apple Pastries:
Caramelize the apples: Peeling the apples is the most time consuming part of this recipe. I like to use the Granny Smith variety. Peel the apples, core them, and cut them into wedges. They're sautéed in butter, sugar and spices, with a touch of cornstarch to thicken the syrup and a splash of vanilla for flavor. They simmer in that buttery, sugary mixture for about 15 minutes, until the apples are tender, caramelized and swimming in thick, cinnamony juices. Set the mixture aside to cool down.
Prepare the waffle pastries: Frozen Puff Pastry (thawed) is used for this dessert. Simply cut down the two seams to make three large rectangles, then cut each rectangle into three equal pieces. You'll end up with nine rectangles. Sprinkle each piece of Puff Pastry with cinnamon-sugar.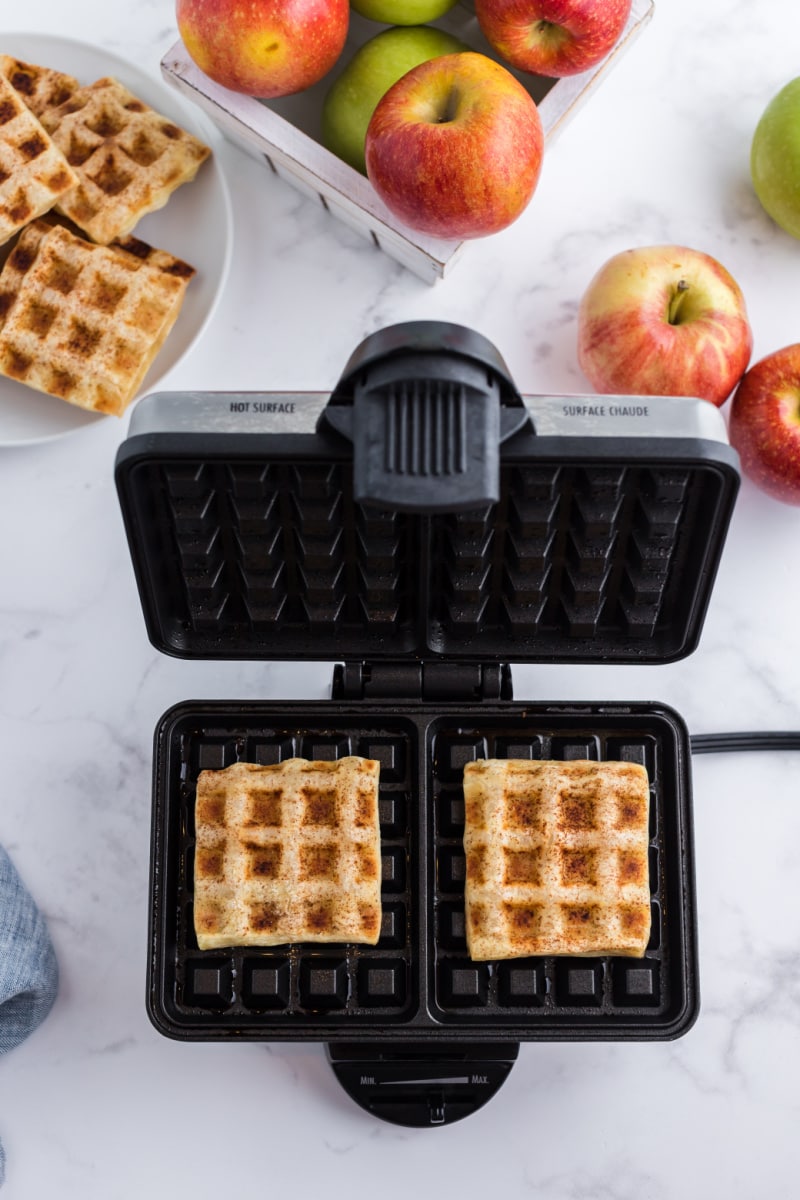 Heat a waffle iron and spray with nonstick spray. Set the Puff Pastry into your waffle iron. Close and cook for 2 to 3 minutes, or until the pastry is puffed and golden. Repeat with the rest of the Puff Pastry and set the waffles aside.
Prepare the whipped cream:
In a medium bowl, use an electric mixer to whip the heavy whipping cream until thick and stiff peaks form. Stir in a half teaspoon of vanilla and a sprinkle of cinnamon.
Assemble the caramelized apple waffle pastries:
Place waffle pastries on a platter and top with caramelized apples. Drizzle pan juices on top. Pipe whipped cream on top of the apples and serve.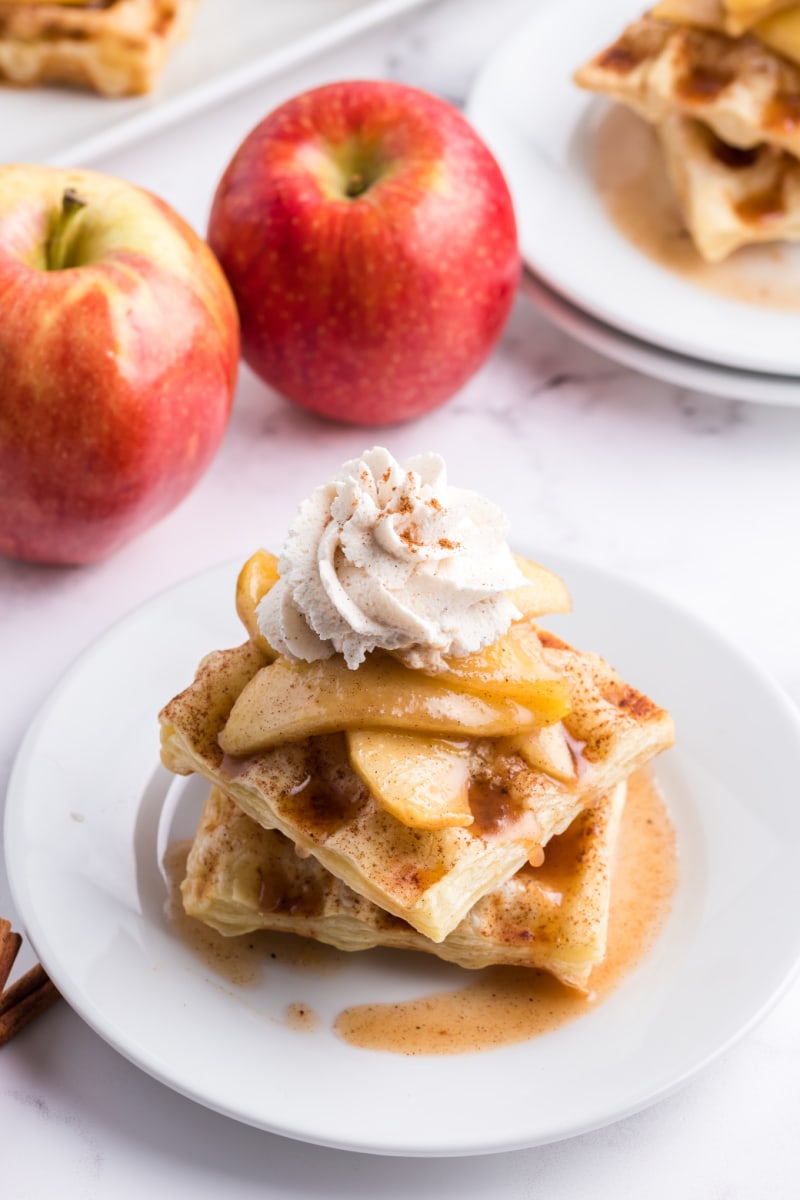 The great part about this recipe is that it can be prepared ahead. Everything can be served cold. If you'd rather serve it warm, top the steamy apples with a scoop of vanilla ice cream and a drizzle of hot, caramel syrup. Enjoy!
Caramelized Apple Waffle Pastries
Puff pastry in a waffle iron, and then topped with caramelized apples!
Recipe Details
Ingredients
CARAMELIZED APPLES:
3

tablespoons

unsalted butter

5

large

apples,

peeled and cored and cut into wedges

½

cup

granulated white sugar

1

teaspoon

cornstarch

½

teaspoon

ground cinnamon

¼

teaspoon

ground nutmeg

⅛

teaspoon

salt

2

teaspoons

vanilla extract
WAFFLES:
1

sheet

frozen Puff Pastry,

thawed

2

tablespoons

granulated white sugar

1

teaspoon

ground cinnamon
WHIPPED CREAM:
1

cup

heavy whipping cream

½

teaspoon

ground cinnamon

½

teaspoon

vanilla extract
Instructions
PREPARE THE CARAMELIZED APPLES:
In a large skillet over medium-heat, melt the butter. Add the apples, sugar, cornstarch, cinnamon, nutmeg and salt. Stir the apples into the sugary, buttery mixture until coated. Let the apples cook and caramelize, about 15 minutes, stirring every so often (reduce heat as needed). Remove skillet from heat and stir in the vanilla. Set the apples aside to cool.
PREPARE THE WAFFLE PASTRIES:
Preheat your waffle iron. Unfold the thawed puff pastry. Use a sharp knife and cut along the seams to create three rectangles. Cut each rectangle into thirds. You should have nine square pieces of Puff Pastry (about 2½x3-inch). Combine the sugar and cinnamon: Sprinkle the tops of the Puff Pastry squares with the cinnamon-sugar mixture.

Spray a waffle iron with nonstick spray. Place the Puff Pastry onto the waffle iron (two at a time) and close the waffle iron. It should only take 2 or 3 minutes for the pastry to puff up and turn golden brown. Gently lift the waffle iron to watch progress and remove the waffles when done. Repeat with the remaining pastry dough. Set the pastry waffles aside to cool.
PREPARE THE WHIPPED CREAM:
In a medium bowl, use an electric mixer to beat the whipping cream until stiff peaks form. Add the cinnamon and vanilla.
ASSEMBLE THE WAFFLE PASTRIES:
Place the waffle pastries on a serving platter and top with the caramelized apples, drizzling pan juices on top too. Pipe the whipped cream on top of the apples. Serve immediately.
Notes
*Since this dessert is served at room temperature (or cold), it can easily be made ahead. Prepare the waffles, let cool and then keep in a covered container. Prepare the apples, cover and refrigerate until ready to serve. Whipped cream should be prepared just before serving.
*Try serving this dessert warm too, replacing the whipped cream with ice cream and a drizzle of caramel syrup.
Nutrition
Serving:
1
serving
,
Calories:
398
kcal
,
Carbohydrates:
45
g
,
Protein:
3
g
,
Fat:
24
g
,
Saturated Fat:
11
g
,
Polyunsaturated Fat:
2
g
,
Monounsaturated Fat:
10
g
,
Trans Fat:
1
g
,
Cholesterol:
46
mg
,
Sodium:
112
mg
,
Potassium:
174
mg
,
Fiber:
4
g
,
Sugar:
27
g
,
Vitamin A:
574
IU
,
Vitamin C:
6
mg
,
Calcium:
33
mg
,
Iron:
1
mg