This recipe has been featured in a post on The Recipe Girl blog: Caramelized Apple Waffle Pastries with Cinnamon Whipped Cream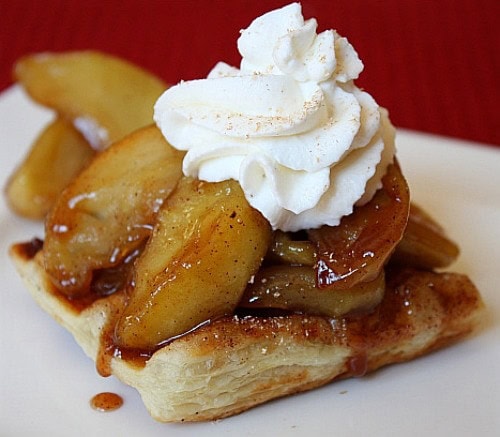 Caramelized Apple Waffle Pastries
This recipe takes puff pastry into the waffle iron...
Yield:
9 servings
Prep Time: 40 min
Cook Time: 30 min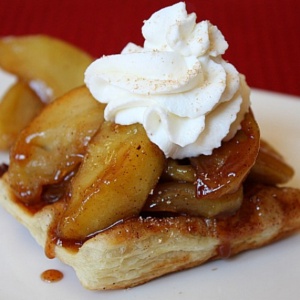 Ingredients:

CARAMELIZED APPLES:
3 Tablespoons unsalted butter
5 large apples, peeled, cored and cut into wedges
1/2 cup granulated white sugar
1 teaspoon cornstarch
1/2 teaspoon ground cinnamon
1/4 teaspoon ground nutmeg
1/8 teaspoon salt
2 teaspoons pure vanilla extract

WAFFLES:
1 sheet frozen Puff Pastry, thawed
2 Tablespoons granulated white sugar
1 teaspoon ground cinnamon

WHIPPED CREAM:
1 cup heavy whipping cream
1/2 teaspoon ground cinnamon
1/2 teaspoon vanilla extract

Instructions:

1. Prepare Caramelized Apples: In a large skillet over medium-heat, melt butter. Add apples, sugar, cornstarch, cinnamon, nutmeg and salt. Stir apples into sugary, buttery mixture until coated. Let apples cook and caramelize, about 15 minutes, stirring every so often (reduce heat as needed). Remove skillet from heat and stir in vanilla. Set apples aside to cool.

2. Prepare Waffle Pastries: Preheat waffle iron. Unfold puff pastry. Use sharp knife and cut along seams to create three rectangles. Cut each rectangle into thirds. You should have nine square pieces of puff pastry (about 2 1/2-inch x 3-inch). Combine sugar and cinnamon: Sprinkle tops of puff pastry squares with cinnamon-sugar mixture.

3. Spray waffle iron with nonstick spray. Place puff pastry onto waffle iron (two at a time) and close waffle iron. It should only take 2 or 3 minutes for the pastry to puff up and turn golden brown. Gently lift the waffle iron to watch progress and remove the waffles when done. Repeat with remaining pastry dough. Set pastry waffles aside to cool.

4. Prepare whipped cream: Using electric mixer, beat whipping cream until stiff peaks form. Add cinnamon and vanilla.

5. Assembly: Place waffle pastries on serving platter and top with caramelized apples, drizzling pan juices too. Pipe whipped cream on top of the apples. Serve immediately.

Tips:

*Since this dessert is served at room temperature (or cold), it can easily be made ahead. Prepare the waffles, let cool and then keep in a covered container. Prepare the apples, cover and refrigerate until ready to serve. Whipped cream should be prepared just before serving.
*Try serving this dessert warm too, replacing the whipped cream with ice cream & a drizzle of caramel syrup.