Waffle Iron Hash Browns are a delicious and fun recipe to try for a weekend breakfast.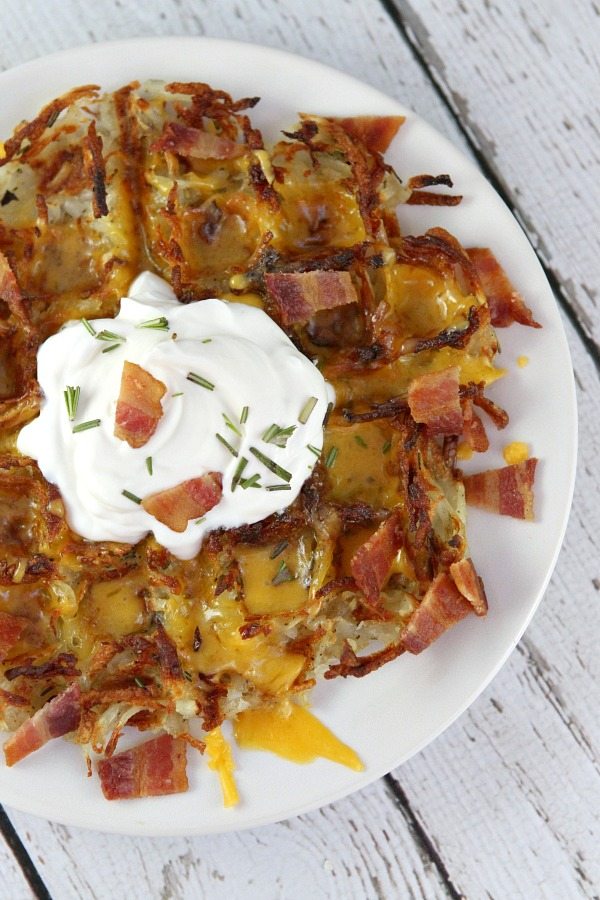 This is one of those recipes where the outcome turned out to be a super exciting and delightful surprise! I'm just going to state it right up front: Hash Browns made in the waffle iron are the way to go, People! SO DARN GOOD.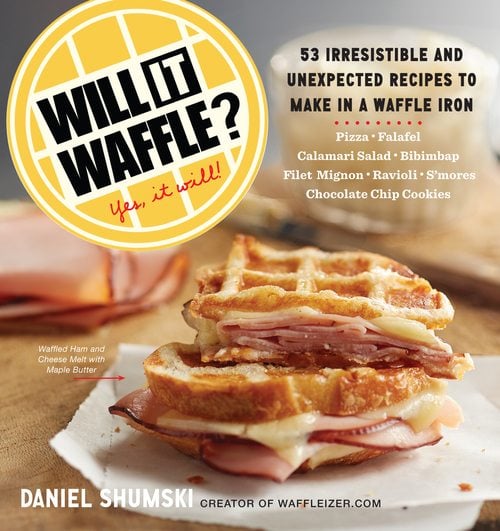 The recipe comes from this super cool, new book from Daniel Shumski: Will It Waffle? He shows you how to make all kinds of things using your waffle iron, and they really work! I think it's a super cute book to work through with your kids. And it would also be a fun gift for the holidays: waffle iron + the book. I have already tried the Waffled Banana Bread, and my family LOVED it. Other fun recipes in the book that my son and I plan on experimenting with: Griddle Grilled Cheese, Spaghetti and Waffled Meatballs, Waffled Macaroni and Cheese, Waffled Chicken Fingers, Waffled Onion Rings, Waffled Oatmeal Chocolate Chip Cookies and Waffled Apple Pie.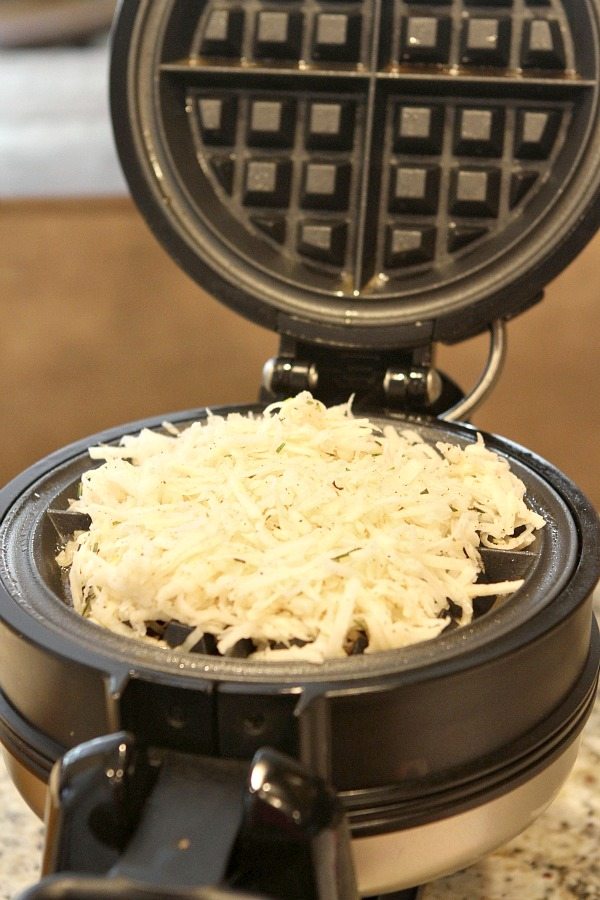 It all starts with shredded potato mixed with a little rosemary, salt and pepper. Into the waffle iron it goes!
My recommended waffle iron is THIS ONE. I love that it can make two waffles at once.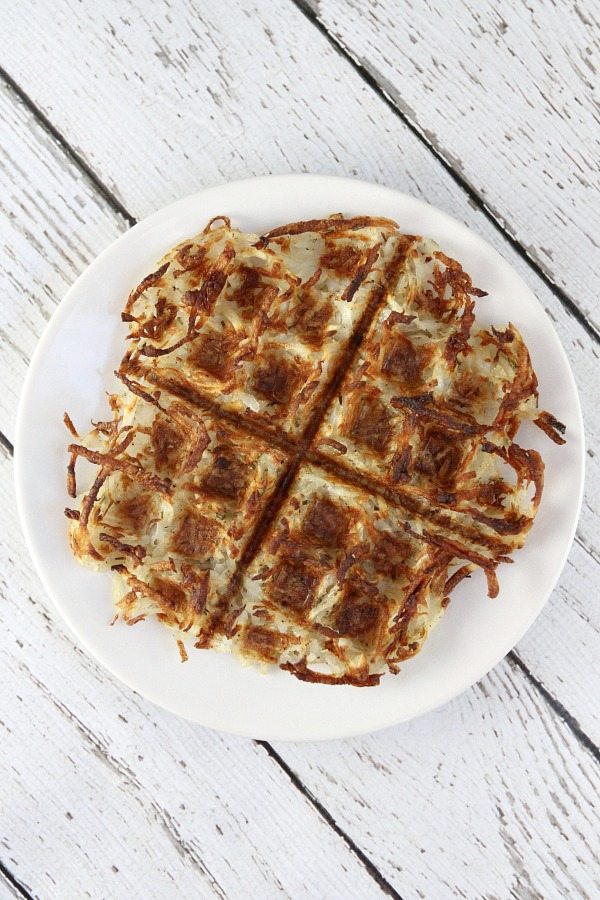 And then it comes out like this!!
Perfectly waffled! And Hash-Brown-Perfect too- crispy on the edges and potato cooked through.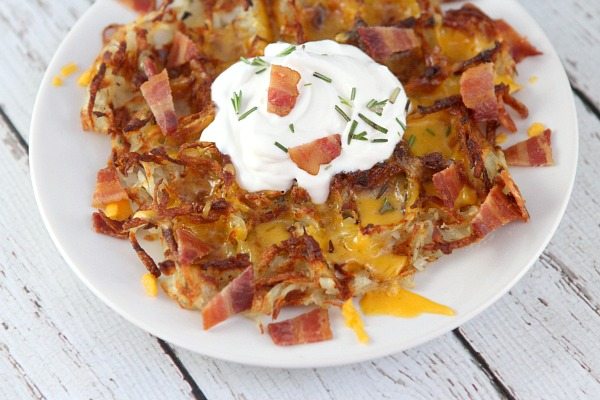 I opt to top my Hash Browns made in the waffle iron with melted cheddar cheese, sour cream, crispy bacon and a sprinkle of fresh rosemary. In the author's headnotes on this recipe, he states: "If I ever open a diner, these are going on the menu. Nothing else. Just these." I COMPLETELY AGREE!!! These were the best hash browns ever. Split between me and my husband, it was the perfect treat for a weekend breakfast (though I would have happily eaten the whole waffled hash brown myself!)
Here are a few more breakfast potato recipes you might enjoy:
Waffle Iron Hash Browns
These hash browns are so delicious made in the waffle iron!
Recipe Details
Ingredients
One

10-ounce

Russet baking potato,

peeled and shredded

1/2

teaspoon

freshly ground black pepper

1/2

teaspoon

finely chopped fresh rosemary

(or 1 teaspoon dried)

1/4

teaspoon

salt

1

teaspoon

butter,

melted

grated cheese, sour cream, bacon or ketchup

(as desired, for serving)
Instructions
Preheat the waffle iron on medium.

Squeeze the shredded potato with a towel until it's as dry as you can manage (excess liquid is the enemy of crispiness; your potatoes will steam if they aren't dried well.)

In a large bowl, combine the shredded potato, pepper, rosemary and salt.

With a silicone brush, spread the butter on both sides of the waffle iron.

Pile the shredded potatoes into the waffle iron- overstuff the waffle iron a bit- and close the lid. (The pressure of the lid will compress the potatoes and help them emerge as a cohesive waffled unit.)

After 2 minutes, press down a bit on the lid to further compress the potatoes. (Careful: The lid maybe hot.) Check the potatoes after 10 minutes. They should be just starting to turn golden brown in places.

When the potatoes are golden brown throughout, 1 to 2 minutes more, carefully remove them from the waffle iron. Serve with grated cheese, sour cream and/or ketchup. I added bacon too!
Notes
Note: the nutritional information does not include any toppings.
Nutrition
Serving:
1
serving
,
Calories:
131
kcal
,
Carbohydrates:
26
g
,
Protein:
3
g
,
Fat:
2
g
,
Saturated Fat:
1
g
,
Cholesterol:
5
mg
,
Sodium:
316
mg
,
Potassium:
591
mg
,
Fiber:
2
g
,
Sugar:
1
g
,
Vitamin A:
65
IU
,
Vitamin C:
8.1
mg
,
Calcium:
18
mg
,
Iron:
1.2
mg