A delicious, lighter soup recipe:  Carrot and Orange Soup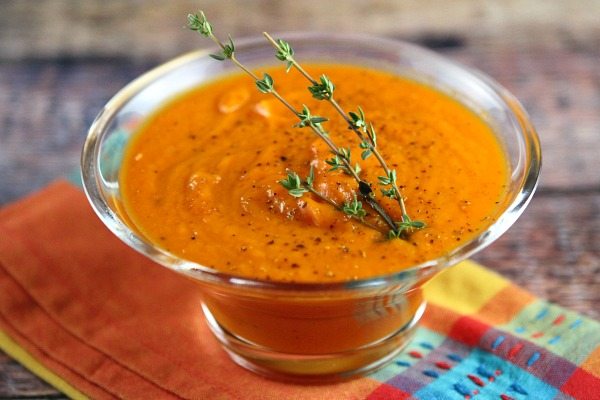 Are we eating light for the New Year?  And by "we," I mean you and me?  It's a given for me.  I've got this beach vacation coming up… and there is nothing more awful than feeling fat on the beach.  So I'm doing my best to shed whatever poundage I can before I hang out at the beach!  Recipes like this Carrot Orange Soup are perfect for those who are watching their calories as the New Year begins.  You know… us!

I love this soup recipe for a few reasons.
1.  It's completely comforting and filling, which is great for a lighter soup.
2.  The color is mesmerizing.
3.  The orange flavor pairs nicely with the carrots, and I dig the hint of cinnamon too.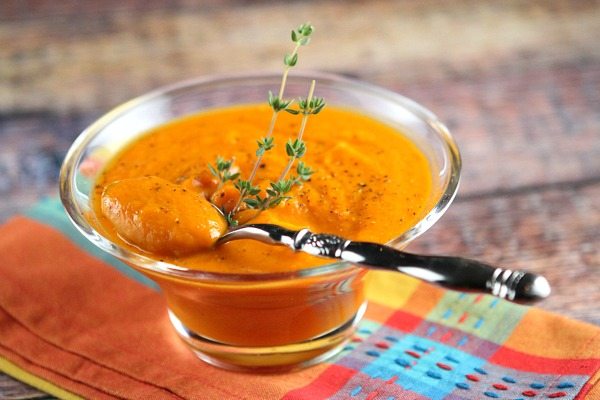 The texture of this soup is thick. I prefer if that way because it seems more like eating than slurping.  If you'd like a thinner soup, you can simply add in more broth.  Enjoy your soup and eat it too!
Carrot and Orange Soup
Yield:
6 Servings
Prep Time: 25 minutes
Cook Time: 1 hour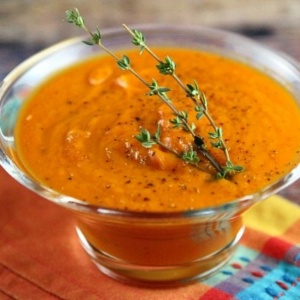 Ingredients:

1/4 cup (1/2 stick) unsalted butter
2 1/2 cups chopped yellow onions
12 large carrots, peeled & chopped
5 cups chicken or vegetable broth (more to thin, if needed)
1 cup freshly squeezed orange juice (with pulp)
salt & pepper to taste
grated zest of 1 orange
1/8 teaspoon cinnamon (optional)
fresh thyme, (garnish- can add into the soup too)

Instructions:

Heat butter in large saucepan. Cook onions in the butter over low heat for 25 minutes or until tender, stirring occasionally. Add carrots and broth to the onion mixture and mix well. Simmer for 30 minutes or until the carrots are tender, stirring occasionally. Reserve 1 cup of the broth.
Remove solids to a blender or food processor using a slotted spoon. Add a small amount of the hot mixture and process until puréed. Return the purée to the saucepan and mix well. Stir in orange juice and reserved broth. Season with salt and pepper and stir in the orange zest. Simmer just until heated through, stirring occasionally. Ladle into soup bowls and sprinkle with cinnamon, if desired.

Tips:

To get more juice from an orange, microwave on high for thirty seconds.
If you're preparing this recipe as GLUTEN-FREE, just be sure to use a brand of broth that is known to be GF.

Nutrition:

Nutritional Information- Per Serving (soup divided into 6 equal servings): Calories 207, Fat 5.3g, Sat Fat 5.25g, Cholesterol 20mg, Sodium 739g, Potassium 817mg, Carbohydrates 26g, Dietary Fiber 5.25g, Sugar 13g, Net Carbs 20.75g, Protein 6g
Weight Watchers POINTS:  Freestyle SmartPoints: 4, SmartPoints:  5, Points Plus Program: 4 Old Points Program: 5.5
SOURCE: RecipeGirl.com
Here are a few more carrot soup recipes you may enjoy: