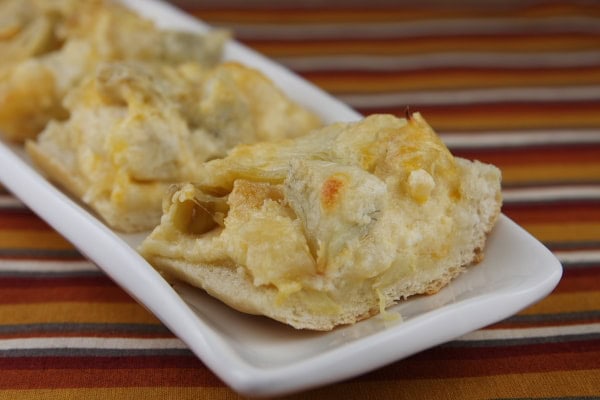 Cheese & Artichoke Bread Bites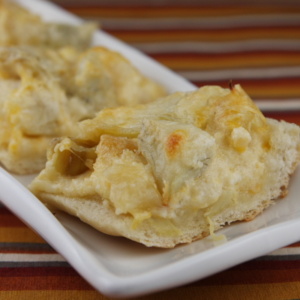 I prepared this recipe when a bunch of us were stuck in a snowy cabin in Lake Tahoe. It's good comfort-food grub.
Yield:
20 slices
Prep Time: 15 minutes
Cook Time: 30 minutes
Ingredients:
1 French bread baguette
1/2 cup butter
1 package (10 ounces or so) frozen artichoke hearts
1 cup sour cream, reduced fat
2 cups shredded jack or cheddar cheese (or mixed)
Directions:
1. Preheat oven to 350 degrees.
2. Hollow out baguette and cut the bread you remove into cubes.
3. In a skillet, melt butter. Add the bread cubes and artichoke hearts and sauté together. Add sour cream and cheese and stir until well mixed.
4. Fill the hollowed out baguette with the mixture, and bake for 30 minutes.
5. Let set for a few minutes. Cut carefully into slices with a bread knife and serve warm.
Tips:
*Use canned artichoke hearts, drained, if you don't have access to frozen.
Source: www.RecipeGirl.com