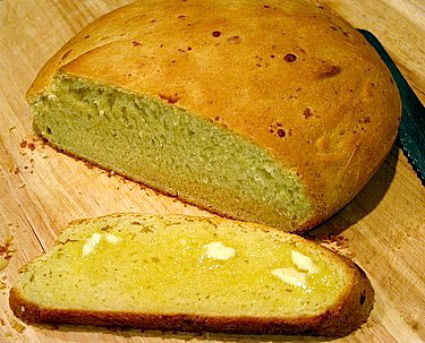 Cheese and Wine Bread
Yield:
One loaf
Prep Time: 35 min + rising times
Cook Time: 40 min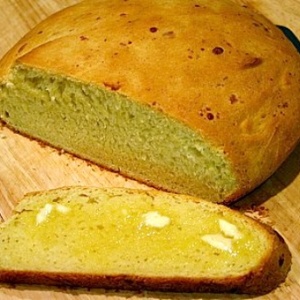 Ingredients:

3 cups all-purpose flour (about)
1 package active dry yeast
1/2 cup dry white wine
1/2 cup salted butter
2 teaspoons granulated white sugar
1 teaspoon salt
3 large eggs
4 ounces shredded Monterey Jack cheese

Instructions:

1. In large mixing bowl, combine 1 1/2 cups of flour and the yeast. Set aside.

2. In a saucepan, heat wine, butter, sugar and salt until warm (115 to 130 degrees- use a thermometer). Add to dry mixture in bowl. Add the eggs and beat at low speed for 30 seconds, scraping the sides of the bowl; beat at high speed for 3 minutes. By hand, stir in cheese, and gradually add in just enough extra flour to make a soft dough.

3. Turn out onto lightly floured surface; knead until smooth and elastic. Place in a lightly greased bowl, turning once to grease all surfaces. Cover and let rise in a warm place until double in bulk, about 1 1/2 hours.

4. Punch dough down; cover and let rest 10 minutes. Shape into and 8-inch round loaf and place in a greased 9-inch pie pan. Cover and let rise until doubled, about 40 minutes.

5. Bake at 375 degrees F. for 40 minutes, covering with foil after the first 20 minutes.

Tips:

*Try substituting Fontina cheese for Monterey Jack.