This Adult Grilled Cheese is especially for grown-ups. There are all kinds of goodies in this grilled cheese sandwich that kids might scoff about, but the adults will appreciate them.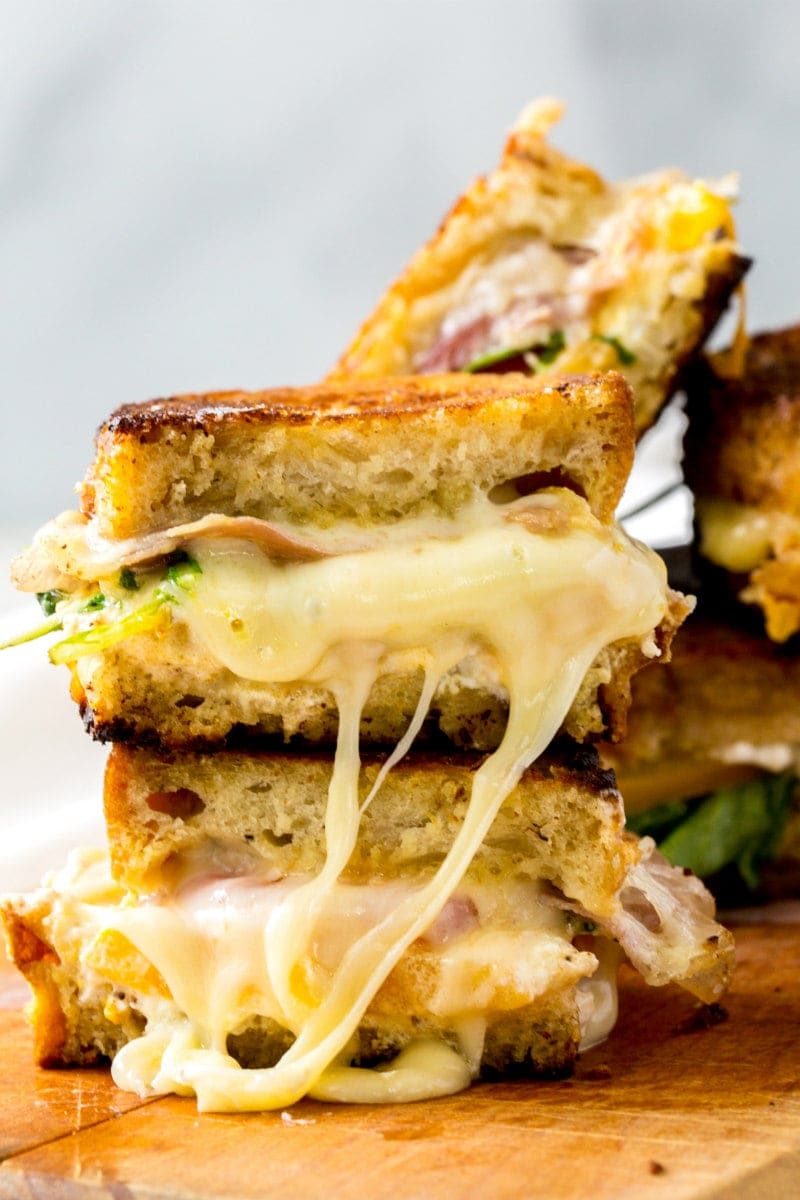 We all grew up eating grilled cheese, right? My Mom used to make it for our family for dinner, along with canned tomato soup. It was our favorite! We had it with plain 'ol American cheese back in the 70's. As I got older, I started experimenting with different cheeses and always added tomato slices. This is the best grilled cheese sandwich that I've ever put together!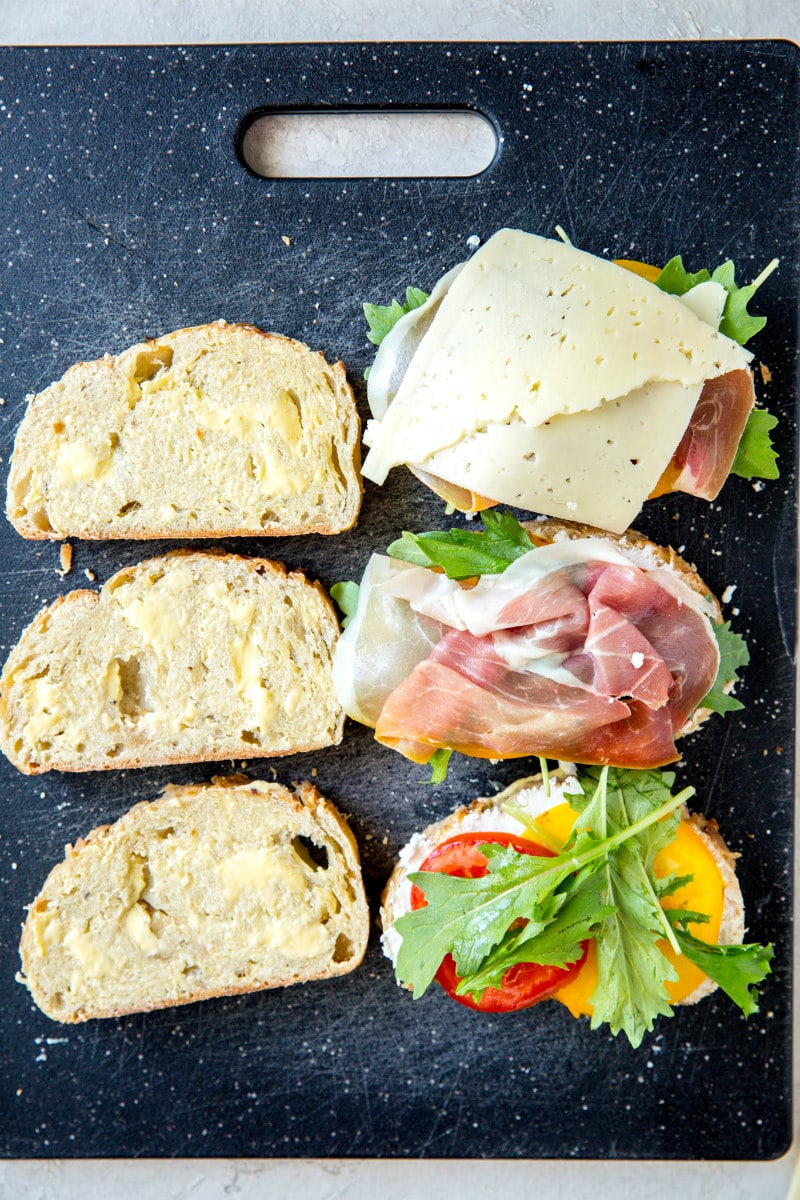 How to make an Adult Grilled Cheese:
I like to start with a really interesting bread. Think Rosemary-Sourdough, Rustic French, whatever is your favorite. The outside of the bread will be buttered. The inside of one slice is spread with soft goat cheese. Then you'll top that goat cheese with tomato, arugula, prosciutto and Havarti cheese. Then you put the sandwich in a hot skillet and cook it just like you cook a plain 'ol classic grilled cheese- toasted on one side, and then flipped to toast the other side.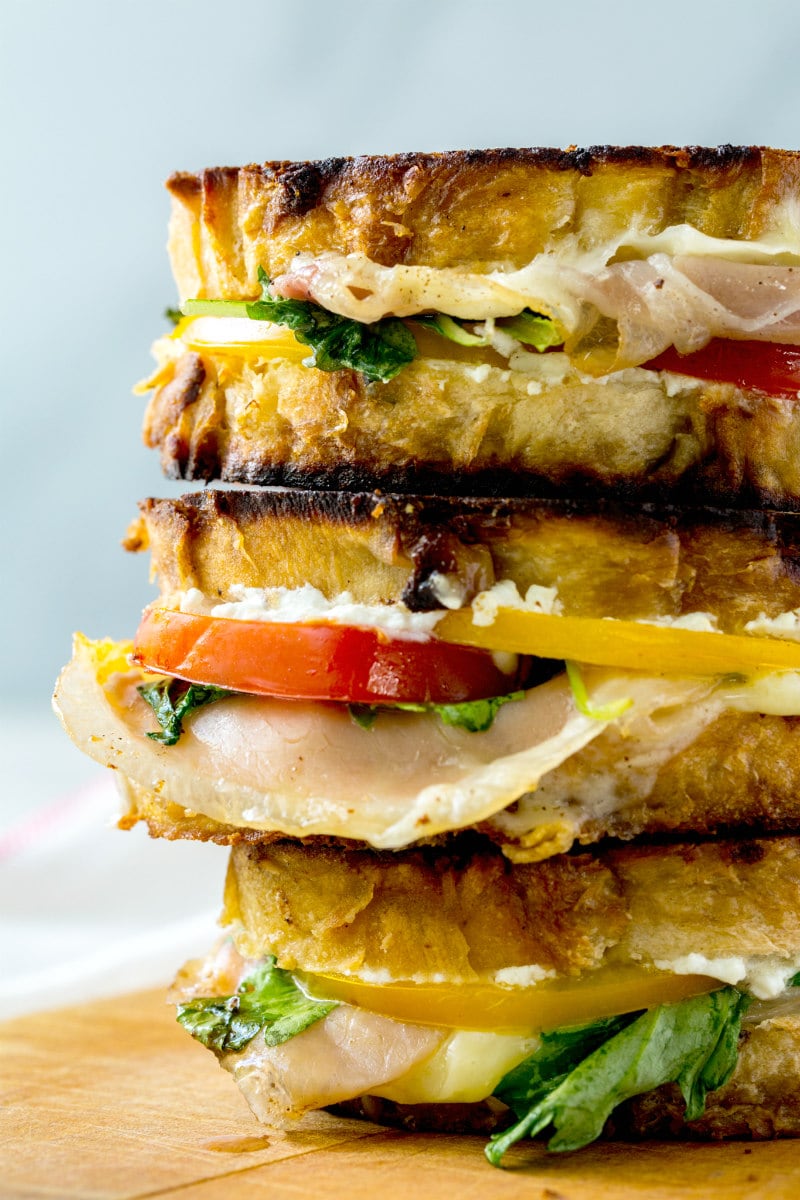 And there's the beauty of the Adult Grilled Cheese all finished and toasty and melty. It's so incredibly delicious!
What are the best cheeses to use for grilled cheese sandwiches?
A nice alternative to Havarti is Fontina cheese (they're both a buttery, melty cheese). Cheddar and Colby are both good choices for a bold-tasting grilled cheese. Provolone is delicious in this sandwich too because it pairs well with the prosciutto. Muenster and Monterey Jack are also great melting cheeses and are good for grilled cheese sandwiches. Goat cheese adds another flavor element to this grilled cheese. Its tangy flavor is perfect with the rest of the ingredients, and it really makes this sandwich quite unique in comparison to a classic grilled cheese.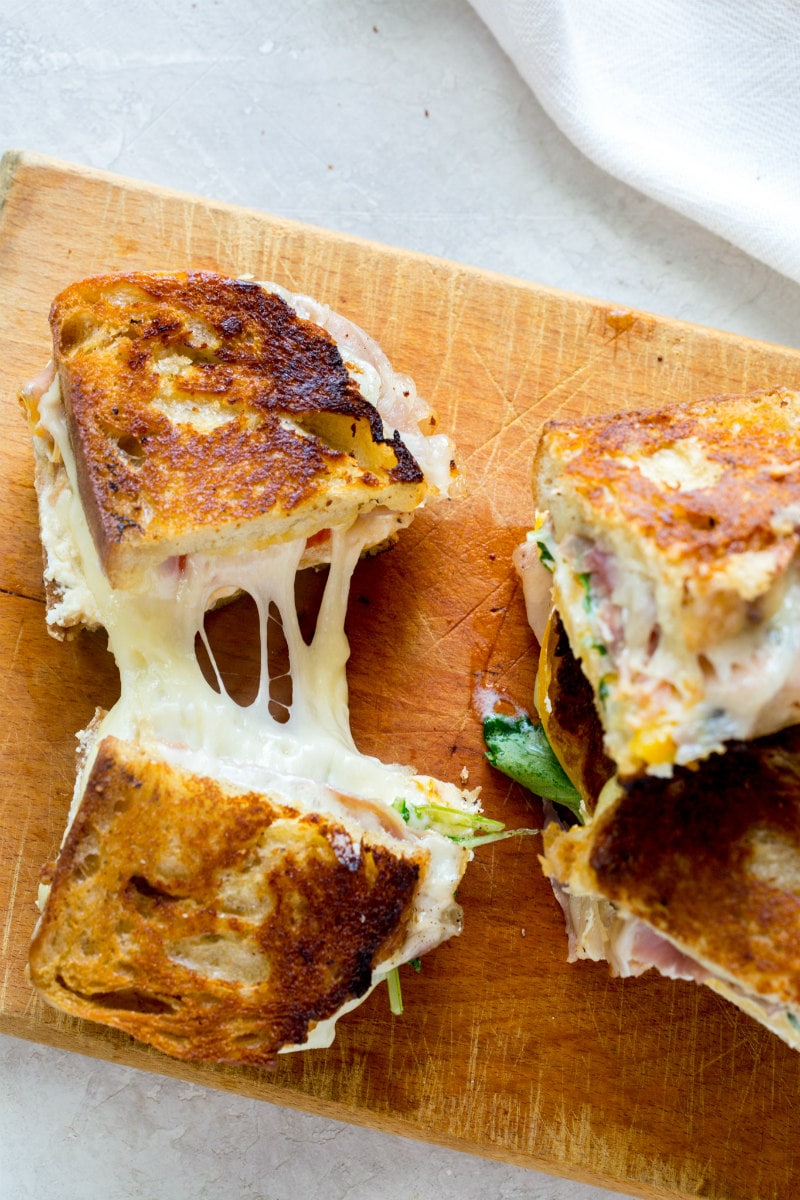 Tomatoes are the most obvious addition to a good grilled cheese sandwich. Sweet tomatoes combined with tangy cheese are so amazing together. For the best tomatoes in a grilled cheese sandwich, grab some vine ripened tomatoes or heirloom tomatoes. Arugula is one of my favorite greens. It has a bit of a peppery flavor, and it's a nice add-on to grilled cheese too. I love prosciutto, so that's a must-add for me. If you wish to leave out the meat, it's okay to do so.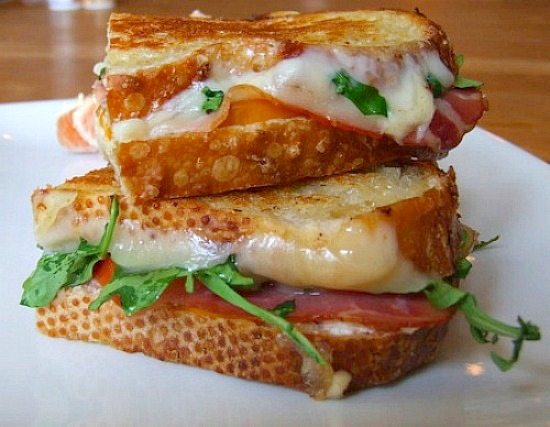 I'm curious to know what you think of this Adult Grilled Cheese! Try it, and make adjustments here and there to your liking. Enjoy!
Here are a few more recipes you can make to use up the rest of your goat cheese:
Adult Grilled Cheese
Only adults will appreciate the filling in these grilled cheese sandwiches!
Recipe Details
Ingredients
2

slices

desired bread

(something good- like Rosemary Sourdough or Rustic French!)

spreadable butter

goat cheese

tomato

arugula

prosciutto slices

Harvarti cheese

(or your favorite)
Instructions
Spread butter on the bread slices. Turn over and spread the other side of one slice with goat cheese.

Heat a skillet and place the goat cheese slice butter-side-down in the pan. Layer tomato, arugula, prosciutto and Havarti on top of the goat cheese. Top with a 2nd slice of bread, (butter-side-up).

Cover, and heat the sandwich on low until lightly browned. Carefully flip and toast the other side.

Remove to cutting board. Let sit for a couple of minutes, then cut with a serrated knife and serve immediately.