Here's a delicious summer salad recipe:  Arugula, Berry and Goat Cheese Salad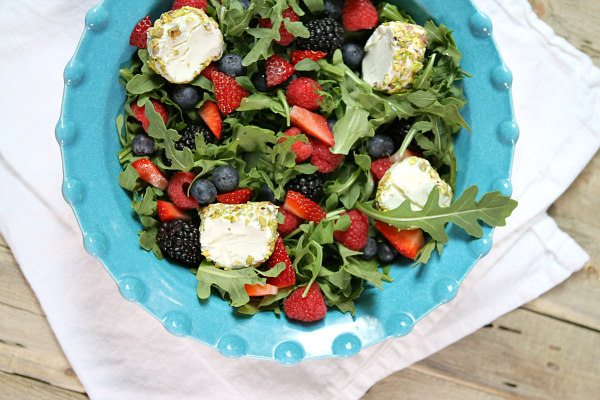 I've just returned from a rather indulgent vacation, so my plan is to live on salad for the rest of the summer!  My son scoffs at salads… but I love them to pieces.  There are so many options for creating fantastic salads.  My favorites always include goat cheese and berries!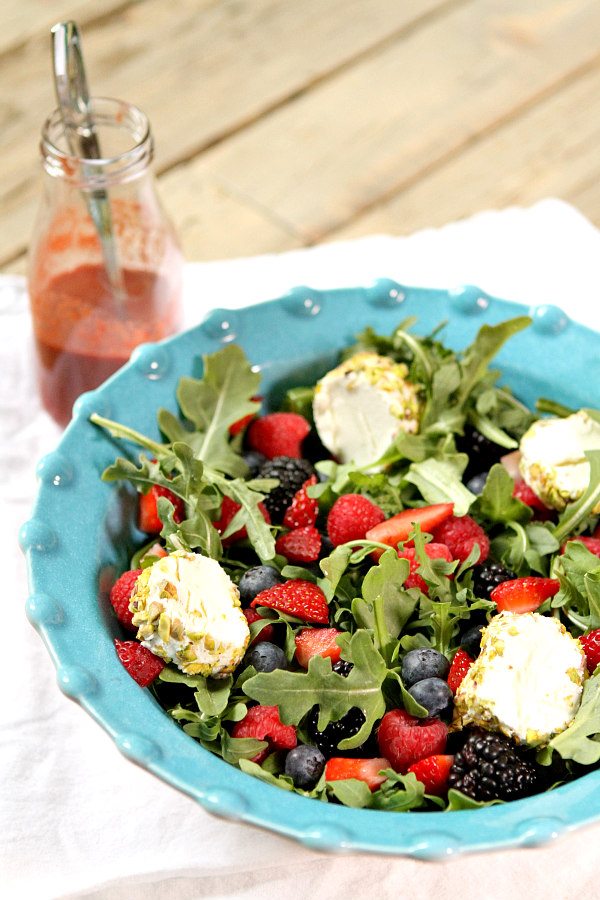 This salad starts with a bed of arugula (another love of mine).  Arugula has a tiny bit of a peppery flavor to it.  It's a nice change from just eating "lettuce."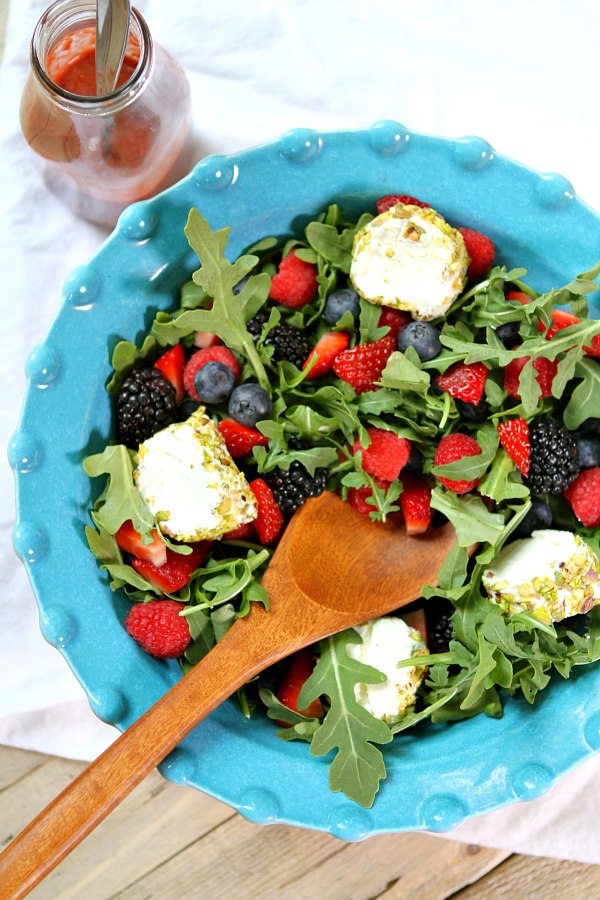 With a boatload of fresh berries, a good hunk of pistachio-covered goat cheese and a homemade berry dressing… this salad is a lovely, summery treat.
P.S. I hadn't planned on having an indulgent vacation, but when you're with relatives who stock the rental house with chips, dip, cheese, cookies and an abundance of wine… it's all just too hard to resist.  Salad to the rescue!
Arugula, Berry and Goat Cheese Salad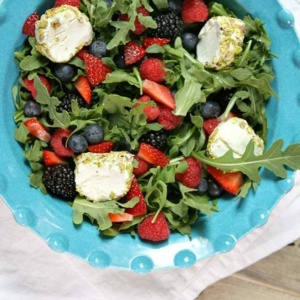 Yield:
4 servings
Prep Time:25 minutes
Ingredients:
Dressing:
3/4 cup strawberries, hulled and halved
2 tablespoons balsamic vinegar
1 tablespoon canola oil
1 teaspoon honey
dash of salt
Goat cheese:
2 tablespoons chopped pistachios
1 4-ounce log goat cheese
Salad:
4 cups arugula leaves
1/2 cup chopped strawberries
3/4 cup blueberries/raspberries/blackberries
Directions:
Prepare the dressing:  In a blender, combine the dressing ingredients; cover and blend until smooth.  Set aside.
Prepare the goat cheese: Spread the chopped nuts on a piece of waxed paper.  Roll the goat cheese log in the nuts until covered.  Slice into 4 slices.
Assemble the salad:  Place arugula in a serving bowl.  Sprinkle with berries and cheese slices.  Serve with the berry dressing to top individual servings.
Nutrition:
5 Weight Watchers Freestyle SmartPoints per serving (4 servings).
SOURCE:
 RecipeGirl.com (adapted from
BHG
)
Here are a few more arugula salad recipes you might enjoy: