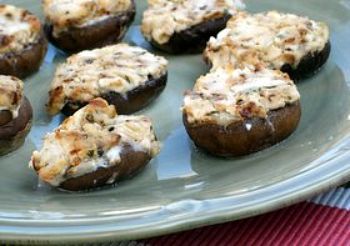 Goat Cheese Mushrooms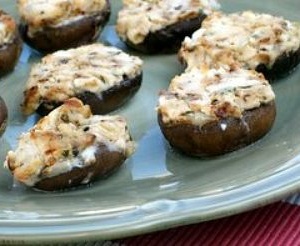 If you're a big fan of goat cheese and mushrooms, you'll be lovin' this appetizer recipe.
Yield:
4 servings (2 stuffed mushrooms per serving)
Prep Time: 20 minutes
Cook Time: 10 minutes
Ingredients:
8 large fresh mushrooms
1 Tablespoon unsalted butter
1/4 cup finely chopped onion
4 ounces crumbled goat cheese
1/2 teaspoon freshly chopped thyme
1/4 teaspoon salt
dash of pepper
3 Tablespoons olive oil
Directions:
1. Preheat oven to 425 degrees F.
2. Separate mushroom stems from caps. Finely chop stems (cutting & discarding rough ends) and set aside caps.
3. In a small skillet, melt butter over low heat and sauté onion until soft. Add mushroom stems and cook until liquid evaporates (about 5 min). Remove from heat and add cheese, mixing well. Add seasonings. Brush mushroom caps lightly with olive oil. Fill with cheese mixture. Place on baking sheet and brush with remaining olive oil.
4. Bake 10 minutes, or until lightly browned. Serve hot.
Tips:
*Substitute feta cheese for the goat cheese if you wish.