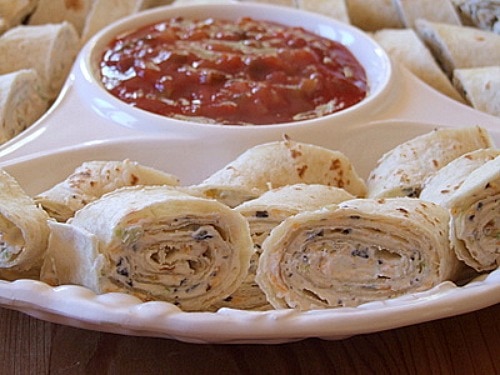 Texas Tortilla Roll-Ups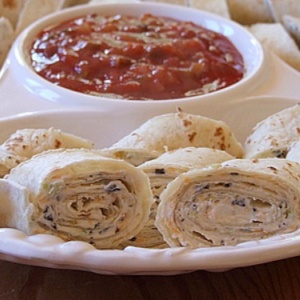 Yield: about 5 dozen appetizers Prep Time: 25 minutes + time for refrigeration
This is a very simple recipe. Just throw everything in the food processor and spread it on the tortillas. It's nice to be able to make them ahead and then cut them right before serving. Try adding a sprinkle of chipotle powder for a little extra kick-- or some thinly sliced turkey breast.
Ingredients:
1 (8 ounce) package cream cheese, softened
8 ounces sour cream
5 whole green onions, chopped (green and white parts)
1 (4 ounce) can chopped green chilies, drained
1/2 cup shredded sharp Cheddar cheese (about 2 ounces)
2 Tablespoons chopped black olives
12 large flour tortillas
1 (8 ounce) jar picante sauce or salsa
Directions:
1. In a food processor, combine cream cheese, sour cream, green onions, chilies, cheddar cheese and olives; process until smooth. Spread mixture on tortillas. Roll up each tortilla tightly.
2. Wrap tortillas individually in damp paper towels. Place in airtight plastic bag; refrigerate until ready to serve.
3. When ready to serve, removed tortillas from plastic bags and paper toweling. Slice each rolled tortilla crosswise into 1-inch pieces (pinwheels). Place a toothpick in each pinwheel, and serve with a bowl of picante sauce or salsa on the side for dipping.