This toffee is gluten-free adaptable (see Tips below the recipe)…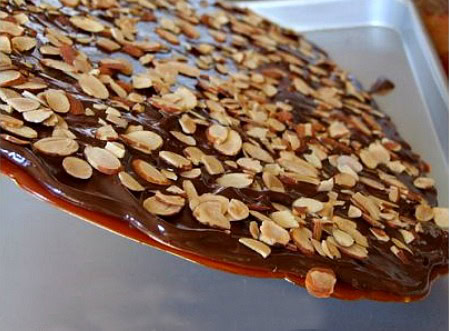 Chocolate- Almond Toffee
Yield:
2 1/2 pounds
Prep Time: 25 min + cooling time
Cook Time: 15 min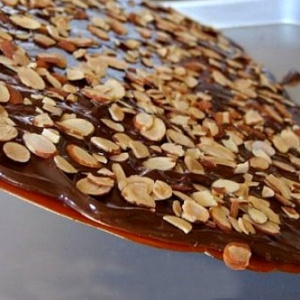 Ingredients:

2 1/4 cups granulated white sugar
8 ounces (2 sticks) unsalted butter, cut into 1-Tablespoon pieces
1/2 cup water
2 Tablespoons light corn syrup
2 cups sliced almonds, toasted
6 ounces semi-sweet chocolate, melted

Instructions:

1. Combine sugar, butter, water and corn syrup in a large saucepan over medium heat. Stir to dissolve sugar and melt butter. Bring to a boil, stirring only once or twice to prevent sticking and burning (frequent stirring causes the toffee to crystallize), and continue to cook until the mixture reaches a temperature of 360°F and becomes dark caramel in color, about 12 minutes. Use a digital thermometer for an accurate temperature reading of the mixture.

2. Remove from heat and wait about 10 seconds for the bubbles in the mixture to dissapate, then use a heat-resistant silicone spatula (the back of the spatula usually indicates heat resistance) or a wooden spoon to fold in 1 cup of the almonds. Pour the mixture into a baking sheet with sides, and use the spatula to spread the mixture out evenly (it will not stick to the pan). Cool the toffee at room temperature for 10 minutes, then refrigerate for 20 minutes.

3. Remove toffee from refrigerator. Use an offset spatula to spread the melted chocolate over the surface of the toffee, then sprinkle the remaining cup of almonds over the surface of the melted chocolate. Refrigerate the toffee for about 30 minutes, until hard, then break into pieces. Store in a tightly sealed plastic container.

Tips:

*To toast almonds, preheat oven to 325 degrees F. Spread almonds on rimmed baking sheet. Bake in preheated oven until lightly browned. Keep a close eye and check every 5 minutes until desired level of toast!
*To melt chocolate, chop up and place in pyrex baking cup. Microwave in 30 second bursts, stirring after each burst, until melted and smooth.
*The toffee can be stored for 2 to 3 weeks at room temperature in a tightly sealed plastic container. You may also freeze the toffee.

*If preparing this recipe as gluten-free, just be sure to use chocolate that is known to be GF.