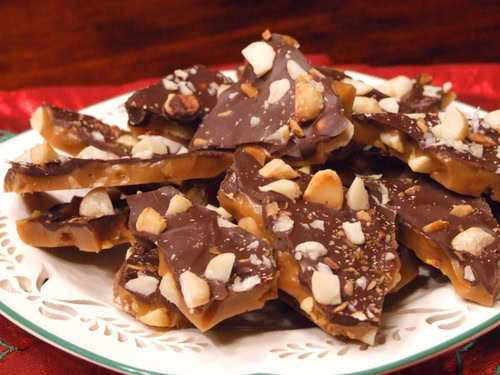 Macadamia Nut Butter Toffee
Yield:
About 24 pieces (depending how big pieces are)
Prep Time: 25 min
Cook Time: 8 min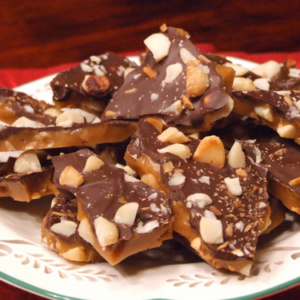 Ingredients:

1 cup unsalted butter (if you use salted, just omit the salt)
1/4 teaspoon salt
1 cup granulated white sugar
6 Tablespoons light corn syrup
1 cup chopped macadamia nuts, toasted (divided)
8 ounces bittersweet or semi-sweet chocolate, chopped (or use Ghirardelli chips)

Instructions:

1. Line sheet pan with waxed paper. Sprinkle 1/2 cup of macadamia nuts on pan; spread evenly into a rectangular shape.

2. Melt butter over low heat. Add sugar, salt and corn syrup and stir until sugar is dissolved. Increase heat to medium-high, bring mixture to a boil, stirring occasionally. Clip candy thermometer onto the side, and boil until it caramelizes and reaches 300°F.

3. Pour caramelized mixture over nuts on sheet pan, spreading with a spatula as thin as possible. Immediately top with chocolate, spreading with spatula as it melts to cover the entire surface of the toffee. Top with remaining nuts, pressing into chocolate.

4. Chill until cool and chocolate has hardened. Peel toffee from waxed paper, break into bite-sized pieces to serve.

Tips:

*To toast mac.nuts, heat a nonstick pan and dry fry them. Stir often as they will burn easily.
*You may also sub sliced almonds, pecans, cashews or hazelnuts for the macadamia nuts.