I am sharing with you truly the best recipe for Peanut Brittle. This recipe has been made by tons of RecipeGirl readers, and it has gotten the best positive reviews over the years. Watch the short video showing you how to make peanut brittle, then scroll to the bottom and print out the recipe so you can make it at home!
Everyone loves to make it for the holidays. Who doesn't love peanut brittle??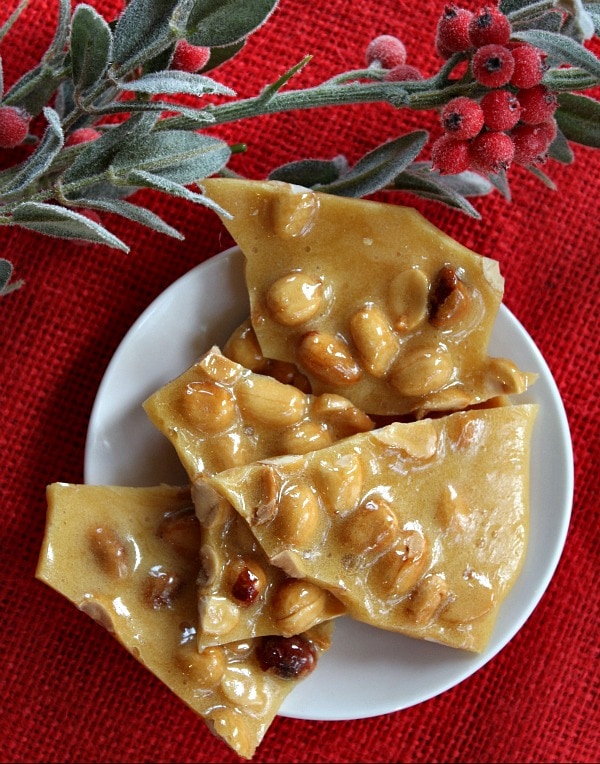 Why do kids grow up so quickly? I can hardly stand it. I stare at my boy and gaze at how handsome he has become. I marvel at the adult conversations we have. I admire his intelligence and his ability to navigate the world already.
My baby boy was 2, and all of a sudden he's 10, and in a matter of months he'll be turning 11. Pretty soon the darn kid will be off to college. And then I'll have to mail him treats like this peanut brittle.
We've always said that we're "not a nut family," but my boys like their peanut brittle. You could buy it in a package, already made… or you could make it yourself. All you need is a candy thermometer and a handful of ingredients. It may or may not be tricky.
Just relax and follow the directions, and you should have some homemade peanut brittle in about a half hour.

How to Make Peanut Brittle:
It starts simply enough with sugar and water and corn syrup.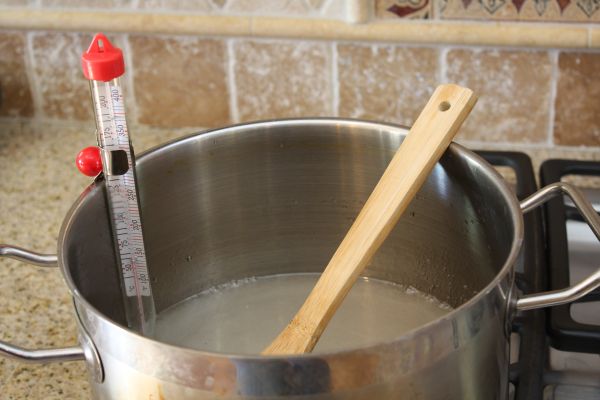 Attach a candy thermometer to the side of the saucepan, being careful just to dip the thermometer into the liquid and not shoving it to the bottom of the pan where it will get a false reading.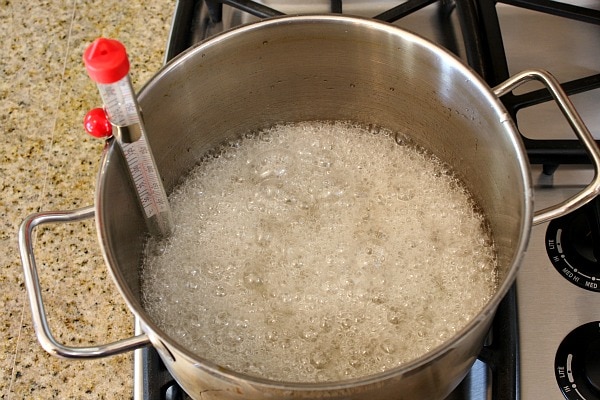 Bring the mixture to a boil.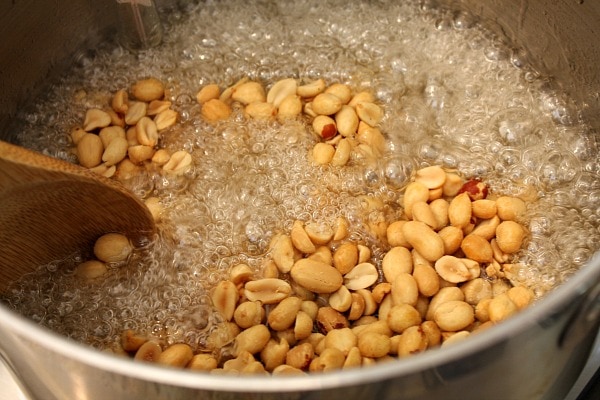 Watch the thermometer and add in the peanuts when it reaches 245 degrees F. Continue to stir and cook the mixture until the temperature reaches 300 degrees F.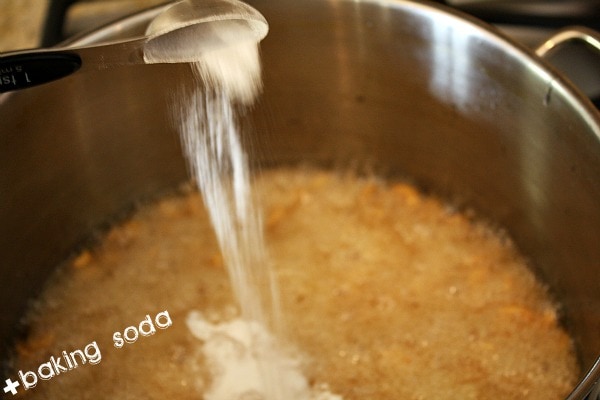 Add the baking soda and continue to cook a couple more minutes until the mixture turns a golden brown.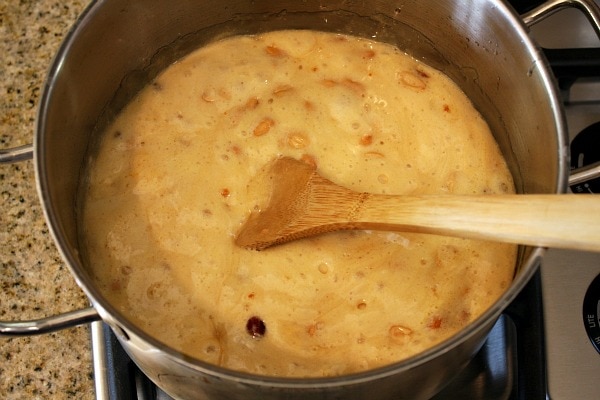 There it is: golden brown!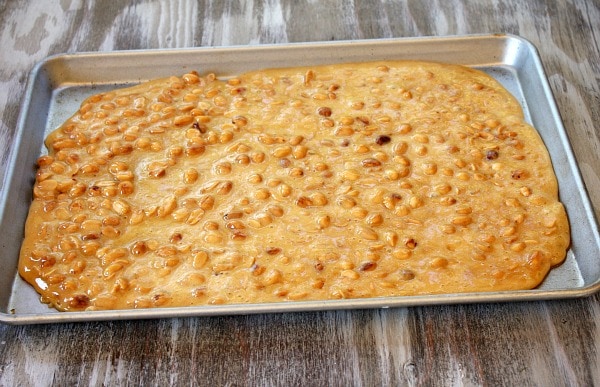 Pour it onto a greased baking sheet, and let it sit until completely cooled and hardened.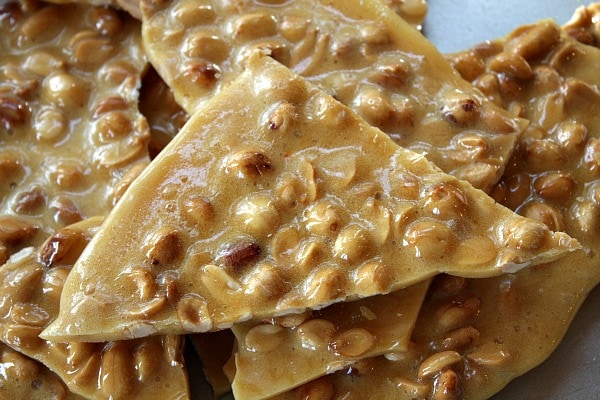 Once cooled, jiggle a spatula underneath the peanut brittle and you should be able to lift up the whole slab and just break it apart into pieces.
This is the fun part! It should break apart nicely into pieces, but you can certainly eat the bits that get left behind… you know, for sampling!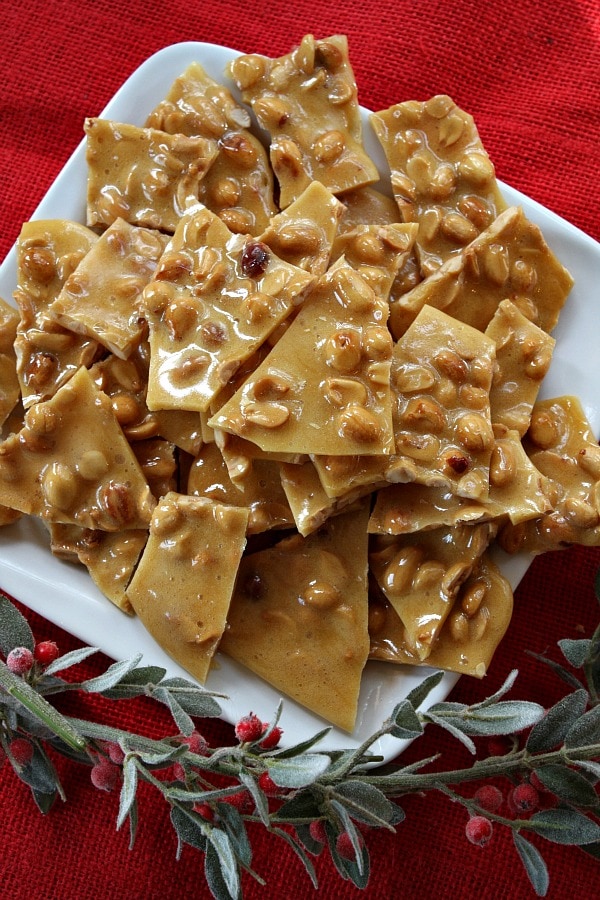 It's ready to serve and eat at this point. If you're saving it for later, be sure to keep it in a tightly covered container. Humidity can greatly affect the texture of candy. Keep it tightly covered (I keep mine in a tupperware bowl) and your peanut brittle should stay nice and crunchy.
I'm hoping that next year goes more slowly… so I can take time to enjoy my (not so little) boy and the changes in him that I see almost daily. I'm just glad my boy still wants to snuggle with his Mama, share stories… and eat my peanut brittle.
Here are a few more homemade candy recipes you might enjoy:
Peanut Brittle
Great, classic recipe for Peanut Brittle.
Recipe Details
Servings:
16
servings (8 cups)
Ingredients
2

cups

granulated white sugar

1

cup

water

1

cup

light corn syrup

2

cups

raw or roasted and salted peanuts

1/4

teaspoon

salt (if you use raw peanuts)

1

teaspoon

baking soda
Instructions
Spray a rimmed cookie sheet with nonstick spray.

Combine sugar, water and syrup in a medium-large saucepan. Stir to combine. Bring to a boil and cook at medium heat slowly to the soft ball stage (245 degrees F. on a candy thermometer), stirring gently every so often. Add 2 cups of peanuts and salt (if using). Continue to cook and stir until the thermometer registers 300 degrees F. Add baking soda. Stir to blend and continue to cook until golden brown (just a minute or so more). Remove from heat and stir to combine.

Pour the hot mixture onto the prepared pan and spread it out as much as you can with a wooden spoon. Cool completely, and then break into pieces.
Notes
*Keep your peanut brittle in a tightly covered container until you are ready to serve/eat it. The texture of candy can be greatly affected by the humidity in the air.
*If you are using a candy thermometer that clips to the side, just make sure that the bottom of the thermometer is resting inside the liquid and not pushed all the way to the bottom of the pan (you'll get a false reading if it's touching the bottom of the pan where the heat source is strongest).
Nutrition
Serving:
0.5
cup
,
Calories:
263
kcal
,
Carbohydrates:
45
g
,
Protein:
4
g
,
Fat:
9
g
,
Saturated Fat:
1
g
,
Sodium:
120
mg
,
Potassium:
120
mg
,
Fiber:
1
g
,
Sugar:
42
g
,
Calcium:
13
mg
,
Iron:
0.4
mg