This Macadamia Nut Brittle is a delicious brittle recipe that is similar to peanut brittle or almond brittle.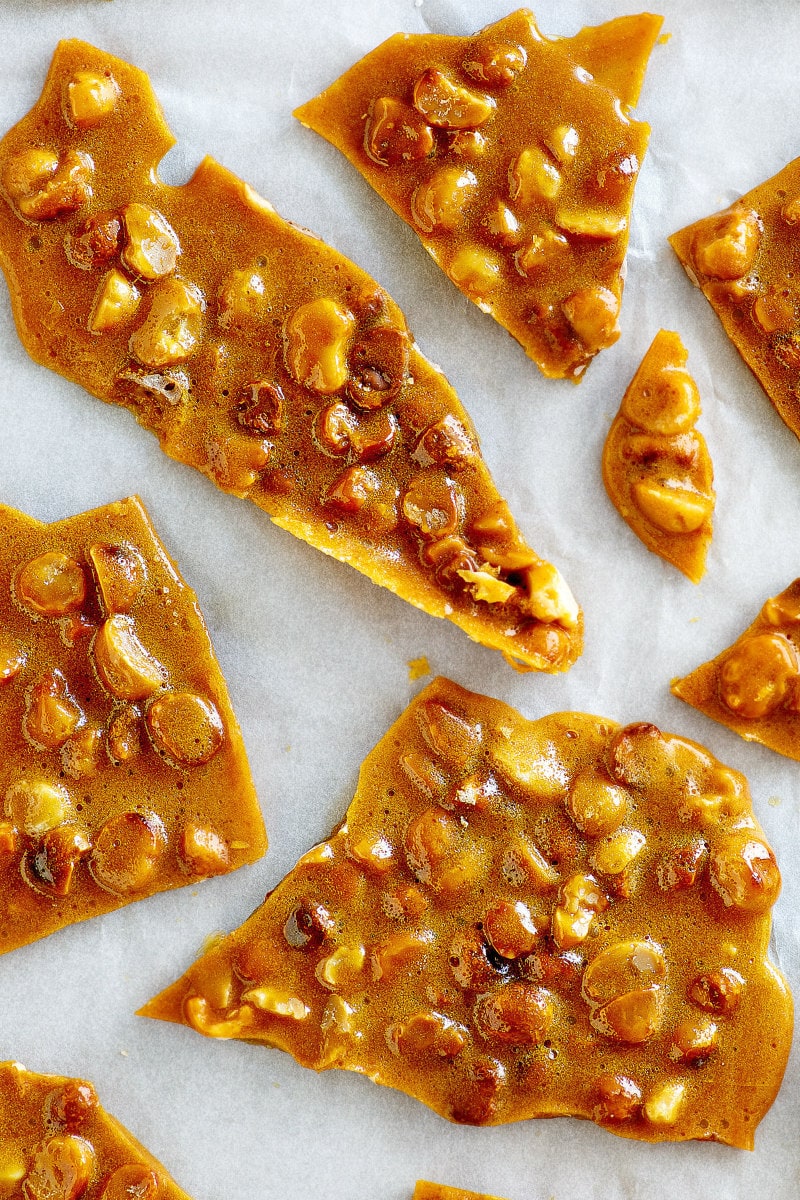 Macadamia Nut Brittle
Macadamia Nut Brittle is a crisp, sweet, buttery candy brittle loaded with macadamia nuts. It's a great candy for gifting during the holidays as people always like to put it out for guests. Just put several pieces in a clear gift bag and tie with a pretty bow. And it's a nice sweet confection to add to holiday treat platters at your own house too!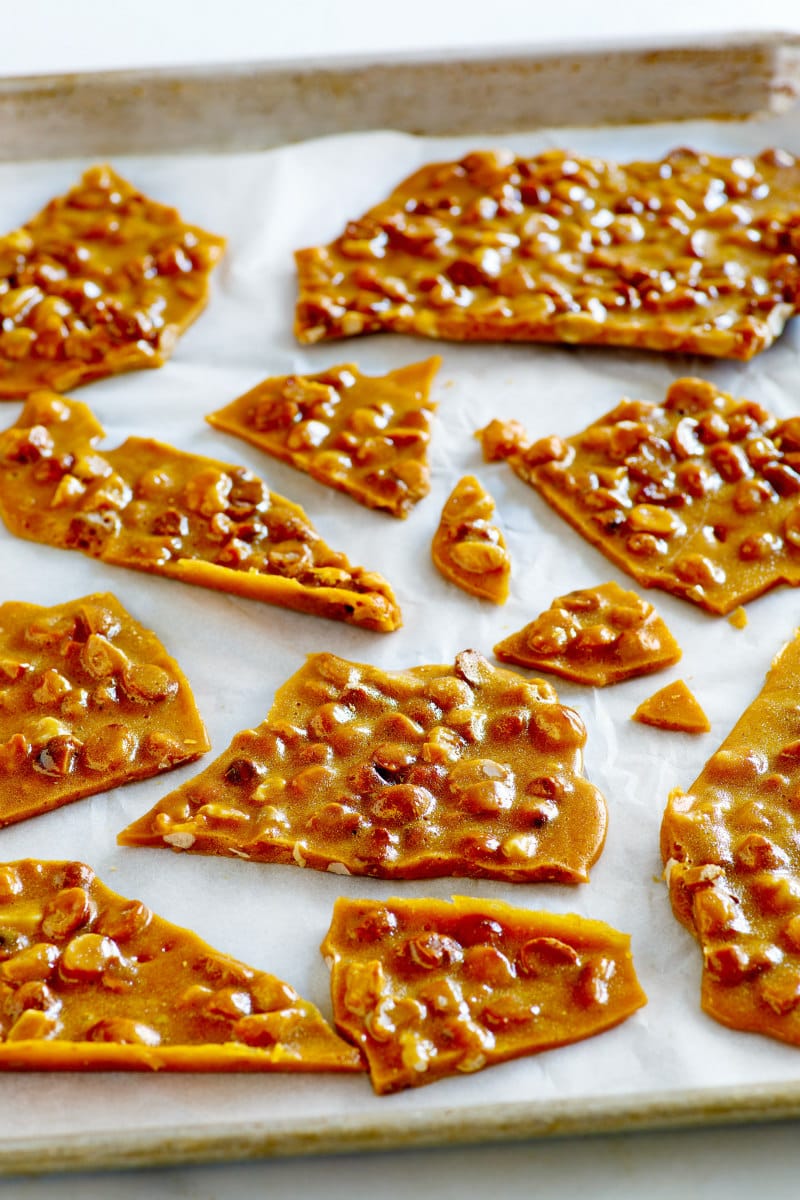 How to make Macadamia Nut Brittle:
Making homemade candy can sometimes be a little tricky, but you shouldn't need a candy thermometer for this recipe. First things first: you'll butter a baking sheet so it's ready for the hot candy once you're done making it.
In a nonstick pan, you'll combine sugar, water and corn syrup and let it come to a low boil until it begins to brown. Then you'll add in the macadamia nuts and stir those around until the syrup is a little darker and the nuts are browned too. This is an important part because you really need to keep a close eye on that bubbling syrup to make sure it doesn't turn from brown to burned!
When it all looks good and ready, you'll pull the pan off the heat and add butter and baking soda. Butter is going to help make the brittle easier to chew. And baking soda will add bubbles to the brittle to give the brittle a more delicate texture.
At this point, you'll scrape the liquid brittle onto the buttered baking sheet and spread it thin and evenly. It will be very hot, so be careful. Let it cool. Once cooled, break it apart into pieces. That's it!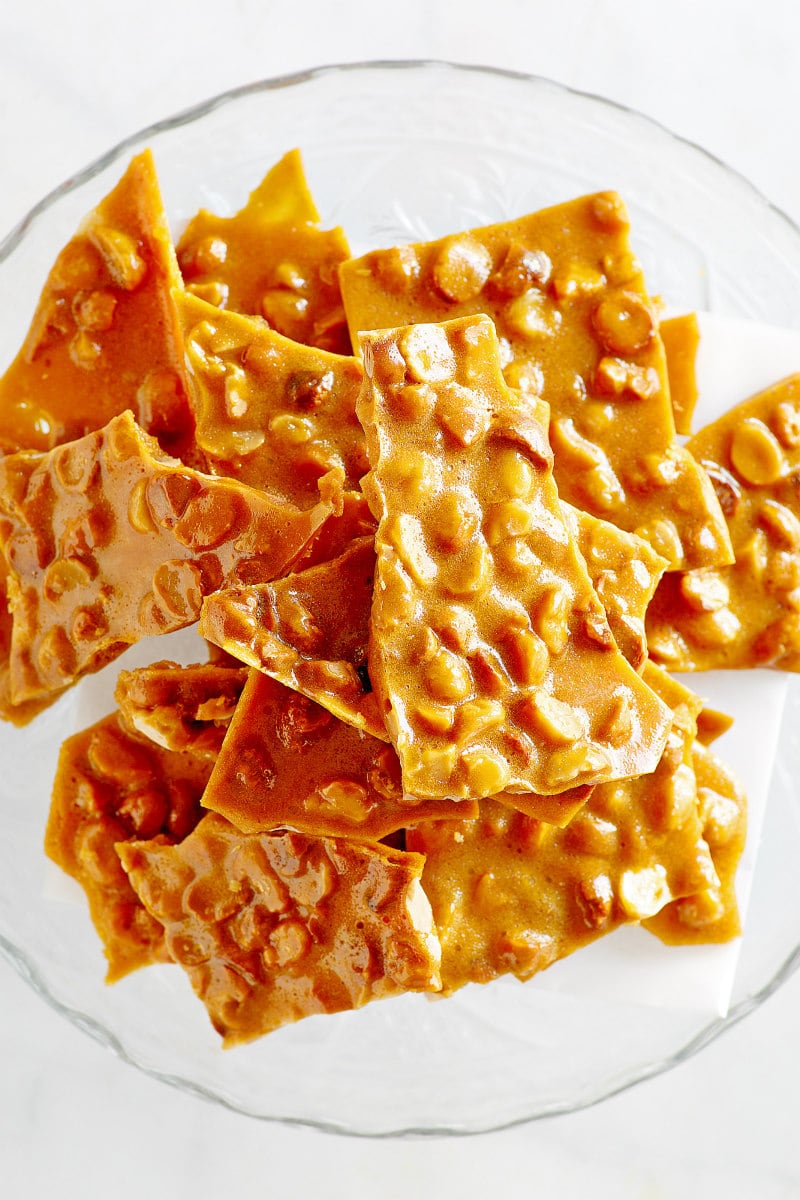 How to store Macadamia Nut Brittle:
If you're serving it right now, just pile the pieces onto a platter or into a serving bowl and set it out for munching. If you want to store it for later, use wax paper to separate layers of the macadamia nut brittle. Leave a small gap between the pieces in each layer to prevent pieces from sticking together. You can also wrap individual pieces in plastic wrap before stacking them in an airtight container.
How long will Macadamia Nut Brittle keep?
If it's stored properly and is well sealed, macadamia nut brittle should stay pretty fresh and good for two to three weeks. If it's left at room temperature and is exposed to the air, it may take on moisture and lose its crunch.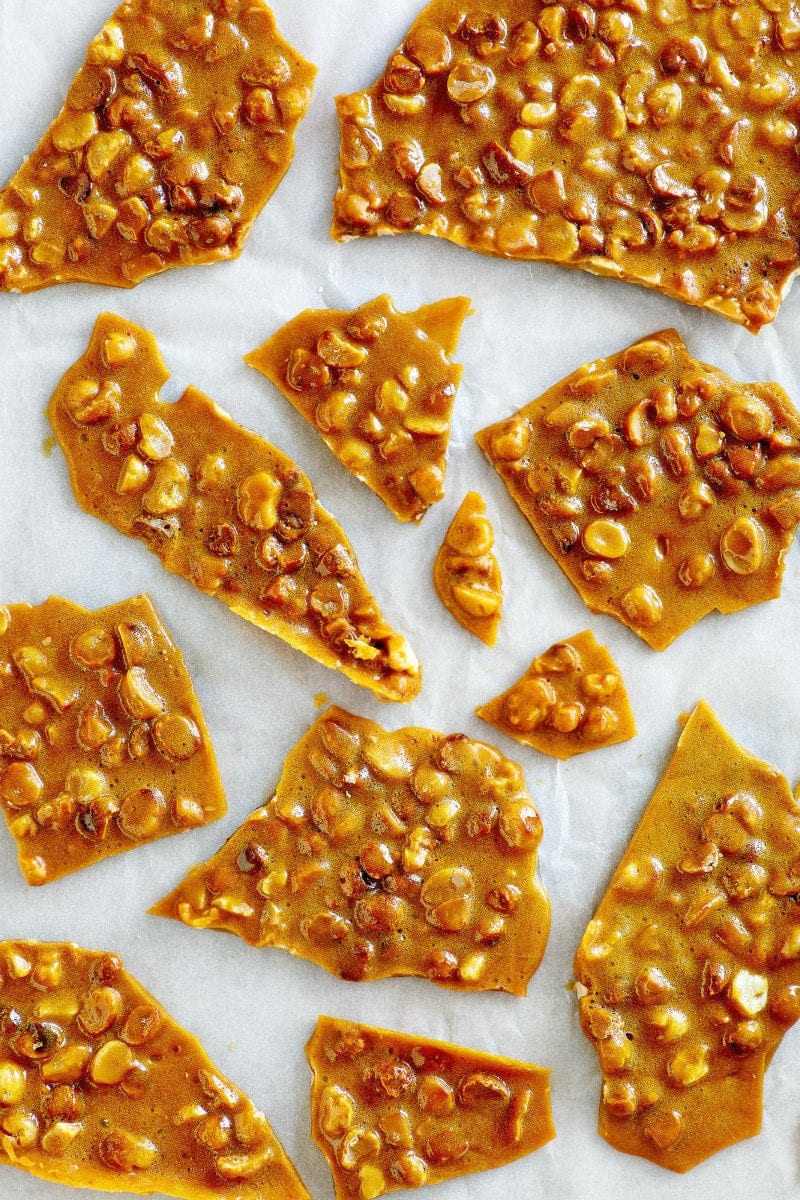 Can you freeze Macadamia Nut Brittle?
No! Please don't freeze your macadamia nut brittle. Brittle fares best in a cool, dry environment. Keep it well-sealed. Moisture is a brittle's enemy!
More homemade candy recipes to try:
Salted Chocolate Covered Caramels
Macadamia Nut Brittle
Here's a good way to use up all of those Macadamia Nuts you bought in Hawaii!
Recipe Details
Servings:
18
servings (1 1/2 pounds)
Ingredients
butter

1

cup

granulated white sugar

¼

cup

water

¼

cup

light corn syrup

1½

cups

macadamia nuts, chopped

(6-ounce jar should be enough)

1

tablespoon

butter

¼

teaspoon

baking soda

sea salt,

optional
Instructions
Butter a large baking sheet and set aside.

In a large nonstick pan, combine the sugar with the water and corn syrup. Cook over medium-high heat, stirring occasionally, until golden brown.

Stir in the nuts; cook, stirring constantly, until medium brown. Be careful not to burn! Remove from heat; quickly stir in the butter and baking soda. Pour onto the prepared baking sheet. Sprinkle with a little sea salt, if desired. Cool on a wire rack.

When cooled, break into pieces. Store in a tightly covered container.
Nutrition
Serving:
1
serving
,
Calories:
142
kcal
,
Carbohydrates:
16
g
,
Fat:
9
g
,
Saturated Fat:
1
g
,
Cholesterol:
1
mg
,
Sodium:
24
mg
,
Potassium:
41
mg
,
Sugar:
15
g
,
Vitamin A:
20
IU
,
Vitamin C:
0.2
mg
,
Calcium:
10
mg
,
Iron:
0.4
mg