Here's a recipe for classic Chocolate Toffee.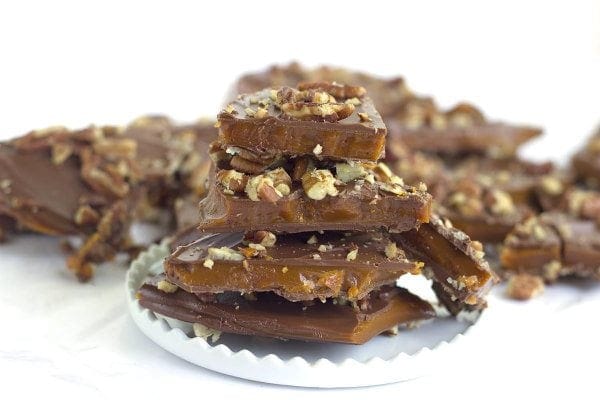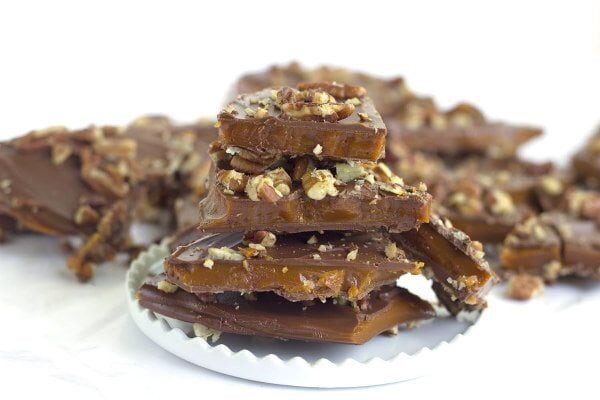 Toffee is one of those goodies that I'm completely enamored with in every way.  If I happen upon an old-fashioned candy store, it's the Chocolate Toffee I reach for first.
It's the best!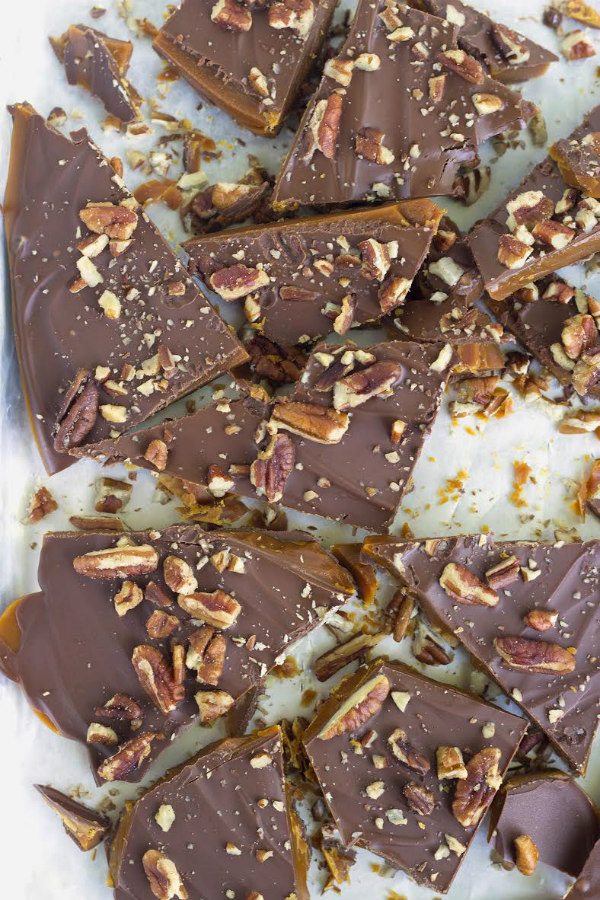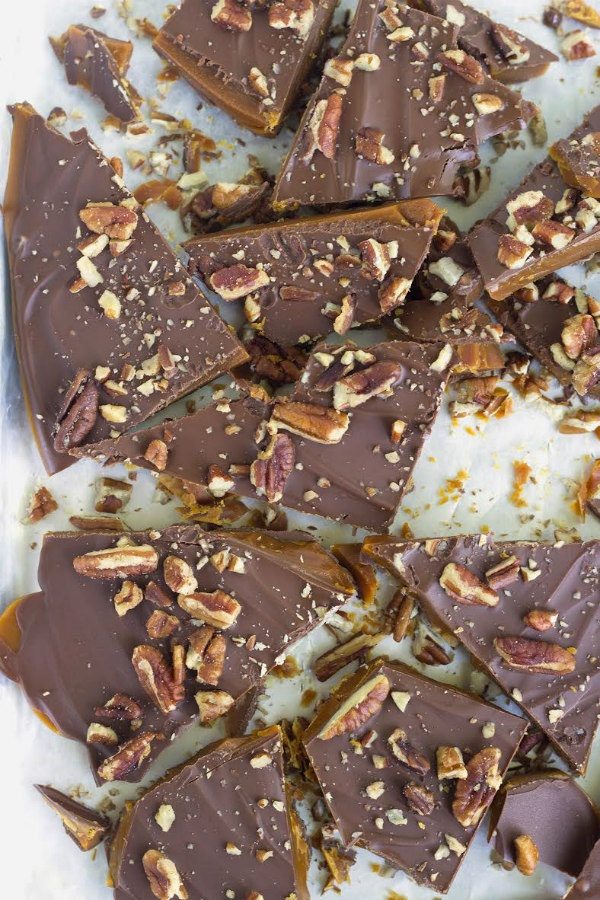 This recipe is for a classic version of toffee.  Candy making can be tricky, so just follow the instructions below and get to work!
Chocolate Toffee
Yield:
1 1/2 pounds toffee
Prep Time: 30 minutes + chill time
Cook Time: 25 minutes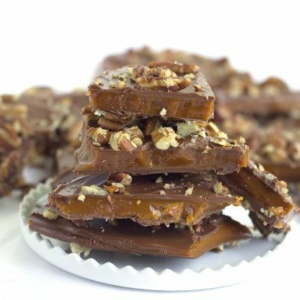 Ingredients:

1 cup granulated white sugar
1 cup (2 sticks) salted butter
3 tablespoons water
1 teaspoon vanilla extract
One 7-ounce Hershey Special Dark chocolate candy bar, chopped
1 cup pecans or almonds, finely chopped

Instructions:

Line a baking sheet with foil measuring approximately 13x17-inches.
Combine the sugar, butter, water and vanilla in a heavy saucepan. Cook over low heat, stirring constantly until light brown and hard crack stage (290-300 degrees on a candy thermometer). TIP: Once you place the heat on low, don't move it or turn it up. If at the soft ball stage, the butter separates, remove from the heat and add in 1 tablespoon of hot water and stir until the toffee comes back together and smooth. Return to the heat and continue.  This should take about 20 minutes. Pour the toffee onto the foil, spreading smoothly and quickly into 6x12-inch rectangle. Let it cool. Carefully transfer the candy to waxed paper. It breaks quite easily.
Melt half of the chocolate in a small bowl in the microwave and spread it on top of the toffee. Sprinkle with 1/2 cup pecans, pressing firmly into the chocolate. Refrigerate until set. Melt the other half of the chocolate. Turn the cooled toffee over and spread the remaining melted chocolate over the surface. Sprinkle with the remaining pecans, pressing firmly into the chocolate. Cool and break into pieces.
Store cooled toffee in an airtight container.

Tips:

If you are preparing this recipe as gluten-free, just be sure to use a brand of chocolate that is known to be GF.
SOURCE: RecipeGirl.com
Here are a few more toffee recipes you might enjoy: