Here's an easy recipe for homemade Heath Bars. These candies have a crispy toffee layer on the bottom topped with chocolate and almonds. Watch the video showing you how to make these, then scroll to the bottom of this post and print out the recipe so you can make them at home.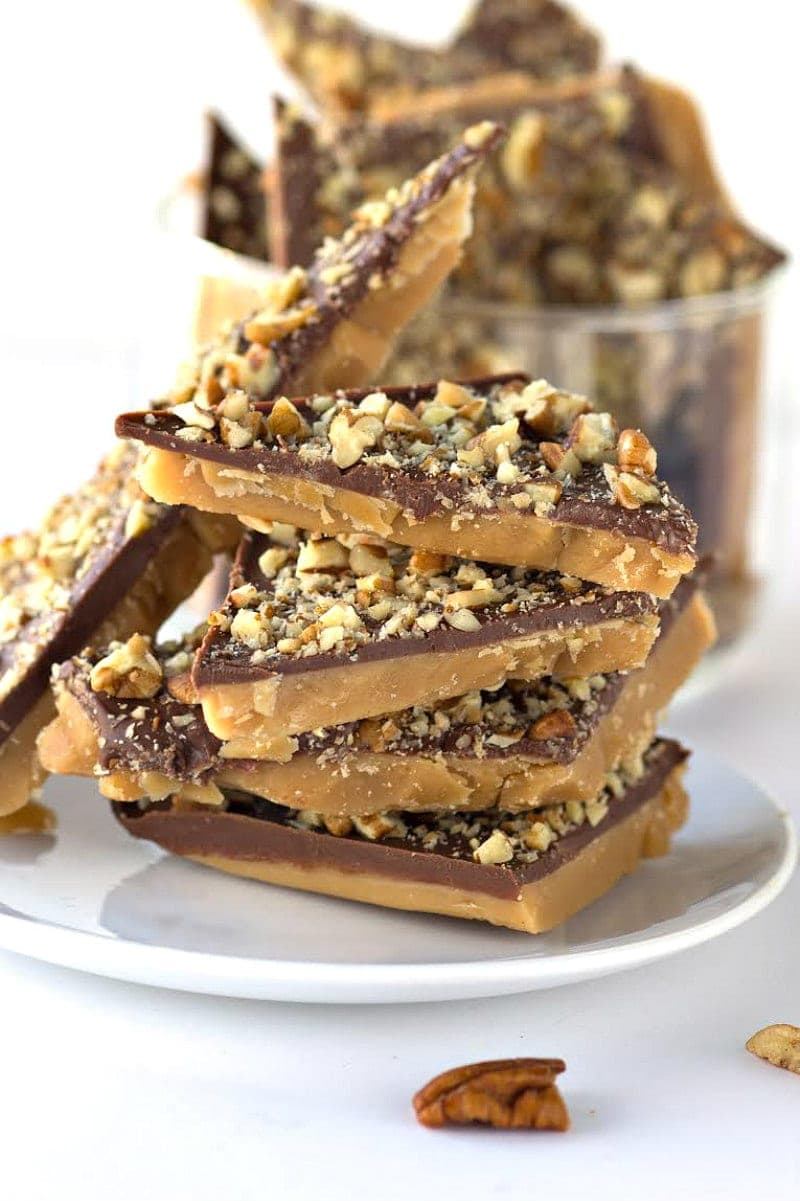 Yes… it's like your favorite candy bar, but homemade! Well, it's my favorite anyways. I love the crunch of the toffee with that chocolate layer on top.
How to Make Homemade Heath Bars:
You'll make a toffee layer first. The toffee layer is made up of butter, sugar, corn syrup and water. The toffee layer is the best part!!! Then you'll spread the toffee mixture onto a greased pan. Melted chocolate chips are spread on top. And chopped nuts are added to the chocolate.
Choose either almonds or pecan to sprinkle on top of the chocolate. I prefer almonds… but these Heath Bar pieces are awesome either way.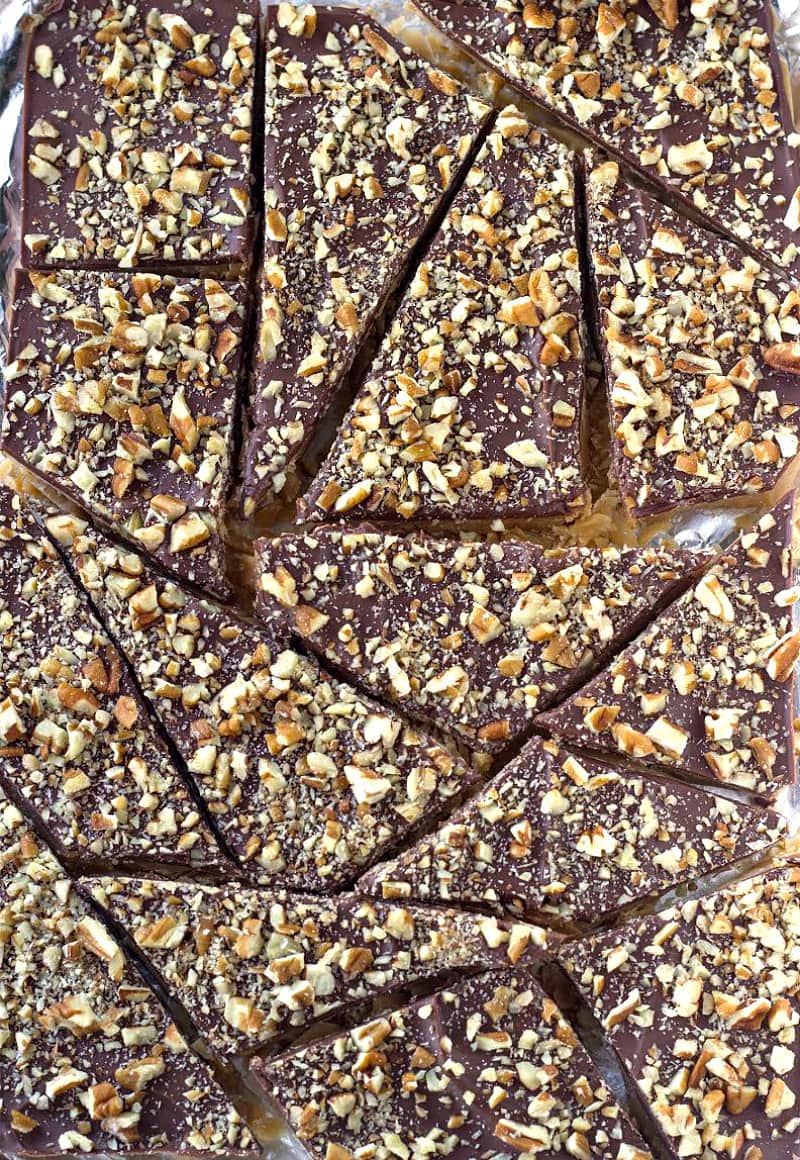 Once they've cooled a bit, you'll take a sharp knife and cut the giant heath bars into pieces. They'll break apart easily- kind of roughly cut into jig-jag pieces.
The Best Heath Bars Recipe
This is a lovely recipe to add to holiday treat platters, or even to just make for having around for sweet munching. Everyone loves a good chocolate covered toffee candy.
Warning: Heath Bars are awfully addictive. If you think you can eat just one piece… NOPE. Not gonna happen. It truly is my favorite candy. Whenever I see Heath Bars in a candy shop, I can't resist buying them. And now we can make it at home. How deliciously dangerous is that?!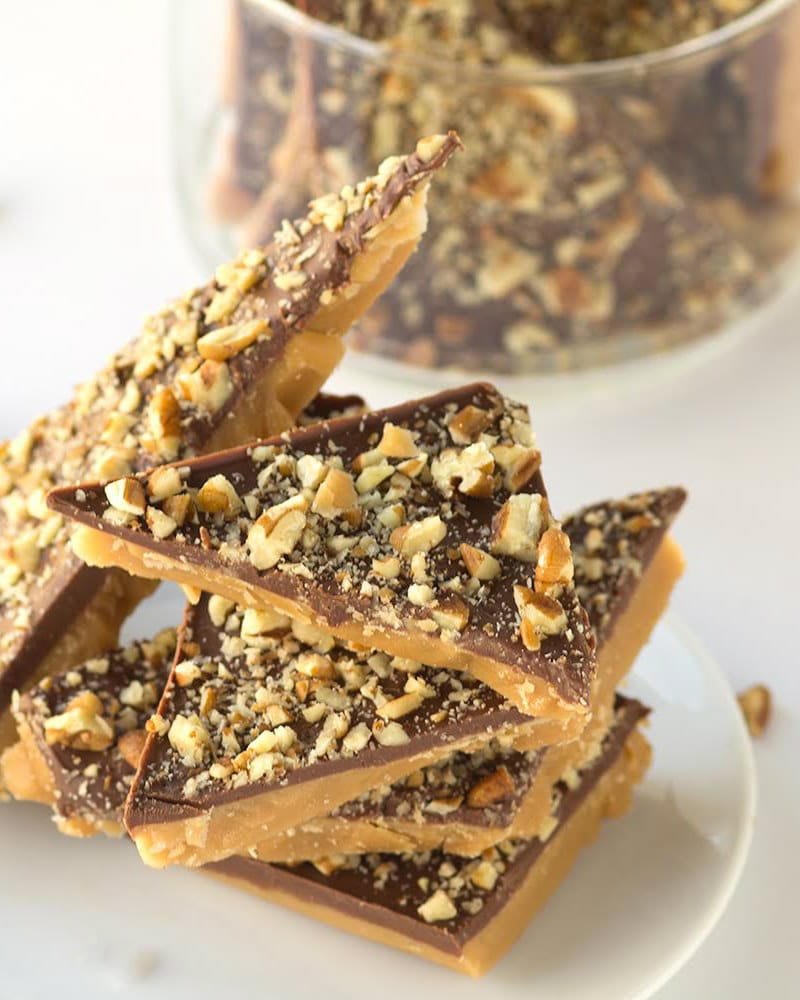 Is it hard to make homemade candy?
It's not as hard as you think to make homemade candy. Buy a candy thermometer on Amazon (only $10) to help you through the process, and you'll be good to go.
When you're making the toffee, the candy thermometer simply clips on the side of your saucepan and helps measure the temperature of the toffee as it's heating. It's very handy!
Troubleshooting- separated toffee or chocolate
It happens to all of us sometimes, and it doesn't mean this is a horrible recipe. If you notice a thin, oily layer on top of your candy, it means that the butter has separated from the sugar in the recipe. These ideas are all shared from TheSpruceEats.com.
Why it's happening, and ways to prevent this from happening:
Try not to "shock" your candy by drastically turning the heat up or down during cooking.
It is especially important to watch the candy at the beginning of the cooking process, while the butter and sugar are melting together because separation can often result if these two elements melt unevenly. Medium-low heat is best.
Separation is more likely to occur when using thinner (cheaper) saucepans, as they don't conduct heat efficiently and lead to "hot spots" that can cause the butter to separate.
Humidity can cause the butter to separate, so if your kitchen is very warm and humid, it's not a good time to be making candy.
How to save the toffee or chocolate if it separates during the cooking process:
Remove the saucepan from the heat and stir constantly and smoothly until it comes back together, then gradually return it to the heat, stirring constantly.
Try adding a spoonful or two of very hot water to toffee to help it come together. Start with one tablespoon and stir the candy to help it come together. Add additional spoonfuls if necessary, but do not add more than 1/4 cup of water total.
If you have already poured your candy out to cool by the time it separates, the candy is unfortunately too far gone to save. However, you can probably wipe off the excess oil and crush the toffee to use in baked goods or as an ice cream topping.
When you're ready to pour your chocolate layer on top of your toffee, the surface of your toffee should be matte, rather than shiny. If it's shiny, then your butter has separated out of the toffee and is concentrated on the surface. If this happens, the chocolate isn't going to adhere to the toffee. You might be able to save it. Try blotting up the butter with paper towels. Then you can spread the layer of chocolate on top.
Holiday Gift Idea
Wrap up some Heath Bars pieces and gift to a friend. This makes a wonderful holiday gift, and Heath Bars are nice for bringing as a hostess gift for parties too.
Thank you to Miranda from the CookieDoughAndOvenMitt.com blog for shooting these beautiful photos of the Heath Bars for me.
Here are a few more homemade candy recipes you might enjoy:
Heath Bars
A delicious way to make homemade candy!
Recipe Details
Ingredients
1

cup (2 sticks)

salted butter

1

cup

granulated white sugar

1

tablespoon

light corn syrup

3

tablespoons

water

6

ounces

milk chocolate chips,

melted

1

cup

finely chopped almonds or pecans
Instructions
Line an 11x7-inch pan with well-greased wax or parchment paper. Set aside.

Melt the butter on low in a heavy saucepan. Stir in the sugar, syrup and water. Stirring constantly, use a candy thermometer and cook until the mixture reaches 305 degrees F.

Pour the hot candy onto the prepared pan. Spread the mixture to the edges. Allow to sit until the mixture is stable but still hot. Spread the melted chocolate chips over the top. Sprinkle nuts over the top of the chocolate and gently press in.


Allow the candy to cool and harden. Break into pieces and store in an airtight container.
Notes
To melt chocolate chips, put in pyrex and microwave. Stir every 30 seconds until smooth.
I suggest you read through the post before making this recipe for any potential problems you may have -- with butter separating during the cooking process or with the chocolate separating from the toffee.
Nutrition
Serving:
1
serving
,
Calories:
262
kcal
,
Carbohydrates:
23
g
,
Protein:
2
g
,
Fat:
18
g
,
Saturated Fat:
9
g
,
Cholesterol:
34
mg
,
Sodium:
117
mg
,
Potassium:
54
mg
,
Fiber:
1
g
,
Sugar:
21
g
,
Vitamin A:
405
IU
,
Vitamin C:
0.1
mg
,
Calcium:
36
mg
,
Iron:
0.4
mg