Chocolate Chunk- Butter Pecan Bars
These Chocolate Chunk Butter Pecan Bars are an easy-to-make treat.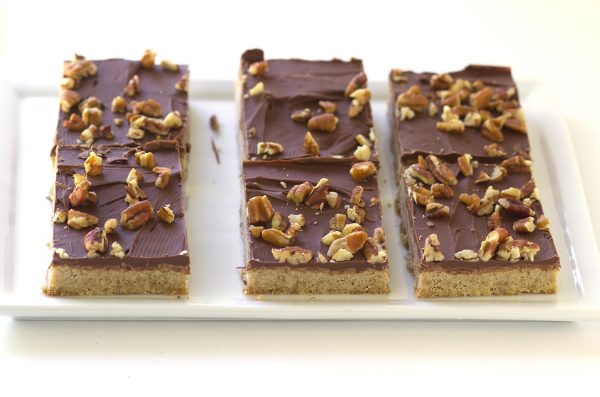 They begin with a very simple buttery cookie crust.  When the crust comes out of the oven, chocolate chips are tossed on top and they begin melting immediately.  Once melted, the chocolate is spread around to create a "frosting," and nuts are sprinkled on top.
Yield: 3 dozen bars
Prep Time: 20 minutes
Cook Time: 25 minutes
Chocolate Chunk Butter Pecan Bars
Ingredients:
1 cup packed light brown sugar
1 cup (2 sticks) salted butter, softened
1 large egg yolk
1 teaspoon vanilla extract
2 cups all-purpose flour
1/4 teaspoon salt
One 10-ounce package Hershey's milk chocolate chunks
1/2 cup coarsely chopped pecans
Directions:
Preheat oven to 350 degrees F. Grease 13x9-inch baking pan.
In a large mixing bowl, use an electric mixer to combine the brown sugar, butter, egg yolk and vanilla; blend in the flour and salt. Press the mixture into the prepared pan. Bake 25 to 30 minutes or until lightly browned. Remove from oven; Immediately sprinkle the chocolate chunks onto the crust. Let stand until softened (about 5 minutes). Spread evenly over the crust, and sprinkle with pecans.
Allow to cool completely and cut into bars.
SOURCE: RecipeGirl.com
Here are a few more butter-pecan treats you might enjoy:
Leave a Comment