These no-bake Butter Brickle Graham Cracker Bars are a delicious hand-held dessert: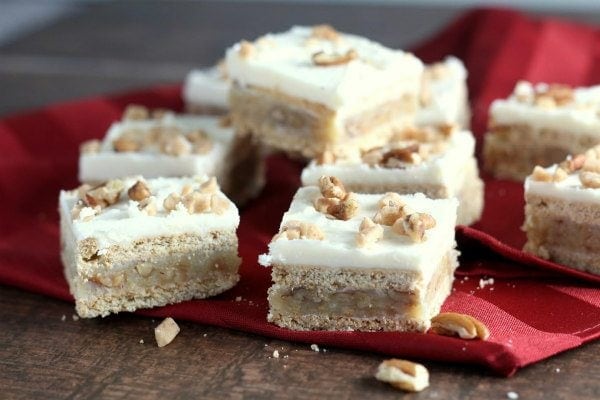 A cinnamony crust makes up the base of this dessert… with a sweet frosting layer next and pecans on top.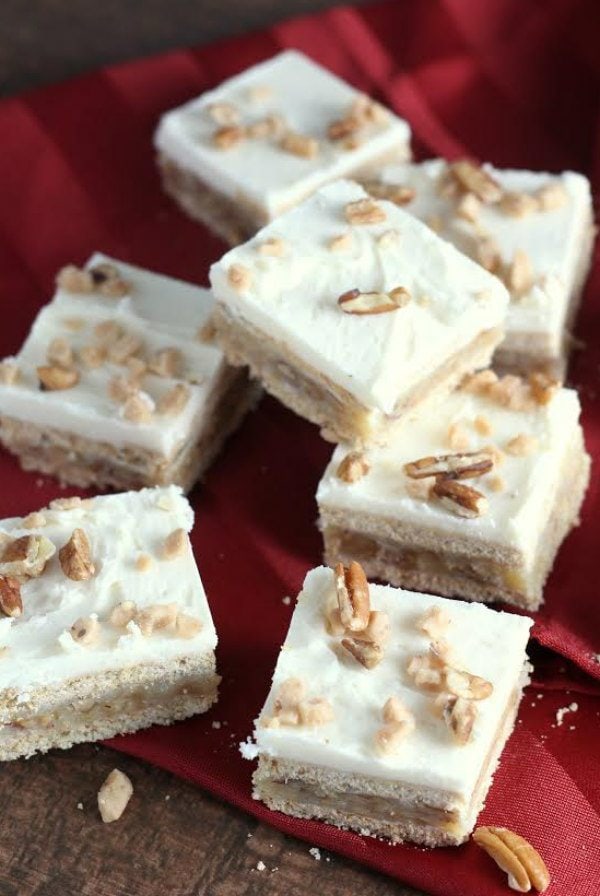 Butter Brickle Graham Cracker Bars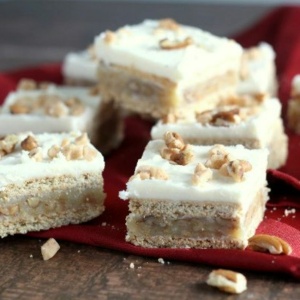 Yield:
36 bite-sized pieces
Prep Time: 25 minutes (plus chill time)
Cook Time: 5 minutes
Ingredients:
BOTTOM LAYER:
12 whole cinnamon graham crackers
1 cup (2 sticks) salted butter, melted
1 cup granulated white sugar
1 large egg, slightly beaten
1/4 cup milk
1/2 cup graham cracker crumbs
1/2 cup chopped pecans
1/2 cup toffee bits
FROSTING:
2 cups powdered sugar
1/2 cup ( 1 stick) salted butter, softened
milk to moisten mixture
dash vanilla extract
TOPPING:
Directions:
Line a 9x13-inch pan with cinnamon graham crackers.
In medium saucepan, combine the melted butter, sugar, egg and milk. Cook over medium-high heat, whisking constantly, until it reaches custard consistency (thickened). Remove from heat and cool. Add the crumbs, pecans and toffee bits. Spread the mixture over the graham crackers. Top with another layer of cinnamon graham crackers.
Combine the frosting ingredients, and frost the top of the graham crackers. Sprinkle with chopped pecans.
Cover and refrigerate overnight. Cut into small squares or bite-sized pieces.
SOURCE: RecipeGirl.com