Chocolate Mint Kiss Crinkles are a festive and delicious cookie recipe for the holidays!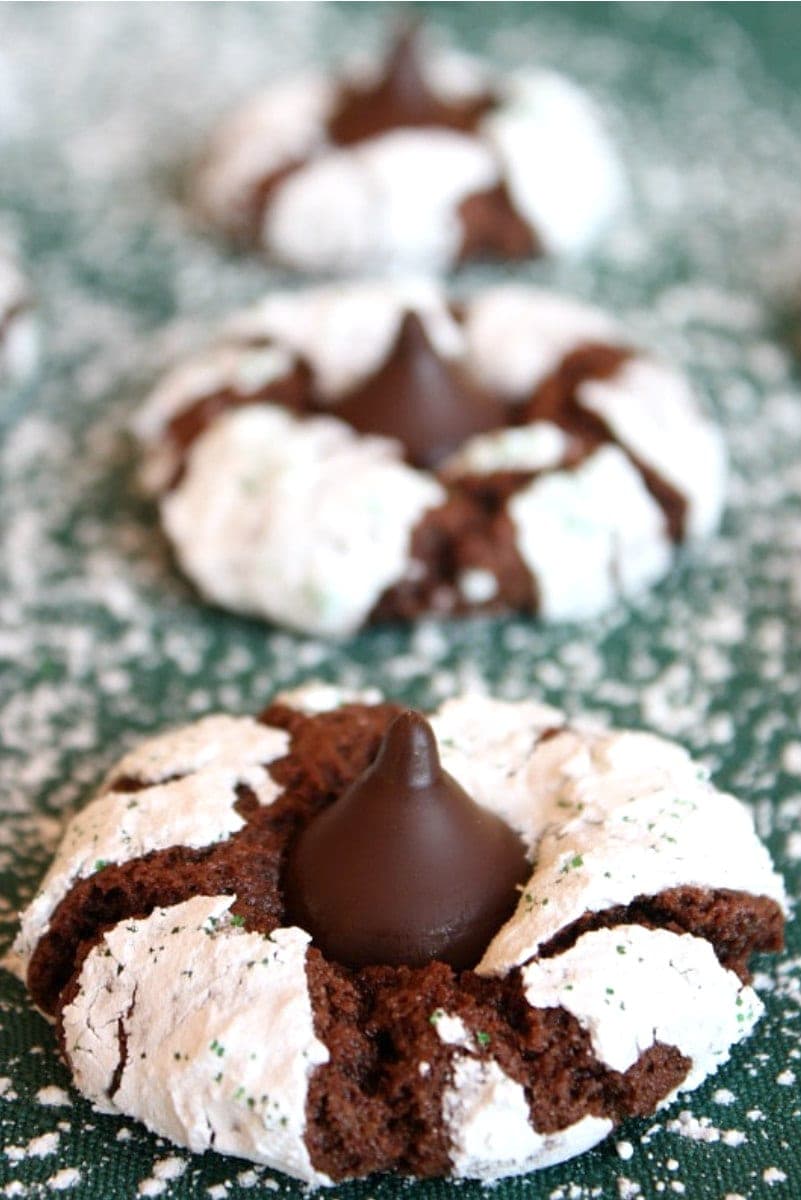 These Chocolate Mint Kiss Crinkles incorporate a Hershey's Kiss into the middle of each cookie. Hershey's is always changing up the flavors of their Kisses, but if y0u can find mint kisses (or specifically- mint truffle) then those are going to be really good in these cookies!
The cookie dough for these cookies is rolled in powdered sugar before baking. That'll give them the snowy look they've got going on. If you happen to have some colored green sugar, combine that with the powdered sugar for a more festive look (and a hint that they're mint).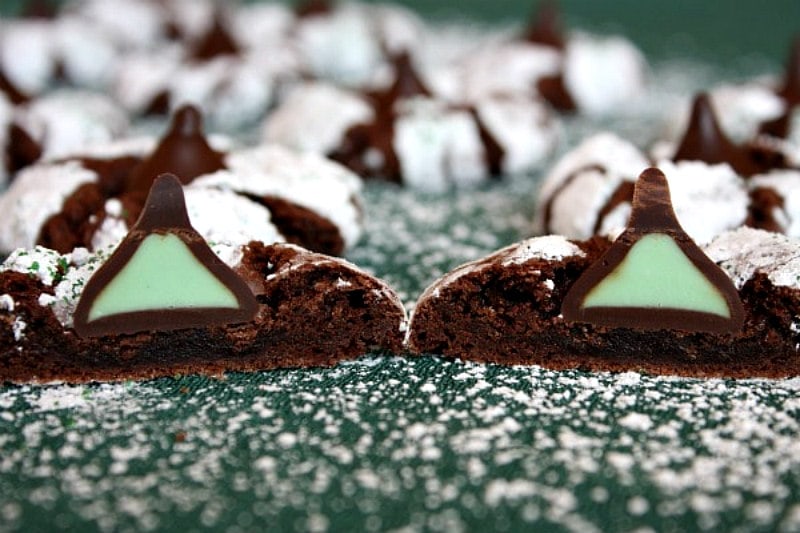 See that mint truffle hiding inside of these chocolate Kisses? These Kisses are so good!
The Kisses are placed onto the chocolate cookies as soon as they come out of the oven. Placing them on warm cookies ensures that they sink into the middle, melt a little bit and become part of the cookie. The cookies are flavored mint chocolate as well. It's a big mint chocolate celebration cookie!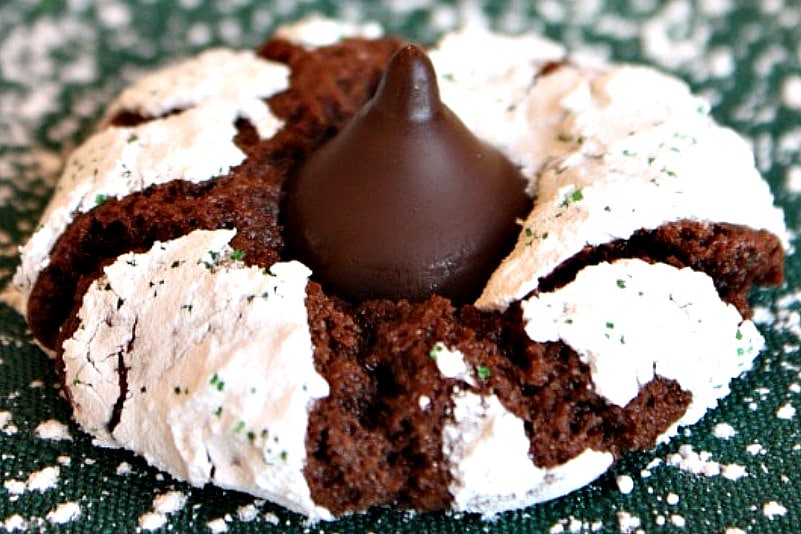 Freezing Kisses:
If you have room in your freezer, it's best to place the Kisses on the cookies while they're still on the baking sheet and then stick the whole baking sheet in the freezer so the "now-melty" Kisses can solidify again. If you don't have much room, don't worry about it. You can always quickly slide the cookies onto a platter with a spatula and then place the Kisses on top. Then you can put the platter aside and give them time to set at room temperature in your kitchen.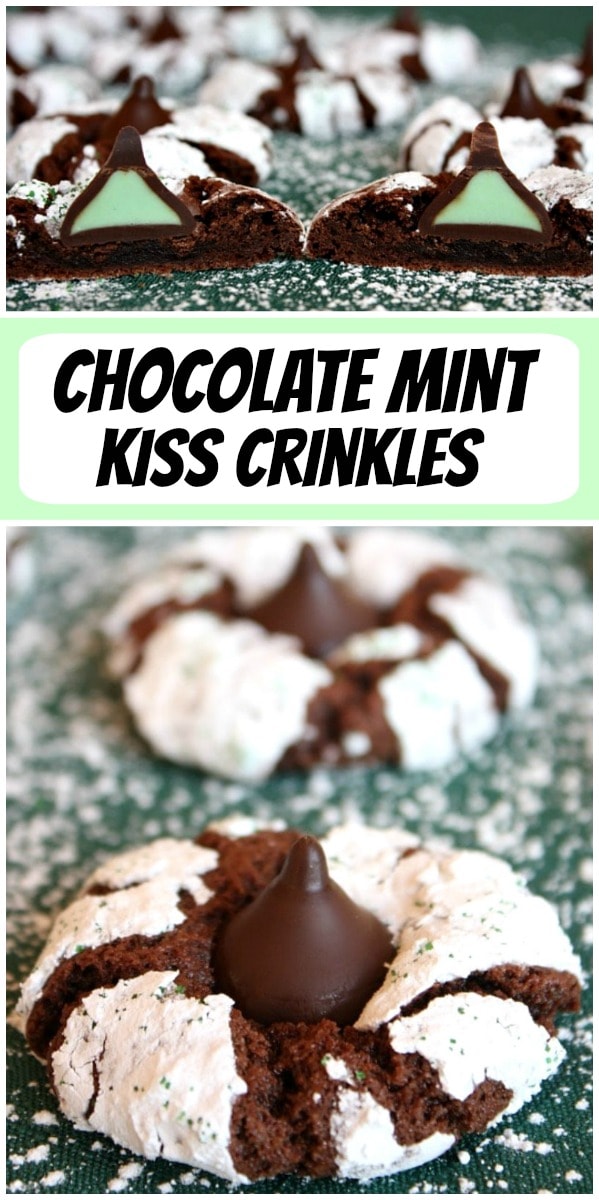 Add this one to your holiday treat platters. Everyone seems to like them a lot. Enjoy!
Here are a few more holiday cookie recipes you might like to try:
Chocolate Mint Kiss Crinkles
Perfectly festive and delicious for the holidays!
Recipe Details
Ingredients
2

cups

all purpose flour

1

cup

unsweetened cocoa powder

2

teaspoons

baking powder

1/2

teaspoon

salt

2

cups

granulated white sugar

1/2

cup

vegetable oil

4

large

eggs

1

teaspoon

vanilla extract

1

teaspoon

peppermint extract

1

cup

powdered sugar

green colored sugar

(optional)

60

mint truffle Hershey's Kisses,

unwrapped
Instructions
In a medium bowl, whisk together the flour, cocoa powder, baking powder and salt; set aside.

In a large bowl, whisk together the sugar, oil, and eggs until well mixed. Whisk in extracts.

Stir the dry ingredients into the wet ingredients just until combined. Cover bowl with plastic wrap and refrigerate for at least 2 hours.

Preheat the oven to 350 degrees F. Line the cookie sheets with parchment paper. Roll the dough into ½-tablespoon balls. Roll the balls in a mixture of powdered sugar/green sugar (or just plain powdered sugar). Place on cookie sheets about 1½ inches apart. Bake for 11 to 13 minutes, until the cookies crackle and the dough doesn't look raw. While the cookies are baking, unwrap the kisses and make some room in your refrigerator or freezer for the cookie sheets. When the cookies come out of the oven, immediately place a kiss in the center of each cookie and press lightly. The kisses will start to get melty, so it's best if you are able to place the cookie sheet (with the kiss cookies still on it) directly into the freezer or refrigerator until the kisses can cool off and set up.
Nutrition
Serving:
1
cookie
,
Calories:
95
kcal
,
Carbohydrates:
16
g
,
Protein:
1
g
,
Fat:
4
g
,
Saturated Fat:
2
g
,
Cholesterol:
14
mg
,
Sodium:
29
mg
,
Potassium:
44
mg
,
Fiber:
1
g
,
Sugar:
11
g
,
Vitamin A:
18
IU
,
Calcium:
19
mg
,
Iron:
1
mg