This recipe has been featured in a post on The Recipe Girl blog:  Chocolate Mint Crinkles with Mint Truffle Kisses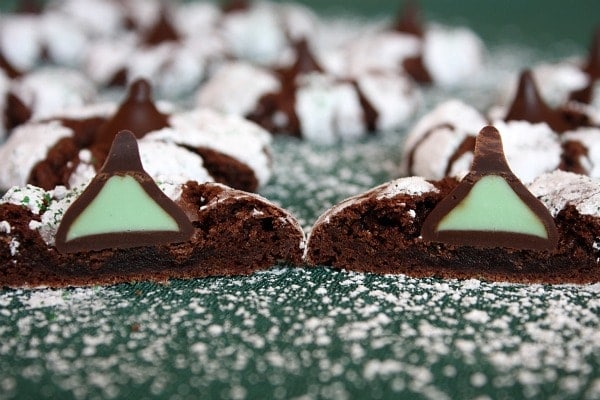 Chocolate Crinkles with Mint Truffle Kisses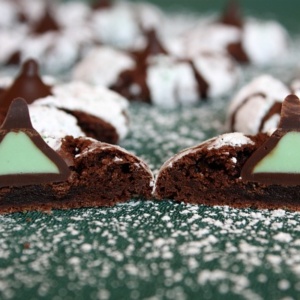 When I created this cookie recipe, I ran to my computer and shared them on the blog immediately. They're irresistible.
Yield:
About 60 cookies
Prep Time: 25 min + chill time
Cook Time: 12 min
Ingredients:
2 cups all purpose flour
1 cup unsweetened cocoa powder
2 teaspoons baking powder
1/2 teaspoon salt
2 cups granulated white sugar
1/2 cup vegetable oil
4 large eggs
1 teaspoon vanilla extract
1 teaspoon peppermint extract
1 cup powdered sugar
2 teaspoon green colored sugar (optional)
bag of mint truffle flavored Hershey's Kisses
Directions:
1. In a medium bowl, whisk together flour, cocoa powder, baking powder and salt; set aside.
2. In a large bowl, whisk together sugar, oil, and eggs until well mixed. Whisk in extracts.
3. Stir dry ingredients into wet ingredients just until combined. Cover bowl with plastic wrap and refrigerate for at least 2 hours.
4. Preheat oven to 350 degrees F. Line cookie sheets with parchment paper. Roll dough into 1/2 Tablespoon balls. Roll balls into mixture of powdered sugar/green sugar. Place on cookie sheets about 1 1/2 inches apart. Bake for 11 to 13 minutes, until cookies crackle and dough doesn't look raw. While cookies are baking, unwrap the kisses and make some room in your refrigerator or freezer for the cookie sheets. When the cookies come out of the oven, immediately place a kiss in the center of each cookie and press lightly. The kisses will start to get melty, so it's best if you are able to place the cookie sheet (with the kiss cookies still on it) directly into the freezer or refrigerator until the kisses can cool off and set up.