This dessert is gluten free adaptable– please see tips below the recipe…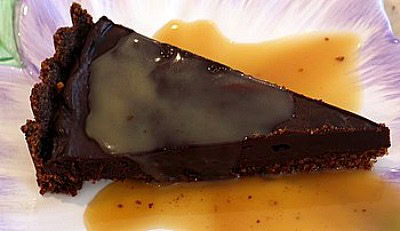 Chocolate Pecan Tart w/ Caramel Sauce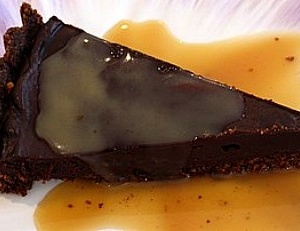 This is a really rich chocolate dessert. You only need a small sliver with some of the sauce and you will get your fill of chocolate!
Yield:
12 servings
Prep Time: 30 min
Cook Time: 45 min
Ingredients:
CRUST:
2 cups pecans
1/4 cup golden brown sugar, packed
1/4 teaspoon ground cinnamon
2 Tablespoons unsalted butter, at room temperature
FILLING:
1/2 cup heavy whipping cream
12 ounces bittersweet or semi-sweet chocolate, chopped
SAUCE:
1/2 cup (1 stick) unsalted butter, melted
1 cup + 3 Tablespoons granulated white sugar
2 cups heavy whipping cream
Directions:
1. To prepare tart: Preheat oven to 325 degrees F. Blend first 3 ingredients in food processor until nuts are finely ground. Add butter and blend until well-combined. Press nut mixture onto bottom and sides of 9-inch tart pan with a removable bottom. Bake until golden brown, about 20 minutes. Transfer to rack and cool.
2. To prepare filling: In a medium heavy saucepan, bring cream to a simmer. Add chocolate and stir until melted and smooth. Pour chocolate mixture into crust. Cover and refrigerate until firm (about 2 hours).
3. To prepare sauce: Melt butter in heavy medium skillet over medium-high heat. Add sugar and cook until deep golden brown, whisking frequently (about 10 minutes- the mixture will be grainy). Add cream and boil until sauce is reduced to 2 1/2 cups, whisking occasionally (about 10 minutes). Cool slightly.
4. When ready to serve, remove tart bottom. Cut tart into wedges and transfer to plates. Spoon warm sauce around tart wedges.
Tips:
*If you are preparing this dessert as gluten free, just be sure to use brands of chocolate that are known to be GF.
*To save time on the day of entertaining, you may prepare the crust/filling 2 days ahead).
*You may also prepare the sauce 2 days ahead. Cover and refrigerate. Before serving, re-warm sauce over medium heat, stirring frequently.
Source: RecipeGirl.com (Adapted from Bon Appetit, February 1993)