I've mentioned my fondness for candy bar dessert recipes before, and here's another one for you to add to your "to-try" list:  Snickers Bar Mini Tarts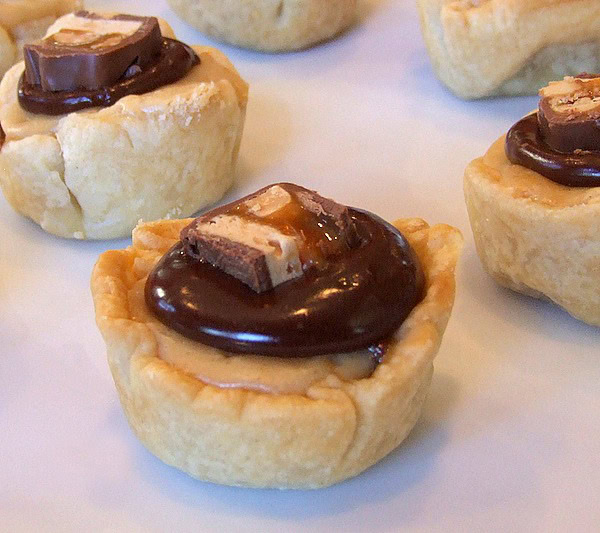 You simply can't go wrong with a dessert that incorporates your favorite candy bars… especially those that you consumed often (without worries of weight gain) when you were much younger but now rarely indulge (because of worries of weight gain). When's the last time you ate a regular-sized Snicker's Bar? Really. Perhaps I'm too weight-conscious, but I don't believe I can recall eating any kind of candy bar since Halloween. Other desserts… yes… many. For some reason those don't seem as bad as a candy bar!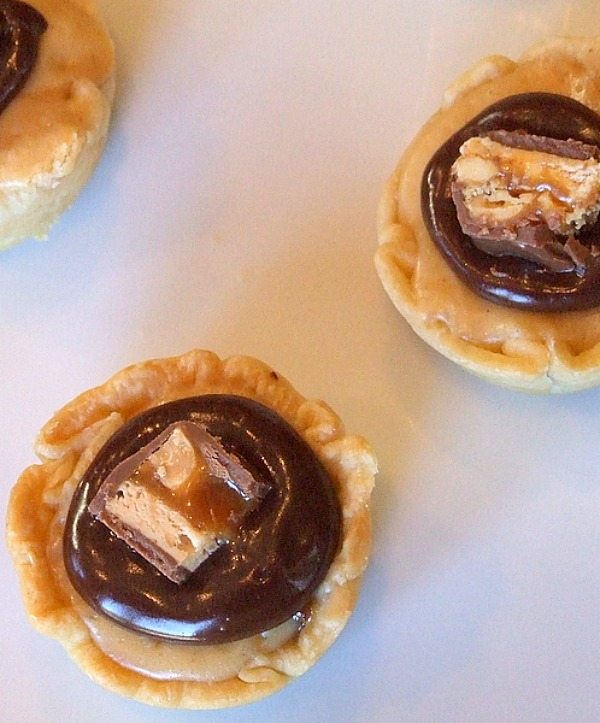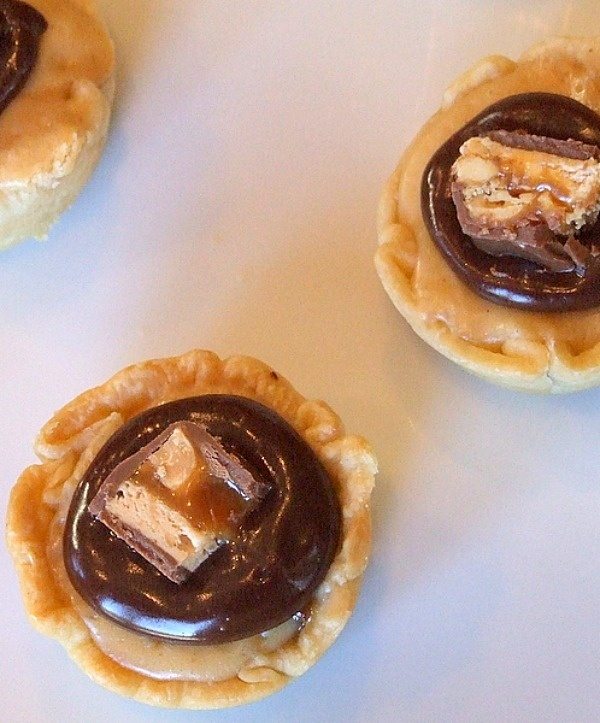 See that oozing puddle of chocolate ganache on top??? That sits afloat a filling of peanut butter cheesecake (with a chunk of snickers sneakily hidden inside too!) Since the recipe is from Pillsbury, it's a quick and easy dessert. The refrigerated pie crusts are used as the base. I don't see any reason at all to use your best homemade crust since the flavor isn't focused on the crust in this recipe. But have-at-it if you wish to do it all from scratch.
I do suggest that you give this recipe a shot. They're tasty little bite-sized (decadent) treats.
Snickers Bar Mini Tarts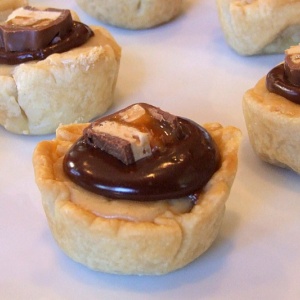 These are amazingly simple and excellent little treats. If you're a Snicker's Bar fan, this is definitely one to try!
Yield:
24 mini tarts
Prep Time: 40 minutes
Cook Time: 25 minutes
Ingredients:
CRUST:
1 (15 ounce) box refrigerated pie crusts, softened as directed on box
FILLING:
2 1/2 regular-sized Snicker's Bars (you'll have to eat that extra half!)
4 ounces cream cheese, softened
2 tablespoons + 2 teaspoons granulated sugar
1 large egg
2 tablespoons sour cream
2 tablespoons creamy peanut butter
TOPPING:
2 tablespoons whipping cream
1/2 cup milk chocolate chips
Directions:
Preheat oven to 450°F. Unroll pie crusts on work surface. With rolling pin, roll each crust lightly into 12-inch round. With 3-inch round cutter, cut 24 rounds from crusts, re-rolling scraps as necessary. Press 1 pie crust round in bottom and up side in each of 24 ungreased mini muffin cups, so edges of crusts extend slightly above sides of cups. Bake 5 to 7 minutes or until very light golden brown; cool. Reduce oven temperature to 325 degrees.
Cut candy bars in half lengthwise; cut into 1/8-inch pieces; chop coarsely. Place candy bar pieces in bottoms of cooled crust-lined cups, reserving some for garnish.
In small bowl, beat cream cheese and sugar with electric mixer on medium speed until smooth. Beat in egg until well balanced. Add sour cream and peanut butter, beating until mixture is smooth. Spoon 2 teaspoons cream cheese mixture over candy bar pieces in each tart. Bake at 325°F. for 15 to 20 minutes or until center is set. Cool completely (about 30 minutes).
In pyrex measuring cup, place whipping cream. Heat in microwave until bubbling. Remove and stir in chocolate chips until melted and smooth. If necessary, return to microwave for 30 seconds until hot enough to melt. DON'T OVERHEAT.
Place a dollop of chocolate ganache on top of each tart. Garnish with pieces of Snicker's Bar. Refrigerate 2 to 3 hours before serving. Keep any unused tarts refrigerated.
SOURCE:
RecipeGirl.com (Adapted from
Pillsbury
)