This recipe has been featured in a post on The Recipe Girl blog: Cinnamon- Sugar Stars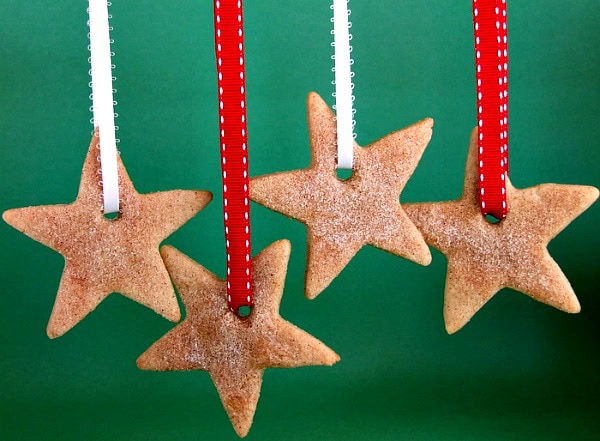 Cinnamon Sugar Stars
Such cute cookies. We hang them on our tree!
Yield:
4 to 5 dozen
Prep Time: 45 minutes + chill time
Cook Time: 8 minutes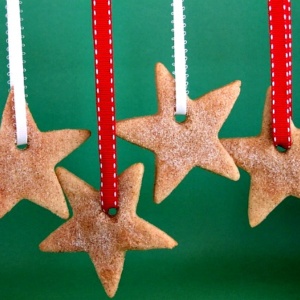 Ingredients:

COOKIES:

2 cups all-purpose flour
1/2 teaspoon baking powder
1 teaspoon ground cinnamon
1/4 teaspoon salt
1/2 cup (1 stick) unsalted butter, softened
3/4 cup granulated white sugar
1 large egg
1 teaspoon vanilla extract

TOPPING:

1/4 cup granulated white sugar
1 teaspoon ground cinnamon
1 large egg white, beaten

Instructions:

In a medium bowl, whisk flour, baking powder, cinnamon and salt to blend.
Prepare cookie dough: In a large bowl, beat butter and sugar with a mixer on high speed until light and fluffy. Beat in egg and vanilla. On low speed, gradually add flour mixture, beating just until blended. Divide dough into quarters, shape each portion into a disk and wrap individually in plastic wrap. Refrigerate 2 hours or until firm enough to roll out.
Preheat oven to 350°F. Coat baking sheets with nonstick spray (or parchment paper). Have ready a 3-inch star cookie cutter.
Prepare topping: Mix sugar and cinnamon in a dish.
Rolling out cookies: On a lightly floured surface with a floured rolling pin, roll out 1 portion of dough at a time 1/8-inch thick. Cut out stars and place 1-inch apart on prepared baking sheets. Chille scraps, reroll and cut out more stars. Very lightly brush tops with egg white, then sprinkle with cinn/sugar. To hang cookies, use the tip of a straw to poke the hole at the top of each.
Bake 8 to 10 minutes until edges are lightly browned. Cool on baking sheet for a few minutes before removing to wire rack to cool completely.

Tips:

If you'd prefer not to get sugar all over your baking sheets, place paper towels underneath a rack- transfer cut raw cookies to rack where you can brush with egg white and sprinkle. Then transfer to baking sheets.
Be careful to just use a very light brush of egg white. If you use too much, you'll end up with puffy stars.