For breakfast, I typically eat cereal, Greek Yogurt + granola, or scrambled eggs.  But you know what I love to eat for breakfast more than anything in the entire world?!  CINNAMON ROLLS.  On the rare occasion that I make them, I make my Grandma Billie's Cinnamon Rolls recipe.  But I almost always make my husband order one if we're at a decent breakfast establishment so I can take um… a few bites, without feeling like I've eaten the entire thing.  I made something similar for our special Sunday breakfast last weekend:  Cinnamon Twist Pastries.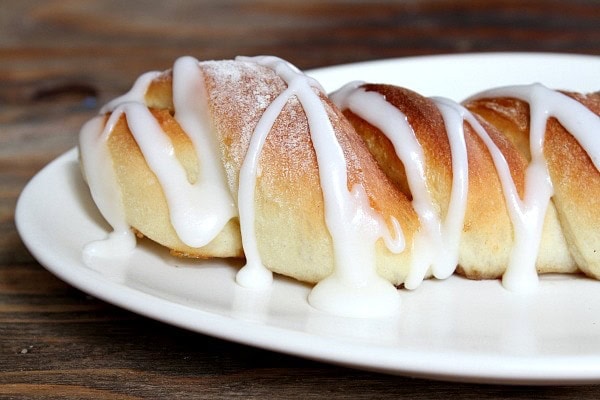 These Cinnamon Twist Pastries are not as bulky and dense as your typical cinnamon roll.  The dough turns out a soft and tender pastry with just a little bit of cinnamon tucked into the twists.  A light drizzle of glaze adds sweetness on top.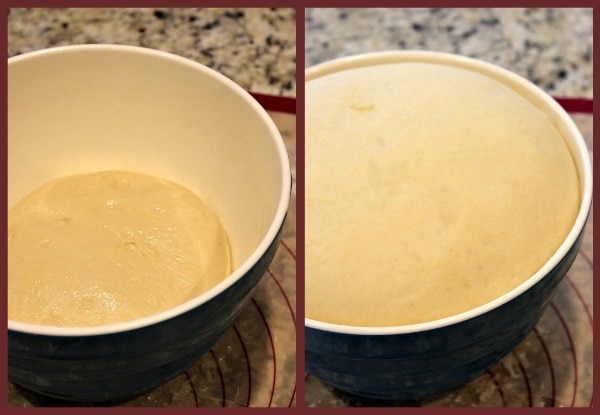 The recipe starts with the dough.  Sometimes I use my KitchenAid Mixer to do the kneading for me, but I'm without a mixer at the moment.  I stood and kneaded the dough on my counter until it was smooth and elastic.  I actually rather liked doing the kneading.  It felt… homesteady.  I might even do it again.  If all goes well, the dough is plopped into a bowl, and after an hour or so, it rises to the top of the bowl.  Two important success factors:  newly purchased yeast and warm (not too hot and not too cold) water.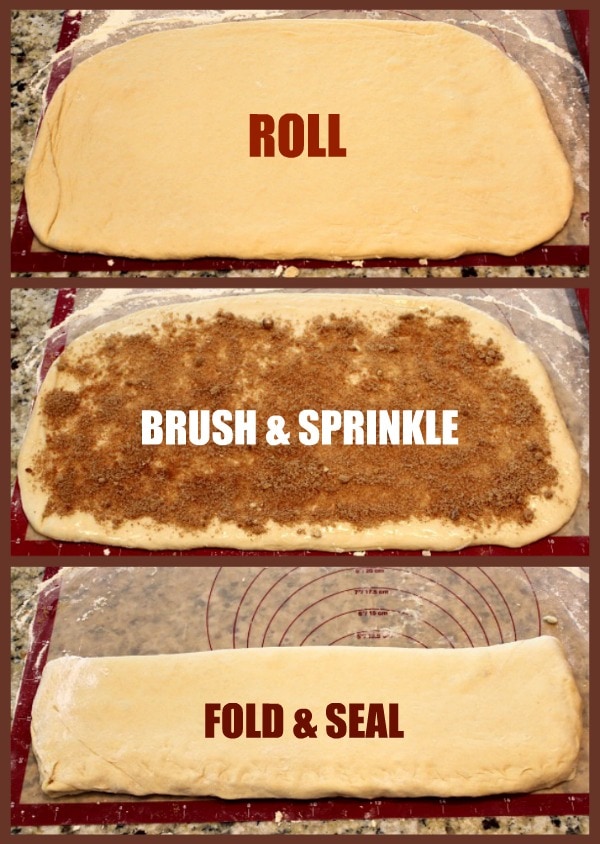 Follow those directions up there:  Roll out the dough, brush with butter, sprinkle cinnamon/sugar, then fold the dough in half and seal the edges.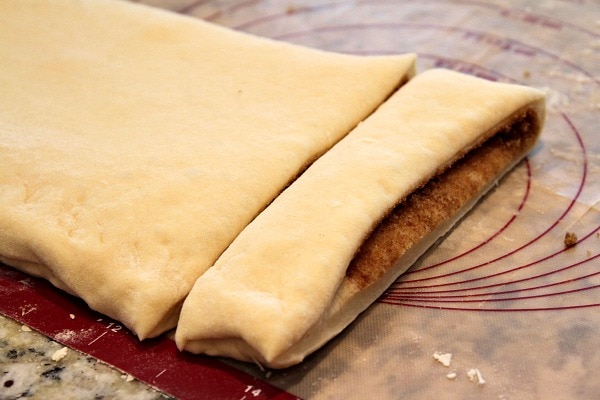 Slice strips of dough with that cinnamony sugar peeking out the middle.  I use my rockstar pizza cutter.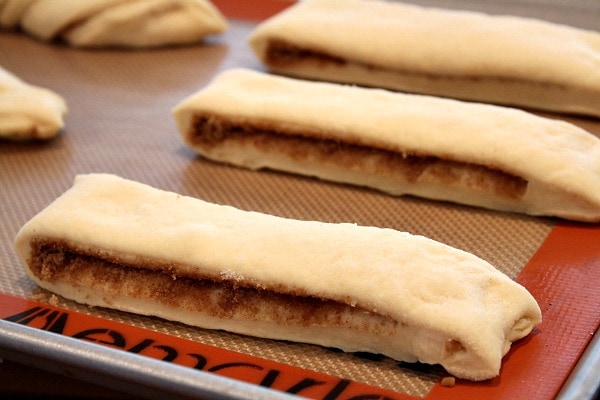 Carefully move the strips to a baking sheet (either greased or lined with silpat mats or parchment).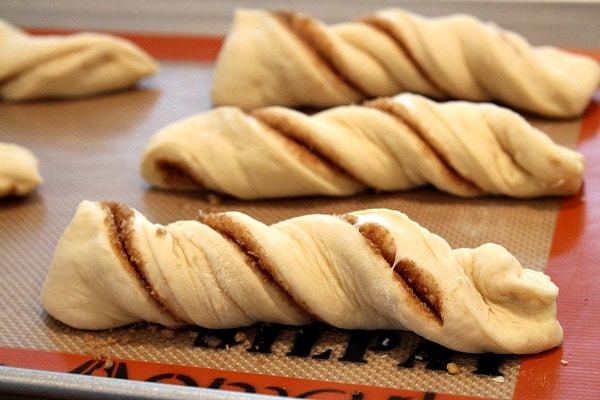 Give each strip of dough a few twists!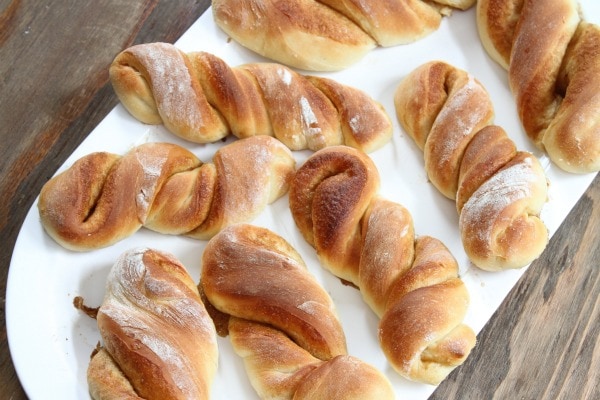 Bake 15 minutes, and out come the pastries.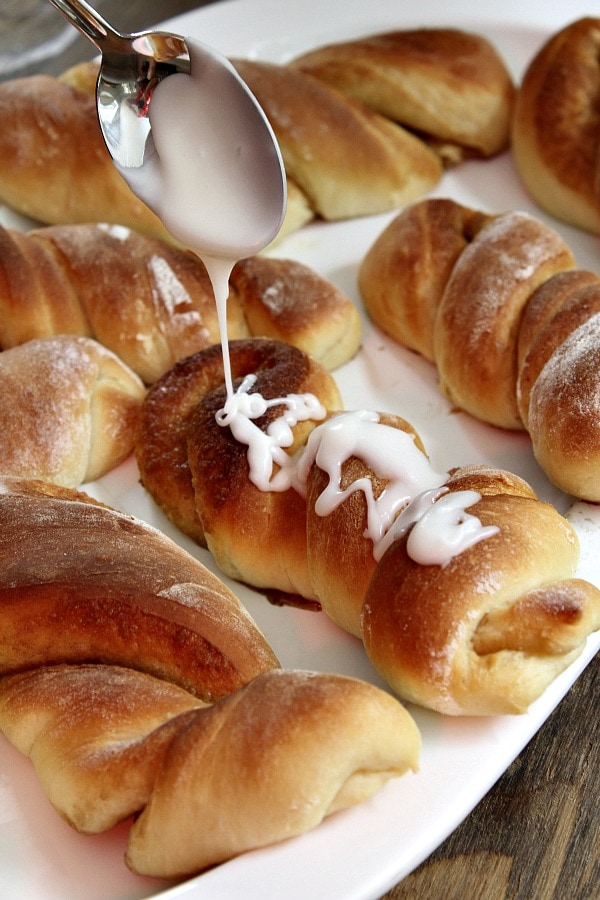 Drizzle the sweet vanilla glaze on top.  You can choose to be generous with the glaze (and make more to accommodate that), or you can just drizzle a thin glaze on top.  This picture here is what your pastries will look like if you have my husband do the drizzling (smiling)…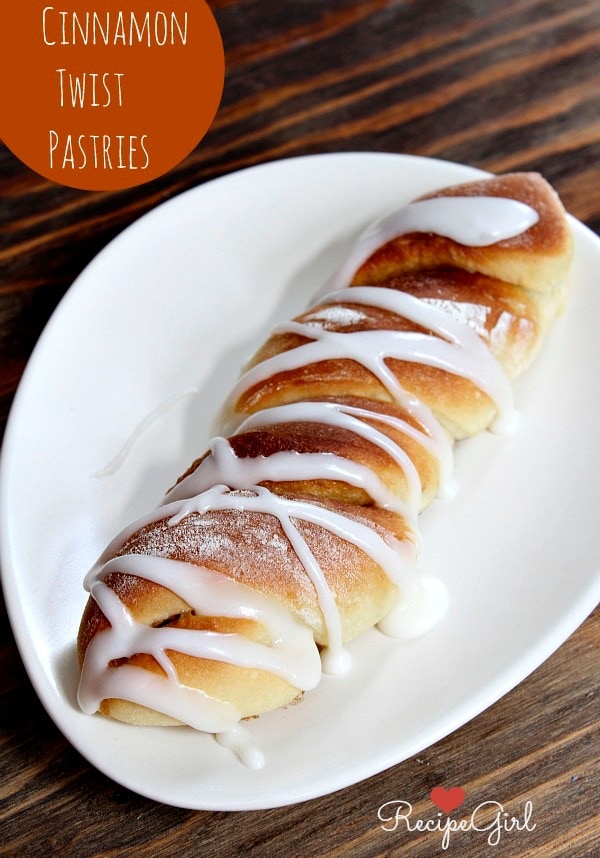 …but here's more what they're supposed to look like.  Just a nice back and forth drizzle.  Apparently it's a "skill."  SOOOO, these made a nice Sunday AM breakfast treat.  We all loved the soft texture of the pastry and enjoyed the fact that it was not completely laden with butter and goo.
I wrapped these individually in foil and froze them.  They thawed nicely at room temperature and were able to be enjoyed on a spur-of-the-moment cinnamon-twist craving.  Plus, the freezer is a safer place for these to hang out, don't you think?  If things like this hang out on my counter too long, I pull a piece off, and then I pull off another piece and another… until I just give up and eat the whole thing.  Before you know it… 3 pastries gone!  NOT GOOD!  🙂
Cinnamon Twist Pastries
Yield:
18 good-sized pastries
Prep Time: 35min + rising times
Cook Time: 15 min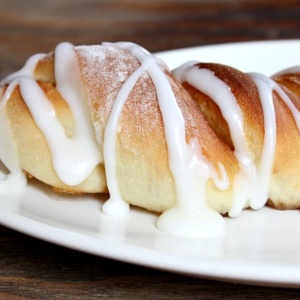 Ingredients:

PASTRY:
One .25-ounce package active dry yeast
1/4 cup warm water (110° to 115°F)
1 cup warm buttermilk (110° to 115°F)
4 tablespoons (1/2 stick) unsalted butter, softened
3 tablespoons granulated white sugar
1 large egg
1 teaspoon salt
1/4 teaspoon baking soda
3 3/4 cups Gold Medal® All-Purpose Flour

FILLING:
2 tablespoons unsalted butter, melted
1/2 cup packed brown sugar
1/2 teaspoon ground cinnamon

GLAZE:
1 cup powdered sugar
1 tablespoon unsalted butter, melted
1 tablespoon hot water (or more, as needed, to thin out)
1/2 teaspoon vanilla extract

Instructions:

1. In a mixing bowl, dissolve the yeast in warm water. Add the buttermilk, butter, sugar, egg, salt and baking soda; mix well. Stir in the flour to form a soft dough. Turn onto a floured surface; knead the dough until it is smooth and elastic (incorporating a sprinkle or two more flour, as needed), about 6 to 8 minutes. Place the dough in a greased bowl, turning once to grease the top. Cover the bowl with a clean dishtowel and let it rise in a warm place until it has doubled, about 1 1/2 hours.

2. Punch the dough down. Turn it onto a lightly floured surface. Roll into a 18 x 9-inch rectangle; brush with the melted butter. Combine the brown sugar and the cinnamon; sprinkle over the dough. Fold in half lengthwise, forming a 18 x 4 1/2-inch rectangle; pinch edges to seal. Cut into 4 1/2 x 1-inch strips (using a pizza cutter is easiest) and place them on greased baking sheets (or silpat-lined) 2-inches apart; twist each strip two or three times. Cover the baking sheets loosely with a clean dishtowel and let rise in a warm place until doubled, about 30 minutes.

3. Preheat the oven to 375°F. Bake twists for 12 to 15 minutes or until golden brown. Remove from pans to wire racks to cool. Whisk together the glaze ingredients; drizzle over warm twists.

Tips:

*Warm buttermilk will appear curdled- this is normal.
*These can be frozen! Wrap each individually in foil, defrost at room temperature when ready to eat.

Source: RecipeGirl.com (Adapted loosely from Taste of Home)