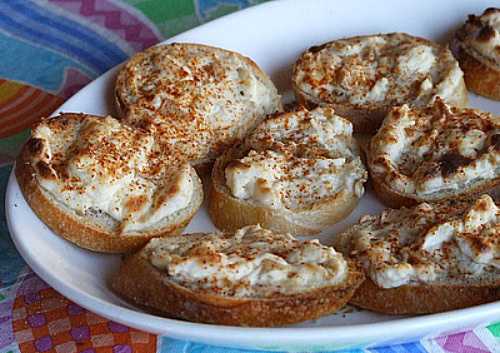 Clam Bites
A quick & easy-to-put-together appetizer. Great appetizer to have with an ice-cold beer!
Yield:
1 dozen bite-sized appetizers
Prep Time: 10 min
Cook Time: 10 min
Ingredients:
1 (8 ounce) package cream cheese, at room temperature
1 (6.5 ounce) can minced clams, squeezed dry (but save the juice)
1 teaspoon worcestershire sauce
garlic salt to taste
onion powder to taste
paprika to taste
baguette loaf, thinly sliced
Directions:
1. Preheat oven to 375 degrees F.
2. Mix cream cheese, clams and seasoning to taste. Slowly moisten the mixture with clam juice until desired taste and consistency.
3. Spread on bread slices and sprinkle with paprika.
4. Bake 8-10 minutes until toasted and bubbly.
Tips:
*It's okay to use low fat cream cheese in this recipe.
Source: www.RecipeGirl.com