This recipe has been featured in a post on The Recipe Girl blog: Portuguese Dinner Party. This dish is gluten-free adaptable– please see notes below the recipe.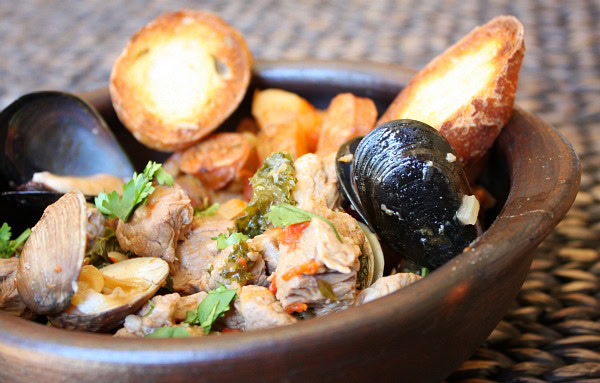 Pork Stew w/ Clams, Mussels & Spicy Red Pepper Sauce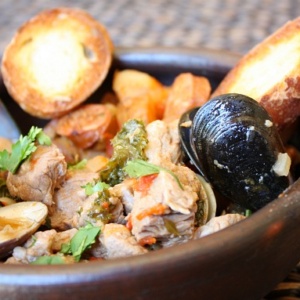 This lovely stew was the main dish for a Portuguese dinner party that I hosted. Simply delicious.
Yield:
8 servings
Prep Time: 1 hr
Cook Time: 2 hrs, 30 min
Ingredients:
STEW:
1/4 cup + 2 Tablespoons extra-virgin olive oil, divided
5 pounds boneless pork butt, trim down fat a little & cut into 1-inch cubes
kosher salt
1 1/2 large onions, finely chopped, divided
6 large garlic cloves, minced, divided
2 1/4 cups dry white wine
1 1/2 Tablespoons tomato paste
2 1/4 cups water
finely grated zest of 2 lemons
3 whole bay leaves
4 sprigs fresh thyme
2 tsp sweet paprika
1 1/2 pounds kale, inner ribs & stems discarded, leaves coarsely chopped
5 pounds small clams and mussels (or all clams), scrubbed & rinsed
1/3 cup chopped fresh cilantro
freshly ground black pepper
RED PEPPER SAUCE:
1 (7.4-ounce) jar of roasted red peppers, drained
1 large garlic clove, minced
pinch of kosher salt
pinch of cayenne pepper
GARLIC TOASTS:
1 whole baguette, sliced
2 Tablespoons olive oil
1 clove garlic, minced
Directions:
1. In a large, enameled cast-iron casserole dish, heat 1/4 cup olive oil. Working in three batches, sear pork over moderately-high heat until browned all over, about 5 minutes per batch. Using a slotted spoon, transfer the pork to a platter and season with salt. Don't worry about trying to keep it warm.
2. Sauté 1 onion and 5 cloves of garlic in the heated casserole dish and cook over moderate heat, stirring occasionally, until softened, about 5 minutes. Add wine and cook over moderately high heat until reduced by a third. Whisk in tomato paste, water, lemon zest, bay leaves, thyme, paprika and a generous pinch of salt. Return meat and any accumulated juices to the casserole and bring to a boil. Cover and cook over moderately low heat, stirring occasionally, until the meat is tender, about 1 1/2 hours. (Resist the urge to take the lid off to check progress- keep the lid on and the heat will stay in there and cook that pork until it's tender as can be). Skim fat, as needed.
3. While stew is cooking, prepare the red pepper sauce: In a food processor or blender, process drained peppers with garlic, salt and cayenne pepper. Taste and add additional seasoning, if desired.
4. Prepare garlic toasts: Preheat oven to 325°F. Mix olive oil and garlic. Brush baguette slices with garlic-olive oil. Place on a baking sheet; bake until lightly toasted.
5. When ready to serve: Remove casserole lid and stir in kale a handful at a time. Stir in 1/2 cup of red pepper sauce; season with pepper. Cover and keep warm on very low heat.
6. Prepare clams & mussels: In a large sauté pan, heat remaining 2 Tablespoons olive oil. Add remaining minced onion and 1 clove of garlic and cook over moderate heat until softened, about 8 minutes. Add clams/mussels and remaining red pepper sauce. Cover and cook until most of the shells have opened, about 4 minutes. Pour clams and all juices, onions, etc. into the pork stew and stir gently.
7. Ladle the stew into shallow bowls. Top with cilantro and serve with garlic toasts.
Tips:
*If preparing this recipe as GLUTEN FREE, just leave off the garlic toasts, or prepare something similar w/ a GF bread.
*Look for clams that are closed tightly. Don't buy them if they've opened up, unless you're sure they're still alive.
*This Portuguese stew is fabulous served over Portuguese roasted potatoes.
Source: RecipeGirl.com (Adapted significantly from Food and Wine)