Hurry, before the summer zucchini is gone forever!  (Or at least until it's gone until next summer) >> Make some Classic Zucchini Bread.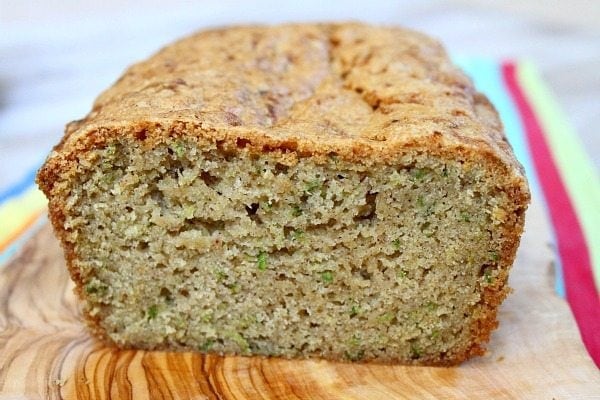 True story:  When I was little, my Mom made zucchini bread and zucchini cake ALL THE TIME.  And I hated it… with a passion.  There was something about it… like it wasn't sweet enough or it didn't have great flavor- or perhaps she just didn't have good recipes (sorry Mom).  Everyone else seemed to like it though, so maybe it was just me.  Maybe I was frightened by the prospect of including a green vegetable in a CAKE, and I just couldn't get past it.  I guess I'm over it, because I actually LIKE zucchini cake and zucchini bread now!  The zucchini just adds a nice, moist element to the bread I made for you today.  The flavor of zucchini itself is not present (thank goodness!)  Because truly, I don't normally want vegetables in my cake.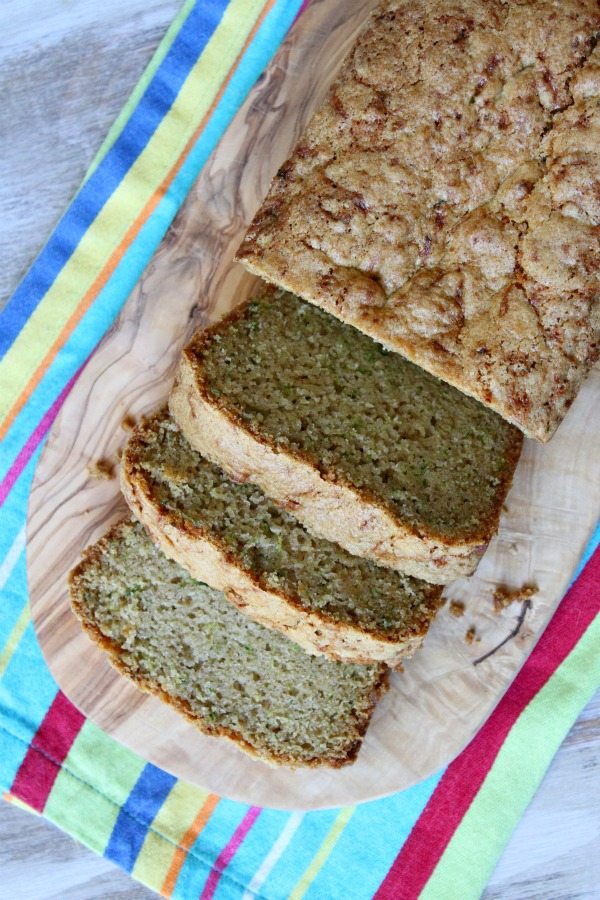 I'm happy to be on board with zucchini bread now.  My Mom is gluten-free, so I made a special loaf for her using Cup 4 Cup gluten-free flour (subbed in this recipe for the all-purpose flour).  It turned out perfect, and she loved it.  By the way, that brand of flour- the Cup 4 Cup is my go-to flour blend when I'm adapting something to be gluten-free.  I've had great results with it being the one that makes baked goods taste most like normal.  I'm happy to admit that I loved this bread too 🙂  I made a regular version for the rest of my family, and that one turned out perfect as well.  Next up:  I'm going to be on the hunt for a mega-delicious zucchini CAKE recipe to share with you!

Classic Zucchini Bread
Yield: 2 loaves
Prep Time: 20 min
Cook Time: 45 min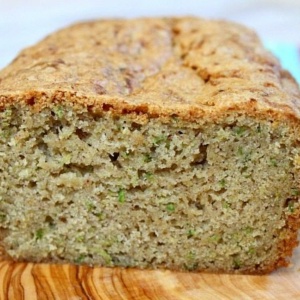 Ingredients:

3 1/2 cups all-purpose flour
3/4 teaspoon baking powder
1/2 teaspoon nutmeg
1 1/2 teaspoons baking soda
2 cups granulated white sugar
1 teaspoon salt
1 teaspoon ground cinnamon
1/2 teaspoon allspice
1 1/2 teaspoons vanilla
1 cup vegetable or canola oil
4 large eggs
2 cups grated zucchini

Instructions:

1. Preheat oven to 350 degrees F. Spray two 5x8-inch loaf pans with nonstick spray

2. Sift all dry ingredients into a large bowl.

3. In separate bowl, beat liquids and zucchini together. Stir in dry ingredients and combine until wet. Mixture will be thin. Divide the batter between the loaf pans.

4. Bake 45 minutes, or until toothpick inserted in center comes out clean.

Tips:

*If you are preparing this recipe as GLUTEN-FREE, just be sure to sub GF flour for the all-purpose.
More zucchini bread recipes you may enjoy:
Lemon- Zucchini Bread by My Baking Addiction
Vegan- Coconut Zucchini Chocolate Chip Bread by How Sweet it Is
Pineapple Zucchini Bread by RecipeGirl
Chocolate Zucchini Bread by Simply Recipes
Zucchini Banana Bread by Brown- Eyed Baker