I had the opportunity to travel to Cordova, Alaska back in July.  The folks at CopperRiverSalmon.org invited me and my 13-year old son Brooks to come to Cordova to learn all about Copper River Salmon.  It was simply not a trip that we could pass up.  Alaska??  Yes!  We were definitely excited to visit and learn.  Today, I'm sharing about that trip.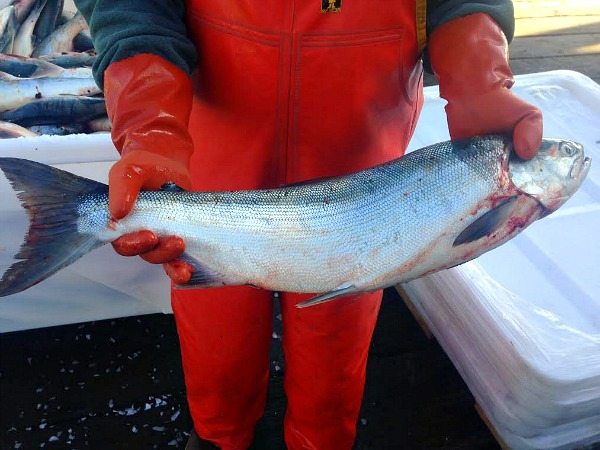 Have you been lucky enough to try Copper River Salmon?  It's the most delicious type of salmon I've ever had.  Why is this salmon so special?  Copper River Salmon thrive in their natural wild environment, traveling up to 300 miles from open ocean to spawn in the Copper River.  That long journey requires an abundance of energy storage in the form of fat- this is the fat that creates the unique flavor and texture of the Copper River Salmon and high levels of omega-3 fatty acids that make it so healthy to eat.  Every aspect of the salmon fisheries is strictly regulated, monitored and enforced.  Everything is carefully managed for long-term sustainability.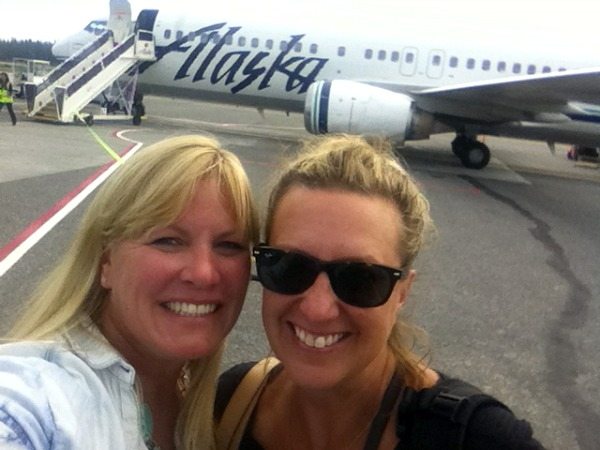 We flew in to Cordova's totally charming little airport.  This is Heidi Larsen from FoodieCrush.com.  You can see how excited we were to have arrived in Alaska!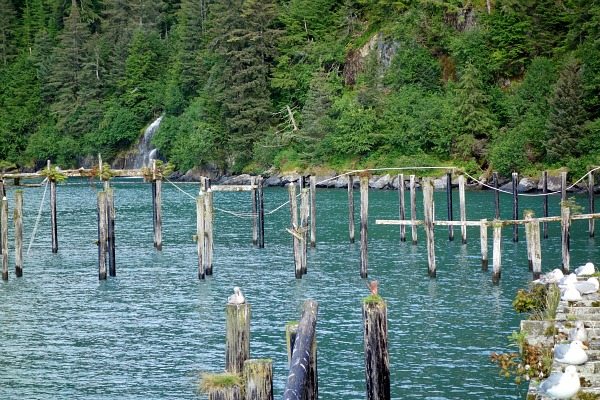 Orca Adventure Lodge was our home for a few days.  It's pretty rustic lodging about 2 miles outside of town.  There is no TV, internet is sketchy, and there is nothing fancy about the rooms… but you have views on the property such as this one…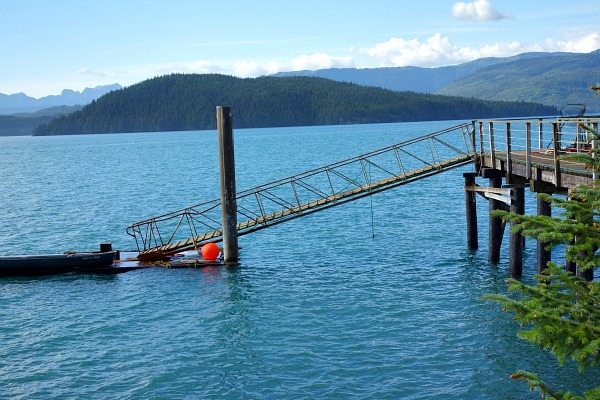 … and this one.  It was very peaceful.  It was forced relaxation.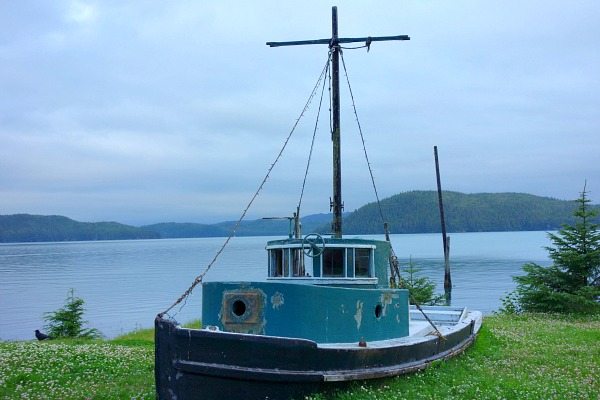 I often poured myself a glass of wine and walked out to the water's edge to look for sea otters (which are totally abundant in the Prince William Sound).  It's a beautiful spot.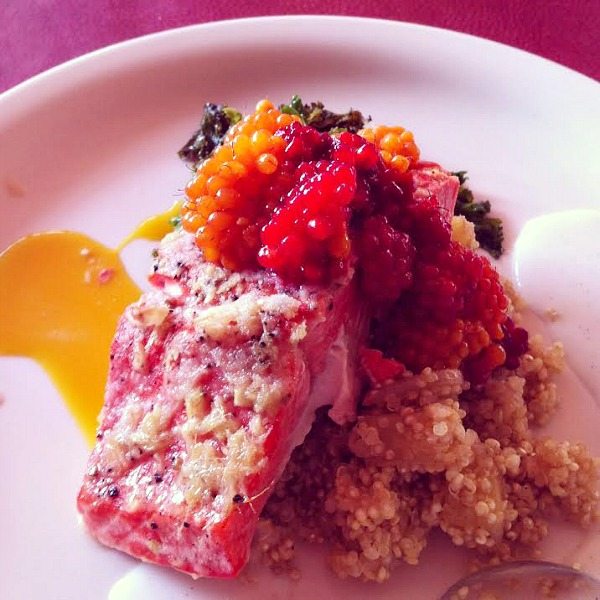 The lodge had a restaurant on site.  We had dinner there a couple of nights, and took advantage of the (delicious) breakfast there each morning.  This was dinner on the night we arrived- a tender piece of Copper River Salmon topped with salmon berries.  It was the first I'd heard of this type of berry.  They're a wild berry found growing pretty much everywhere in Alaska.  Something to note:  there is no alcohol on the premises at the lodge, but you can buy some in town and bring it to dinner with you.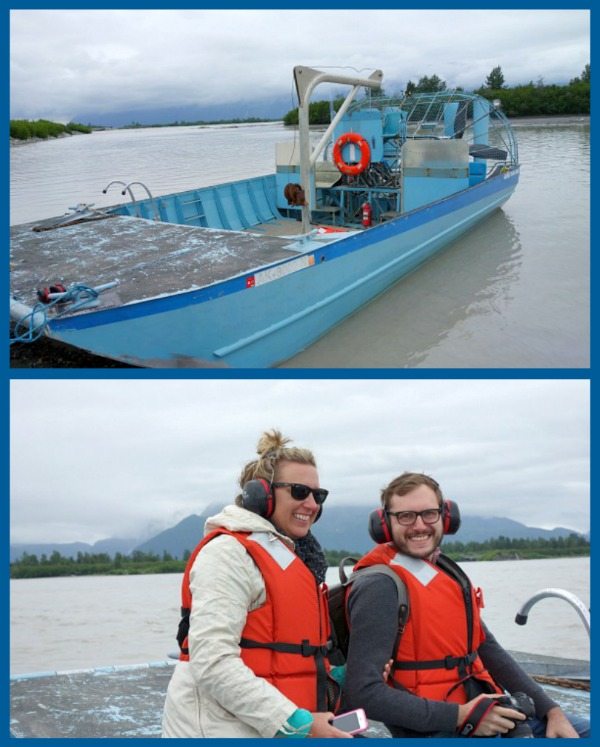 Our first day out, we drove out to see Child's Glacier.  A section of the road that leads to the glacier was washed away a couple years back, so we had to board an airboat to get us to the other side.  Here's Heidi with Brian Samuels (athoughtforfood.net).  The airboat is LOUD (which is why you see their ears protected).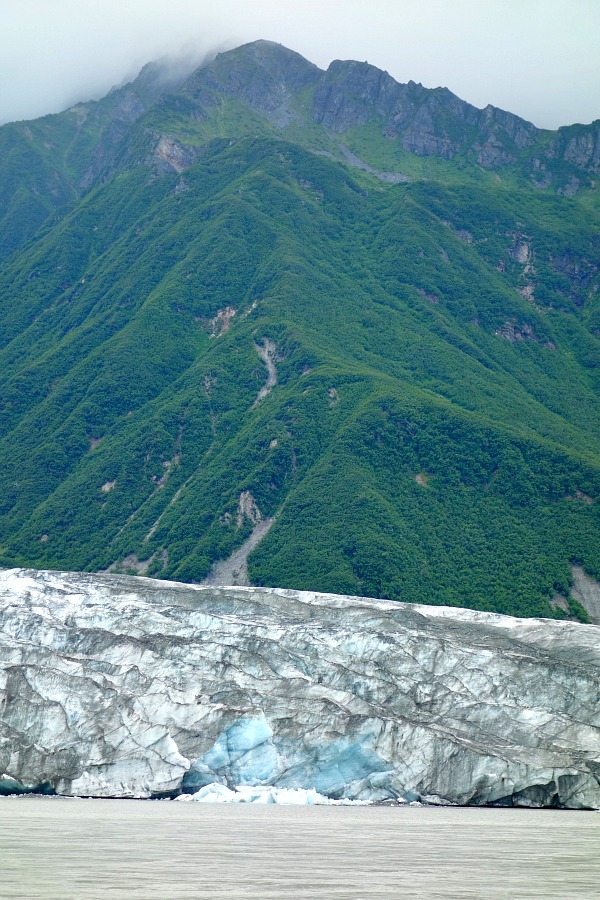 And here is what we came to see > Child's Glacier!  Calving (chunks breaking off) is usually quite active in the summer (every 15 minutes or so).  This year it wasn't happening as much because the water level is much lower than normal.  You can see a fresh chunk has fallen off in the photo above though.  The viewing platform is across the river- about 400 yards from the glacier.  Apparently, when really large icebergs slip away from the glacier, they can cause a 10-foot wave that will rocket across the river and crash on the shore.  We didn't get to see that, but it sounds cool!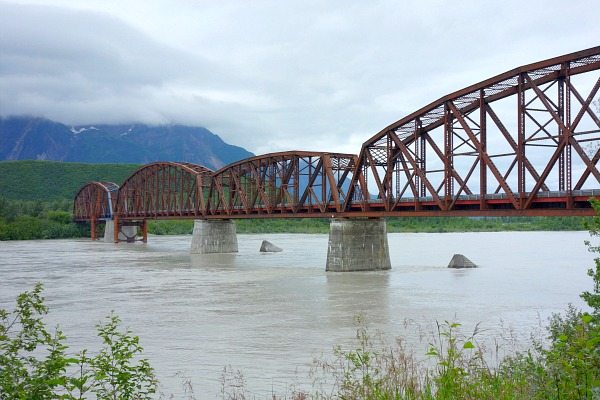 This is the Million Dollar Bridge near the glacier.  The Alaskan Department of Fish and Game has one of several sonar stations positioned here.  It's staffed with three guys who camp near the glacier and work 8 hour shifts every day from May to September.  They use sonar tracking to literally count the salmon heading up the river, ensuring that an adequate number migrate to spawning grounds to reproduce each year.  This process ensures the sustainability of the salmon and determines how many fish the fishermen will be allowed to catch.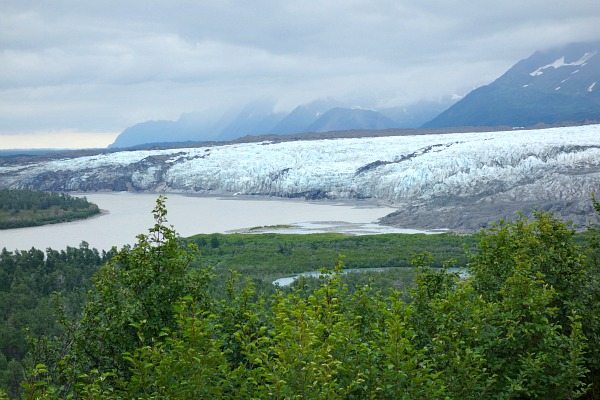 We crossed the Million Dollar Bridge and hiked up the top of a hill to get a different view of the glacier.  It's big!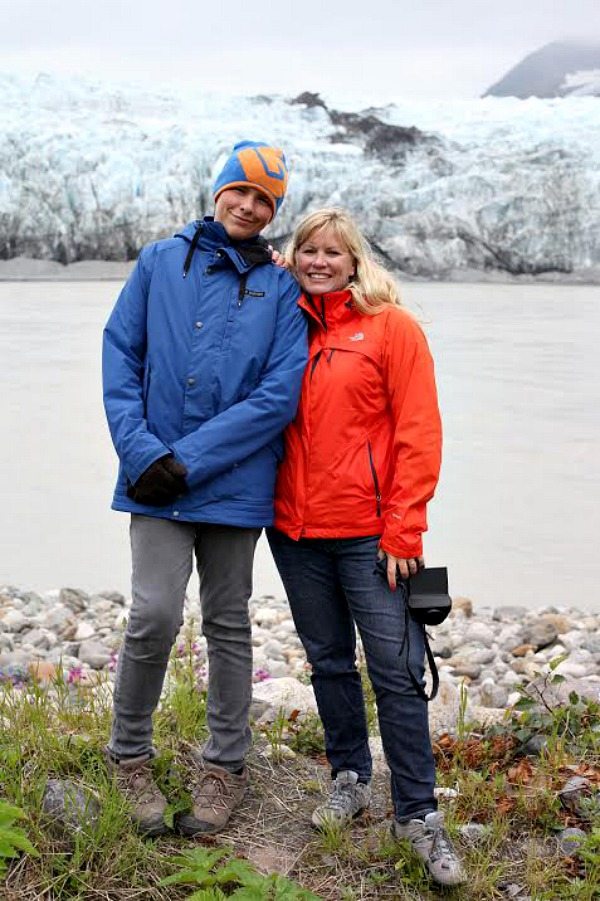 Looking at this picture, for the first time I realized that my son is so much taller than I am!  He's only 13, and he's 6'1″.  How much taller is this kid gonna get??!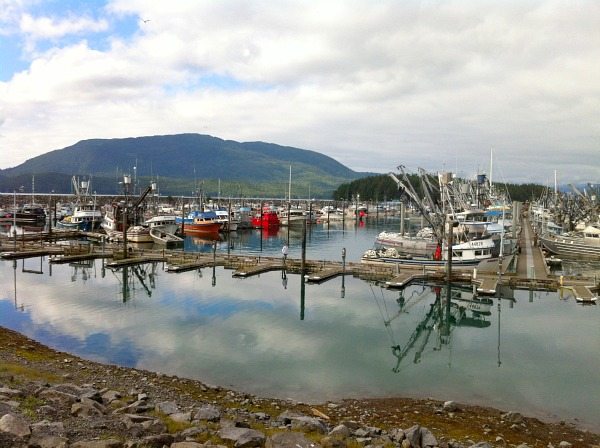 This is one of the harbors in Cordova.  We caught it at a quiet time, but when the boats come in… it's chaos!  Nets all over the docks- untangling and mending them… people cleaning their boats… others gutting and cleaning their salmon at stand-alone stations.  It's a sight to see!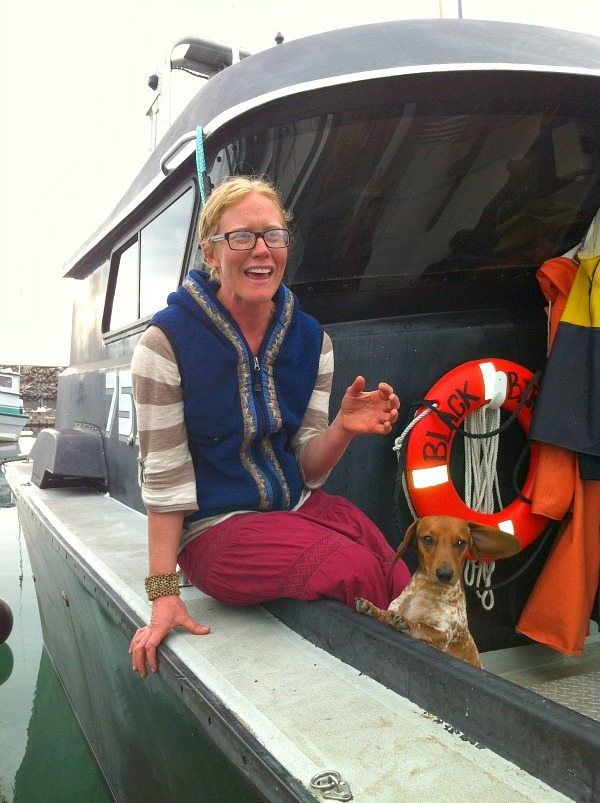 We talked to a couple of fishermen on the docks, but I found this gal awfully interesting.  There are about 500 permits given out for salmon fishing every year in Cordova.  Only a handful of those are given to women.  This gal told us that she actually gets a lot of respect from the male fishermen because she's good at what she does!  Her passion for fishing was evident, and I really loved her little dog too 🙂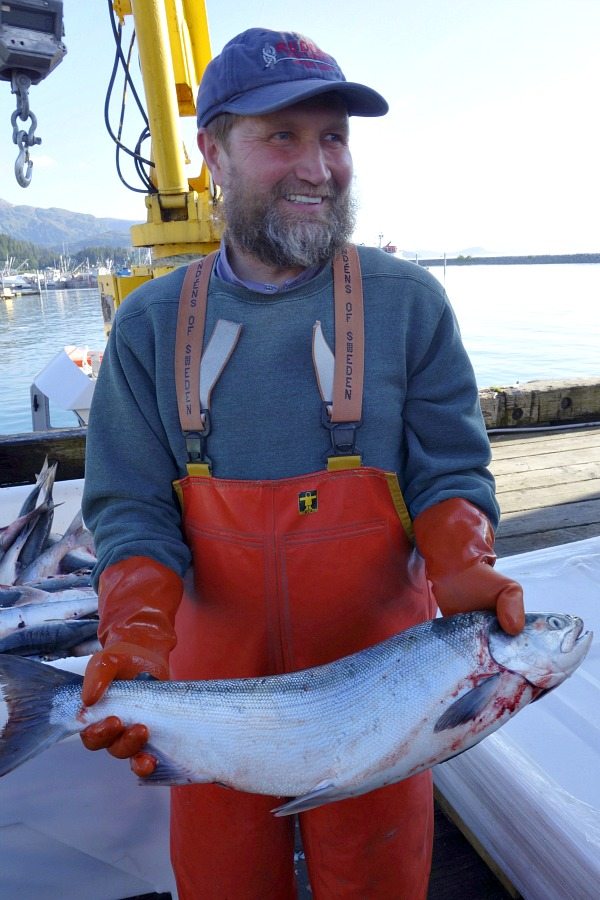 There are three varieties of Copper River Salmon:  
King Salmon (May/June):  It's short, early season makes it an especially sought-after delicacy.  It has a high oil content, succulent texture and rich flavor.  It melts in your mouth!
Sockeye (May thru July):  Rich flavor, firm texture and bright red coloring.  High in Omega 3's.
Coho (August/September):  Light orange, more affordable, perfect for grilling.  It's the last great salmon of the wild Alaska salmon season!
Pictured up there… is a beautiful, freshly caught, good-sized Sockeye Salmon!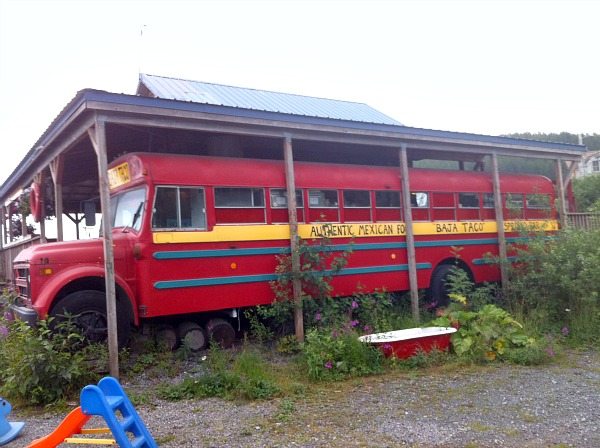 Cordova is such a small town that there aren't a whole lot of places to go out for a meal.  HOWEVER, we got some munchies at Baja Taco.  Yeah, it's as quirky as it looks.  It started out as a food truck, but they became very popular, so they parked their food truck and built a little building around it with places to eat inside and out.  The cooking is all still done inside the bus.  We tried Halibut tacos and other things like that.  It was good grub!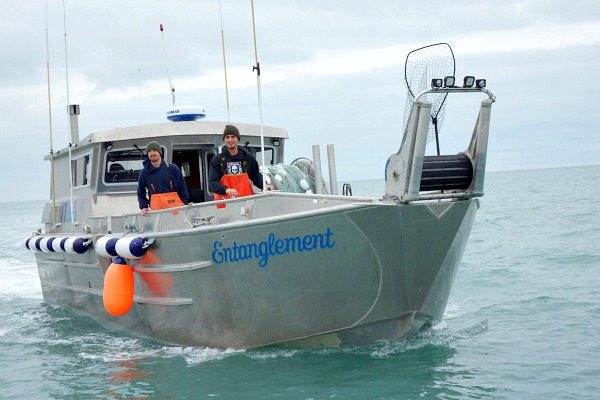 Fisherman are given word on when and where they are allowed to fish.  On the day we were out, the fisherman were allowed to be out fishing for a 72-hour period.  There are always certain areas pointed out where they are not allowed to fish.  The Dept. of Fish and Game really keep a close eye on everything in this operation.  Because of that, salmon will never be "over-fished" in Cordova.  We were lucky enough to board the Entanglement to see how the gillnet fishermen do their thing.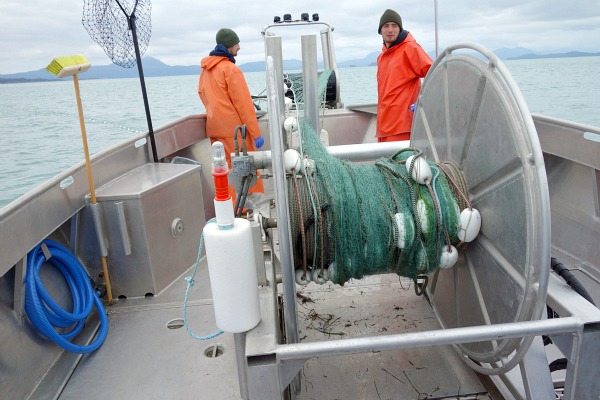 They find a spot that they like, and let out the very long gillnet.  Then they wait for the salmon to swim into it.  After a good amount of time has passed, they crank in the net and the fish come with it.  Sometimes they get lucky and there are loads of them, sometimes they catch just a few, and sometimes their net picks up weird things like large tree branches and giant pieces of seaweed.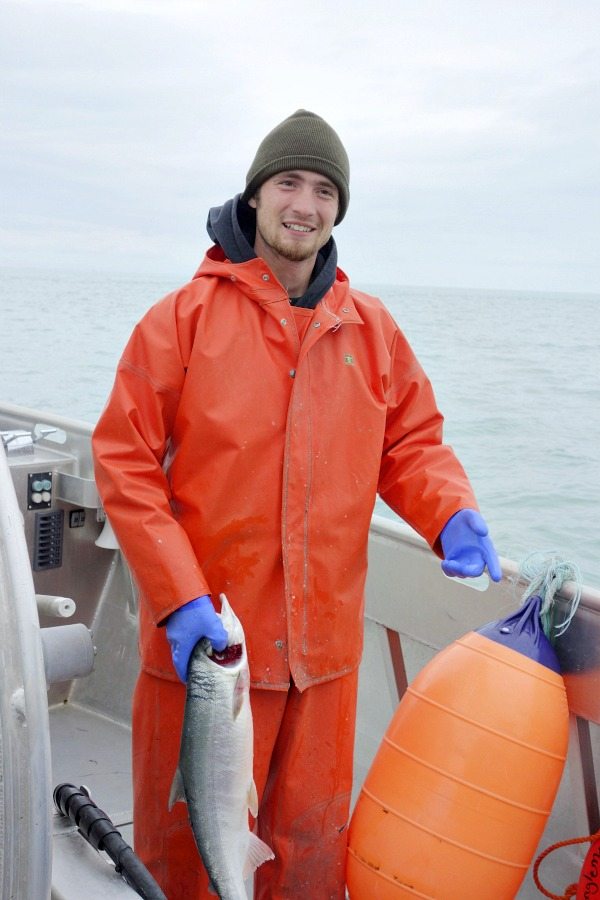 The fish are sorted and then packed on ice.  Anything they don't want goes back into the ocean.  And then it starts all over again.  These guys get very little sleep during their 72 hour run so they catch as many salmon as possible.  More salmon = more $$$.
Oh, and we were treated to an impromptu Sockeye salmon BBQ on the boat!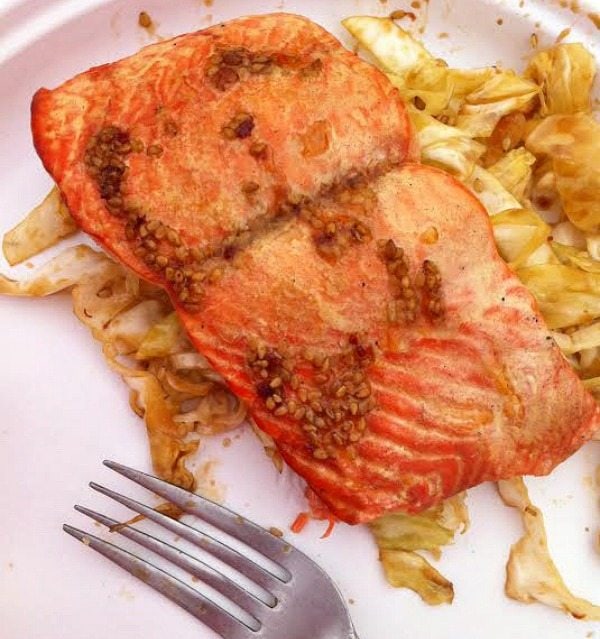 I wrote down the recipe, so I'll be making it on the blog sometime soon to share with you (like an Asian- sesame kind of salmon).  It was SOOOO good.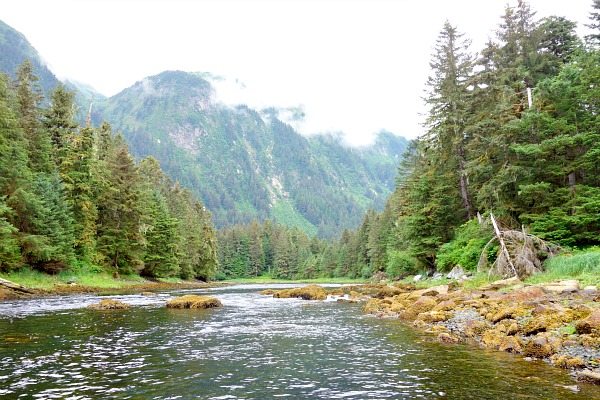 No trip to Alaska to LEARN about salmon fishing would be complete if we did not actually get to fish for it ourselves, right?  We were taken to this beautiful place to do a little rod and reel and fly fishing.  There are so many salmon in the water that you can literally just watch them swimming around.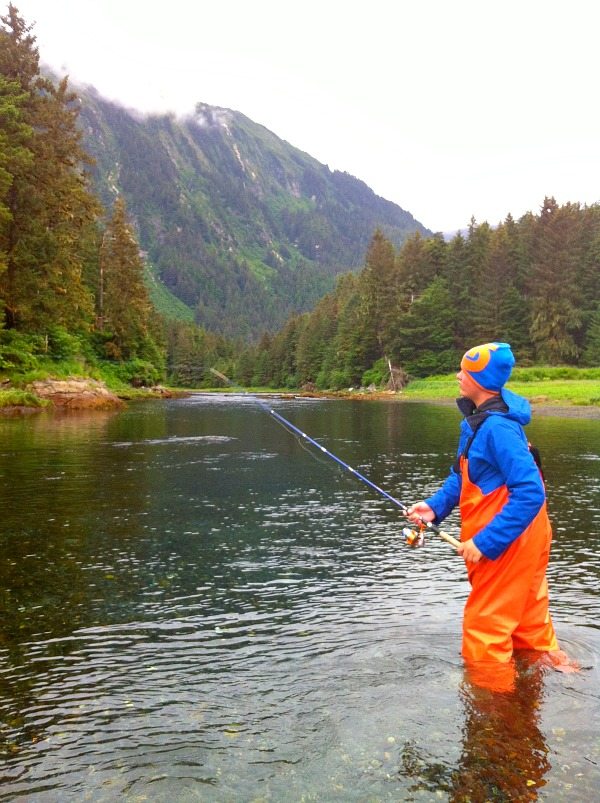 My son Brooks is a HUGE fan of fishing, so he grabbed a pole and got to work right away.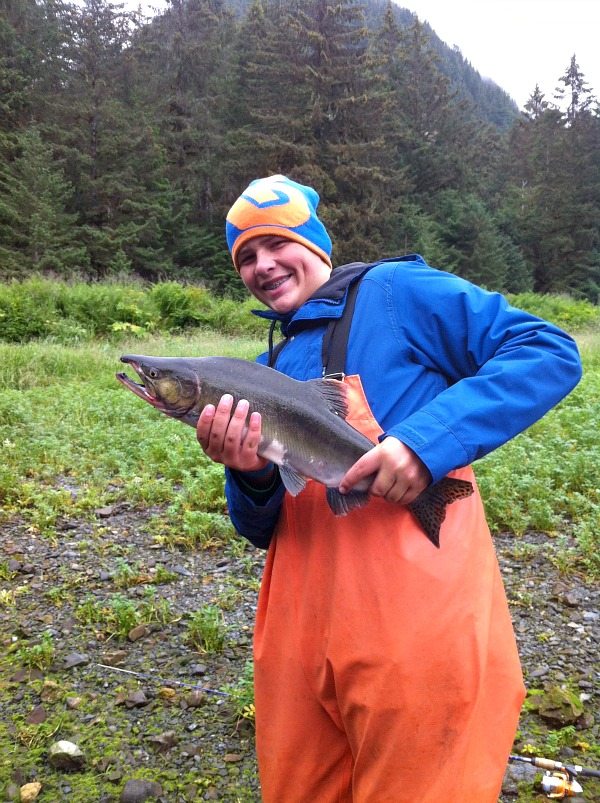 And of course, he caught one right after another.  Most of them he put back into the river, but he did keep two that we had shipped home.  YUM.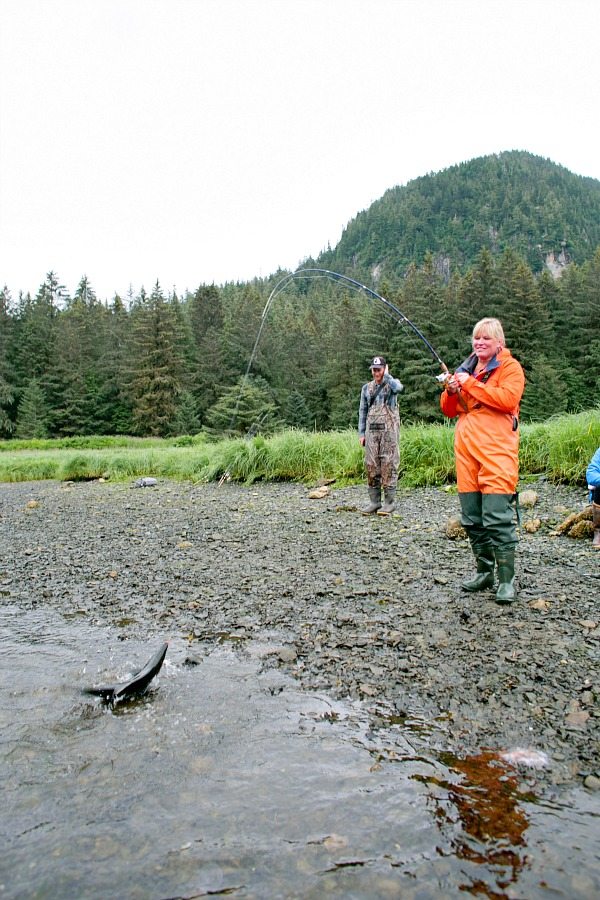 It was really my first time fishing… EVER.  I got a lot of bites on my line, and I kept yelling, "FISH ON!"  But most of them were sly little creatures and managed to escape before I could reel them in.  This was my moment.  I actually caught one!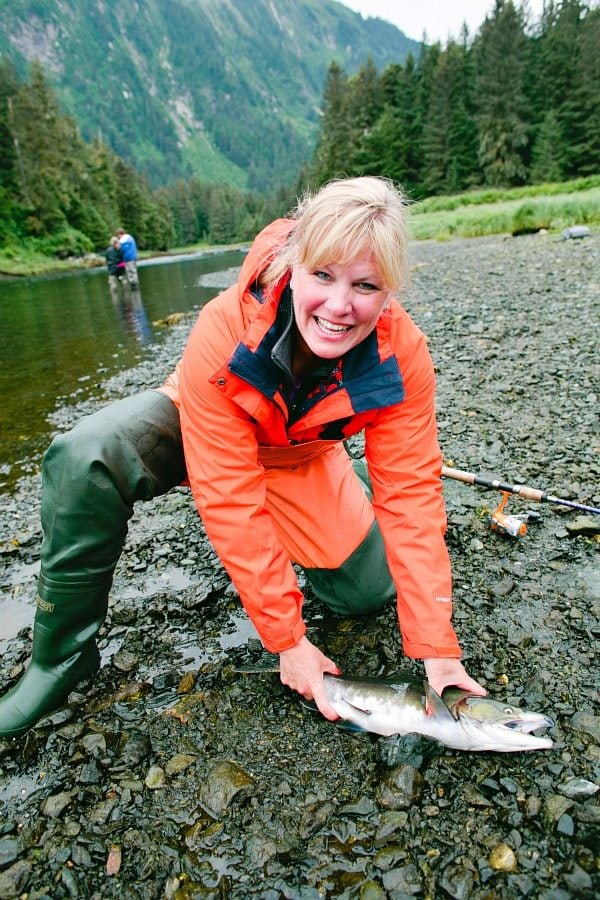 I was happy, surprised, and mostly just proud to show my son that his Mom could actually catch a fish.  Yahoo!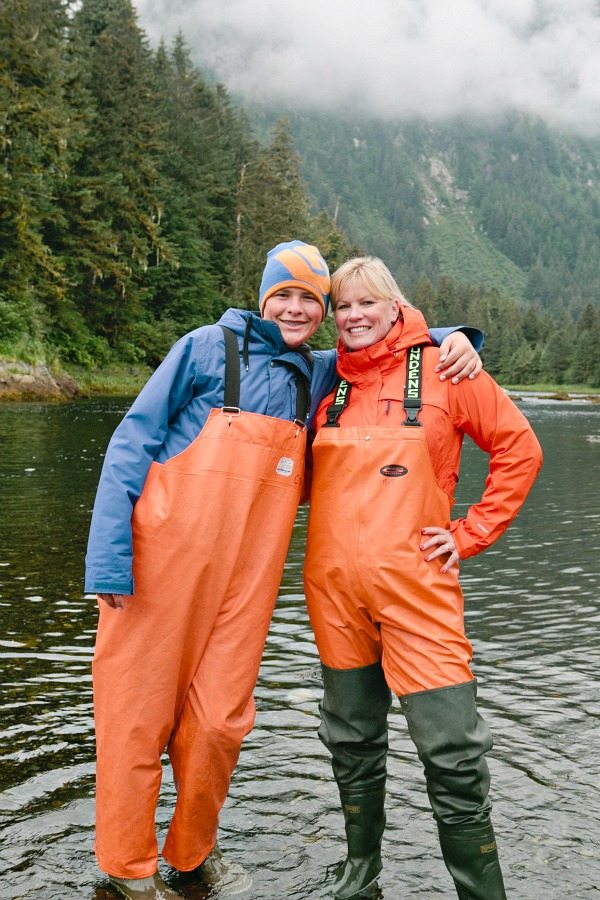 We sure had a great time in Cordova, Alaska!  Everyone we met in this charming town was so nice and friendly.  The rain didn't get us until the very last day of our trip.  We didn't come home with a single mosquito bite (yahoo!)   And we'll be eating Copper River Salmon every chance we get!
If you'd like to find Copper River Salmon in your area, use THIS LOCATOR to find out where it is sold.  Or you can BUY DIRECT from Cordova's local processors.
Disclosure:  Thank you SO MUCH to CopperRiverSalmon.org for inviting us on this trip of a lifetime to learn about Copper River Salmon.