My favorite part of Thanksgiving has always been the side dishes.  Growing up, I loved my Mom's stuffing and her Orange Delight Jell-O Ring.  But strangely enough I've always been enamored with relish trays.  I adore those little tidbits like sweet pickles and cocktail onions.  And when I was little we sneakily capped our fingertips with olives and ate them one by one.   Our family ate the gelatinous blob of cranberry sauce from the can (and happened to enjoy every bit of it).  These days I make cranberry sauce homemade, but I know there are plenty of folks out there who don't mind the canned.  I've got a good recipe for you to use after Thanksgiving… just in case you accidentally have some of that cranberry sauce left over:  Cranberry Cheesecake Muffins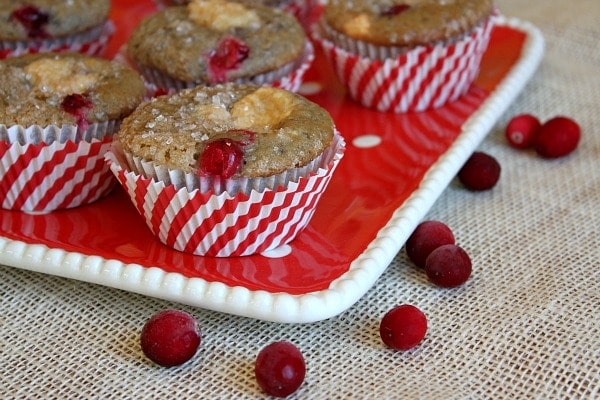 These lovely little muffins use up some chunky cranberry sauce (homemade or canned) and some fresh cranberries (optional) too.

I've built in a cheesecake surprise in the middle!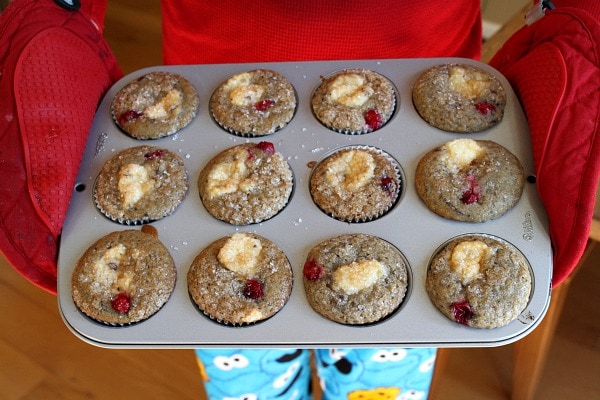 A fresh cranberry or two placed on top makes them pretty, along with a sprinkle of chunky sugar.  Did you notice the Cookie Monster pajamas?  We picked them up at Target, and my son is loving them!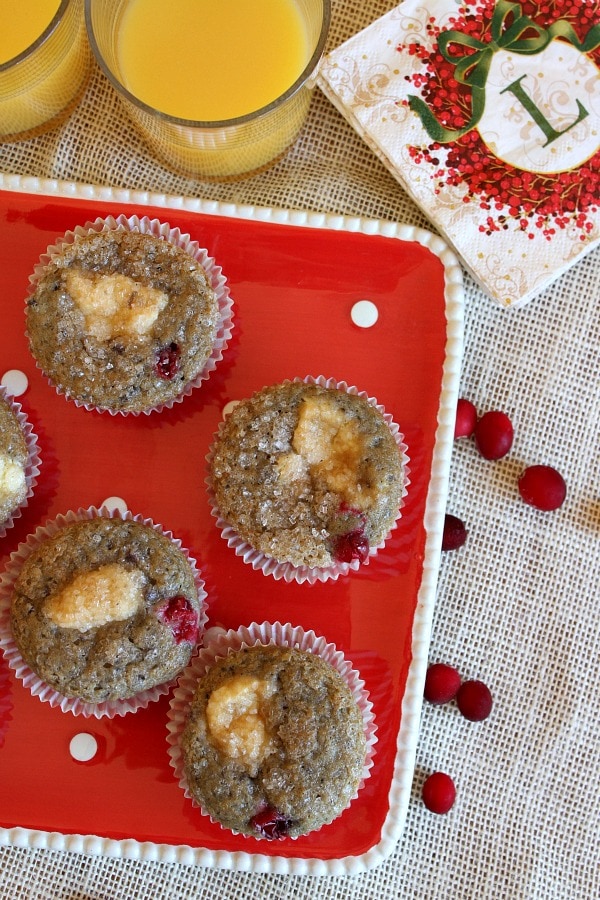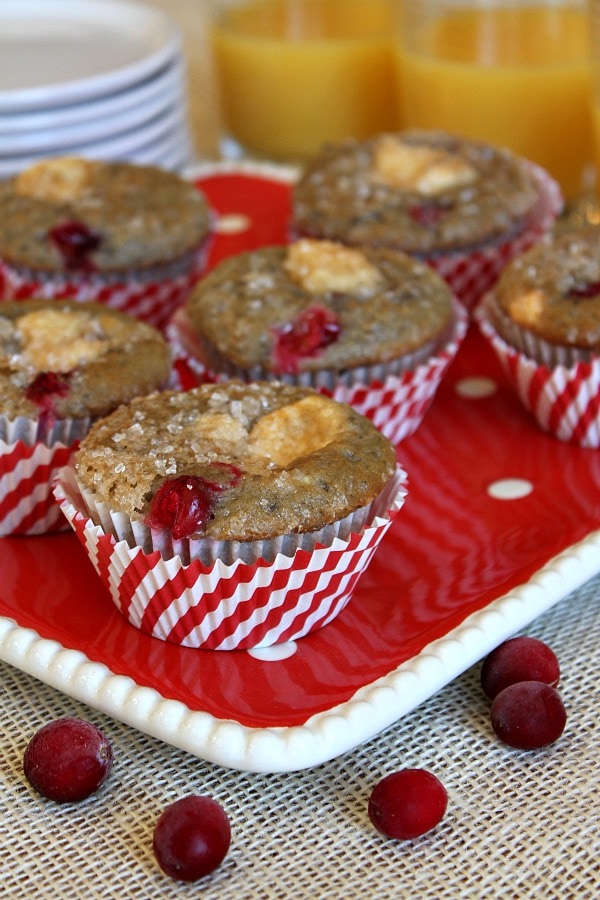 So for Thanksgiving morning… or the day after turkey day, whip these up for a festive breakfast treat!  And now that you know about them ahead of time, you can plan ahead and hide away some of your cranberry sauce.  If you've got any condiment lovers like me in your house though, you'd better hide it deep within your refrigerator.
Cranberry Cheesecake Muffins
Delicious way to use up leftover cranberry sauce.
Yield:
22 to 24 muffins
Prep Time: 30 min
Cook Time: 25 min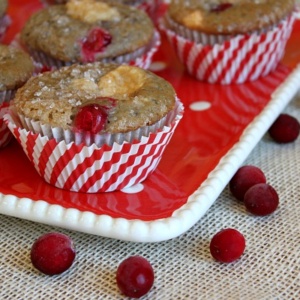 Ingredients:

MUFFINS:
2 1/2 cups Gold Medal® All-Purpose Flour
3/4 cup granulated white sugar
2 teaspoons baking powder
1/2 teaspoon baking soda
1/4 teaspoon salt
1 cup whole-berry cranberry sauce (canned or homemade)
1/2 cup canola or vegetable oil
1 large egg
1 teaspoon finely grated lemon zest
1 teaspoon vanilla extract
1 cup buttermilk

FILLING:
8-ounces cream cheese, softened
1/2 cup powdered sugar
1 large egg
1/2 teaspoon vanilla

TOPPING:
chunky, sparkling sugar (or regular sugar)
a handful of fresh cranberries

Instructions:

1. Preheat the oven to 375 degrees F. Line 2 standard-sized muffin tins with cupcake papers.

2. Prepare the muffins: In a medium bowl, whisk together the flour, sugar, baking powder, baking soda and salt.

3. In a large bowl, use an electric mixer to combine the cranberry sauce, oil, egg, zest and vanilla. Add the flour to the wet mixture alternately with the buttermilk in three parts, starting and ending with the flour. Mix only until the flour is fully incorporated.

4. Prepare the filling: In a medium bowl, use an electric mixer to beat the cream cheese until light and creamy. Mix in the powdered sugar, then mix in the egg and vanilla.

5. Assemble the muffins: Use an ice cream scoop or 1/4 cup measuring cup to fill each muffin cup halfway with batter. Spoon about 1 tablespoon of the filling into the center of the batter of each muffin. Spoon more batter on top of the filling. It's okay to fill the muffin cups almost to the top as they will not rise greatly. Sprinkle the tops of the muffins with sugar and then dot each muffin with one or two fresh cranberries.

6. Bake 25 to 30 minutes, or until the muffins are baked through (not soft and squishy in the middle).
Disclosure:  I'm working with Gold Medal Flour to create seasonal recipes for the next few months.  This is one of those goodies.  All opinions shared are my own.