Here's a delicious bread recipe for fall:  Cranberry Pumpkin Bread
Cranberry Pumpkin Bread
Great fall bread to have for breakfast and snacking.
Yield:
2 loaves
Prep Time: 15 minutes
Cook Time: 60 minutes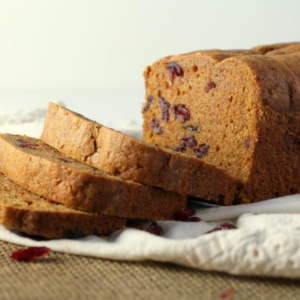 Ingredients:

2 large slightly beaten eggs
2 cups granulated white sugar
1/2 cup canola or vegetable oil
1 cup canned pure (unsweetened) pumpkin
2 1/4 cups all-purpose flour
1 Tablespoon pumpkin pie spice
1 teaspoon baking soda
1/2 teaspoon salt
1 cup chopped dried cranberries

Instructions:

Preheat oven to 350°F. Grease and flour two 8-inch loaf pans.
In a large bowl, combine first 4 ingredients; mix well.
In a separate medium bowl, whisk together the flour, spice, baking soda and salt. Add the pumpkin mixture; stir just until dry ingredients are moistened. Stir in the cranberries.
Spoon the batter into the prepared pans. Bake for 1 hour, or until a toothpick inserted into the center comes out clean.

Tips:

If you'd like to use a larger loaf pan (9-inch), pour all of the batter into one pan (3/4 full) to make one large loaf. If there is too much batter, make a few muffins with the extra batter.
SOURCE: RecipeGirl.com