Part 3 of my family's Summer Road Trip 2012 (part 1 here and part 2 here): a visit to Charleston, South Carolina- with food highlights, of course!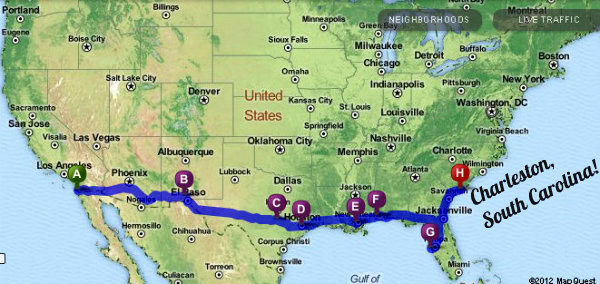 So we started in San Diego… drove all the way to Florida, and then we made our way up the Eastern coast to beautiful Charleston, South Carolina.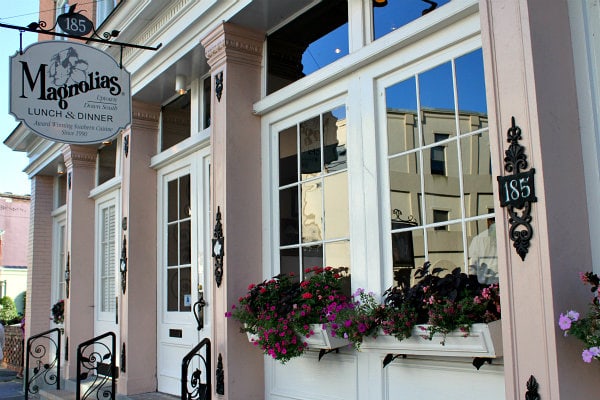 We only had one afternoon and evening here, so we made the best of it by going to the highly regarded Magnolia's restaurant for dinner.  We sampled many amazing menu items here, so I must share them all!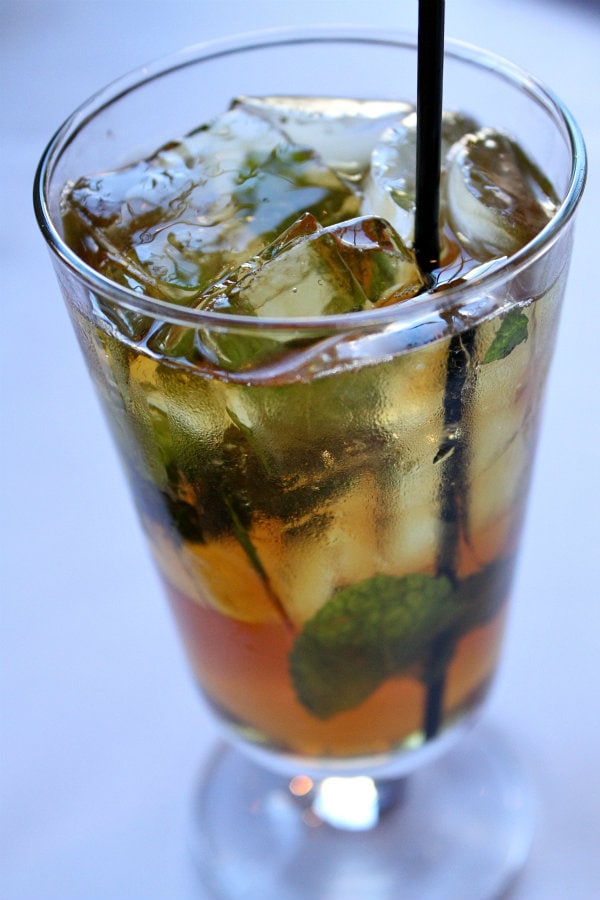 This was a special cocktail: a Southern Mojito, I believe… made with sweet tea vodka.  Lordy, it was good.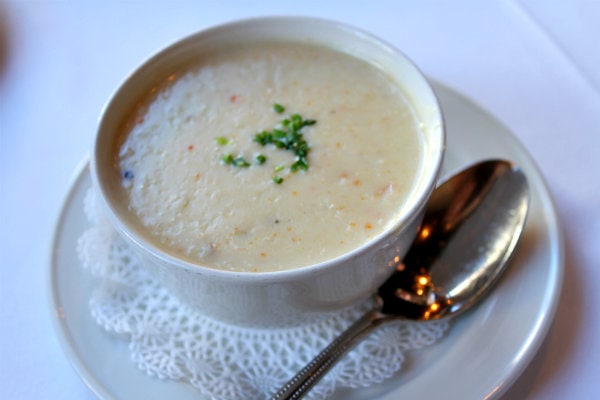 I had been hearing about the Blue Crab Bisque, so we ordered that to start.  It didn't disappoint. So creamy and wonderful.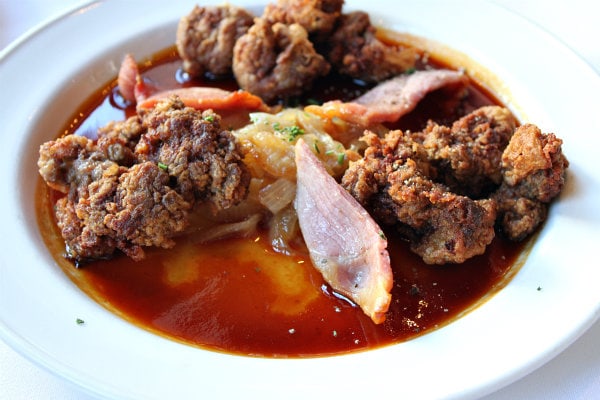 These were Pan Fried Chicken Livers with Caramelized Onions and Ham in Madeira Sauce.  If you are typically a fan of chicken livers, you'll like this dish.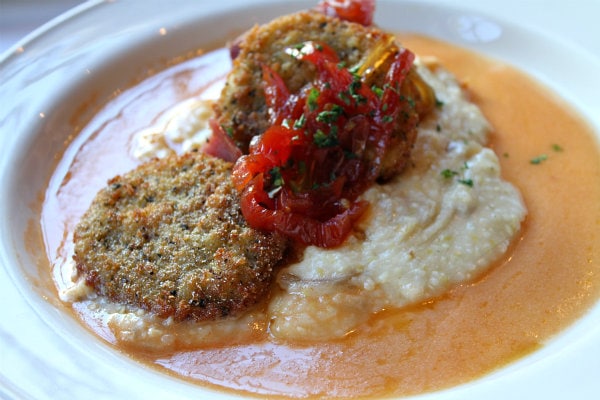 I couldn't visit the south without trying Fried Green Tomatoes, could I?  These are served with white cheddar and caramelized onion grits, country ham and tomato chutney.  Absolutely to-die-for.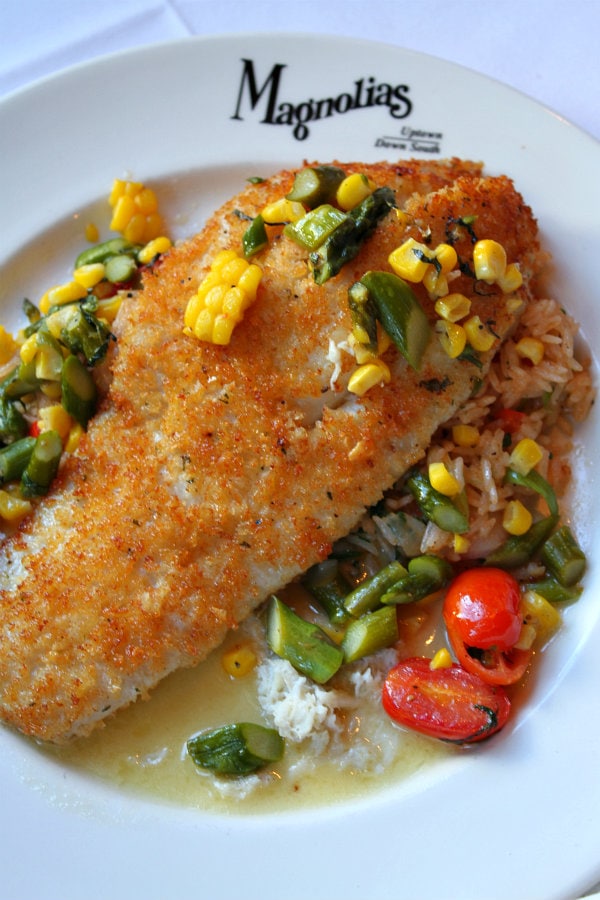 RecipeBoy's dinner: Parmesan- Crusted Flounder with jasmine rice and creek shrimp pirloo, sweet corn, tomato & asparagus salad, lump crab and citrus beurre blanc.  I'd have been very, very happy if I had ordered this.  My son loved it too.  He even asked the waiter to ask the chef how to prepare it at home (and then he came back to the table and told us!)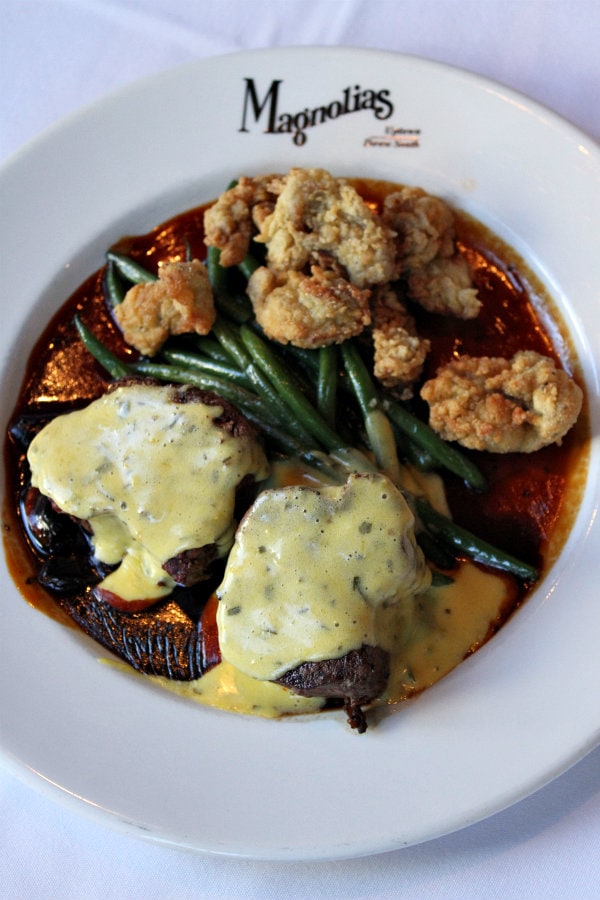 My husband's dinner:  This must have been a special because I can't find it on their menu… but it was some sort of beef tenderloin with sauce, green beans and (I think) fried oysters.  Again- completely wonderful.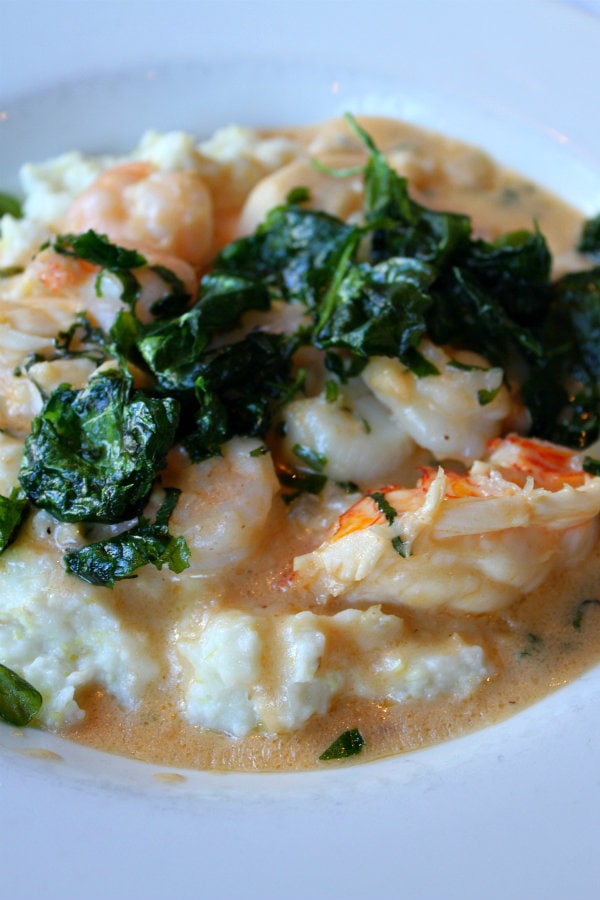 MY dinner:  Shellfish over Grits– sauteed shrimp, sea scallops and lobster, creamy white grits, lobster butter sauce and fried spinach.  Would it be horrible to tell you that I ate every single bit of this dish?  It was everything I hoped it would be.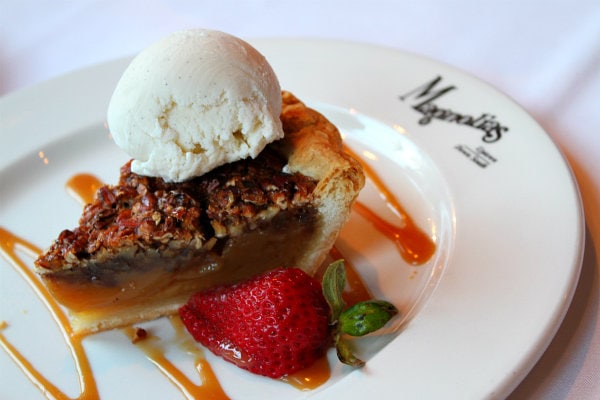 If all of those dishes weren't enough, we had to order dessert too: Southern Pecan Pie with bourbon caramel sauce and vanilla bean ice cream.  I don't even like pecan pie all that much, but the waiter insisted that we try it… he told us it was the best ever.  HE WAS RIGHT!  We all totally loved it (and we're not even much of a nut family either).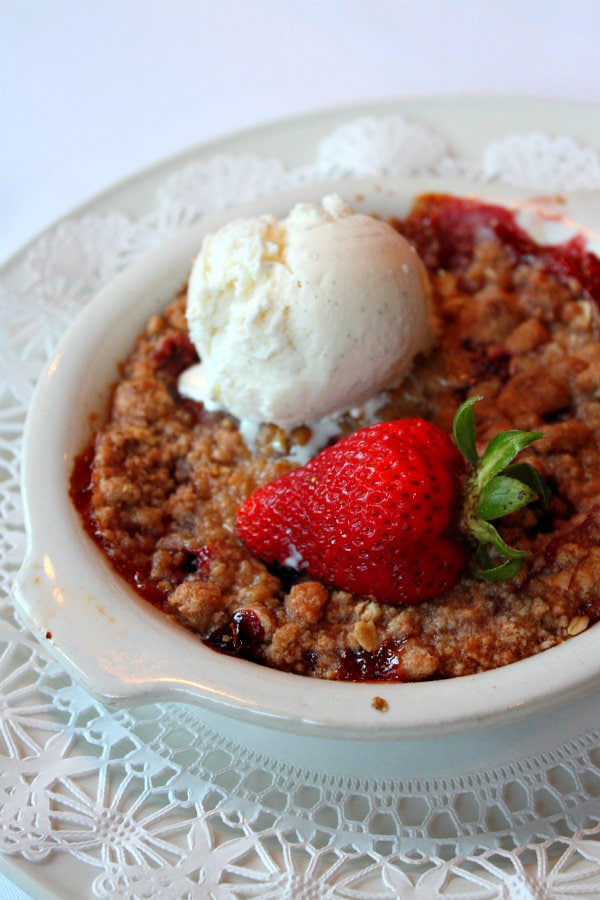 One dessert wasn't enough, so we ordered another: Peach and Blackberry Crisp with vanilla bean ice cream.  This one was pretty darn amazing too.
We were completely and totally and uncomfortably stuffed after our dinner at Magnolia's.  But I definitely recommend this restaurant with 100% confidence that you'll enjoy it if you are ever in Charleston.  It was a little on the expensive side (especially since we ordered so many things, but it's totally worth it).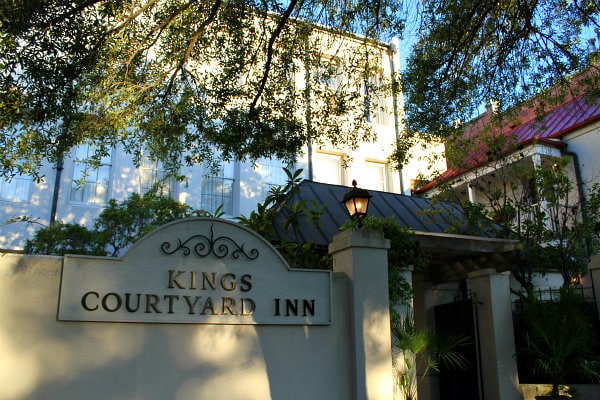 Charleston itself is a quaint little town with tons of shopping.  We stayed at the Kings Courtyard Inn.  My husband picked it out on the internet after viewing some photos and seeing that it had a good location in regard to the shops and restaurants.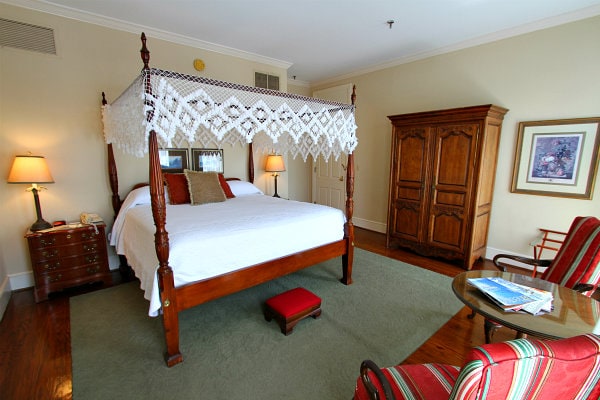 We reserved a Parlor Suite, which had this very comfortable King-sized canopy bed in one room…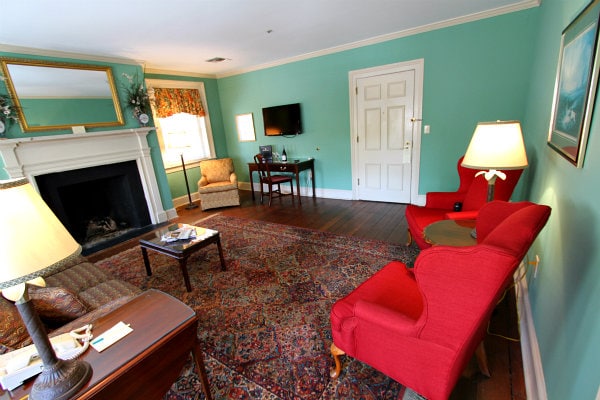 …and a separate living room area too (separated by a door).  We got a rollaway bed for our son and placed it in the living room for him.  It was a very nice hotel- reasonably priced for the area, and I would definitely recommend it.  They also offered a free 5pm Happy Hour with wine and treats each night.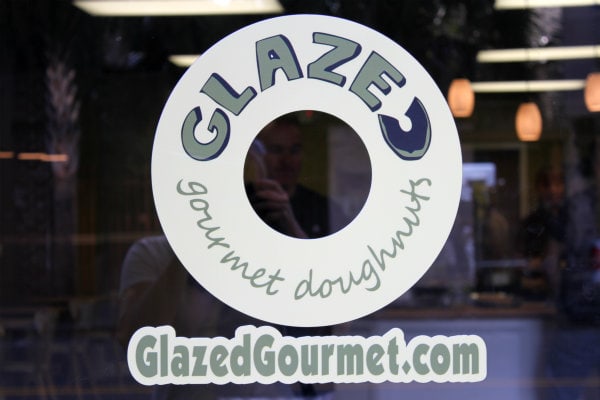 Before we headed out in the morning, we stopped at this much-talked-about place:  Glazed Gourmet Doughnuts.  We were told to get there as early as we could, because the way this place works… when they're sold out for the day, you've missed out!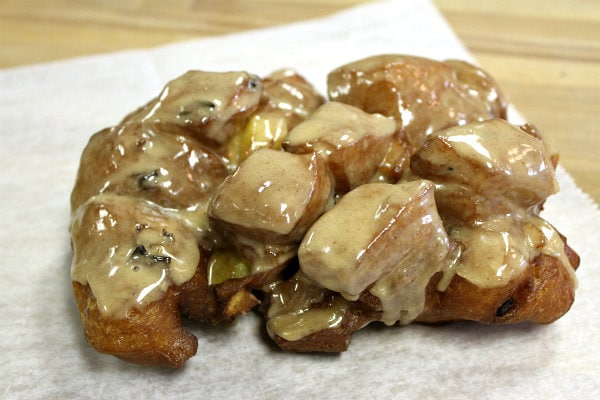 This crazy, delicious thing is an Apple-Bacon Fritter.  It was my husband's doughnut of choice.  YUM.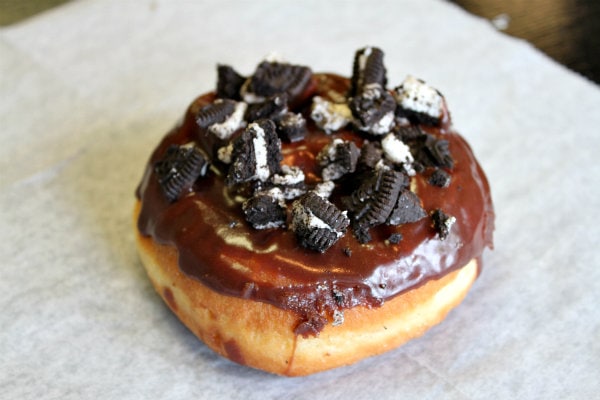 The Cookies n' Cream was my son's doughnut of choice.  He was pretty happy with it.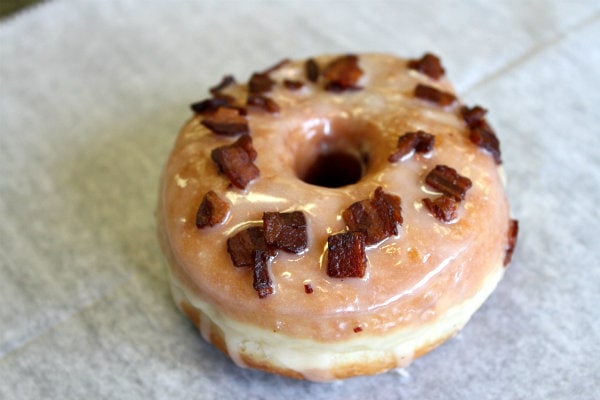 And I ordered up a Maple-Bacon Doughnut.  THE BEST EVER!
If you're ever in Charleston, this doughnut place is a must-see-and-taste too!
This was my first time in Charleston, and I already want to go back.  I told my husband that if he'd ever like to surprise me with a vacation, I'd be very happy to find out that we're going to Charleston, South Carolina.  It has been my favorite city on our Summer Road Trip 2012 so far 🙂