Well, here I go again with our family's Summer Road Trip 2012… sheesh, it seems like we've been on the road forever, right??  Just a couple more posts and we will finally be done with it all and back in San Diego.  I hope you're still enjoying our crazy travels!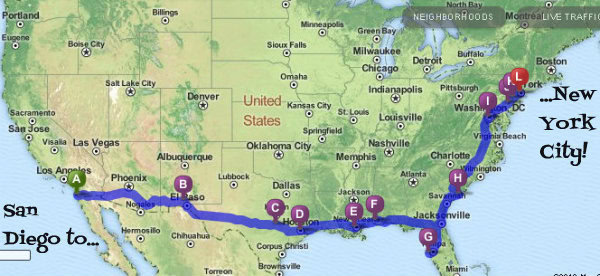 We left off last in Philadelphia, and then we drove from Philly to Princeton, New Jersey.  Not a long drive at all and completely uneventful.  My husband was going to be working with a client in New Jersey for a few days (uh… someone had to work to pay for this trip!) so we hunkered down in the Princeton area, ate healthy, caught up on reality TV, swam in the hotel pool, dutifully utilized the hotel gym (daily) and just took a little breather from the hustle and bustle of our excited travels.  In other words, we relaxed and did nothing.

BUT, we did get a chance to see Princeton University, which is so completely old and cool and beautiful.  Are all 11 year olds as excited to see an Ivy League school as this one?  Probably not.  This kid would go to college NOW if he could get in.  He's pretty pumped up about it.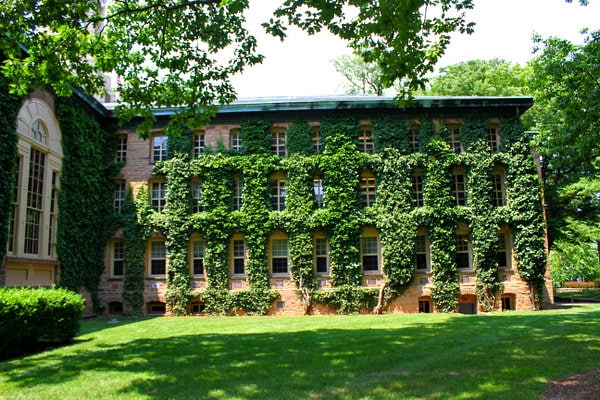 We just couldn't get over the buildings- this one covered in vines…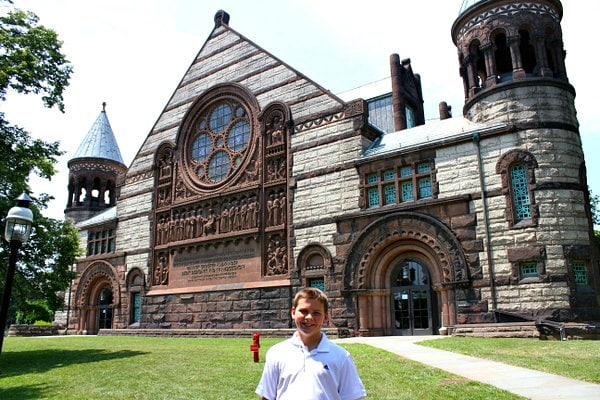 …and this one looking rather castle-like.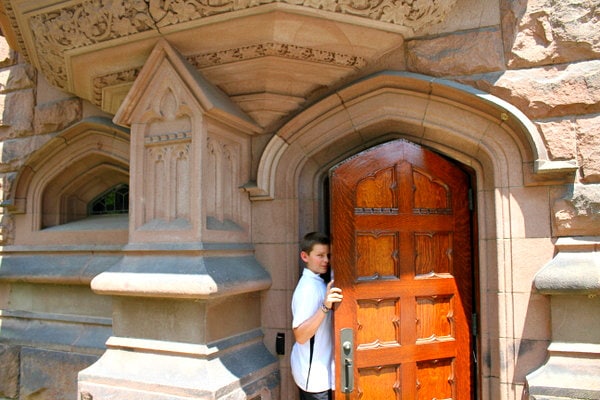 In this particular building, we sneaked in through this door and wandered down a basement hallway with a cobblestone floor.  It was damp and musty and smelled like 1746- totally COOL.  Brooks decided right then and there that he'd like to go to Princeton someday.  Tuition there is… a little pricey.  Let's hope the kid gets a scholarship!!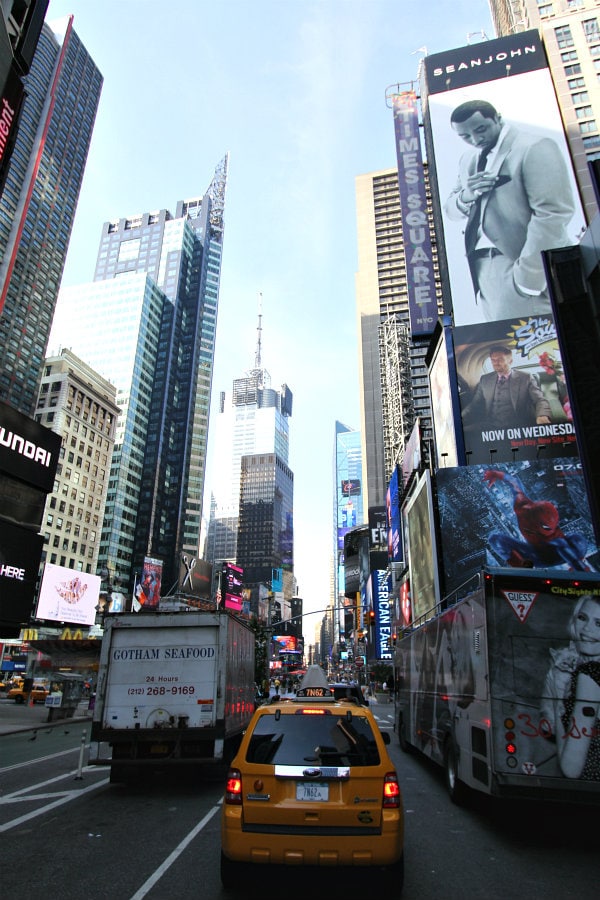 Princeton is only 37 miles from New York City– which TECHNICALLY only takes less than an hour's drive with no traffic (or 25 minutes if my husband is driving).  We drove the first 30 miles with traffic moving smoothly.  And then we hit the most major traffic I've ever seen at the Lincoln Tunnel.  It seriously took us 3 hours to get through that tunnel and reach our hotel.  NOT FUN AT ALL.  How do people live in traffic like this????????  I suppose if I lived in NYC, I'd opt for public transportation.  But then I guess they have to sit through that traffic too.  Maybe I'd just never leave the city.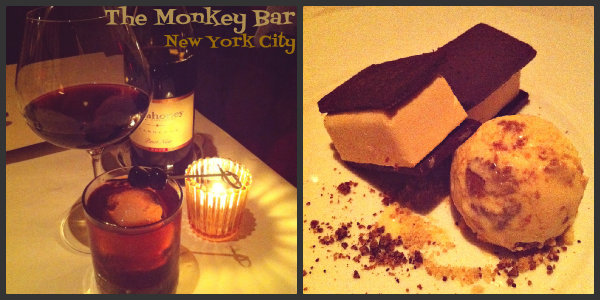 Super starving and with no reservations, we happened upon this restaurant in MidTown called, "Monkey Bar."  This place has been around for many, many years and has changed hands and been renovated a few times.  The ambiance is dark, the waiters are decked out and very professional, and it just kind of feels very "New York" to me- like old-time movies stars probably hung out there.  We opted for red wine and Manhattan's, of course.  We loved our meal there– it was extremely pricey though when all was said and done with drinks, appetizers, salads, main dishes, wine and dessert.  I suppose that's normal for New York.  Dessert was the very best part- Peanut Butter Ice Cream Sandwiches.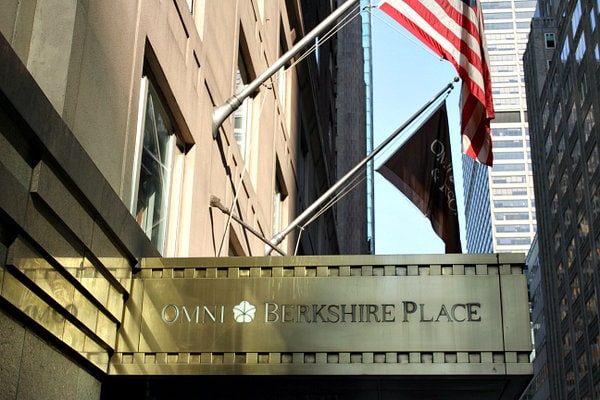 I'm so glad we chose to stay at the Omni Hotel Berkshire Place in Midtown Manhattan- it was right, smack-dab in the middle of all of the action.  Everything we intended to do was in walking distance of the hotel (or a short cab ride away).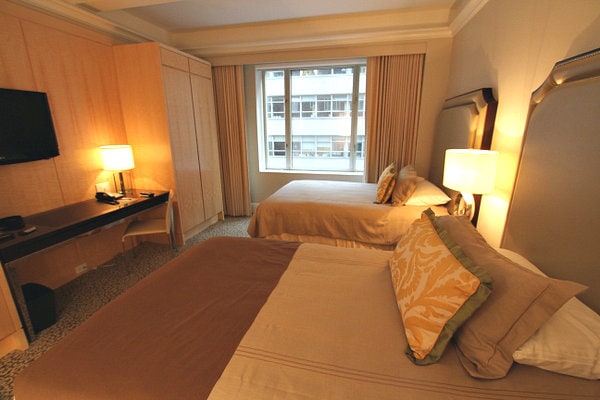 Our room was comfy and extremely quiet (something I always worry about when I stay in New York City).  We were up high enough to avoid sounds of sirens and late-night partying.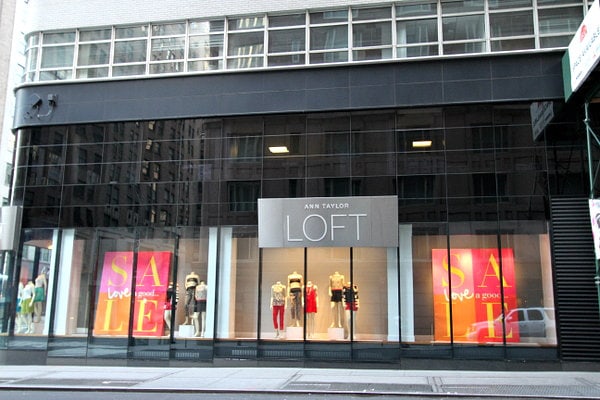 And look what I discovered directly across the street from the Omni Hotel?!?!?  I kept eyeing those magical SALE signs from our room, and I finally wandered down and spent a good couple of hours happily shopping away.


Of course I had to introduce my family to a couple of the really great New York Bakeries (since I visited 15 of them last year!)  Magnolia Bakery was first on the list, and we tried a classic yellow cupcake and red velvet cheesecake.  I could have stuffed 18 of those red velvet cheesecakes in my bag and taken them home.  I liked it that much.


Crumbs Bake Shop is a chain but an oh-so-good one.  They have every sort of "giant" cupcake you can think of.  We sampled the Peanut Butter Cup and some sort of Black and White number.  Both were easy to inhale.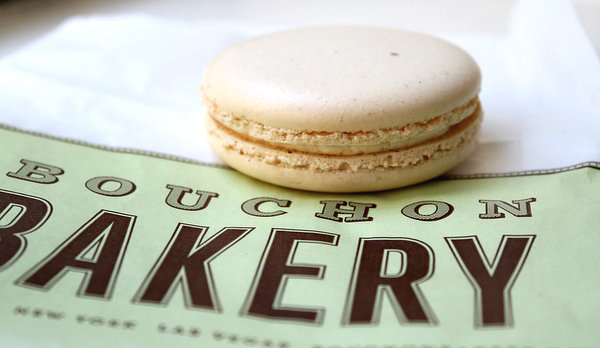 I STILL love these Vanilla Bean Macarons at Bouchon Bakery.  I'm not even a big macaron fan at all, but these are insanely delicious.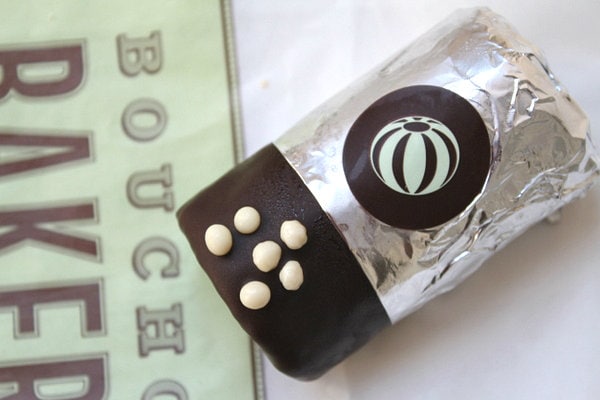 And we had to try their version of a Ho Ho (chocolate covered cake with creme filling).  It's a fun dessert, but it's not my favorite.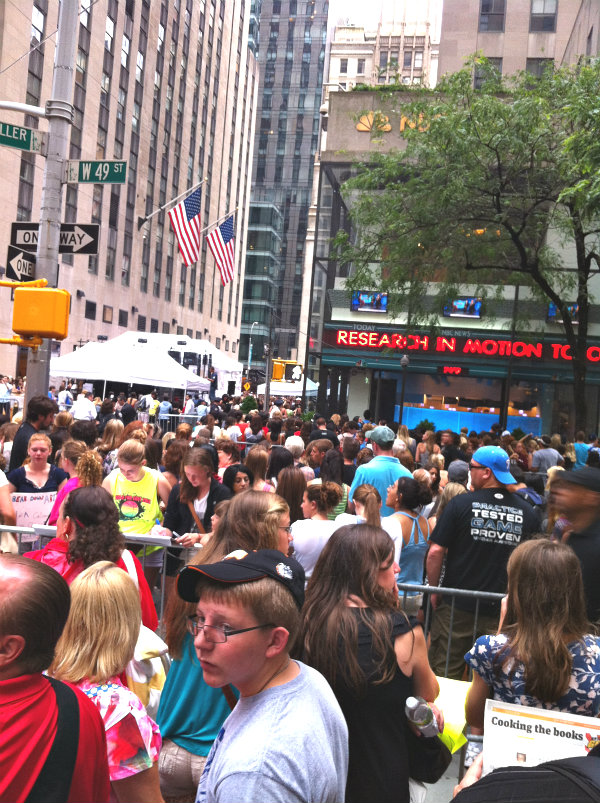 When my little guy discovered that we were in walking distance of The Today Show studio, he suddenly remembered, "MAROON 5 IS PLAYING THE TODAY SHOW SUMMER CONCERT SERIES TOMORROW!!!!!"  So of course we had to go and politely maneuver between thousands of screaming fans to position ourselves in a spot to wait for 2 hours so that we might possibly be able to catch a glimpse of Adam Levine's head as he performed.  It was a long time to wait, but my kiddo was very excited so that made things better.  It was fun to "listen" to Maroon 5 but we really did not get to see much from our vantage point.


Another bakery we visited was The City Bakery, which I had never been to.  Their pretzel croissant was buttery and flaky and pulled apart so tenderly.  Loved it.  I wasn't in love with their (famous) chocolate chip cookies.  They just weren't the best I've had.  These NY Times cookies are much better, I think.  Anyway, it's a cool bakery with all kinds of great things for lunch- you help yourself to a buffet of gourmet salads and unique entrees and then they weigh your portion for payment.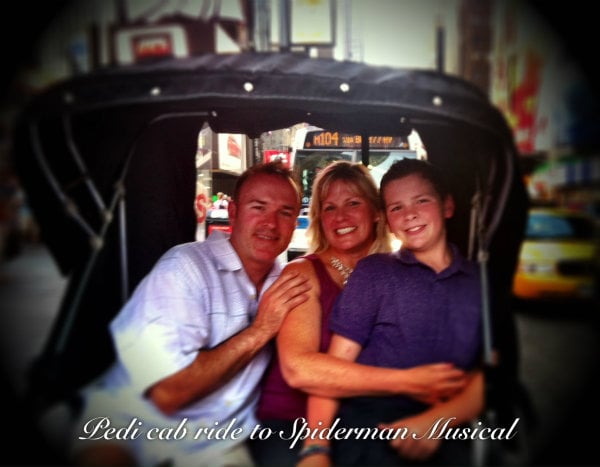 Our last night in New York… it's home to a zillion fabulous Broadway shows, and as many times as I have visited NY… this was my first time seeing one!  We caught the half-price ticket's line the day of the show and chose Spiderman (thinking our son would really enjoy it).  It was great- lots of action and flying over the audience.  I loved just watching my son and the giant smile on his face during the show.  There were kids of all ages at the show, but it's fun for adults too.  If you go to New York City, you must see a show- any show- and I think it's totally worth it to try for the half-price tickets too.  Arrive at a half-price tickets booth right when they open in the late afternoon on the day of the show for the best choice of shows (every day availability is different- you might very well be lucky and get the show you were hoping for!)
Can we talk about Pedi Cabs in New York City for a minute?  We thought it might be fun to take one from dinner to the show (6 blocks).  My husband asked the Pedi driver, "How much?"  Pedi guy said, "$20.00"  My husband looked at me and said, "Well, it'll more than a cab but let's treat ourselves."  So the three of us squeezed into the Pedi Cab and he drove us 6 blocks to the show.  It literally took about 8 minutes.  We got out of the cab and he said, "$60.00."  My husband looked at him and said, "WHAT?  You said $20."  The Pedi guy mumbled that he meant it was $20 per person.  A heated discussion ensued, my boy and I stepped away from the cab, my husband offered for the NYC police to come and mediate, and it was just crazy.  We ended up only paying the $20, but CAN YOU BELIEVE THAT?  What a ripoff.  He wanted $60 for an 8 minute ride, and tried to dope us into it (as dumb tourists) with the lure of a "$20" ride.  Don't fall for it.  Don't take a Pedi Cab in New York City!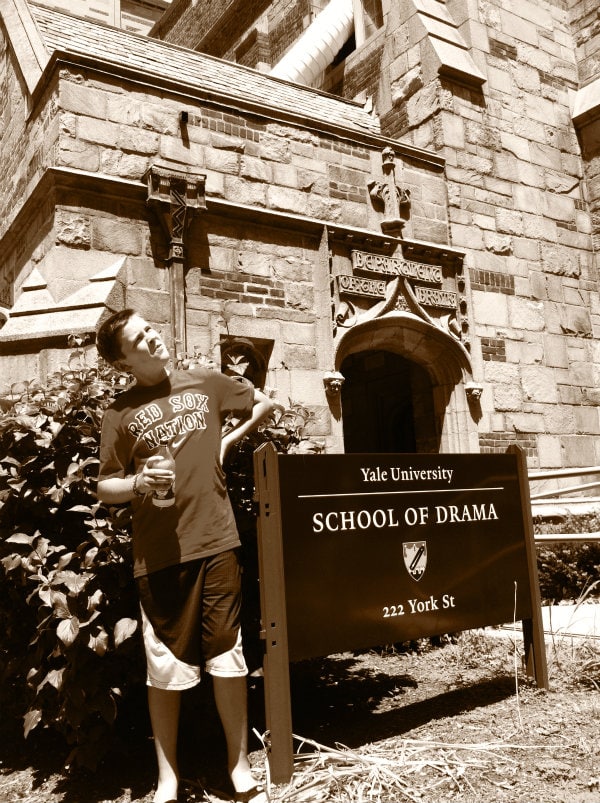 The next day we began our trek to Massachusetts, and on the way there we stopped in New Haven, Connecticut to get a glimpse of Yale University (remember, my kiddo is pretty interested in checking out all of these Ivy League schools!)  We walked around the outskirts of campus a bit- again, lots of cool, old buildings, but we didn't a chance to see a whole lot.  Brooks had to strike a (drama) pose when he saw the School of Drama.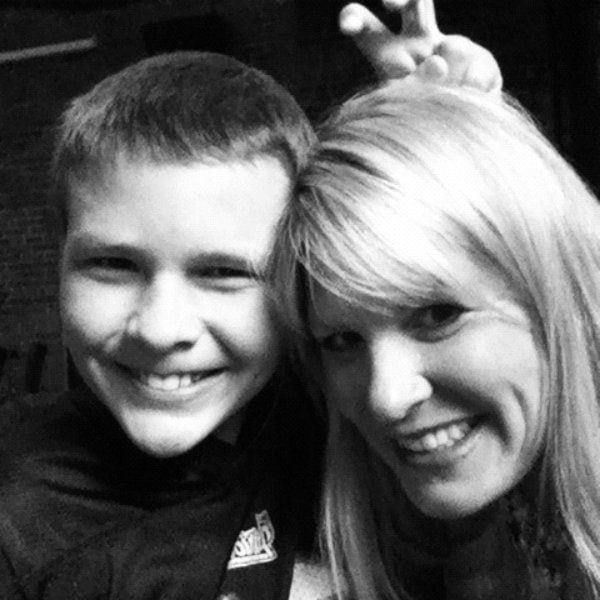 And I'll end this leg of the trip with a little candid of Mom and son!
Just a couple more posts to go, and you'll have seen our whole 8-week trip across country.  Thanks for following along 🙂
Disclosure:  Thanks to Omni Hotels for providing our room at the Omni Berkshire Place.  It was the perfect place to stay and the best location for exploring New York City!