Recently, I had the opportunity of dining at Ruth's Chris Steak House in Boston.  Boston is one of my favorite places in the entire world, and I am always thrilled to experience their restaurant scene.  I had been to a Ruth's Chris once– in San Diego– but fast-forward many years later to check out the Ruth's Chris Steak House in downtown Boston.  It's in a unique location in their old city hall building- near Faneuil Hall and Quincy Market.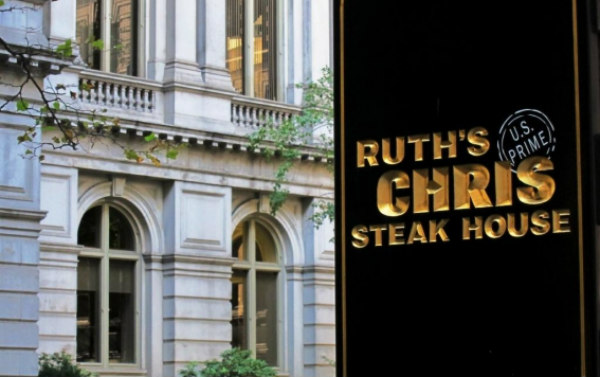 It turns out that Ruth's Chris Steak House is celebrating their 50th year anniversary this year.  50 years in business!  History writes that Ruth Fertel bought Chris Steak House in New Orleans in 1965 to help put her teenage sons through college.  She had no experience in the restaurant business but learned how to run the business and developed the perfect method for broiling steaks (using an 1,800° broiler!)  Ruth's Chris became the first franchised fine dining establishment in 1976.
Here's a peek at my dining experience at Ruth's Chris Steak House- which happened to be on the day that my husband and I were celebrating our 20 year anniversary of being married 🙂  >>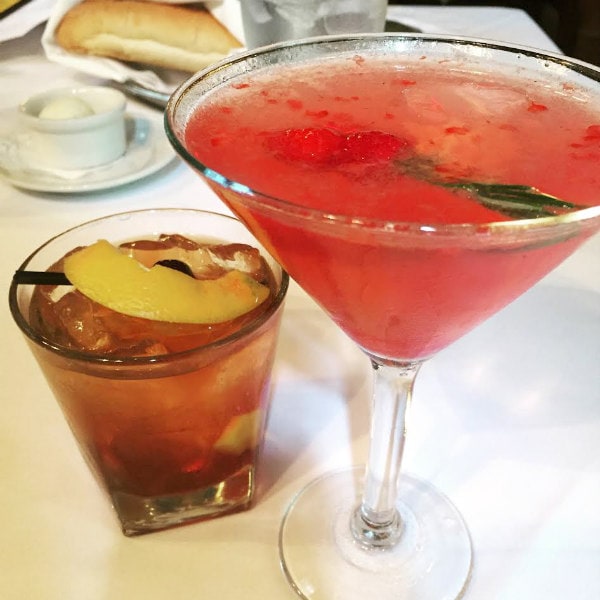 We kicked off our celebratory meal with cocktails.  Their list of cocktails is impressive- you'll find modern twists on classics, such as a Coconut Ginger Lemon Drop Martini, a Blackberry Sidecar and a Blueberry Mojito.  My husband chose a New Fashioned > bulleit rye whiskey, cherry heering liqueur, orange, amarena cherry, fee bros. black walnut and orange bitters.  It's not my kind of drink, but he enjoyed it very much.  My kind of drink is the pretty one you see above: a Raspberry Rosemary Cosmo > absolut raspberri vodka, cointreau, fresh lime juice, cranberry juice, muddled raspberries and fresh rosemary.  Delicious!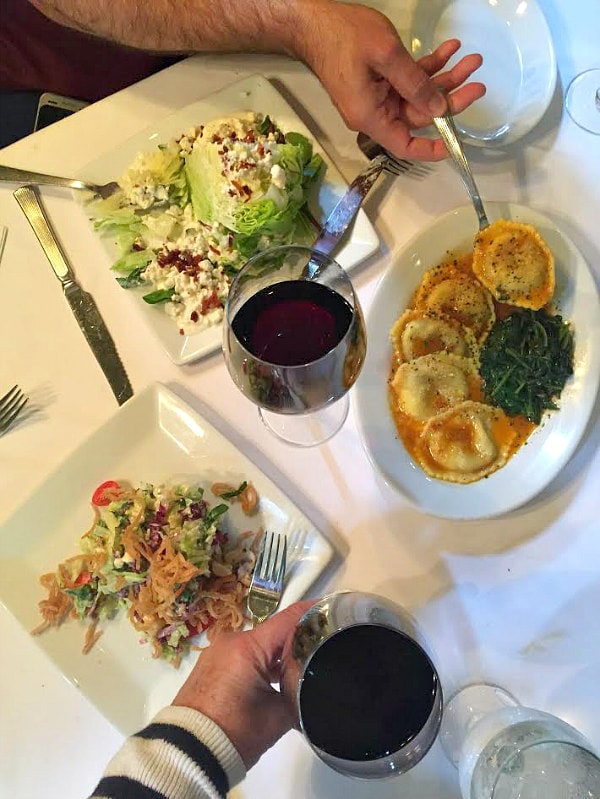 With a starter cocktail warming our bellies, we were definitely ready to jump into ordering wine, appetizers and salads.  Our wonderful waiter suggested certain menu items to try, but we added in a few things we were dying to try too.  Our sommelier was awesome- he helped us select a wine that we were extremely happy with and have been trying to find ever since:  a red blend called, The Prisoner– from Napa Valley 2013.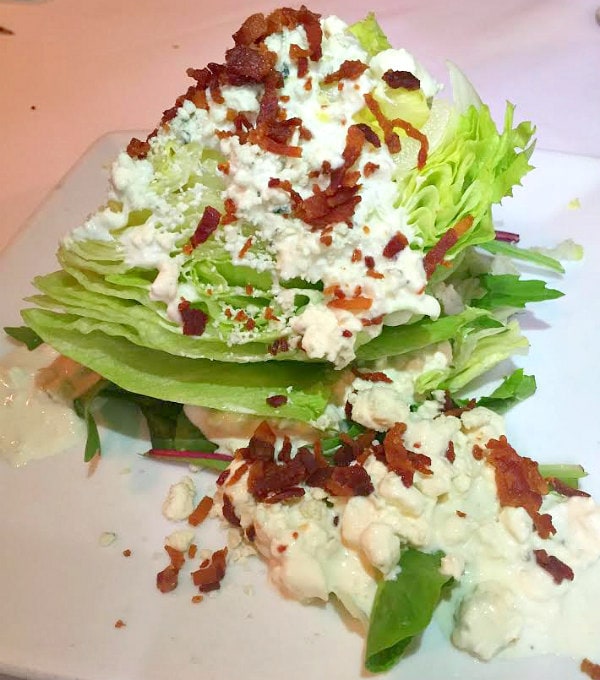 First up:  Lettuce Wedge:  crisp iceberg, field greens, bacon, bleu cheese and dressing.  This sort of salad is always my favorite, so I'm happy to report that it didn't disappoint here either.  Both the lettuce and the bacon were extra crispy- which is so important in this kind of salad!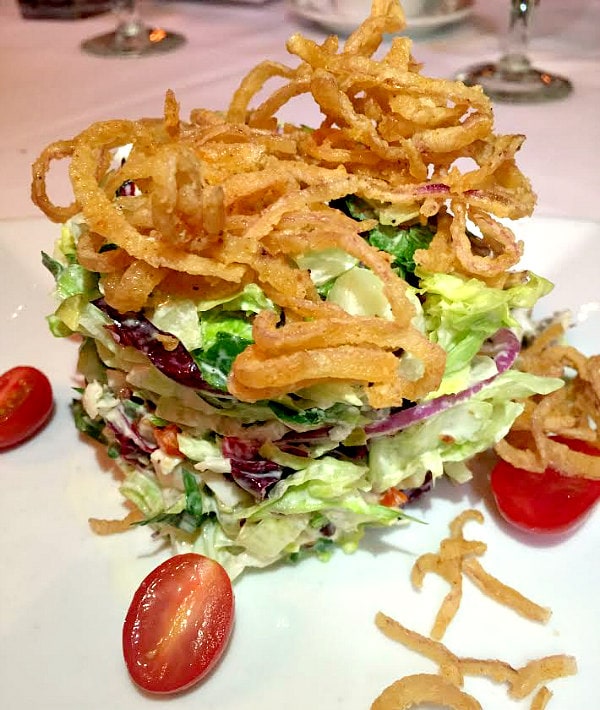 My husband chose their famous original: Ruth's Chop Salad– julienne iceberg lettuce, baby spinach, radicchio, red onions, mushrooms, green olives, bacon, eggs, hearts of palm, croutons, bleu cheese, lemon basil dressing and crispy onions.  I must admit that I ate this one too.  The presentation was super cool- loved how the dressing was tossed with everything before styling- and the crispy onions were a unique touch.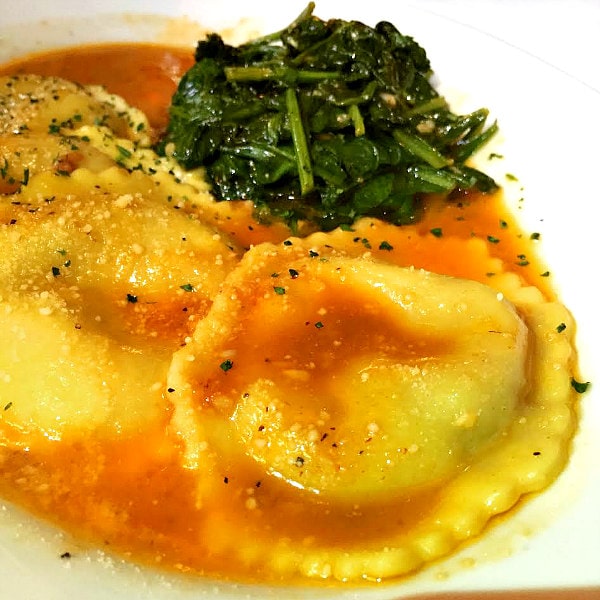 We insisted on trying these:  Veal Osso Buco Ravioli– saffron-infused pasta filled with veal osso buco and fresh mozzarella cheese– served with sauteed baby spinach and a white wine demi-glace.  I could have eaten 12 of these for my entire meal.  They were just perfect in every way- the abundance of flavor and the texture of the pasta… so good.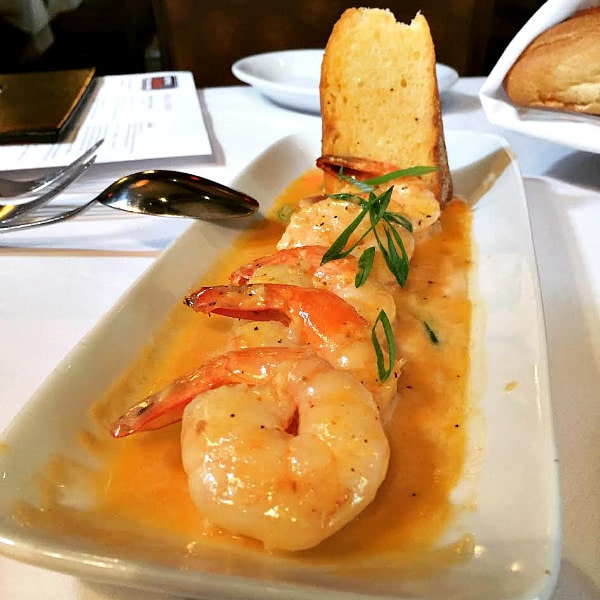 This is the Barbecued Shrimp– sauteed New Orlean's style in reduced white wine, butter, garlic and spices. If you're a shrimp lover, you'll be happy with how this one is prepared.  It's one of their signature appetizer recipes.
It was really tough to choose the appetizers.  Everything looked fantastic.  Next time we're going to add seared ahi tuna and mushrooms stuffed with crabmeat to the list of things to try.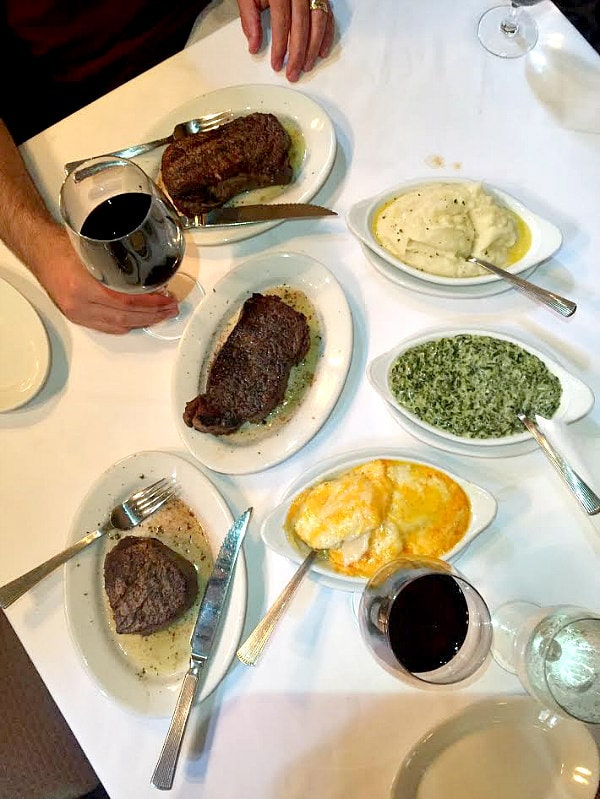 At this point in the meal, it was time to try the main dishes and the side dishes.  I'm not going to lie… I was pretty full after tasting all mentioned thus far… but since I knew the best was yet to come, I trudged ahead and kept tasting!  I'll begin with the sides: Potatoes au Gratin, Roasted Garlic Mashed Potatoes (we couldn't agree on the potatoes… so we got both), and Creamed Spinach.  I enjoyed both kinds of potatoes, but I was especially enamored with the creamed spinach.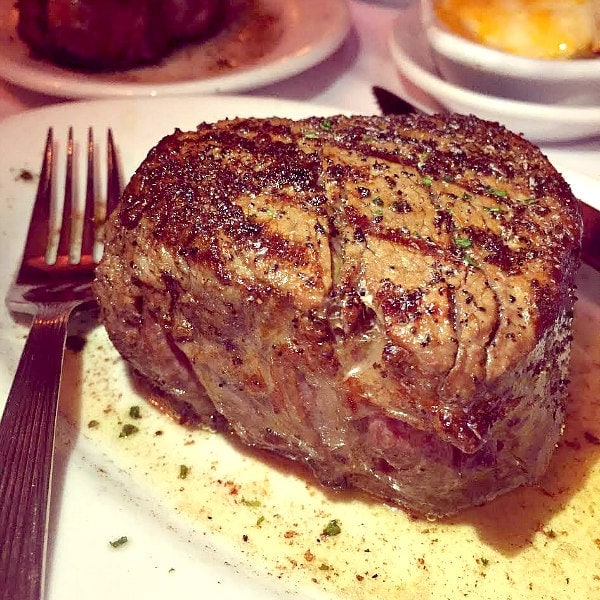 They brought us three steaks to try side-by-side:  Ribeye, New York Strip, and Filet.  Admittedly, I wasn't all that knowledgeable about the differences in steak.  But our waiter was simply amazing.  He described the differences and had us try a bite of each.  It was a life-changing experience to have them all on the table in front of us and to try them one-by-one.  I'll never forget… here are the differences as I can describe them to you.  The Ribeye is highly marbled, which means it has more fat than other cuts.  This shouldn't scare you because fat is where a lot of the flavor comes from.  We were surprised how much we truly enjoyed the ribeye.  The New York Strip has marbling too– with a strong, beefy flavor.  It's not as flavorful as the ribeye and is moderately tender.  We liked this one too, but it was our least favorite of the three.  The filet (tenderloin) is usually always my favorite to order- it's so tender with a buttery-like texture, and it's lower in fat… which means lower in flavor.  I still always enjoy a good piece of tenderloin though!  All three steaks were fantastic- that's a good thing for a steak house, right?!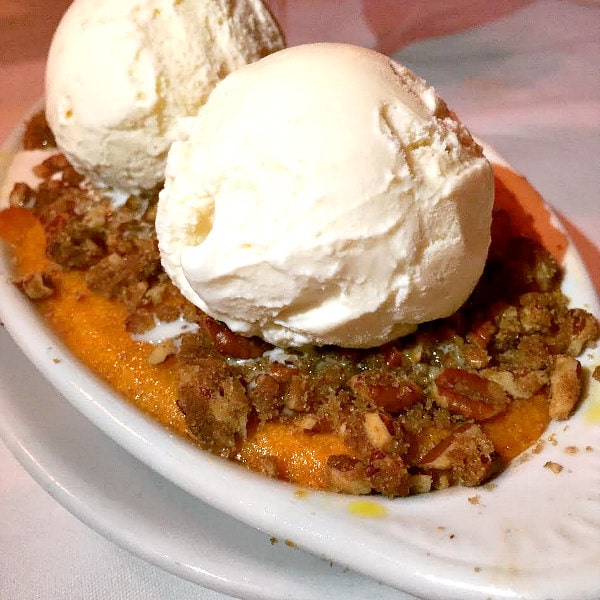 We couldn't leave without trying dessert.  The waiter insisted that we try the Sweet Potato Casserole for dessert.  This was odd since this is technically an item listed on their side dish menu, but the waiter explained that it was a sweet dish crusted with pecan and would be fun to try with ice cream on top.  I honestly wasn't too keen on this idea, but I'm really glad I tried it.  The ice cream melted into the sweet, sweet potatoes, and with the pecan crust it seemed much like sweet potato pie.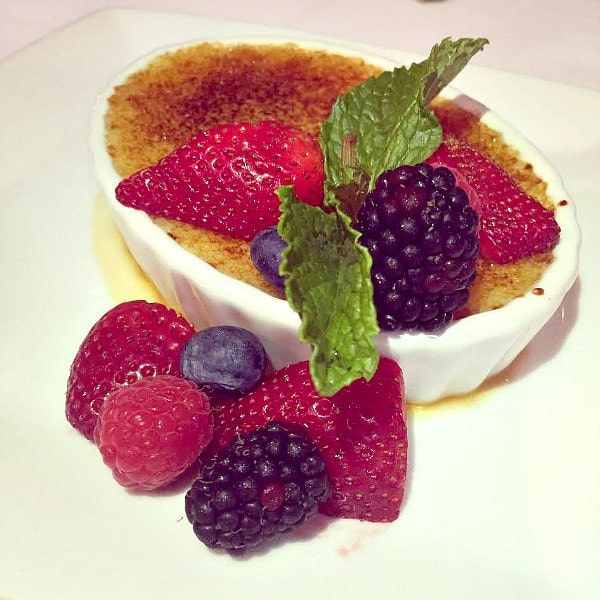 Since this is my favorite all-time dessert, I was happy to find it on Ruth's Chris menu:  Crème Brûlée.  It was classically creamy with a crispy, sugary crust.  Fresh berries were a nice complement.  We were too full to try the Bread Pudding with Whiskey Sauce, but that's on the list for next time too!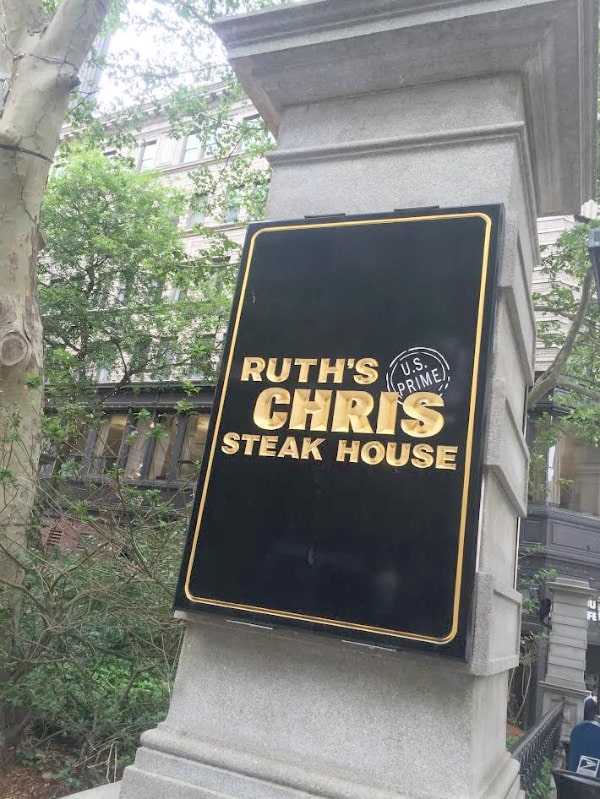 Needless to say, we had a fantastic meal at Ruth's Chris Steak House.  I highly recommend it for a celebratory lunch or dinner (or if you are just looking for a high quality steak house).  We were greeted by professional staff every step of the way.  Our waiter was completely educated about every single item on the menu.  It's important to note that Ruth's Chris also has a Sizzle, swizzle & Swirl menu -which has $8 entrees and cocktails- available in limited locations. And of course the seasonal Ruth's Classics Menu is a great 3-course seasonally inspired menu for folks on a budget. http://www.ruthschris.com/promotions/ruths-classics/.
Ruth's Chris has become the largest collection of upscale steak houses in the world, with more than 145 restaurant locations around the globe– that must be because they clearly know what they're doing!  Have you been to one yet?  Do you have a favorite menu item?
Disclosure:  I'm working with Ruth's Chris Steak House to help them celebrate their 50th anniversary.  This meal was provided to me in order to review and share my experience with my readers.  All opinions shared are my own.