This Dried Fig Souvlaki is an excellent Greek style appetizer. Figs are stuffed with feta cheese and wrapped with sage and prosciutto.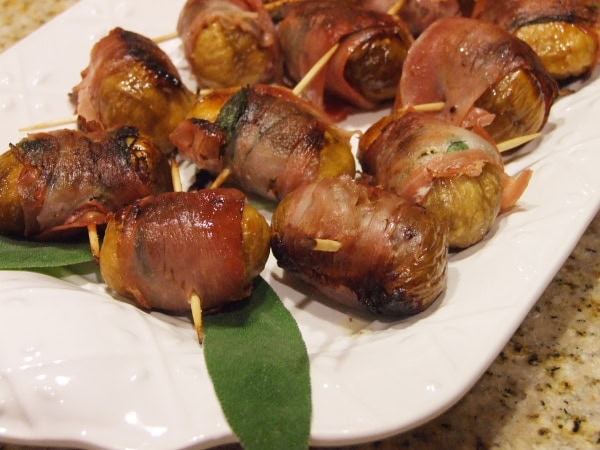 I wished I would have made a whole bunch more of these for my dinner party. They were a surprise favorite of everyone at the party!
This recipe has been featured in a post on The Recipe Girl blog: Greek Dinner Party.
Dried Fig Souvlaki
Yield:
18 appetizers
Prep Time: 15 to 20 minutes
Cook Time: 5 minutes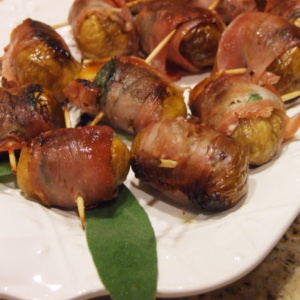 Ingredients:

18 large dried figs
18 (1/2-inch) cubes feta cheese
18 thin slices prosciutto, pastourma, or bresaola
18 large fresh sage leaves
18 large toothpicks
Extra-virgin olive oil

Instructions:

Make ahead: Using small sharp knife, cut stem from top of each fig, then cut straight down from top center to make 3/4-inch-deep, 1/2-inch-long slit in fig. Fill slit in each fig with cube of feta cheese, then press opening closed. Place 1 slice of prosciutto on work surface; top with sage leaf. Place stuffed fig at 1 end and roll up to enclose fig. Secure with toothpick. Repeat with remaining prosciutto, sage, and figs. Arrange on plate, cover tightly with plastic wrap, and chill until ready to cook.
Cooking the Souvlaki: Remove plate of appetizers from the refrigerator. Let stand at room temperature 1 hour before continuing. Pour enough oil into large skillet to cover bottom. Heat over medium-high heat. Add figs. Cook until prosciutto begins to crisp, about 2 minutes per side. Transfer to large platter. Serve warm.

Tips:

Can be made 1 day ahead (through step 1). Continue with step 2 when ready to serve.