Simple and healthy, this Easy Tilapia Piccata is ready in just 10 minutes with a few simple ingredients. A great weeknight dinner option for busy nights.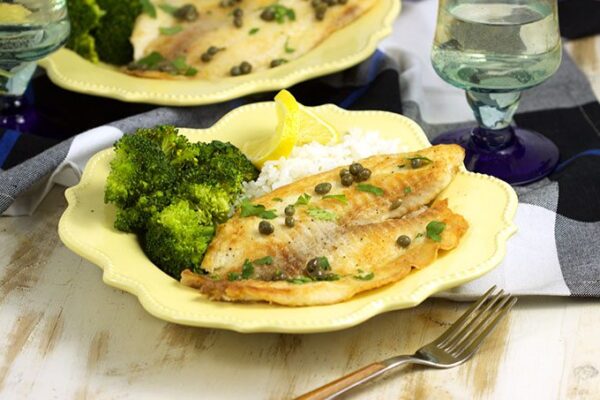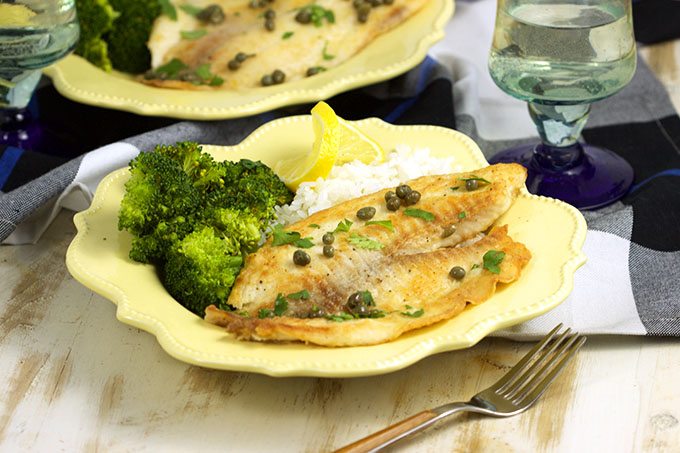 My favorite time of the year is here and I can hardly contain myself.  I absolutely love summer but since you can't string twinkle lights all around your house in August without the neighbors giving you the side eye….December wins the prize for most festive month ever, in my book.  I love the glitz and glitter of the holidays….the only time of year when the puffer coats are couture and gaudy is great. Even the ugly Christmas sweaters are high fashion at the moment.
The only thing I don't love about this time of year is all the hustle and bustle….all of the time that is sucked up by baking cookies, decorating the house, shopping for gifts, wrapping, party attending….you know what I mean.  Before you know it, the day has flown by and you haven't given a thought as to what to make for dinner. That's where this Easy Tilapia Piccata comes in handy.
I love quick dinners and fish is the one thing that makes dinnertime a snap.  It cooks quickly and is pretty much a win with the family.  And this easy Tilapia Piccata came together one night with just a few ingredients I had in my refrigerator and pantry.  It was late and I hadn't thought about dinner all day until I realized, it was 5:30. People were going to be stomping around demanding dinner so I grabbed some Tilapia filets, flour, a bit of butter, capers, lemon, chicken stock and some leftover wine.  That's it. That's all you need.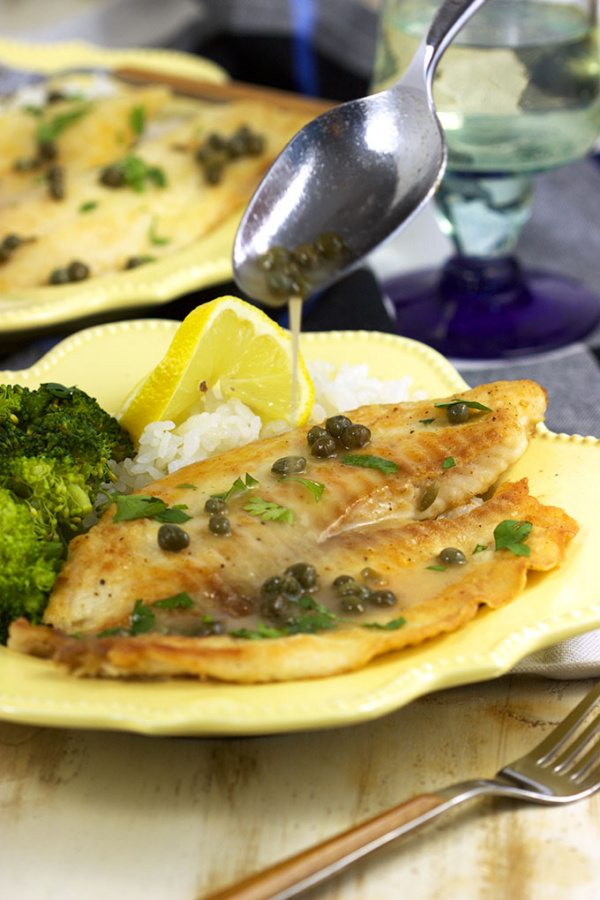 Give your tilapia filets a little dredge in some seasoned flour then sear in a frying pan until golden brown and flaky. Transfer to a warm plate then deglaze your pan with the wine, stir in the chicken broth, lemon juice and capers…season with salt and pepper to taste then drizzle with the sauce.
Serve with some rice or pasta to sop up the remaining sauce and you have a restaurant worthy dinner in about 10 minutes flat. And one you're entire family will LOVE.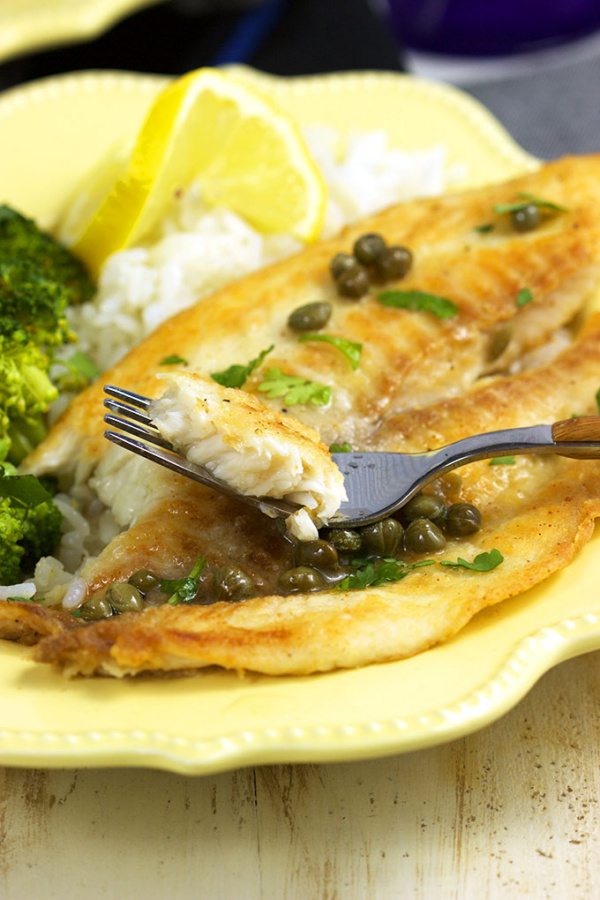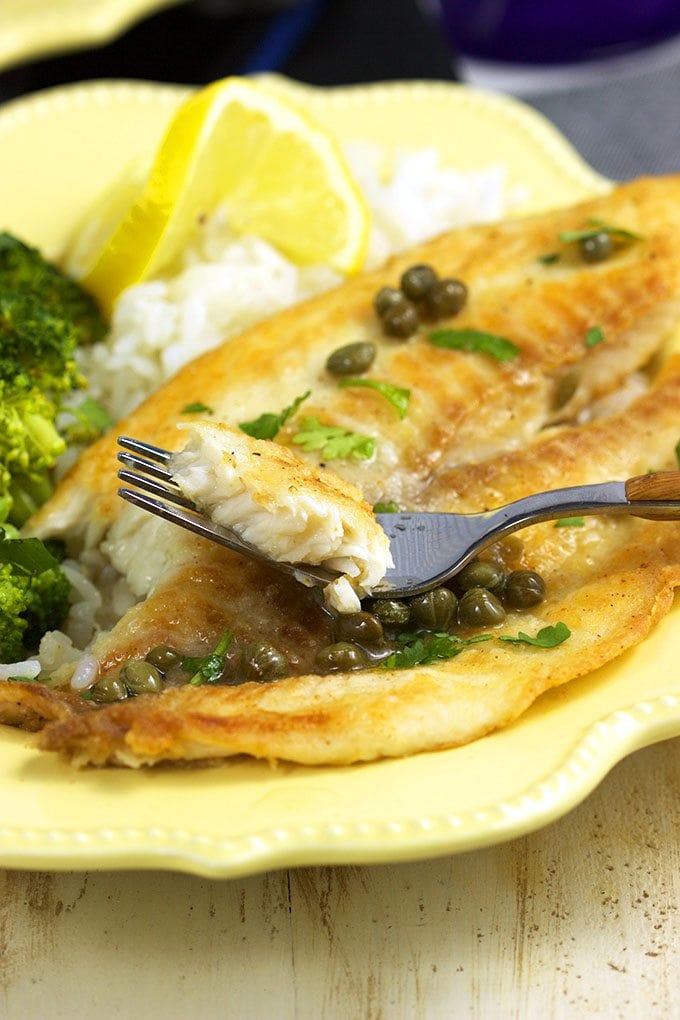 Easy Tilapia Piccata
Yield:
4 servings
Prep Time: 5 minutes
Cook Time: 5 minutes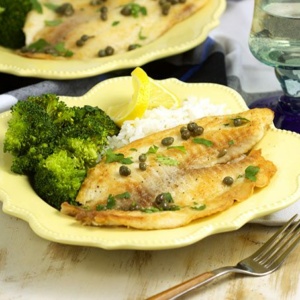 Ingredients:

Four 6-ounce tilapia fillets
1 cup all-purpose flour
1 teaspoon garlic powder
1/2 teaspoon kosher salt
1/2 teaspoon fresh ground pepper
1 tablespoon butter
1/4 cup dry white wine
1/2 cup chicken broth
juice of 1 lemon
1 tablespoon capers
Chopped parsley, optional

Instructions:

Pat the tilapia dry with a paper towel and set aside.
In a small bowl, whisk together the flour, garlic powder, salt and pepper to combine.
Melt the butter in a large non-stick skillet over medium heat.
Dredge the tilapia in the flour and add to the skillet.
Cook the tilapia for 2 minutes or until golden brown. Then flip with a spatula and cook for an additional two minutes.
Transfer the tilapia to a platter and cover with foil to keep warm.
Add the wine to the pan and bring to a boil.
Stir in the chicken stock, lemon juice and capers. Continue to boil for 1 to 2 minutes.
Drizzle the sauce over the fish and serve immediately sprinkled with parsley, if desired.

Nutrition:

5 Weight Watchers Freestyle SmartPoints per serving.
SOURCE: RecipeGirl.com
Here are a few more seafood recipes you may enjoy: