A delicious appetizer as a prelude to an Asian-themed meal:  Edamame Dumplings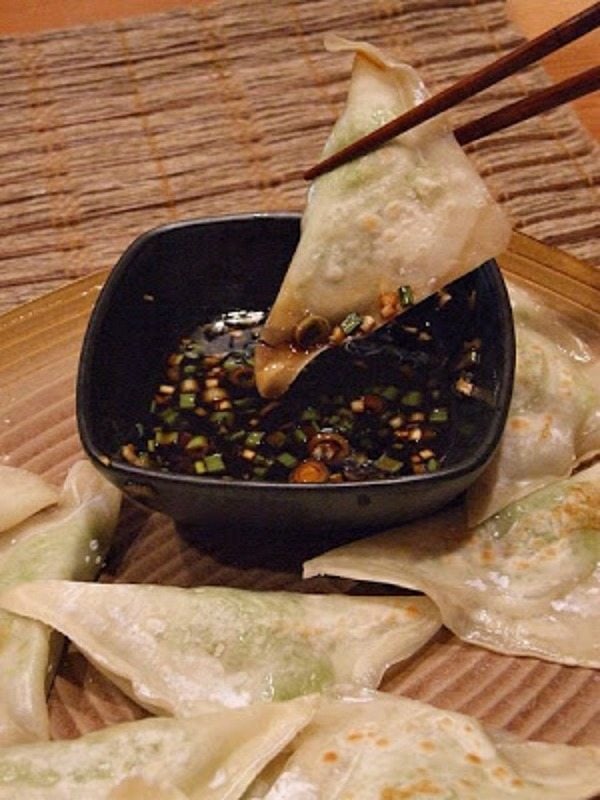 Made with won ton wrappers, these are pretty simple to whip up. Frozen edamame is processed with a small amount of spices and then plopped into the center of a wrapper.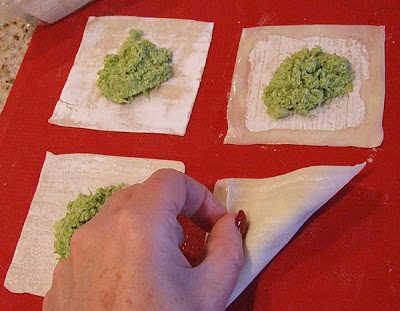 Just as ravioli is made, the edges are rubbed with water and then folded over to contain the filling. I do another little rub of water along the edges of the folded dumpling- just to make sure that it's completely sealed. The dumplings are then browned and steamed in a skillet with a small amount of water.  Then they're reading for dipping… into a simple mix of green onions, soy sauce and honey.  Delicious!
Edamame Dumplings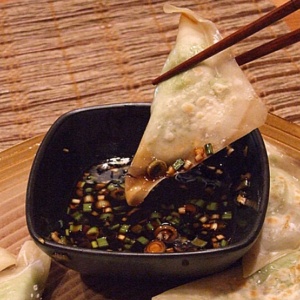 This was a terrific treat to have while I was making an Asian- style dinner. My six year old ate them too (I successfully hid some edamame in there!) I don't think he would eat it on its own, but tucked into a dumpling it was fun to eat.
Yield:
20 dumplings
Prep Time: 25 minutes
Cook Time: 10 minutes
Ingredients:
SAUCE:
2 Tablespoons chopped green onions
2 Tablespoons low-sodium soy sauce
1 teaspoon honey
DUMPLINGS:
1 cup frozen shelled edamame (green soybeans)
1 teaspoon freshly squeezed lemon juice
1 teaspoon dark sesame oil
1/2 teaspoon ground cumin
1/4 teaspoon salt
20 square or round wonton wrappers
cooking spray
1/2 cup water, divided
Directions:
1. To prepare sauce: Combine the first 3 ingredients in a small bowl, stirring with a whisk.
2. To prepare dumplings: Cook edamame according to package directions; drain. Rinse edamame with cold water; drain well. Combine edamame, juice, sesame oil, cumin, and salt in a food processor; process until smooth.
3. Working with 1 wonton wrapper at a time (cover remaining wrappers with a damp towel to prevent drying), spoon about 1 teaspoon edamame mixture in center of each wrapper. Moisten edges of dough with water; fold opposite corners to form a triangle, pinching points to seal. Place dumplings on a large baking sheet sprinkled with cornstarch.
4. Heat a large nonstick skillet over medium-high heat. Coat pan with cooking spray. Arrange half of dumplings in a single layer in pan; reduce heat to medium. Cook 1 minute or until bottoms begin to brown; turn. Add 1/4 cup water to pan; cover. Cook 30 seconds; uncover. Cook 1 minute or until liquid evaporates. Repeat procedure with remaining dumplings and water. Serve immediately with sauce.
Tips:
*If you spray your teaspoon with cooking spray before you measure your honey, the honey will slide right off the spoon & you won't be struggling to scrape a gooey mess off of the spoon.