This is one of my all-time favorite breakfast casserole recipes:  Egg-Mushroom Kielbasa Bake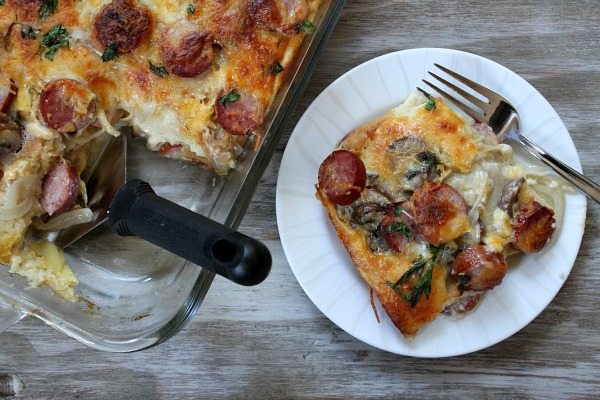 Anyone having a million relatives staying out your house over the holidays?  It's tough to figure out meals when there are so many people running around, so it's nice to be able to assemble ahead and serve.  This is a make-ahead breakfast casserole recipe.  You (or other willing people who are meandering around your kitchen) prepare this the night before and then refrigerate overnight.  The first one up in the morning, pops it into the oven, and then breakfast for the whole house is ready in one hour.
Yes, it comes out of the oven looking as gorgeous as you see here.  My friend Libbie has served this Kielbasa Bake at a few holiday cookie decorating brunch parties she's hosted, and it's always a big hit.  She passed along the recipe to me (because I totally demanded it!)
This recipe is a major keeper.  Try it out on your relatives over the holidays, and let me know what you think!
Egg- Mushroom Kielbasa Bake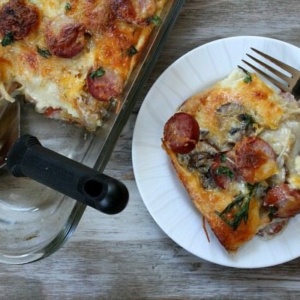 Prepare the night before, refrigerate overnight, and bake the morning of serving- easy!
Yield:
8 servings
Prep Time: 25 min + overnight in the fridge
Cook Time: 60 min
Ingredients:
3 tablespoons salted butter, softened
12 slices white bread
1/2 cup (1 stick) butter, softened
8-ounces sliced fresh mushrooms
2 cups thinly sliced sweet onions
1 1/2 pounds Kielbasa sausage, sliced into bite-sized pieces
1 pound grated cheddar cheese (Mexican shredded blend is good for this)
5 large eggs
2 1/2 cups milk
1 tablespoon Dijon mustard
1 teaspoon dry mustard
1 teaspoon ground nutmeg
salt and pepper
2 tablespoons finely chopped fresh parsley
Directions:
1. The night before: Butter the bread slices on one side and set aside. In a large skillet, melt the butter and saute the mushroom and onions over medium heat until lightly browned and tender. In a greased 11x17-inch shallow casserole dish, layer half the bread, mushroom mixture, kielbasa and cheese. Repeat the layers, ending with cheese. In a medium mixing bowl, whisk together eggs, milk, mustards, nutmeg and a sprinkle of salt and pepper. Pour over the casserole; cover and refrigerate.
2. The morning of: Preheat oven to 350 degrees F. Let casserole sit at room temperature for 15 minutes. When ready to bake, sprinkle parsley over the top of the casserole and bake for one hour, or until bubbly.
Tips:
*If you don't wish to use kielbasa, you can substitute a mild Italian sausage. Cook and cut into bite-sized pieces. The kielbasa is already pre-cooked, so you don't have to cook it before adding it to the casserole.
*If you don't have an 11x17-inch casserole dish, improvise by using a couple of smaller sized dishes.
SOURCE: RecipeGirl.com (via my good friend Libbie)
More breakfast casserole recipes you may enjoy:
Avocado Breakfast Casserole by Dine & Dish
Buffet Breakfast Casserole by RecipeGirl
Broccoli- Cheese Breakfast Casserole by Kalyn's Kitchen
5 Overnight Breakfast Casserole Recipes by Parade
Gluten-Free Breakfast Casserole by Iowa Girl Eats