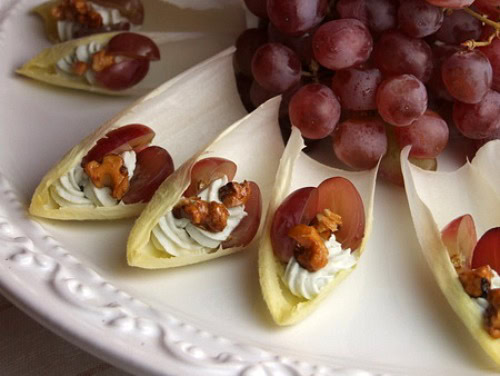 Endive with Blue Cheese, Grapes and Candied Walnuts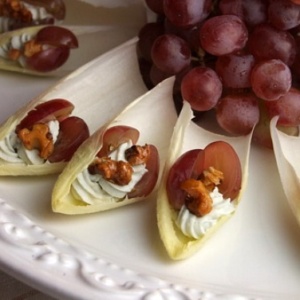 Yield: 40 to 50 appetizers (recipe can be halved)
Prep Time: 45 minutes
Endive petals make the perfect little holder for appetizer fillings. The candied walnuts here make this one worthy of trying.
Ingredients:
1/2 cup granulated white sugar
1/2 cup water
1/2 cup walnuts
8 ounces blue cheese, at room temperature
4 ounces cream cheese, at room temperature
40 to 50 whole endive leaves
40 to 50 whole red grapes, halved
Directions:
1. Preheat oven to 350°F.
2. Bring sugar and water to boil in a small saucepan. Add walnuts, then boil for 5 minutes. Pour walnuts through a strainer and drain thoroughly. Pour nuts onto a parchment-lined baking pan. Bake for 10 to 15 minutes, until nuts are golden and give off a roasted aroma. Cool completely, then chop.
3. With electric mixer, beat blue cheese on medium speed until creamy. Add cream cheese and beat until smooth. Scoop cheese mixture into a piping bag fitted with a star tip.
4. Pipe a small rosette onto the end of each endive leaf, then anchor two grape halves into the rosette. Sprinkle with a small amount of walnuts.