Here a delicious dinner, snack or game-day recipe using sausage and other goodies:  English Sausage Pastries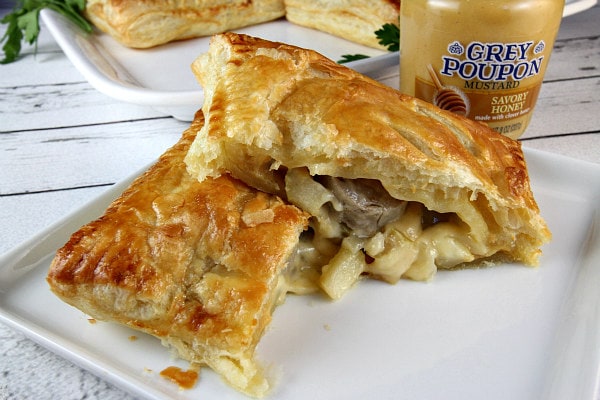 This is a flaky, savory baked pastry stuffed with apple, onion, sausage, Gouda cheese and honey Dijon mustard.  It's comfort food all the way.  I used English sausages for this recipe (English bangers), which I found at a specialty sausage market near Sacramento, CA.  You can certainly substitute any other kind of sausage that is pre-cooked.  But there's a very good reason I went to all of that trouble to find "actual" English sausages…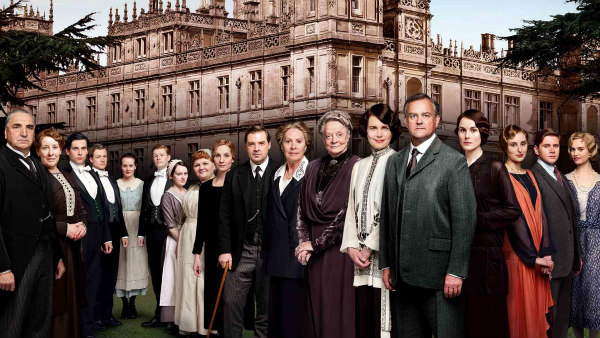 Anyone watch Downton Abbey??  I'm a huge fan.  So it was very exciting to receive an email recently inviting me to collaborate with The Downton Abbey Kitchen Presented by Grey Poupon.  And yes… that means I'm actually in England RIGHT NOW- courtesy of Grey Poupon!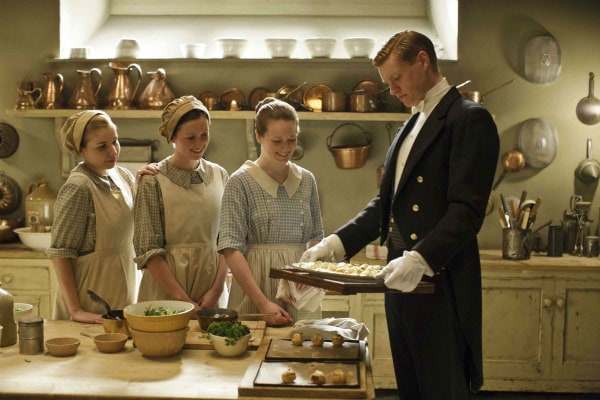 If you watch Downton Abbey, then you know that a large part of the show takes place in the kitchen.  The kitchen staff is constantly preparing and serving food for the family and their guests.  Now there is a website devoted to recipes inspired by Downton Abbey- DowntonAbbeyKitchen.com, and all of the recipes are enhanced by the use of Grey Poupon Mustards.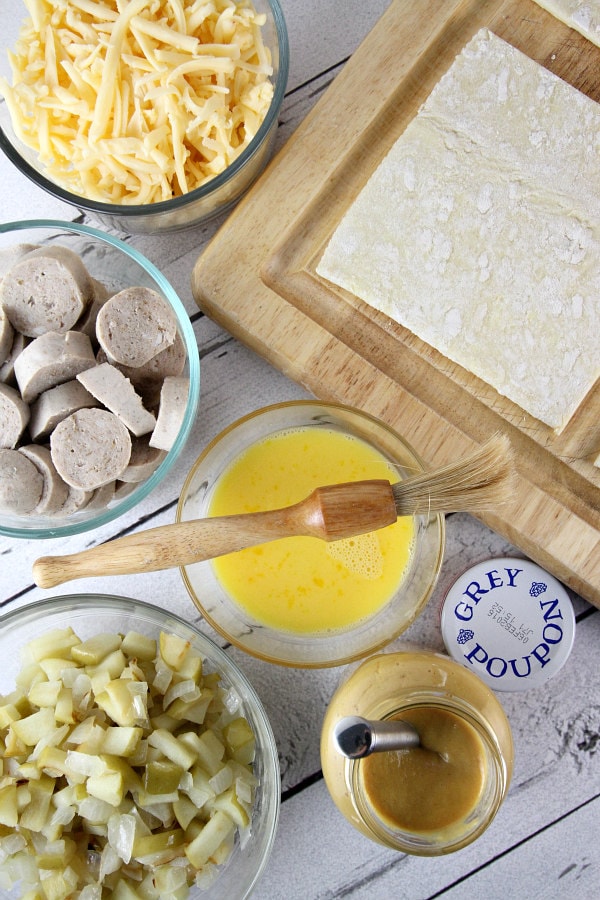 Here are all of the ingredients you need for the recipe. The onion and apple are lightly sauteed.  I chose to use Grey Poupon's Savory Honey Mustard.  These pastries are so incredibly easy to make- let me show you how!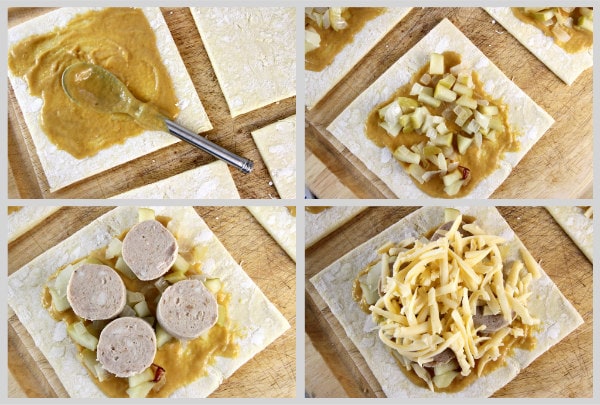 You'll cut puff pastry into squares and then spread a good amount of the honey mustard onto the pastry. Top with onion/apple, sausage slices and Gouda cheese.  That's your filling!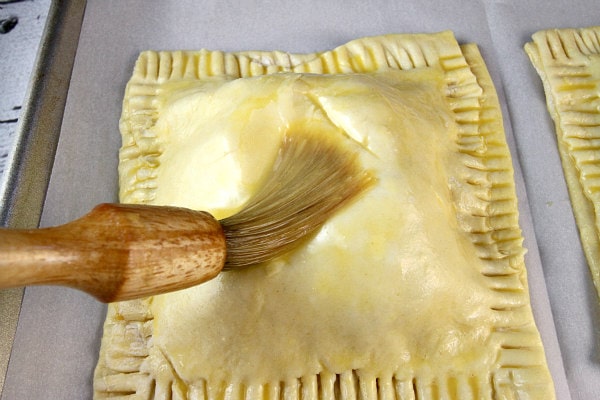 Add another pastry square on top, press the sides with a fork, brush on an egg wash and cut a few slits in the top.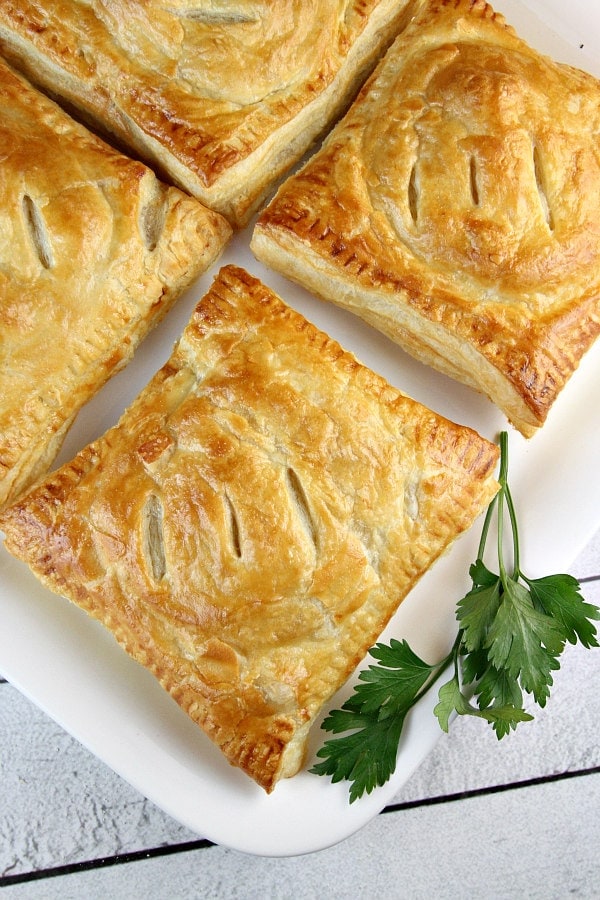 Bake them to golden perfection!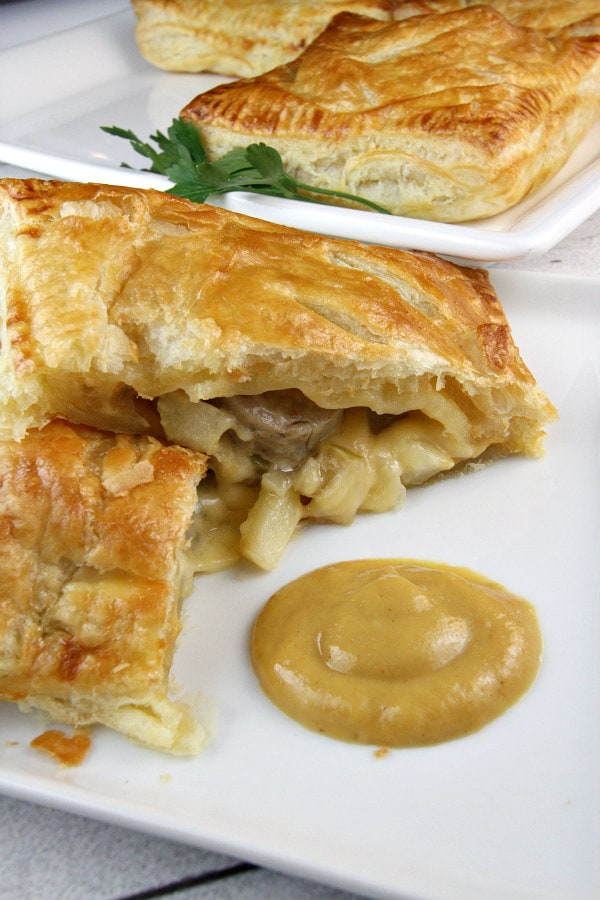 When you cut them open, the cheesy, savory filling will ooze out in the most delicious way.  We liked ours served with an additional spoonful of Grey Poupon Savory Honey Mustard for dunking!
I like to think that Lord and Lady Grantham + relatives and guests would eat these in their Downton Abbey dining room!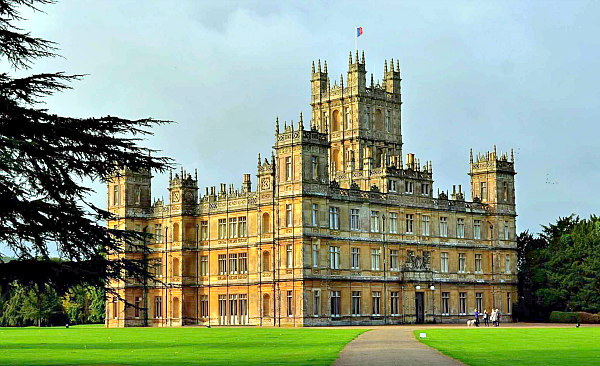 Here's the castle where much of Downton Abbey is filmed.  I'll be touring the castle and having high tea there THIS FRIDAY!!!  I couldn't be more excited about this experience, and I'll be writing all about it in a post after I return from my trip!
Follow Grey Poupon on Facebook at https://www.facebook.com/greypoupon/ and on Pinterest at https://www.pinterest.com/greypoupon/.  You can also check out the Downton Abbey Kitchen recipes here:  http://www.downtonabbeykitchen.com/.  Check out another Downton Abbey Kitchen recipe on Reluctant Entertainer's blog:  Pear- Potato Soup!
English Sausage Pastries
Yield:
4 pastries
Prep Time: 30 minutes
Cook Time: 25 minutes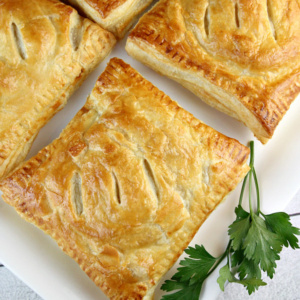 Ingredients:

1 pkg. (17.3 ounces) Puff Pastry Sheets, thawed
1/2 tablespoon extra-virgin olive oil
1/2 medium sweet onion, chopped finely
1 small Granny Smith apple, chopped finely
4 tablespoons Grey Poupon Savory Honey Mustard
2 pre-cooked English sausages (bangers)- or any other type of pre-cooked sausage, sliced
1 cup shredded Gouda cheese
1 large egg whisked with 1 tablespoon water

Instructions:

Preheat the oven to 400 degrees F. Line a large baking sheet with parchment paper or a silpat mat.
In a medium skillet, heat the oil over medium-high heat.  Add the onion and apple and saute until softened, about 5 minutes. Set aside to cool.
Assemble the pastries: Cut each sheet of Puff Pastry into 4 equal squares. Spoon a tablespoon of the honey dijon mustard into the center of each square and spread to cover the pastry, leaving about 1/2 inch along each side.  Spoon about 2 tablespoons of the apple/onion mixture onto each square. Top with sausage slices and Gouda cheese. Roll out each of the remaining Puff Pastry squares so they're a little bit larger (or just use your fingers to press and stretch them). Place the second piece over the top of each with filling. Use a fork to seal the edges to form "pockets." Brush each square with egg wash and use a knife to poke a few slits in the top for steam to escape while baking. Bake for 20 minutes, or until golden brown. Serve immediately.
SOURCE:  RecipeGirl.com
Disclosure:  I'm currently working with Grey Poupon to spread the word about their collaboration with DowntonAbbeyKitchen.com.  Grey Poupon arranged for my travel to London to learn more about this project.  Grey Poupon is a product that I use in my kitchen often.  All opinions shared are my own.